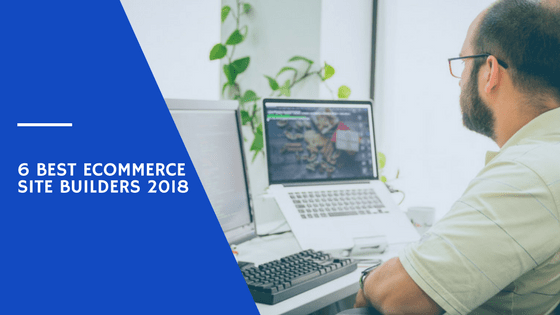 ECommerce business has evolved greatly over the last decade. Expanding your business horizons and putting your products and services online is a must now – more and more customers prefer to shop online rather than in physical stores.
Specialized eCommerce site builders are the best way to offer your goods and services; by using them, you do not have to worry about coding or design. All you need to do is use the offered SEO tools and design solutions offered, and implement apps developed for a specific platform.
Who should switch to a specific eCommerce platform? Literally everyone. No matter whether you are an experienced seller or a newcomer, whether your business is large or it is just a small store, you will experience a dramatic rise in profit at a moderate cost. Your investment will undoubtedly pay off.
Top 6 Best eCommerce Platforms
Due to the enormous growth of online shopping, there are dozens of eCommerce platforms designed for merchants. The benefits of using a relevant platform to place your store in are:
no need to study coding and hire additional employees to deal with it
top eCommerce platforms are equipped with effective SEO tools
the platforms include apps that make it convenient for you to sell and your customers to buy online
a higher chance to get noticed by potential customers.
A good site builder must include features that attract online retailers, such as user support, reasonable pricing, SEO solutions, mobile support and integrated apps. Among the many platforms offered, the six best site builders can be distinguished according to a summary of their features.
6 site builders that are likely to make up the list of top platforms this year:
Shopify
Bigcommerce
3D Cart
Wix
Volusion
BigCartel
The above-mentioned resources may not be the only site builders that are worth attention, but they are full of nice features that increase both profit and customer loyalty. Let's take a look at each platform closely.
Shopify - the leader among enterprise eCommerce platforms
The Shopify platform has gained enormous popularity among merchants and customers. The statistics are impressive: Second Quarter Revenue Grows 75% Year-over-Year and Second Quarter Gross Profit Grows 83% Year-over-Year in 2017. More than 500k businesses are currently using the platform, making it one of the most powerful eCommerce resources.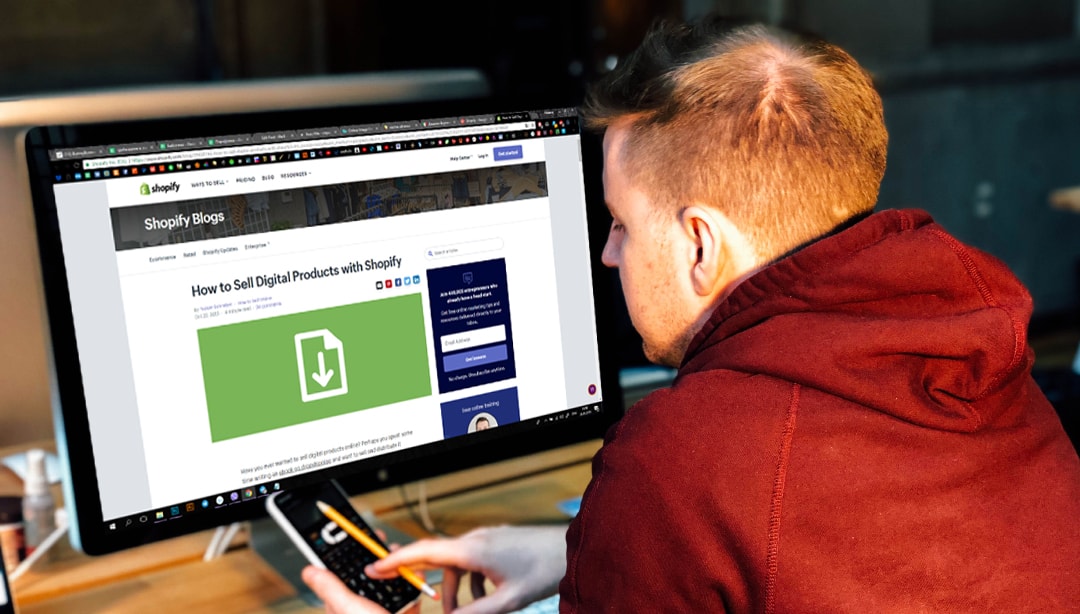 The platform is aimed at small and medium businesses. It is also used by top brands such as Nestle, Tesla, Red Bull and others, which demonstrates the credibility of this site builder. The platform is cloud-based and multichannel. Merchants create their stores using the platform apps and design.
The platform is integrated with eBay, Buzzfeed, Amazon, Pinterest, Facebook and other global web resources. and uses its payment system, Shopify Pay, which has thousands of pricing methods available.
Shopify is trusted by sellers all over the world due to its convenient interface, a well-designed payment system, and software suitable for any webstore. After evolving from a small snowboarding webstore into a high-powered site-building source, it demonstrates impressive financial performance.
Shopify Key features:
advanced SEO tools
more than 150 apps integrated
only $9 per month with a free trial period
constant upgrade of the platform
24 free templates
Of all the convenient Shopify instruments, we would like to point out its signup process. If you switch to Shopify from another platform you can import your goods from the previous e-store simply using the link generated by the site builder. Strong customization features and explanations for each step of the process make Shopify incredibly easy to master.
BigCommerce - the Shopify platform's main competitor
BigCommerce was founded in 2009 and is considered one of the most popular eCommerce platforms. The company states that it has processed over $9 billion in total sales . Bigcommerce is available in more than 150 countries all over the world and is integrated with MailChimp, Facebook, eBay, PayPal, Google and others.
The site builder provides users with a bunch of useful tools to run a business properly. You can place a webstore at any web resource and easily integrate it with BigCommerce as well as with Shopzilla, Bizrate, Beso, Nextag, PriceGrabber, Shopping.com, and MySimon. The connection with social channels increases the number of clients and the amount of profit without a lot of additional effort. There is also an app store that offers you numerous tools for your business.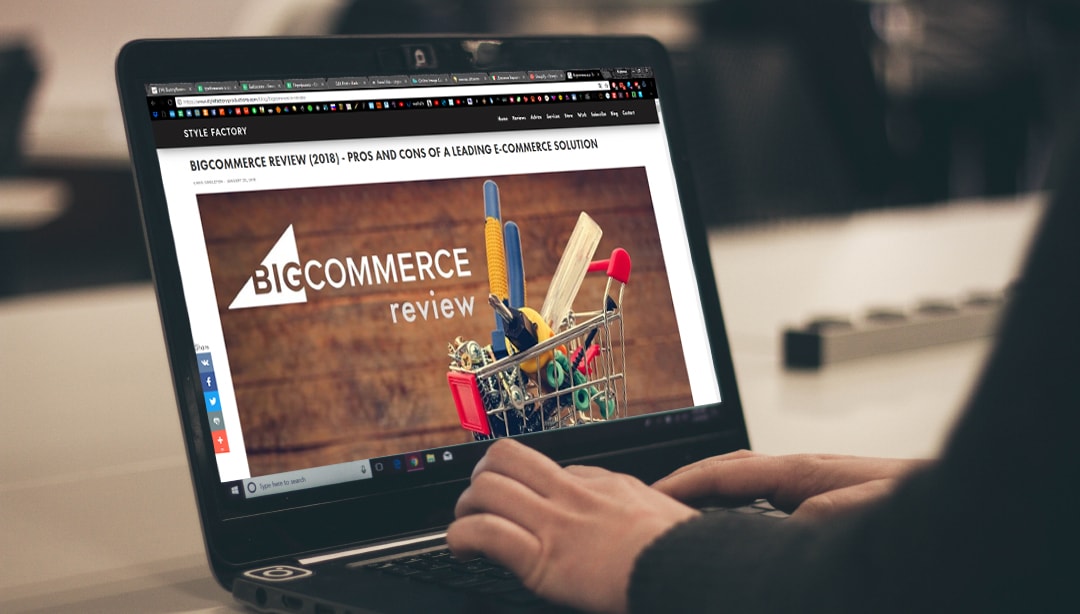 The key features of BigCommerce are similar to those in Shopify. However, the platform offers only 7 free templates, while Shopify can give you far more options. The solution is ideal for new businesses or merchants who need to explore selling online. The interface of Bigcommerce is easy to use, which allows anyone to create their webstore in several easy steps.
3D Cart is an SEO-friendly platform suitable for any webstore. The site builder is considered perfect for beginners as it contains all basic features to run a business online. Let's review the key features of 3D Cart.
The platform offers you various payment plans ranging from $9 to $299 per month. Discounts and promo codes are available for e-stores at any type of plan. About 30 free themes are available at 3D Cart, which is not as many as Shopify.
The platform is equipped with 100+ apps to help you run your business and provides you with nice SEO solutions. The starter plan at 3D Cart is richer in options than other platforms, and lets you place 200 goods at once. A lovely interface and a dedicated user support team make it easy for a beginner to make sales.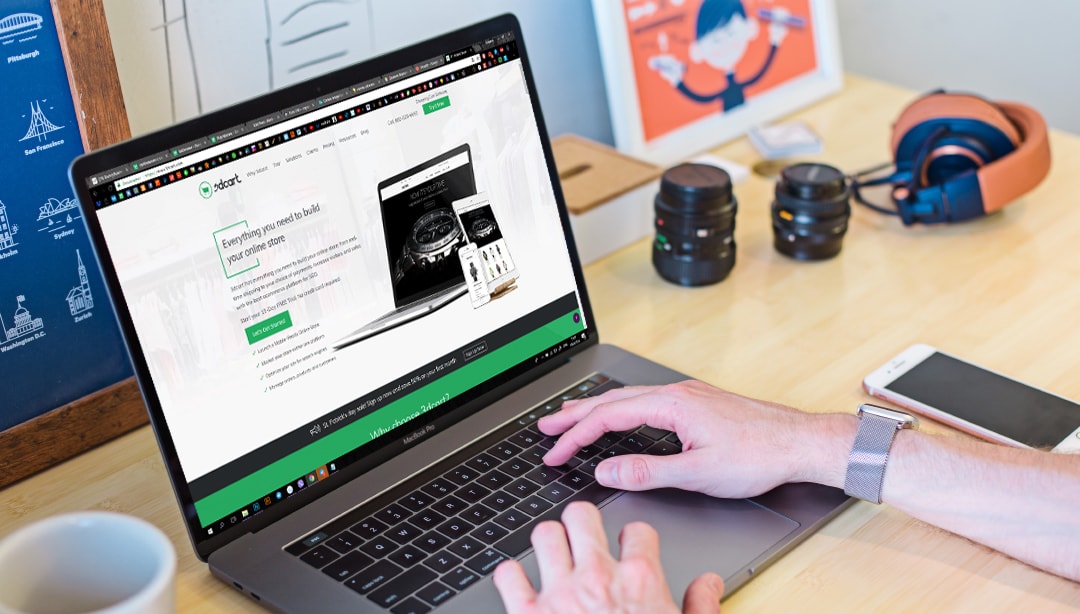 The platform has gone through some changes throughout the years – it's setup page used to look a bit old-fashioned compared to its competitors. The developers fixed it, and now the product editor looks modern and is full of useful options.
Another distinguishing feature of 3D Cart is the large number of tutorials on how to use the platform. Even if it is your first experience in starting an e-store, you are likely to be able to handle it. The features are fully customizable, which lets you create the webstore of your dreams.
Wix among the most popular eCommerce platforms
Wix is a popular site building platform where you can create and develop desktop and mobile sites using HTML5. The platform is available in 11 languages. Online sellers can enjoy its incredible design and functionality.
Main features of the platform are:
A well-designed storefront
easy and error-free store management
customizable design of pages, fonts, and layouts
items can be placed individually or in categories
taxes and shipment costs are calculated automatically
coupons and discounts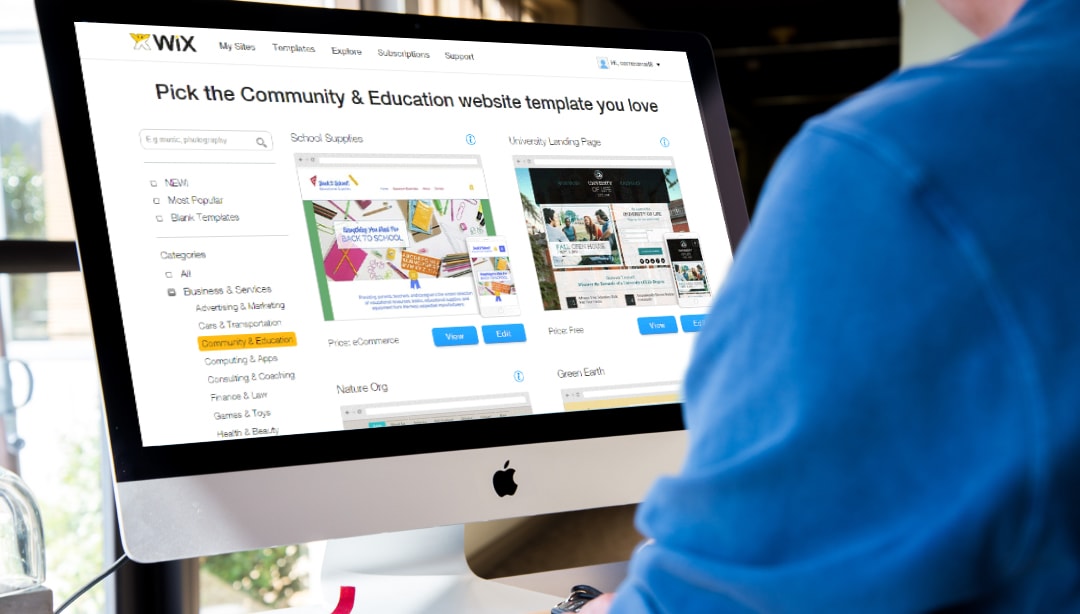 The platform is also connected to PayPal to make it convenient for both sellers and clients.
According to reviews, Volusion is well-designed. The major advantage that makes this platform different from the others is the unlimited storage. The platform is easy to use: you can configure the store using HTML or CSS or go without it. The design of Volusion is modern and looks good.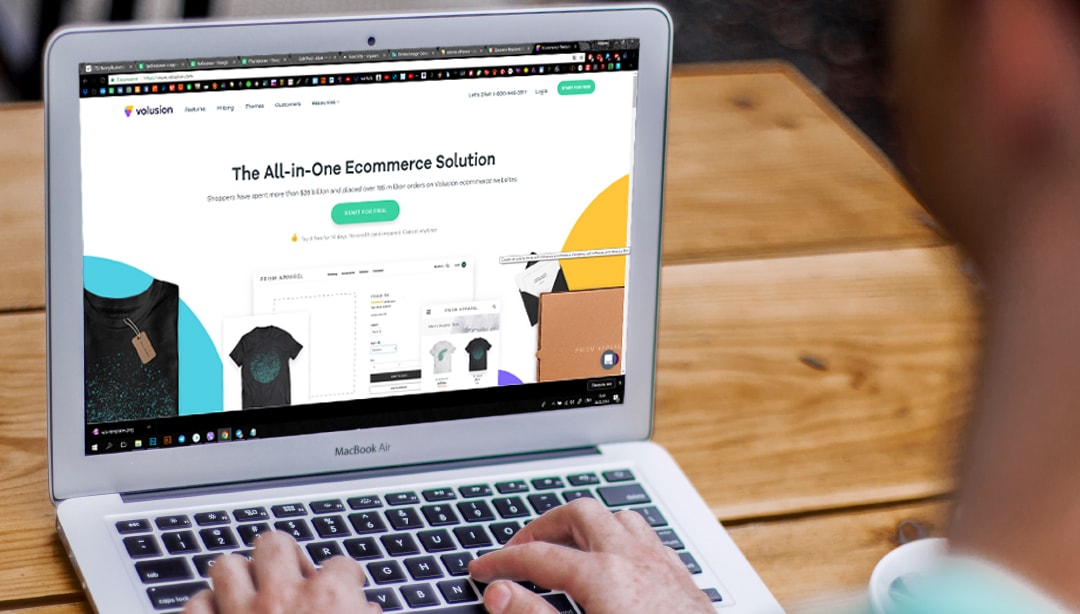 The platform provides you with a dashboard where all orders are displayed and a CRM for effective client management. You can add deals to attract customers daily. Adding and editing items is also easy; in addition, you can customize the design as you wish. Apart from the significant benefits of the platform, it can be a bit hard to use Volusion as it requires some coding skills. To modify the page design, you might need a bit more than simply making a few clicks.
BigCartel stands out in our comparison of eCommerce platforms. Despite the fact that the platform is dedicated to a similar sphere as, for instance, Shopify, its interface might make the worst impression on a user. Its poor choice of fonts and colors, and the absence of a drag-and-drop feature make it a bit inconvenient to use. To create and customize your webstore, you are likely to need some coding experience, which limits the number of people who use this site builder.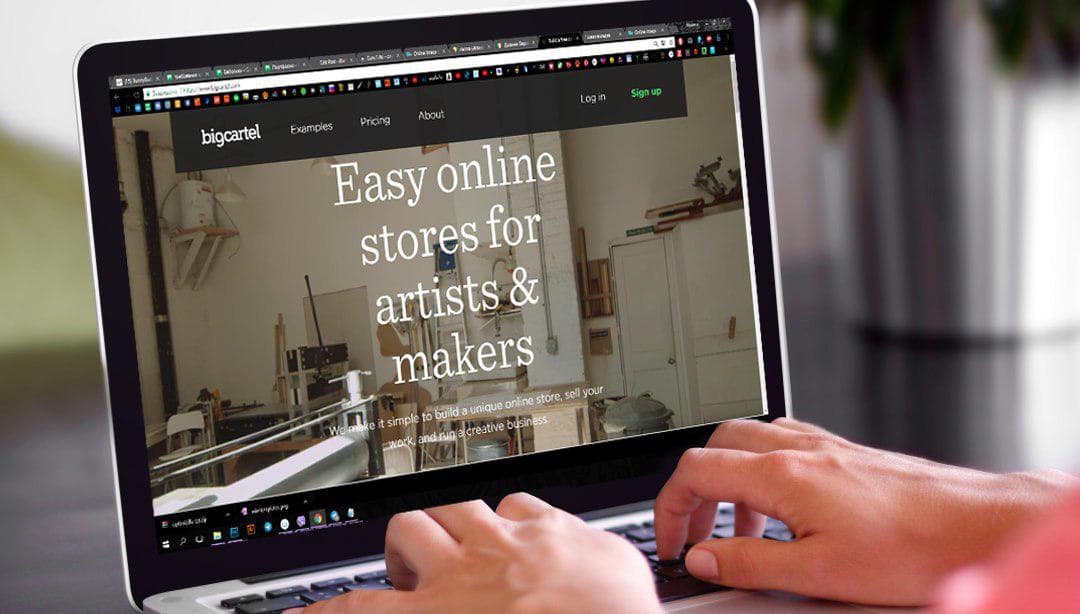 Although BigCartel may confuse you a bit, the platform is more popular than 3D Cart and is definitely worth some attention. Its advantage can be found in pricing – BigCartel is one of the few free eCommerce platforms with a $0 Starter plan.
ECommerce Platform Comparison - how to choose the best site builder
Finding the right solution among all of the enterprise eCommerce platforms is a tough task. To discover which solution is best for your business you should consider the following features:
Make a choice based on your technical background: if you're not into coding, pick the site builder with a user-friendly interface and good tutorials.If you don't want to bother with coding, ignore BigCartel and perhaps Volusion.
Support. You should definitely opt for a platform with full-time support teams to be sure your webstore will not experience any unexpected trouble.The leaders on this issue are definitely Shopify and 3D Cart, who offer you non-stop user support via email, chat and over the phone. BigCommerce has some restrictions on phone support but does well with the other methods; and BigCartel supports only emails that are processed on weekdays 9 to 6.
Before making a choice consider how much you want to sell. Some platforms are more suitable for small businesses and others are designed for large e-stores – take this into account.
If you own small store, stick to Shopify or Wix. Large businesses can afford Bigcommerce or 3D Cart.
Sit down and think about which features you consider must-have when you launch a webstore.
It may be hard to make a decision with the variety of site builders offered on the Internet. To make it easier, figure out the priority features you can't do without and exclude the platforms that don't have them from the list.
Using statistics for choosing a site builder
Another crucial moment in defining the best eCommerce platform is statistical data. Trends visually demonstrate how successful each platform is and let us decide which one we would like to trust.
According to Google trends, Shopify is the leader when compared to all the above-mentioned platforms. Its popularity is far greater than that of any other online resource. Starting in 2008, Shopify has steadily grown more and more, and is not likely to stop. Bigcommerce shows nice results, too, and 3D Cart looks like an outsider among the rest.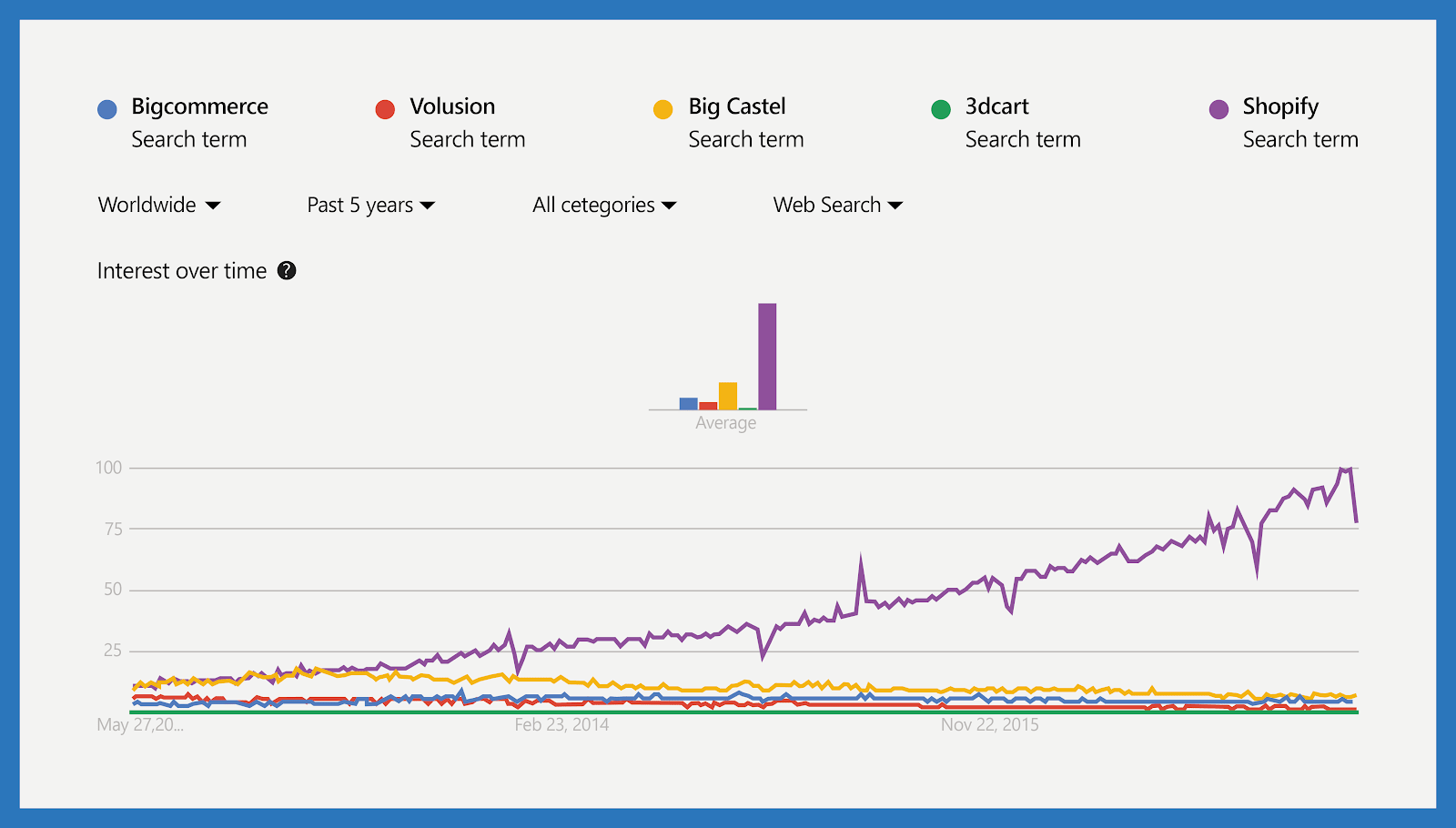 Apart from receiving new clients who are launching an online-shop for the first time, platforms may acquire users who leave any other site builder. Nowadays clients tend to leave platforms for Shopify; while some of them prefer Wix as an alternative to it.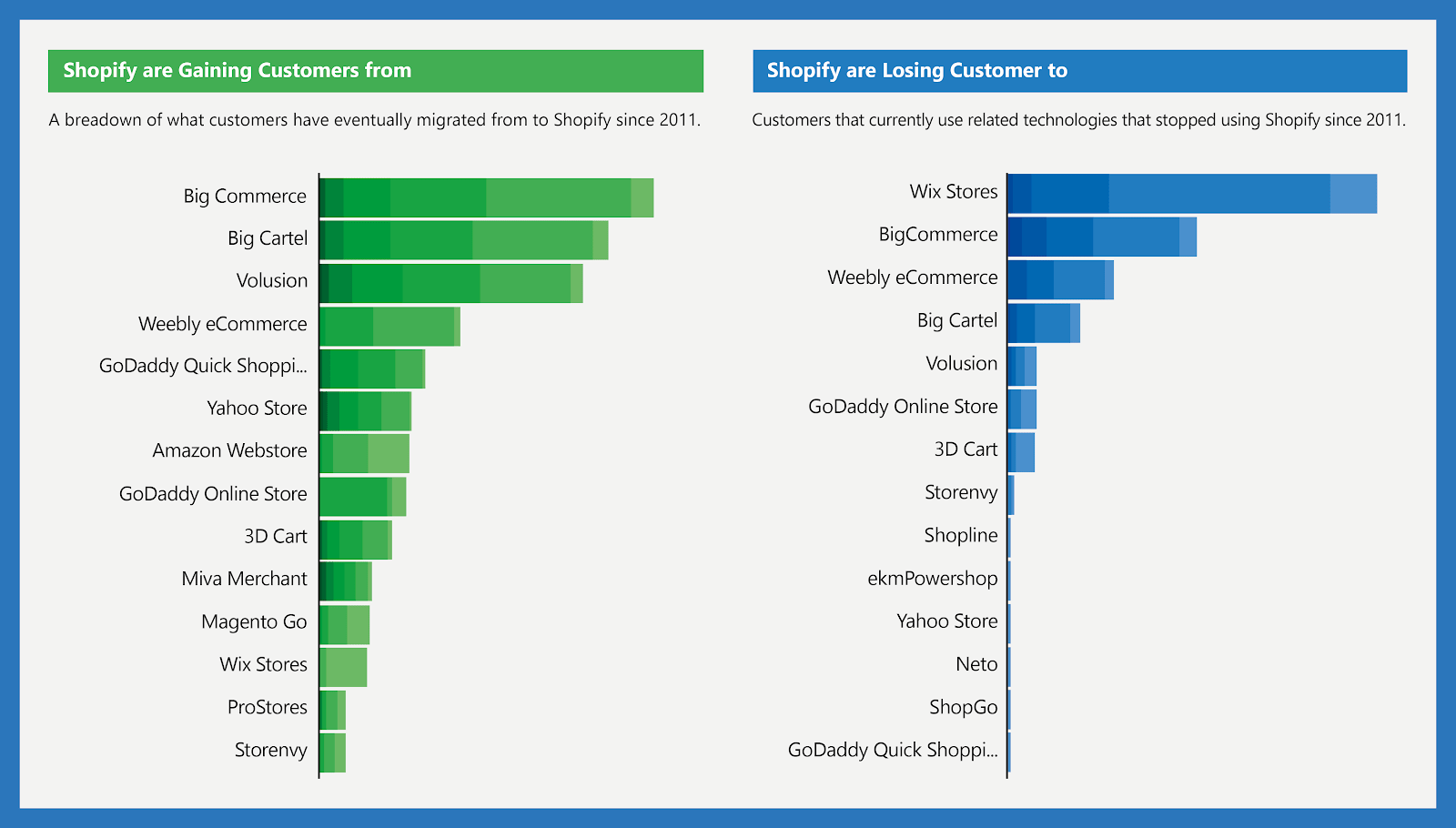 Another important issue when choosing a site builder is your region. You need your language support in case English is not the only one used and the popularity of a certain platform in your country is significant. Shopify is most popular in Australia and Canada. It is a little less commonly used in the US and the UK. The platform anticipates an increase in its service in Russia this year. Bigcommerce is also widely spread in Australia, the US, Canada, and less so in India. The other apps have the same rates worldwide.
Make a choice based on the pricing
The benefits of the platforms are clearly visible. But what about costs? Will your valuable resources be justified? The choice of the site builder should be based upon the fees and payment plans offered by each platform. The plans are usually aimed at different webstore sizes. The cheapest plans are offered by BigCartel – this makes up for certain difficulties that come up when using the platform. The prices start at $0 per month, and the most expensive BigCartel payment plan is not that high when compared to the other platforms.
When it comes to Shopify, its payment plans are well-balanced and can fit your needs at a reasonable price. The site builder offers several pricing solutions, which start at only $9 per month.
It can be difficult to afford Bigcommerce, which gives you the option to pay from $29.95 to $900+. The fee depends on your revenues; you'll be forced to switch to a higher cost plan if your financial performance exceeds a certain number once. 3D Cart also stands among the most expensive platforms.
Apps for your business
When it comes to using a site builder, you will definitely need helpful accounting, social and other tools for smooth integration and automated functioning of a webstore. Each platform contains an app store where you can find the ones you need for your business.

The widest range of apps can be found at Shopify or Bigcommerce. Among them, there are free or paid tools that are divided into categories (e.g. Marketing, Accounting etc.). The convenient filter system at both sites makes finding an app the work of a moment.

3D Cart can also offer you a nice appstore, while BigCartel has nothing of the kind. The other platforms group their add-ons chaotically so it is quite irritating to browse and search for them.
To make a final decision you can explore different approaches to eCommerce platform comparison and read numerous articles, reviews and charts to discover the best one for you. Give your chosen platform a try – that is the only way to find out if it works for you. Note that all site builders have free trial periods lasting mostly from 14 to 30 days, which is enough to come to a conclusion.