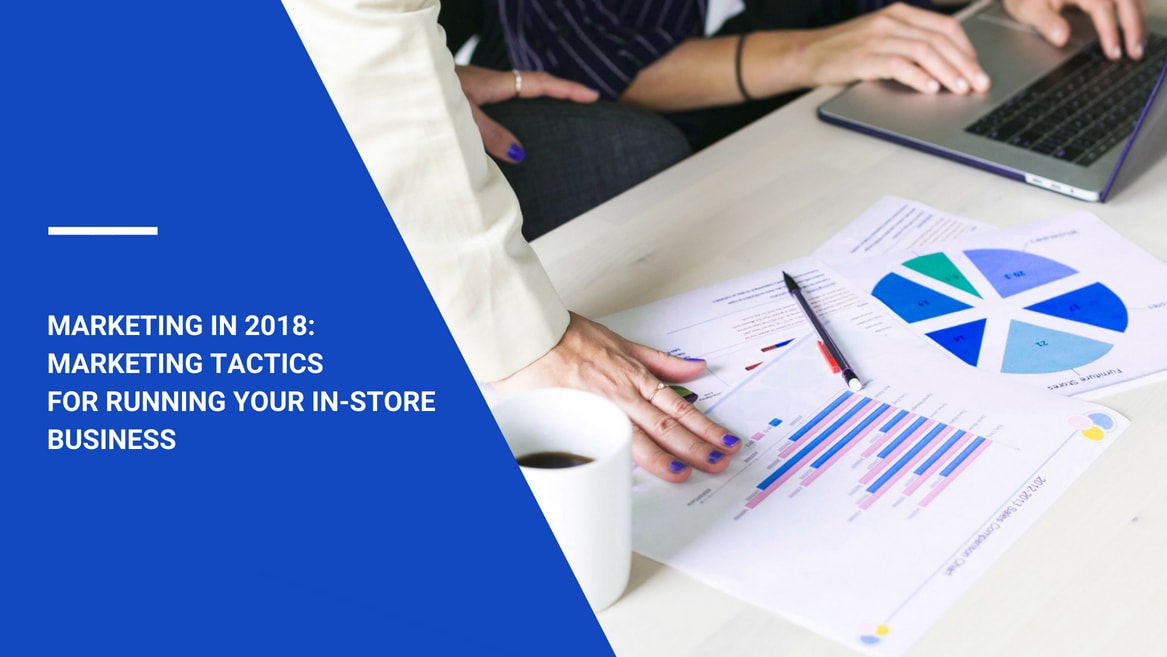 Marketing plays an important role in the development of any small or big business by helping to increase profits and build recognition among the customers. At first glance, it may seem very simple, but in truth, marketing is more complex than many people think. The following article takes a closer look at the differences between marketing strategies and marketing tactics that can be useful for promoting your online business in 2018.
Marketing Strategies For the New Generation of Marketing
First of all, it is important to understand the difference between marketing strategies and tactics. Effective marketing strategies require the formation of clear objectives which can be realistically achieved within a certain period. A strategy is formed for the purpose of carrying out production, attracting new customers, and advertising in full compliance with the situation on the market, the productive capacity, and the real needs of customers.
The development strategy of a store is based on researching and forecasting the commodity market situation, defining the target group, and analyzing the products, existing competitors and other elements of the market economy. There are two main types of marketing strategies:
Business-to-business (B2B) marketing;
Business-to-consumer (B2C) marketing.
B2C marketing works directly with customers, trying to sell products or services using emotional triggers. B2B marketing strategies aim to do business with other companies or stores. In other words, they also aim to sell their products, but the primary focus is on the price and return profit potential.
Marketing strategies for the business-to-business market:
Being present online (creating a website, having accounts on the most popular social media platforms, sending email newsletters, etc.);
Analyzing the target audience;
Building long-lasting partnerships;
Reaching the customers not only online but also face-to-face;
Establishing contacts with decision-makers;
Paying attention to trends and new tactics;
Combining different marketing strategies together.
Nowadays, marketers use many long-term and short-term strategies to promote the products or services, but promotion through social media remains the most popular approach. According to research published by Statista, advertising via social media will continue to grow worldwide.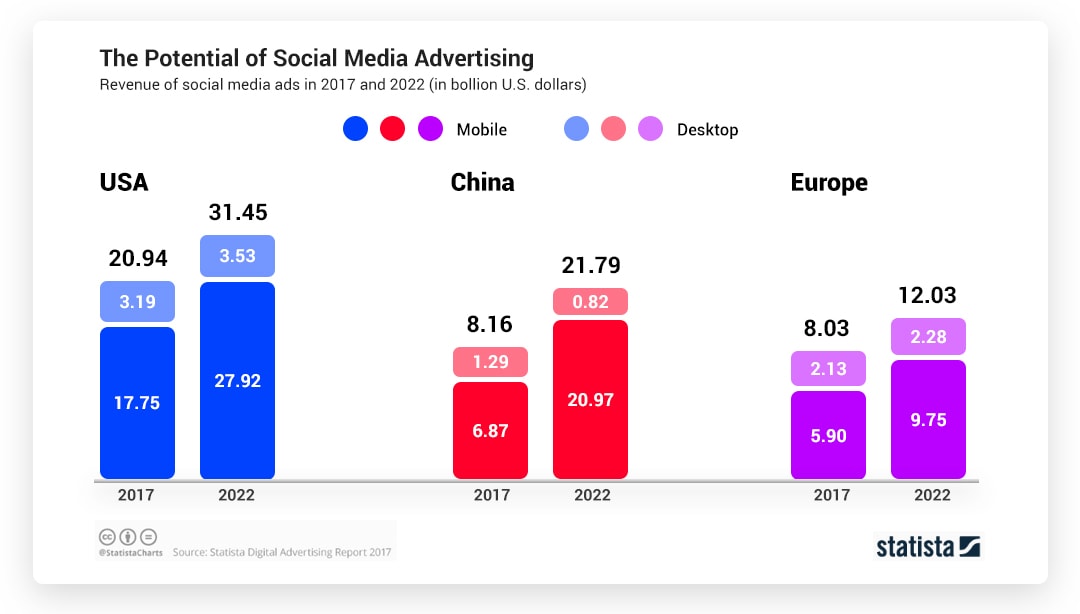 What Are Marketing Tactics And How Are They Different From Strategies?
Compared to marketing strategies, marketing tactics generally involve actions that are very practical and aim to deal with everyday tasks. Tactics determine the exact way marketers will work on strategies to achieve the predetermined goals and objectives. To understand the difference between strategy and tactics, let's take a closer look at examples of marketing tactics below.
Successful marketing tactics include the following factors:
Goals to be achieved within a certain time period;
Marketing budget;
Clear definition of the target audience;
Regular communication with customers;
Understanding how the customers come to your store, search for products, and make the decision to buy;
Proper marketing channels;
Digital marketing tools.
After determining your online store's marketing strategies, make a list of marketing tactics which you will be using for promotion and communication with customers. Marketing tactics include creating concrete tasks and approaches for each market and for each product within the established time frame. They are based on the main marketing strategy and regular evaluations of the current market situation. The best marketing tactics are flexible about the tasks, as the market situation and other factors tend to change (e.g. the price index change, seasonal fall in demand, growing competition, etc.)
Marketing tactics example:
launching an advertising campaign due to falling demand;
expanding the product line according to the evolving needs of customers;
expanding the range of services provided to attract new customers;
increasing the market share due to reduced sales by competitors;
improving the product's quality according to the requirements of a particular market;
organizing activities to motivate the staff.
Internet Marketing Strategies: Main Trends of 2018
The world is changing very fast, and marketing trends are no different. It is important to develop new marketing tactics according to not only your needs and goals, but also the world's tendencies and customers' preferences.
So, what are marketing tactics best used for online stores in 2018?
1. Creating content
Today, quality content plays an increasingly important role in the promotion and provision of sales. Survey results published on Statista show that the greatest part of 2018 marketing budgets go towards creating content. Traditional media channels such as newspapers and magazines are going through a rough patch and are being replaced by social media, but in any case, good content is the cornerstone of effective internet marketing strategies.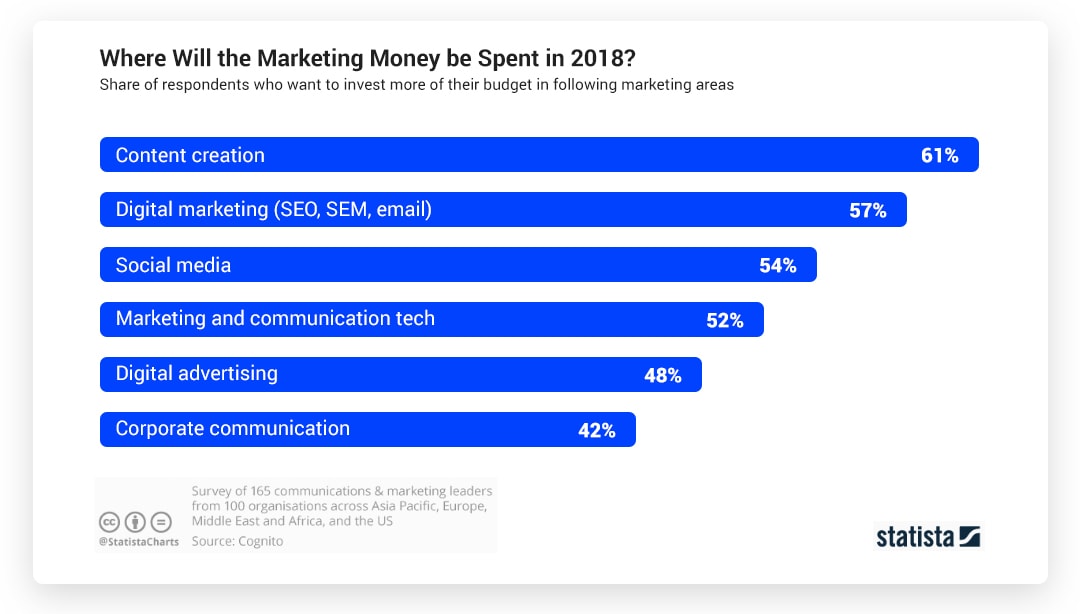 2. Making video content and live videos
Although text advertising still works well, creative marketing tactics tend to draw more attention by using videos. One of the main trends for stores is to make expositional short videos with a simple description of a product or service. The development of social networks also gave marketers a new tool: live streams. Customers would rather learn about a new product from a live video than from a long article. The advantages of this tool are a good illustration of successful marketing strategies. You can communicate with the audience in real time, gather their feedback, and understand the needs of your target group better. Moreover, you can use the broadcasted video later for other purposes.
3. Engaging micro influencers
Micro influencers are bloggers who promote products or services in their personal profiles on different social media platforms. Usually, they have from 1,000 to 100,000 subscribers, and ordinary people trust their opinions much more than big celebrities'. Micro influencers occupy a certain niche; therefore, it is easier to find someone suitable for your digital marketing strategies.
4. Social media presence
Without doubt, creating content on social media platforms will remain one of the most powerful types of marketing tactics. Statista published an infographic which shows the most commonly used online platforms among marketers. Make sure your business has clear online marketing strategies and is present on at least one of these social media platforms.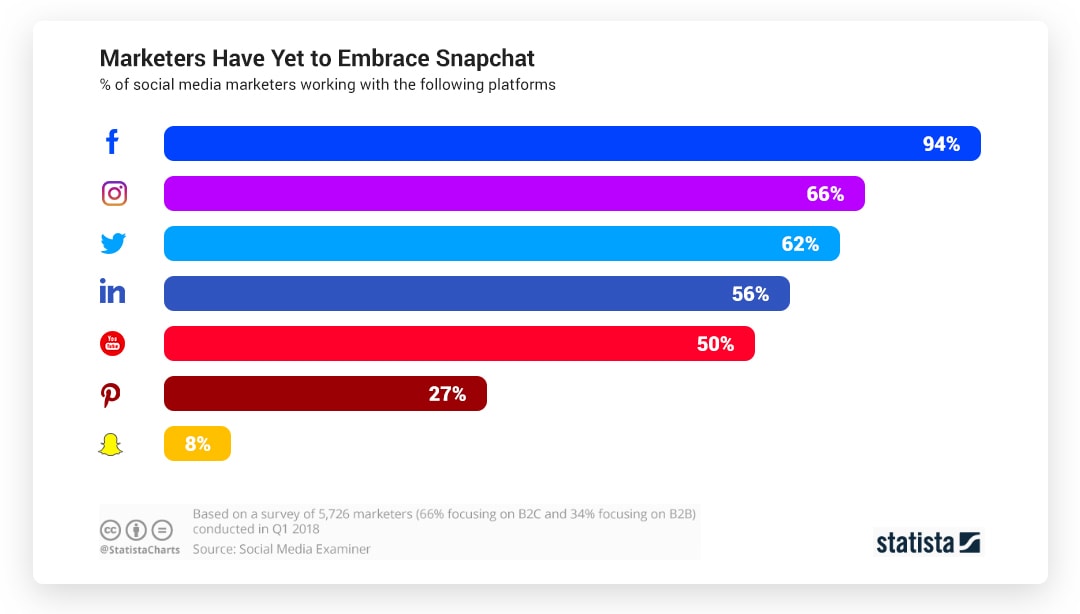 5. Attracting customers to your store
Running a brick-and-mortar store may seem easier than promoting your products online. This is only partly true. If you want to attract new customers and not to lose the ones you already have, try using these 4 common marketing tactics:
Plan and organize theme days and events;
Advertise your store on social media, especially on Instagram and Facebook;
Combine sales with giveaways;
Create a website with the ability to buy products online and pick them up from the store.
It is important to generate interest in what you sell. Clear in-store marketing tactics can help attract regular returning customers, differentiate from competitors, build trust, and win new clients.
6. Personalization
One of the best ways to increase sales and interaction with the customers is the personalization of customer requests. Customers are more loyal to companies that take end users' personal opinions into consideration to improve the quality of the product or service. If you motivate users to create profiles on your website or in a mobile application, it will help them track their interests and requests. It will be easier for you to prepare special offers, giveaways, and events for them based on the information they share. It is much cheaper to target an already loyal audience than to attract new customers. In this case, newsletters for subscribers are very effective.
7. Privacy protection
Privacy is not just a buzzword nowadays, and customers have to be sure that you protect their personal information. Make sure that your website or mobile application contains the necessary terms and conditions and asks users' permission to process their personal data.
Building Your Marketing Strategy: Summary
Marketing strategies and tactics are of great importance for a business in the modern world. The trends are always changing, so it is important to follow industry developments to stay on the right track. The best marketing strategies are those which focus on the future and help to meet the real needs of customers. It certainly requires investments and innovation, as well as trial and error, but it will help you leave your competitors behind.