eCommerce Digital Marketing Services: What Do We Offer
eCommerce Marketing Services: for all popular and custom content management systems (CMS)
eCommerce Marketing for All Occasions
eCommerce Consulting
We are the experts in creating excellent eCommerce based solutions for Shopify and are able to provide the best consulting services for your Company.
Conversion Rate Optimization
The best way to examine the company's efficiency is considering its conversion rate. We can help with its optimization to increase business revenue.
eCommerce SEO
Would you like to see your website being at the top of the search results? Optimize your eCommerce solution with the SEO expertise of our agency.
Paid Advertising
A paid advertising campaign is a proven tool for increasing sales and enhancing customer reachability. Do you need help with this service? SpurIT is at your service.
Email Marketing
We can design individual emails and\or follow-ups to make your campaign more personal and reach the clients in one more effective way.
Social Media Marketing
Explore new ways of online marketing for your brand in social media. This will open new business opportunities for you, bringing new clients for your company.
eMarketing Is Our Passion and Brilliance
We claim ourselves to be the most experienced eCommerce marketing agency available today. Our leading expertise gives us the confidence to implement fresh ideas into web ads and sharing on social media by using the most inventive tools to provide the best marketing services online. Our eCommerce innovative strategies widen the boundaries of the regular perception of the marketing field, which makes this agency a true leader of digital advertising. As eCommerce development is our major course of activities, we consider eCommerce marketing to be one of our winning strategies as well. For each case, we're ready to offer the best solutions possible, driving excellence into everything we do.
Dmitry Gomeniuk
Digital Marketing Executive
eCommerce Marketing Experts Work Here
87% of projects delivered just in time;
Transparent contract, no hidden costs;
24/7 battle-ready technical support.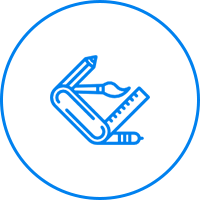 Result-oriented solutions for you built from scratch;
70% of our clients order full stack of marketing services;
We work with any businesses regardless of their size.
7 years of developing moneymaking IT solutions;
34 own apps for eCommerce platforms;
42000+ web stores use our solutions.
A Few Reasons Why People Choose Us
"SpurIT has been working with us to custom build solutions for our Shopify e-commerce site as well as provide software consultation that has helped NewAge get to where it's at today. As a rapidly expanding company, NewAge has developed a vast amount of requests with regards to e-commerce capabilities. SpurIT has helped us figure out ways to better manage all aspects of our site and online presence including marketing integration, custom development, order management, and analytics integration.

Any company, big or small, should definitely invest some time into discussing a way that SpurIT can help improve their business and software needs. SpurIT are experts at what they do and always work to make the client happy."

Lloyd Kim

Digital Project Manager, NewAge Products
"I am the CTO of a NYC based startup. We contracted SpurlT to work on a Shopify, Bigcommerce and Woocommerce plugins for our API. In short, they did a terrific job. They were on top of all the issues, timely respond to every question, and delivered great software. I was especially impressed by two things that I have experienced with the team:
1. They are working WITH us, not for us. I can consult the team for product design advices. I really feel like they are part of my team
2. The project has grown way longer and bigger than I originally imagined. The team handled scaling gracefully and stayed until the very end without any issues.
I would highly recommend SpurlT for your next Shopify project."

Sam Li

CTO and Co-founder at Zinc Platform
"We transferred a Magento site to Shopify and SpurIT was a great help in getting some important functionalities from Magento to work on Shopify. Good quality delivered on time. No hesitation in recommending SpurIT."

Sven Møller

Sales Manager, Nordiclite.com
Choose Your Plan for a Reasonable Price
On-Demand eMarketing
Perfect for one-time eCommerce digital marketing activities
No minimum hours
 No personal Digital Marketing Manager
 The work of developers is charged additionally
 No discount for our services
Get Free Counsultation
eMarketing Support
Ideal for ongoing eCommerce marketing tasks for digital products
Minimum 20 hours/month
 Personal Digital Marketing Manager
 1 hour/month – free developers work
Discounts on other services from SpurIT
Minimum 50 hours/month
 Personal Digital Marketing Manager
2 hour/month – free developers work
Discounts on other services from SpurIT
Follow Current Trends in eCommerce Development and Marketing
Find the Answers for the Most Asked Questions
We have considerable experience in promoting eСommerce projects in social networks and other media via marketing. By entrusting your project to our team of experts, you can be assured of the highest quality of services. Moreover, those customers who ordered the site development in SpurIT can also use our experience with Shopify for even better results.
Sure. We are glad to see different people and different eCommerce projects among our clients to help them grow with our experience and simultaneously learn something new. We would be very happy if you entrust your project to the marketing specialists of our company.
No, we provide an equally wide range of quality services regardless of the plan you choose. Plans are created so that you can choose the most convenient cooperation model for your business and are not limited to a certain set of services.