Gaining regulatory power in May 2018, the EU's General Data Protection Regulation that governs consumers' private information will bring about the greatest change to European data security in 20 years, and it may have a big impact on how businesses all across the globe protect personal data and privacy.
Businesses that collect information on European Union citizens will have to comply with strict new rules for protecting customer personal data by May 25. The companies will be required to ensure the highest levels of privacy protection or suffer very serious financial consequences.
We have prepared this short guide to help businesses understand what GDPR is, how it is being implemented, and what companies it affects. Read on to find some advice on how to meet the GDPR requirements. But let's start with a short quiz.
Which of the Following Is Not a Valid Way That a CRM System Can Collect Information?
CRM systems help businesses better understand their customers' needs and have a better idea of the steps they should take to meet those needs. Businesses collect information about their customers from a variety of sources and analyze data to sort it for patterns.
Loading ...
What Does Complying with Consumer Protection Regulations Do?
In the past, people who bought products had no rights associated with their purchases; they assumed the responsibility for any problems or failures. These days, consumer protection laws work to prevent this.
Consumer protection laws in different countries of the world regulate private law relationships between individual consumers and the businesses that sell different goods and services. These laws cover a wide range of topics, including but not limited to unfair business practices, misrepresentation, fraud, product liability, privacy rights, etc.
Privacy rights protection is a highly developed area of law in Europe. In 1995, the European Union adopted the Data Protection Directive that regulates the processing of personal data within the European Union. In April 2016, the General Data Protection Regulation was approved to update the Data Protection Directive to harmonize laws concerning data privacy across Europe and give data subjects significant new rights.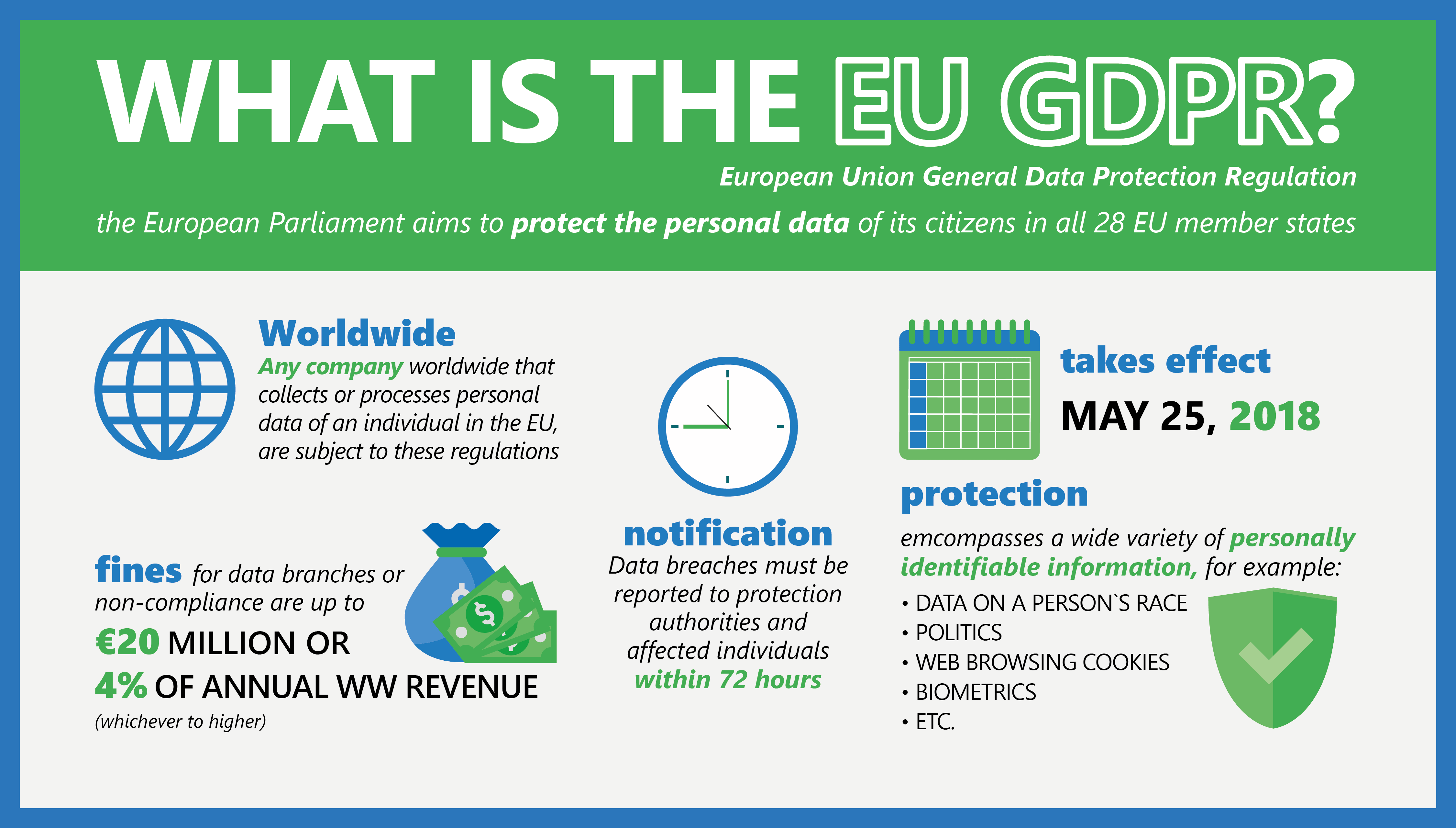 What does complying with consumer protection regulations do? Being non-compliant with requirements of the GDPR will be very expensive. Because of this, businesses will have to invest money to provide adequate IT security to protect personal data. According to a PwC survey of 200 US companies with more than 500 employees, 54% of US multinationals consider the GDPR their top priority and 77% of them are planning to spend not less than $1 million on the GDPR.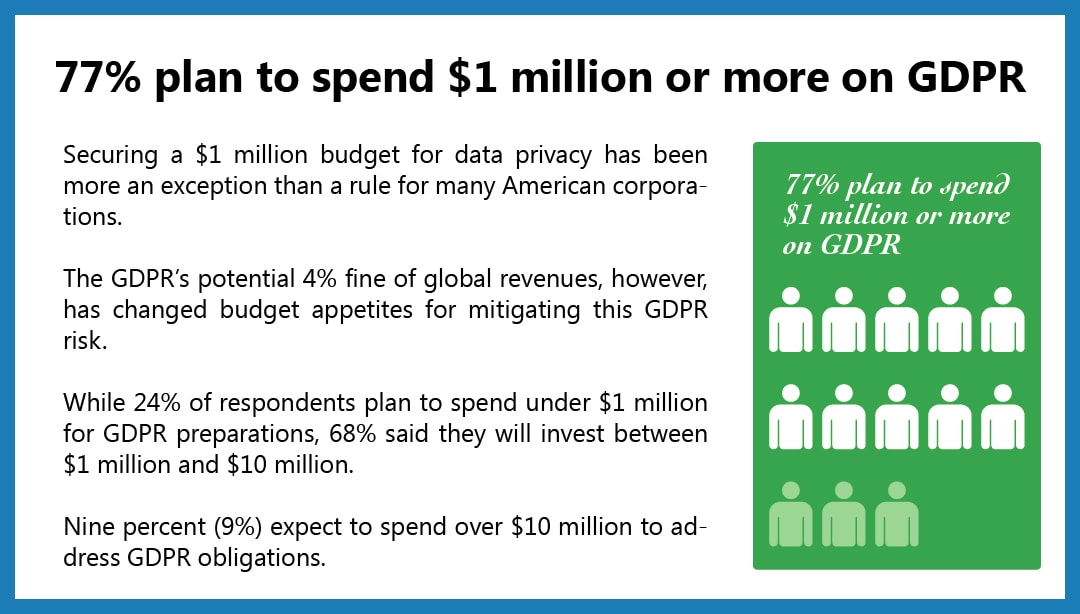 The GDPR was developed to take into account the vast technology changes of the last 20 years, and the changes in the protection of privacy rights were designed to reflect the world we're living in now when almost every aspect of our lives revolves around data. In our increasingly global and interconnected world, people regularly grant permissions to use their personal information for a variety of reasons in exchange for 'free' services.
What is GDPR compliance? Because of data breaches, information stored by organizations often gets lost, stolen and is exposed to people who were not intended to get access to it.
The public concern over privacy is significant and increases with every new high-profile data breach. RSA revealed a survey that involved 7,500 consumers in Italy, Germany, France, the U.S. and the UK.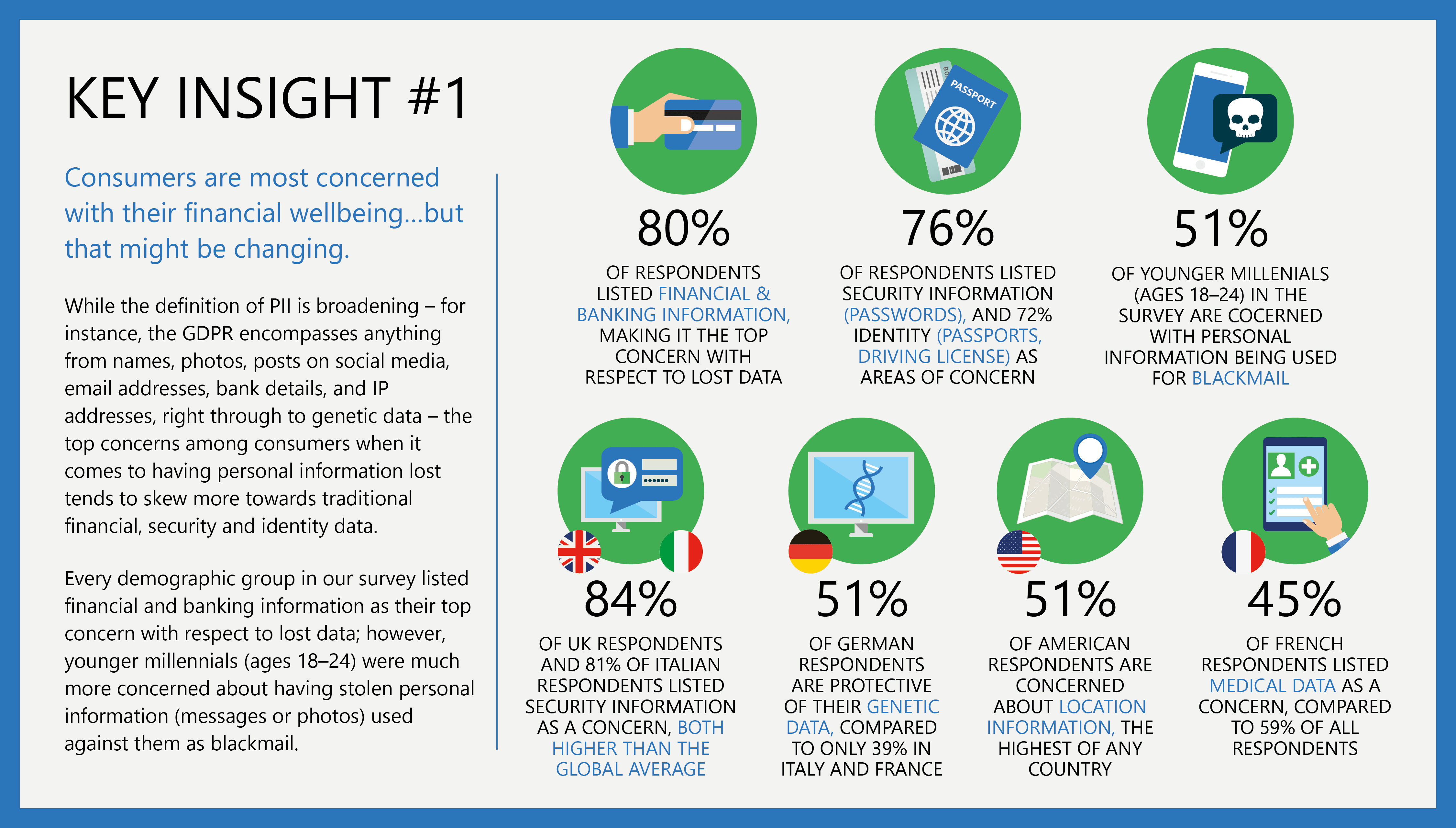 The authors of the report came to the conclusion that consumers expect more transparency from the companies that store their personal data, so businesses that use more digital assets and big data must be accountable for the control and protection of personal data on a daily basis.
Under the terms of the GDPR, companies must ensure that all personal data is collected legally and under strict regulations. In addition, companies that collect personal information will be obliged to protect it from misuse and to respect the rights of the owners of this data. If they fail to do so, they will face hefty penalties.
What Types of Privacy Data Does the GDPR Protect?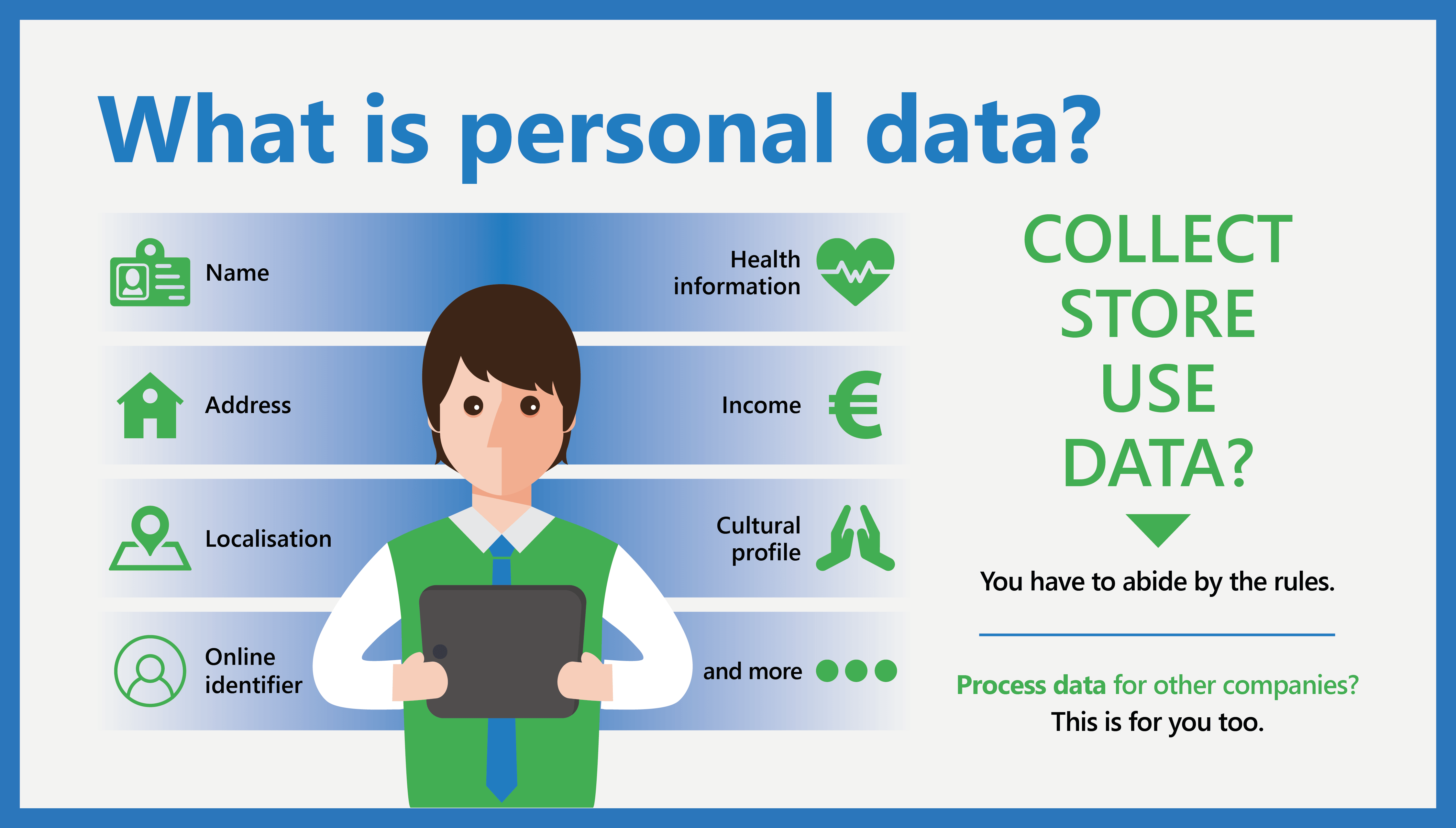 Almost all services that people use – governments, retailers, banks, and social media platforms –collect their data for further analysis. The GDPR will protect all that data.
Name, address, ID number and other basic identity information
Ethnic or racial data
Biometric data
Political opinions
Health and generic data
Sexual orientation
Web data, including IP address, location, RFID tags, and cookies
Which Companies Do the GDPR Requirements Affect?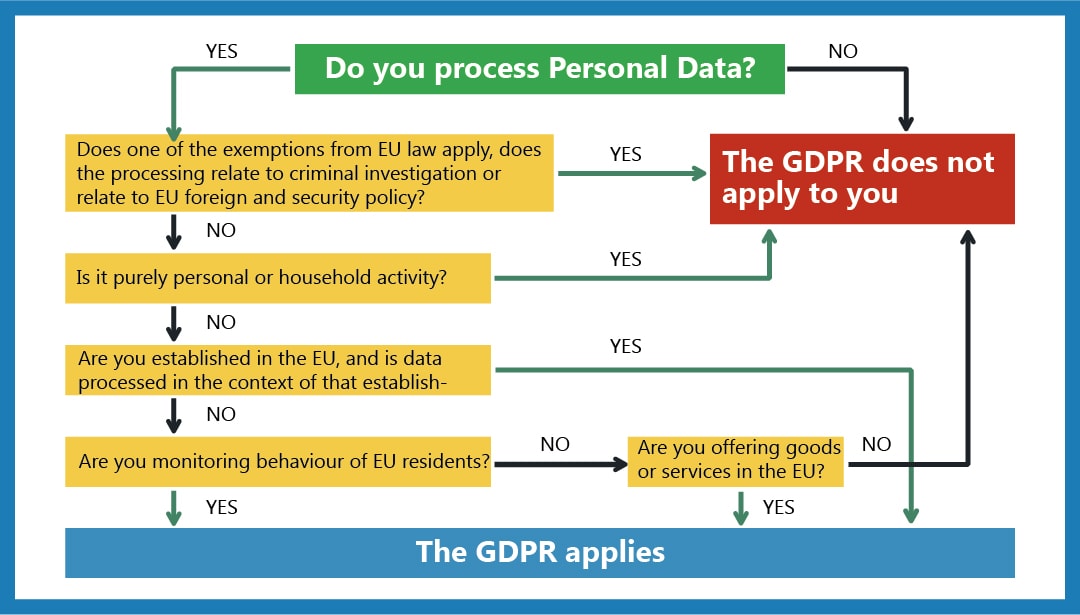 The GDPR applies to any organization that operates within the EU, as well as any organizations outside of the EU that provide services or goods to customers or businesses in the European Union. That actually means that almost all major corporations in the world have to develop their GDPR compliance strategy to be ready when the GDPR comes into effect.
There are specific criteria for businesses required to comply, which include:
Presence in any country of the European Union.
The company is not present in the EU but it processes personal information of European Union residents.
It has more than 250 employees.
Fewer than 250 people work at the company, but its data processing can impact the freedoms and rights of data subjects. Data processing includes specific types of sensitive personal information.
This actually means that almost all companies will be affected by the GDPR.
When is the GDPR Compliance Deadline?
The GDPR demands that organizations implement significant data protection safeguards and are expected to comply immediately starting May 25, 2018, when the GDPR comes into effect.
How Will the Regulations Protect Consumers?
Broad jurisdiction. The GDPR will apply to all companies that collect the personal information of EU citizens.
Strong penalties. Breaches can cost businesses a lot of money. There will be financial consequences and 2 tiers of fines of up to 20 million Euros or 4% of global revenue.
Consent from data subjects. Customers have to give their consent on a simple form with a clearly stated purpose for signing up, and users must have the opportunity to reverse consent.
72-hour breach notification. Businesses must report any data breach that poses risks to customers' rights to the appropriate bodies and customers within 72 hours of its discovery.
The right to be forgotten. Customers have the right to demand that their data be erased.
Specific protection for children. Children under 16 need parental consent for processing their personal data because they are less aware of the possible risks and are more vulnerable to them.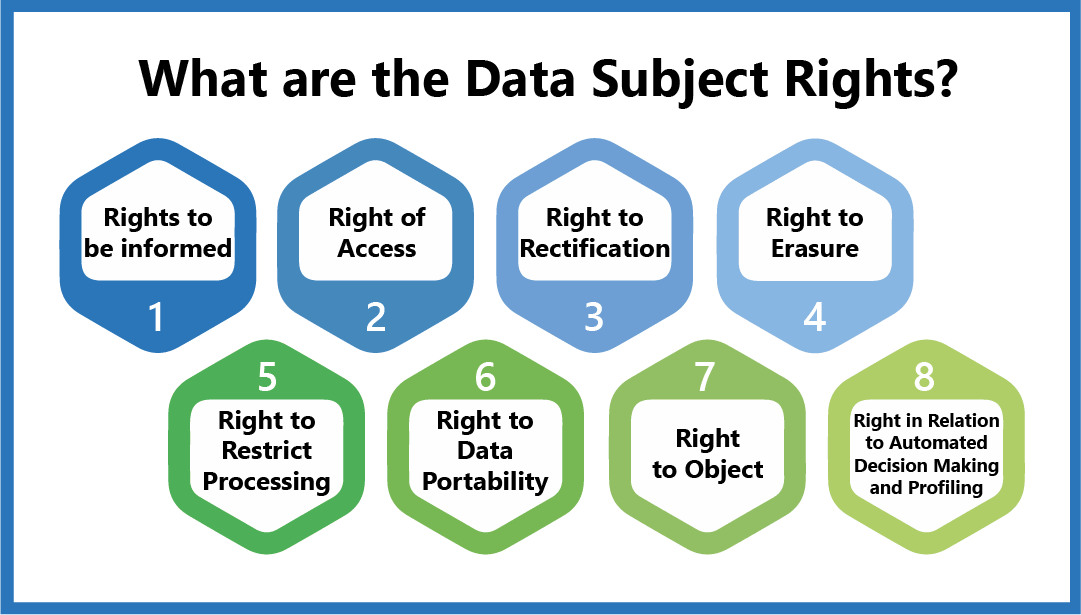 What Does GDPR Mean for Businesses?

To be GDPR-compliant, businesses must handle consumer data carefully and provide consumers with multiple ways to check, monitor, control, and delete any information related to their personal data that they want.
Businesses must implement specific processes and often hire additional personnel to ensure that personal data remains protected. To meet this GDPR requirement, companies should use encryption, anonymization, and pseudonymization.
Companies will have to change the way they process, protect, and store their customers' personal data. For example, companies will need an individual consent for processing and storing personal data and will be allowed to do so no longer than necessary for the specific purpose for which the data was collected. Companies must delete personal data if it is requested. Organizations are required to keep documentation of all activities related to data processing.
A very challenging requirement may be an obligation to report data breaches to the appropriate authorities and to the persons affected by a breach, and do so within 72 hours of when a particular breach was detected. Companies must also perform a risk assessment to mitigate risks and identify vulnerabilities in their security system.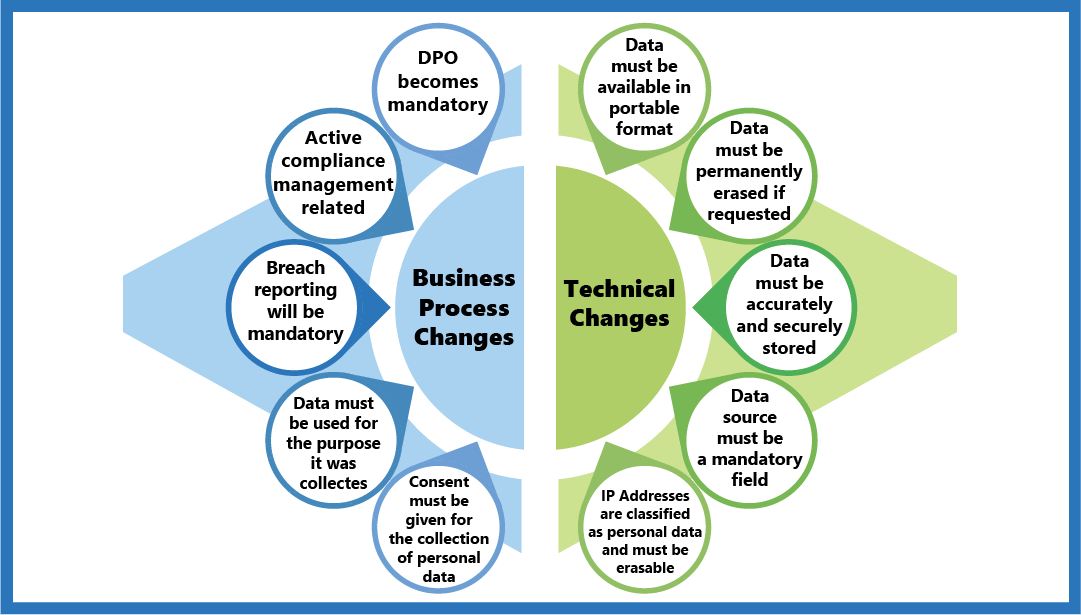 Use GDPR Compliance Checklist to Prepare
The changes introduced by GDPR will affect a wide variety of functions in many organizations, although many of the GDPR's key principles are much the same as the principles in the Data Protection Act (DPA). But there are some new elements and important improvements, so businesses will have to do some things for the first time and some things differently. Companies will have to review and update their existing data protection plan to ensure that it complies with the GDPR requirements.
Here's a GDPR compliance checklist that will help you get yourself prepared.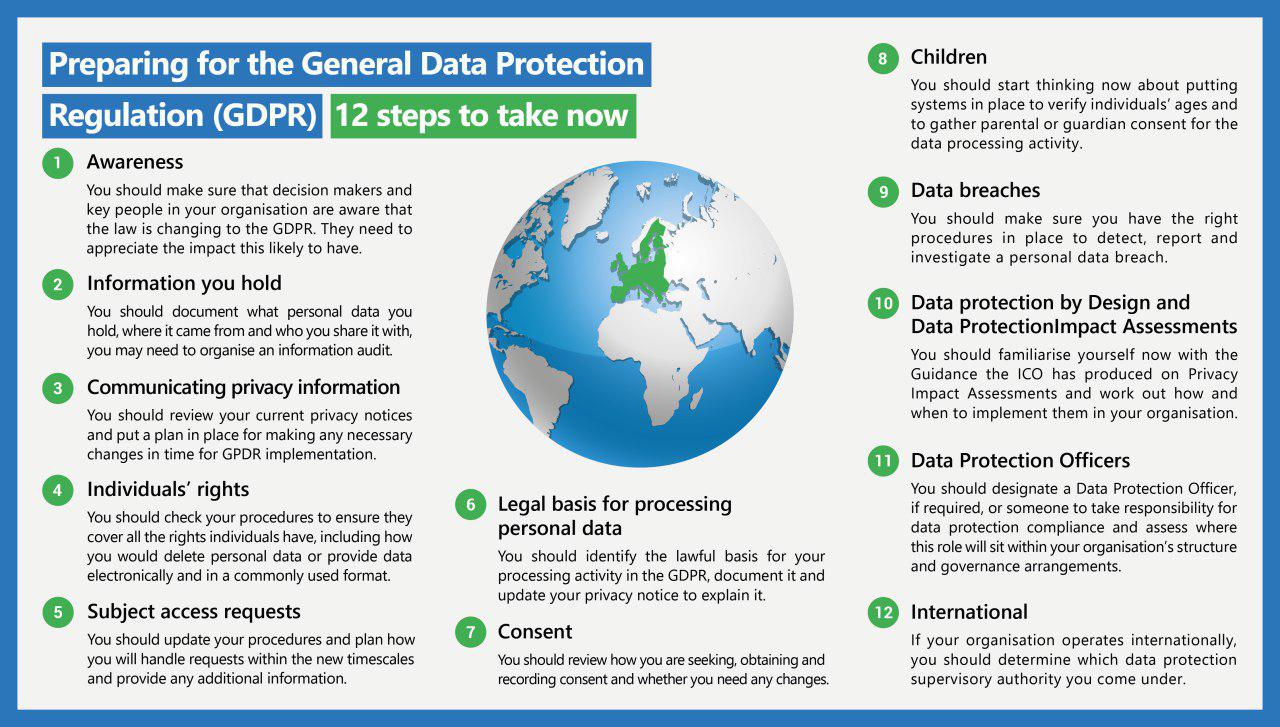 There's no universal approach to preparing for the GDPR. Each business will need to review their data protection policies and technology and to examine what exactly needs to be achieved to comply, and make a specific GDPR compliance checklist for their company. Businesses need to take measures to educate their staff, perform a thorough audit of their current data security system, hire a data protection officer, work with third-party providers who are GDPR-compliant, etc. The best advice is to start preparing for it as early as possible and work out the procedures you need to adopt or update to meet the requirements of the GDPR.