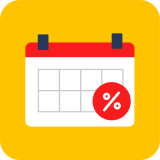 Bulk Discount & Sales Manager
Bulk Discount Manager allows you to set a discount for a collection or even a whole store in less than 30 minutes, and when the sale is over, automatically returns items to their regular prices. It's an easy, cost-effective, and money-saving solution for your business!





Unlimited Plan
$27.95 / month
What this app can do for you?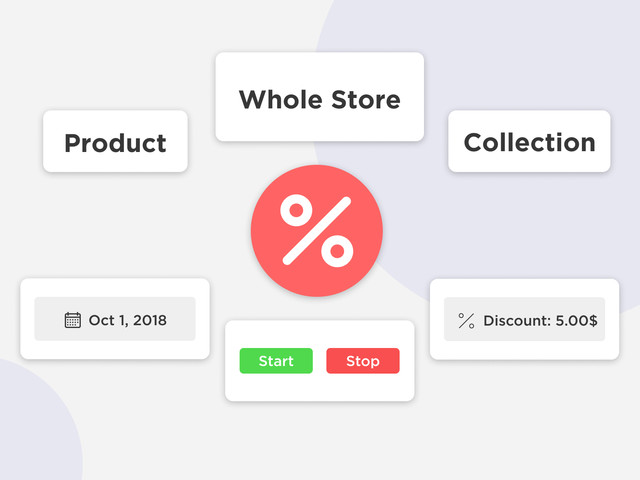 Manage bulk sales

Manage sales for hundreds of products at once. Set discounts as a percentage or a money amount, from a single product to the entire store.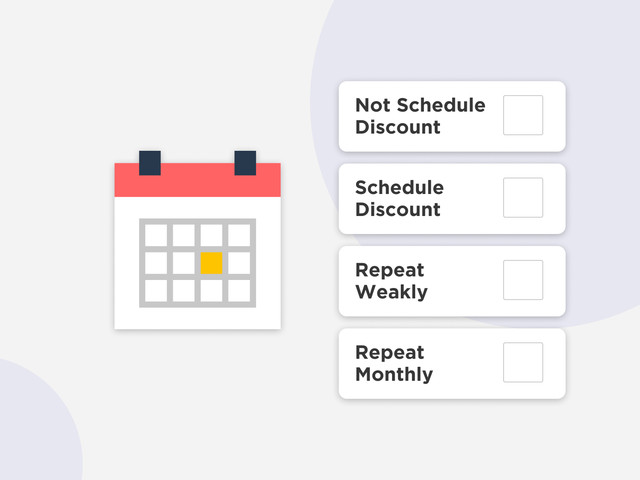 Schedule discounts

Set up sales once and get the job done on a weekly and monthly basis. With our app, managing a sequence of product discounts is easy!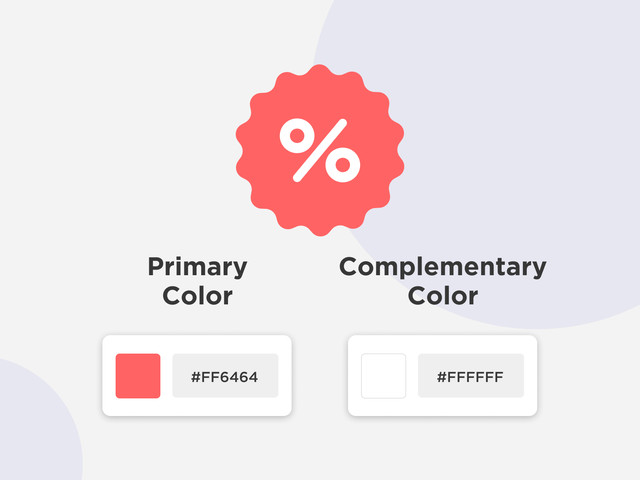 Customize sale badges

Highlight products on sale with an easy-to-use drag-and-drop editor with an extensive sale icon library. No more complex customizations to get the design you want!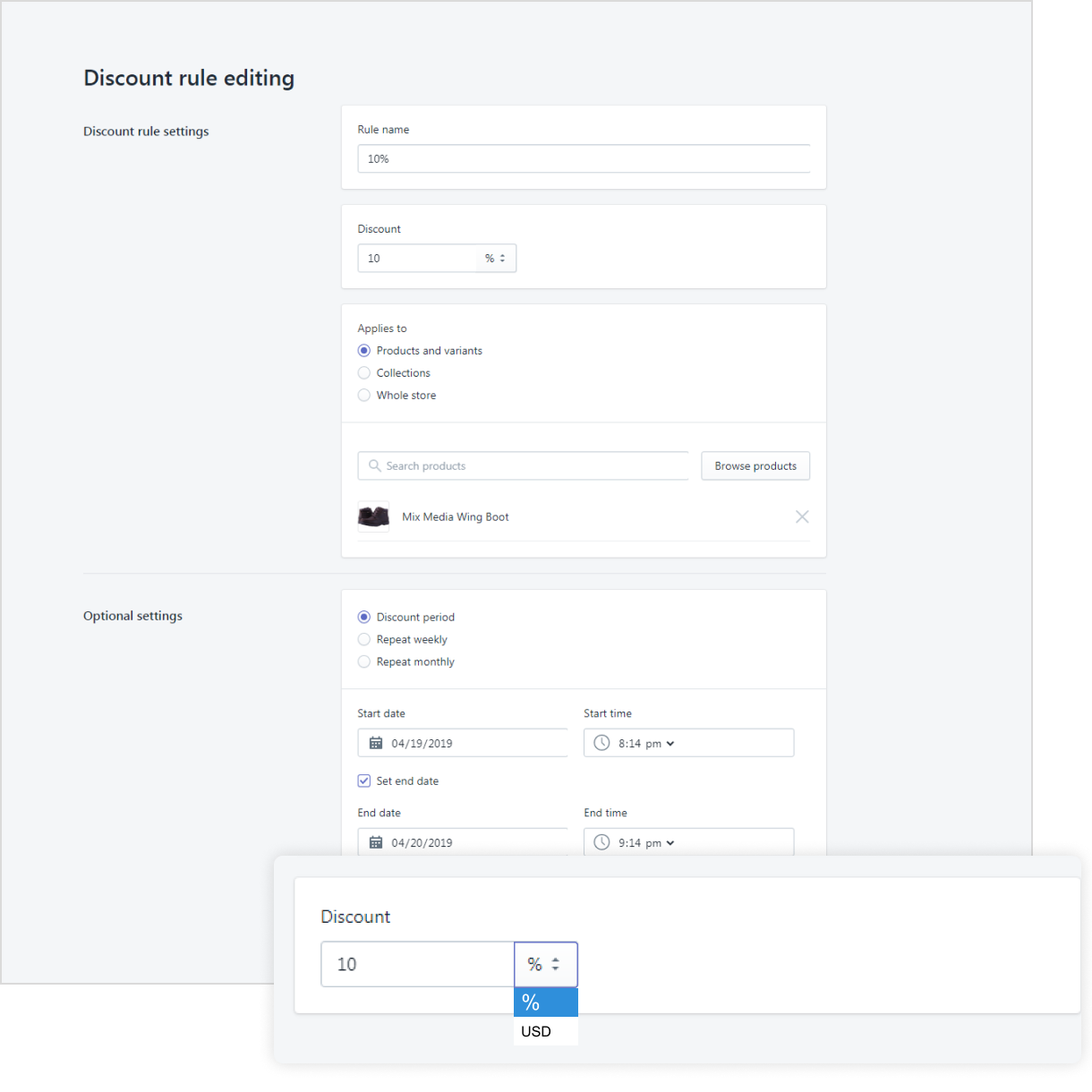 One-click management

Although it usually takes hard work to apply discounts to hundreds of products, with this app you can do it easily in less than 30 minutes.
Any number of products

You can apply sales to specific individual products, variants, collections, or to your whole store at once – the app is flexible to fit any business needs.
Built-in calculations

Discounts can be set either as a percentage or a specific money amount, and the app does all the calculations for you.
Flexible schedule

It's easy to pause or end a current or scheduled sale with just a few clicks, and the discounted items will be changed back to their original prices.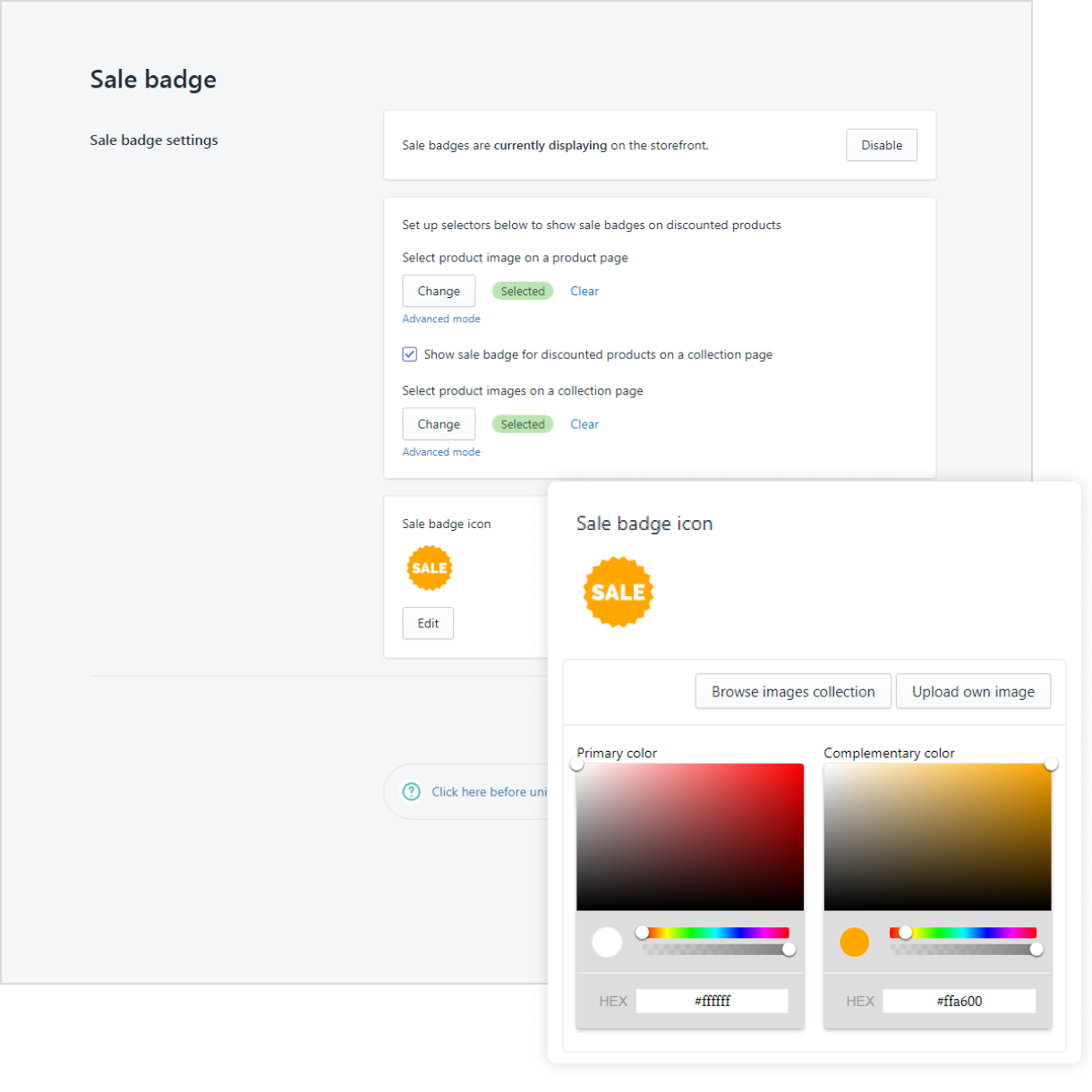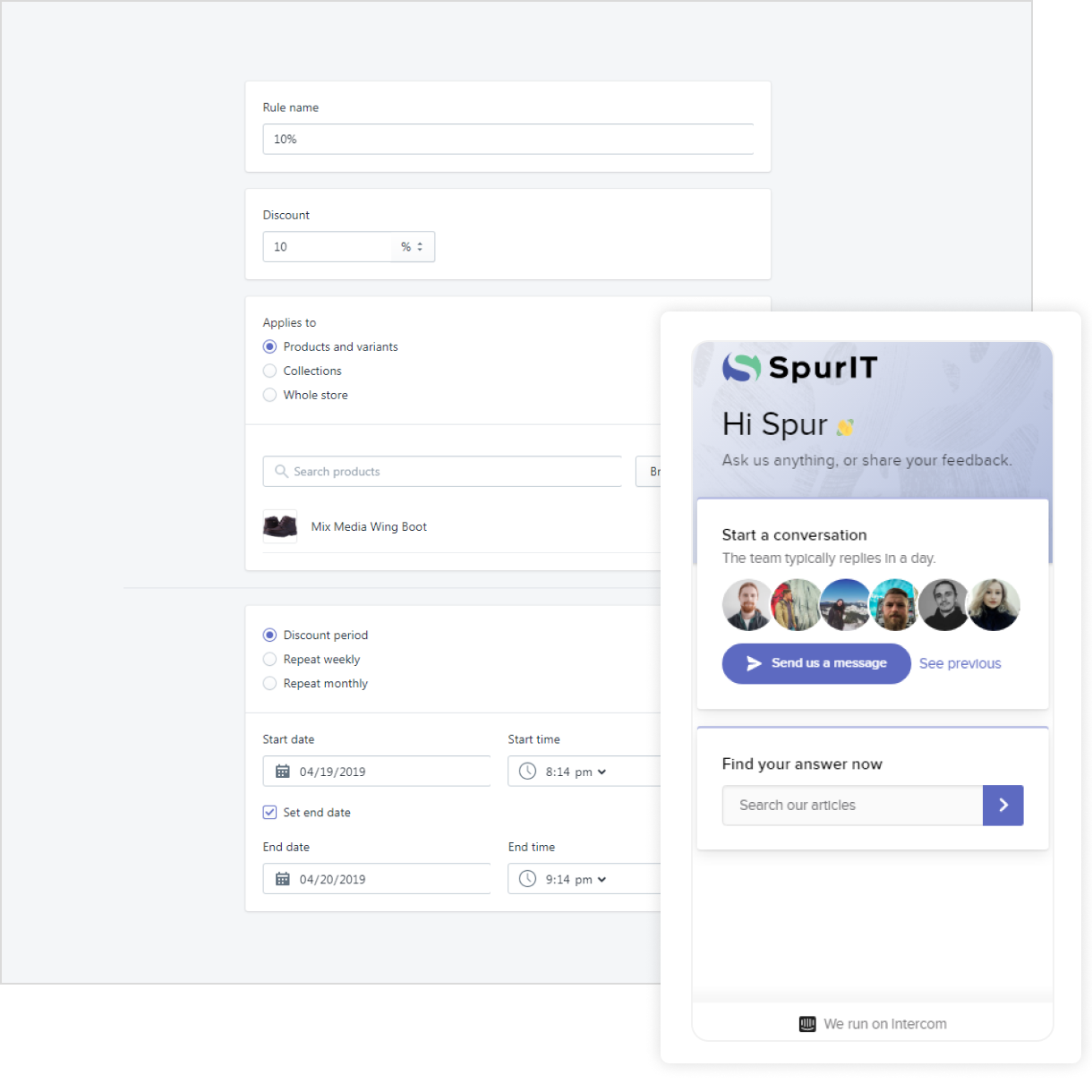 Compatible with any Shopify theme

No coding skills are required to install the app. It's easy to add and manage items in the app, and it works well with any Shopify theme.
Fast and free customer service

A dedicated support team is there for you day and night, including weekends. With almost 10 years of experience, we are ready to help you with any issue.
Try it now
Made by professionals with Love ❤️
The Shopify bulk discounts & sales manager app simplifies the process of scheduling sales in eCommerce stores that run on the Shopify platform. It automates the process of setting individual promotional product prices to manage sales and saves you a lot of time so you can focus on other important aspects of your business.
There are a lot of websites that offer discounts apps for Shopify but if you compare features included with the packages offered by our competitors with the advantages that you can get when choosing our app, you will see that with our starter and basic pricing plans, you will get the best value for money:
You can start using our app at no cost with our 14-day free trial – no credit card required.
You don't need any coding skills to install our app for Shopify.
Our app for Shopify has a large variety of discount settings, including bulk discounts.
We guarantee fast and free customer support.
Read the User
Reviews and Testimonials
"We are running our summer sale event through the app and it attracted many new customers to us."
Swimsuit 2
"This App is Excellent, highly recommend it for ease of use, so many options."
Thesource 3
"Outstanding support which help you to get the most out of this app."
Autohubver2
"The most easiest and fastest way to create sales and discounts."
Lola Mindi Boutique
"So far this app works great and cuts down a lot of time when you have a lot of product!"
Augieandlola
"We had implemented our first discount within half an hour…"
Love Sculpture Series
See all official reviews →
Read the User
Reviews and Testimonials
We are running our summer sale event through the app and it attracted many new customers to us.

Swimsuit 2
This App is Excellent, highly recommend it for ease of use, so many options.

Thesource 3
I personally endorse this app. I have gained more traffic and sales due to this app.

Braceletsave Com
This app works great and I have gotten some good sells because of it.

Allies Retail
Best free app I have found to boost sales with notifications and get customers subscribed to email lists.

K And M Gifts
Apply discounts to the first 100 variants
Schedule sales flexible
Bulk edit discount rules
Repeat discounts
Sale badges editor
Get the App Now
$18.95 / Per Month
or $15.16/month billed at $181.95 once per year

Apply discounts to an unlimited number of variants
Schedule sales flexible
Bulk edit discount rules
Repeat discounts
Sale badges editor
Get the App Now
$27.95 / Per Month
or $23.33/month billed at $279.95 once per year
Up to 3 h/month of customizations
Dedicated manager
Priority queue to get support
Assistance to set up the app
+ All from the Unlimited plan
Get the App Now