Back in stock Shopify Alerts App
When the Wait is Rewarded
Bring your customers back! Notify them instantly when a product is back in stock.
A Shopify Notification
When The Item Is Back In Stock At Your Store
Shopify Back In Stock Notification: Main Features
Get your potential customer's email address
Customers leave websites when a product is out of stock. Collect customer emails and notify them when a product is back in stock.
3 ways to obtain customer email
Automatic subscription popup appears after a user visits the page with an out of stock product.

Back in Stock button that opens subscription popup.

Widget with subscription form at any location on the product page.
There is no need to interfere with your Shopify store's layout to implement this back in stock app. It works well with every theme and requires no manual modifications to implement the stock availability notification mailout.
24/7 Fast Support for Free
Our specialists will help you with any issue as soon as possible. We work weekdays 24 hours per day, with no extra charges.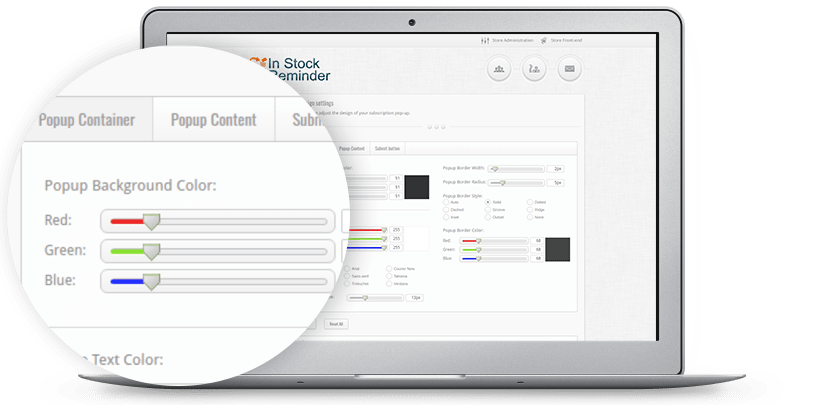 No matter what you choose – a widget, a button, or a popup, you'll be able to customize its appearance according to the theme used in your store.
Button Image Customization
Upload your own button image to make the design of the widget ideally match the store's theme. It has never been so easy to change the button image, as no coding skills are required!
All the data gathered through this Shopify app to notify users can be withdrawn in a universal file format (.csv). It is especially useful when the store uses MailChimp.
Get instant notifications about new subscribers and manage their data while working with the new subscription report feature. Otherwise, add daily/weekly/monthly report to your email, if necessary.
Made by professionals
with love

Made by professionals
with love

Some products are easy to find but they are not always available in stock.
Nevertheless, there is a demand for such products and people are willing to buy them. Applying the Shopify Back In Stock Alerts app, you will be able to inform your Shopify users when a certain product is back in stock and now available to purchase.
Automatic alerts for customers in the app;

Customization of the product list;

Unlimited emails and notifications.
Read the User Reviews and Testimonials
… It is already incredibly valuable. The insight it gives me about my customers is excellent.
… It has helped us recover sales that might have been lost. … Stop thinking about it and just install it. You won't be sorry.
It works exactly as you want it to work… Excellent job! Excellent app!
Great app works flawlessly after the superb support to fit with my requirements. … Super thanks to all the Team!
It has helped us tremendously! increased sales, and allows us to know how to order going forward…
… We no longer need to have a document to reference & contact customers when shipments arrive…
Try Back in Stock alerts now!
     6-day Free Trial
     24/7 Customer Support