Hire Shopify developers that make a difference
We are a certified team that got you covered with anything you may need. From Basic to Shopify Plus, hundreds of stores around the globe trust our expertise. Get an enterprise-level solution tailored to your business.
Discuss my project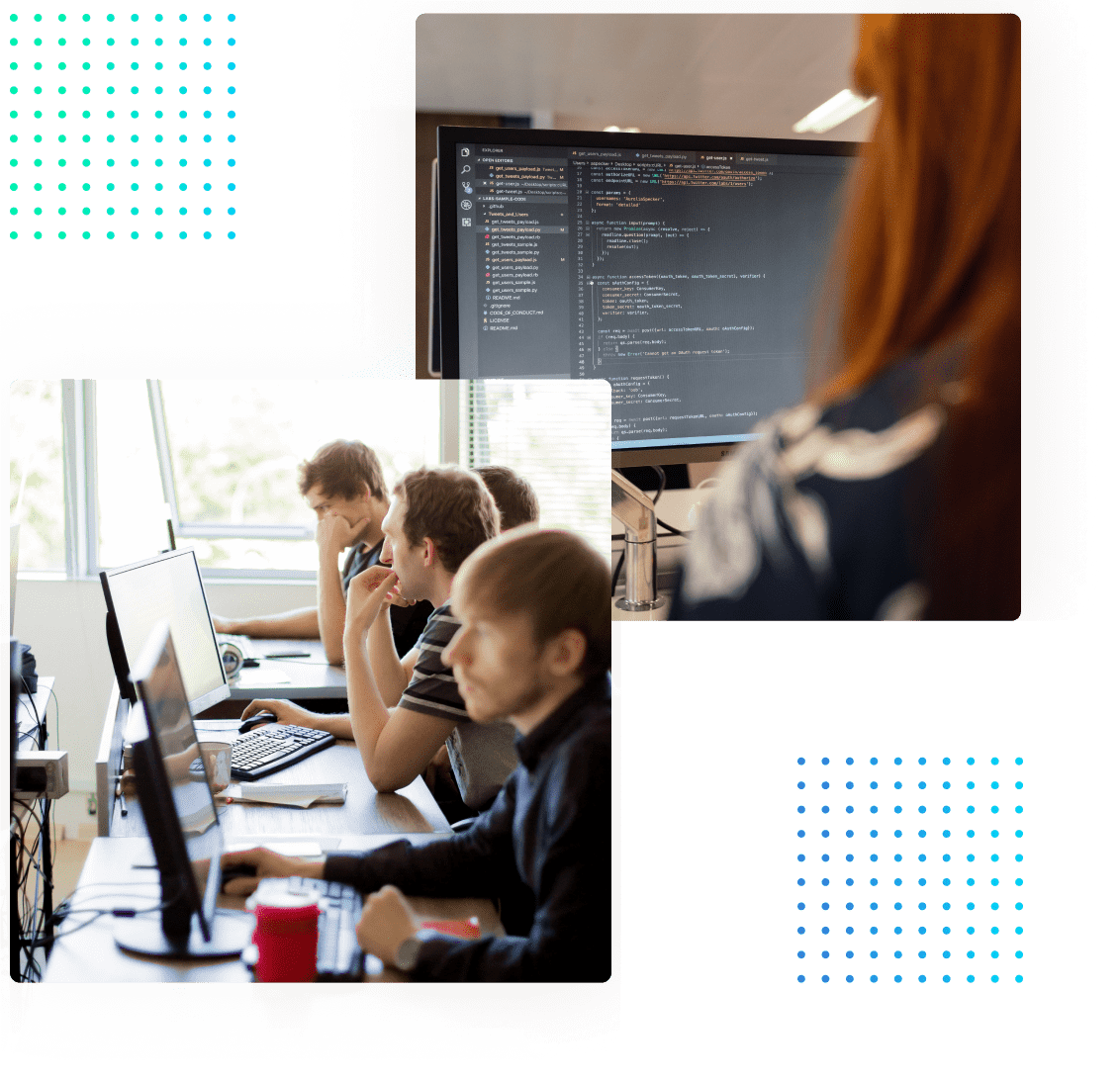 What you get with Shopify
Shopify makes eCommerce easy by providing a wide range of benefits for any business.
Servers already provided – no need to set them up single-handedly
All spikes in traffic accommodated with 99% uptime
You're always online – Shopify takes care of servers maintenance
Security issues are covered, keeping all your data safe
24/7 customer support with fast response time
More than 2k apps for adding any store functionality, easily installed with no coding required
Constant updates – your store is always on the latest version without any extra effort
Easy store setup with out-of-the-box features
Clean and intuitive admin panel that is easy to work with
Already mobile-responsive – your store looks great on any device
Extensive knowledge base and video guides on any Shopify-related topic
Payment integration with all major platforms alongside with Shopify's own gateway
Wide range of designs available – you just choose the theme and fill it with content
To top it all off, Shopify's scalable infrastructure is engineered to fit companies of any size. These and other benefits are available for a standard fee, and allow you to focus only on your business, rather than constant troubleshooting of tech problems.
Want to develop something outstanding?
Your personal Shopify expert team
We provide not only eCommerce coding professionals, but also the skills that your business needs to succeed. Our 9+ years of Shopify development is your gain.
Each member of the team is a certified Shopify developer, so you can be sure that we code it out using cutting-edge technologies in the most elegant, efficient way.
With all years of experience focused directly on Shopify and 37 in-house developed apps, we have the vast expertise to cover any of your Shopify-related needs. From the start of work to the final turnover of your online store, we can suggest and implement the best solutions for any stage.
More than 91k stores trust our products, because using only the latest technologies combined with the best development practices, we can deliver seamless and future-proof business solutions.
Choose the development plan that suits you best
Note: The final cost can vary depending on the specifics of each project.
To have your project estimated and get any additional details please contact us.
Basic
FOR STARTUPPERS AND DROPSHIPPERS
We provide you with all the essentials for starting a business. Having vast experience in eCommerce design, marketing, and development, we save you from all the expensive bad tries that are inevitable when you're new in the field. For a fixed price you get many years of expertise of the whole team of professionals dedicated to help your business grow. You save time and money and get the best solution for your business without messing around.
Consider this the best investment you can do when just starting out.
Scope of works:
Competitors' analysis – 3 hrs
Theme research – 5 hrs
Layout creation – 10 hrs
Visual content creation – 10 hrs
Theme set up – 10 hrs
Development – 12 hrs
Total: 50 hours
Advanced
FOR GROWING BUSINESSES
When you've nailed the fundamentals and ready to take your business to the next level, you probably face some functionality restrictions. At this stage, we can offer you extended development services, aimed to enhance the basic functionality of your store. It can be either store tweaks or your own custom feature, but anyway we go deep to get what your business truly needs and provide the best tech solution for it.
Give your business everything it needs to grow.
Scope of works:
Competitors' analysis – 5 hrs
Theme research – 5 hrs
Layout creation – 10 hrs
Visual content creation – 10 hrs
Theme set up – 10 hrs
Development – 60 hrs
Total: 100 hours
Professional
FOR BUSINESSES READY TO SCALE
Scaling requires a clear understanding of market prospects and unique functionality. We can provide you with both. Our marketing team will carry out detailed research of the competitive environment backed up with the latest data. And our design and full-cycle development teams will turn your idea into a completely independent business tool with unique UX/UI design for 1 or 2 pages, and custom functionality that is not provided out-of-the-box on Shopify.
Get everything you need to stand out of competitors and make it big.
Scope of works:
Competitors' analysis – 32 hrs
Theme research – 5 hrs
Layout creation – 13 hrs
Visual content creation – 10 hrs
Theme set up – 10 hrs
Development – 80 hrs
Total: 150 hours