Foreman
Store development
Home furnishing

Project details
Development team

2 Mid-Level Full Stack Developers, Team Lead,
Project Manager, Account Manager

Marketing team

Marketing Specialist, UX/UI Designer, Content
Manager

Store development
plan

Time
The task

Create a Shopify store to help our client sell their products directly to customers in addition to the
previous B2B business model.
About the business
Foreman is a US-based manufacturer in the field of High-Pressure Laminate (HPL). The company produces a wide range of products from HPL, including outdoor and garden products, pet furniture, and lockers for businesses and individual usage.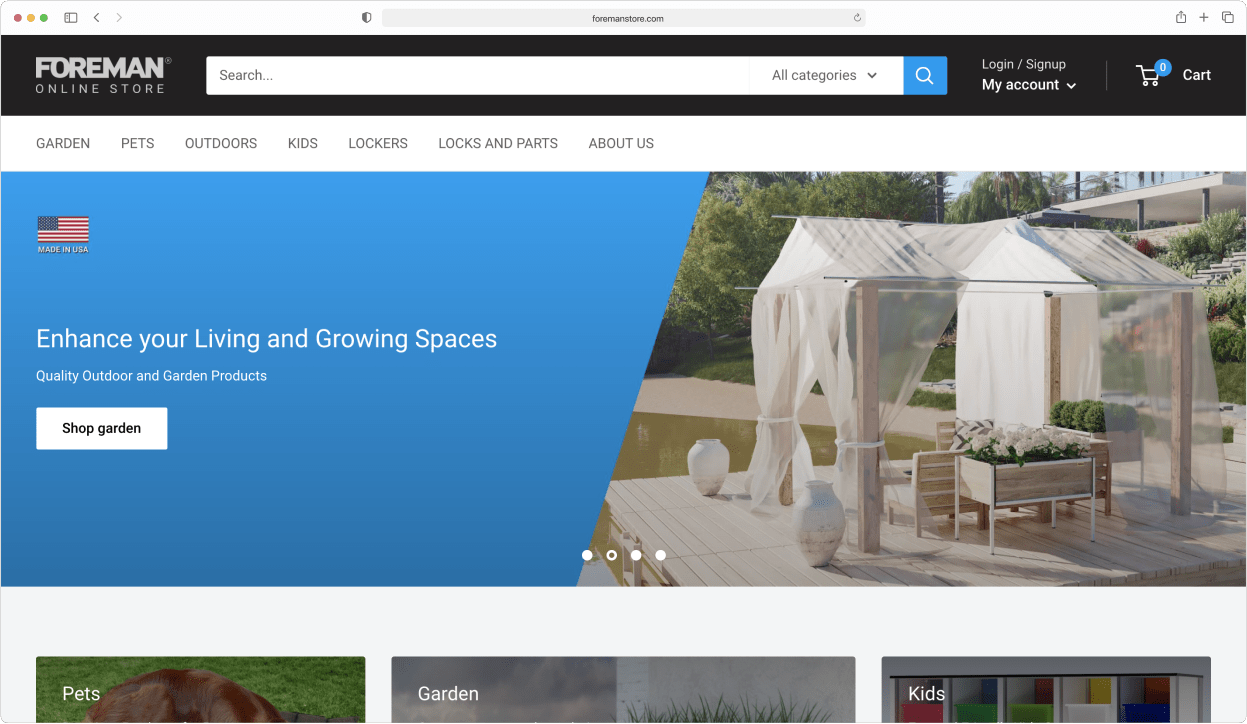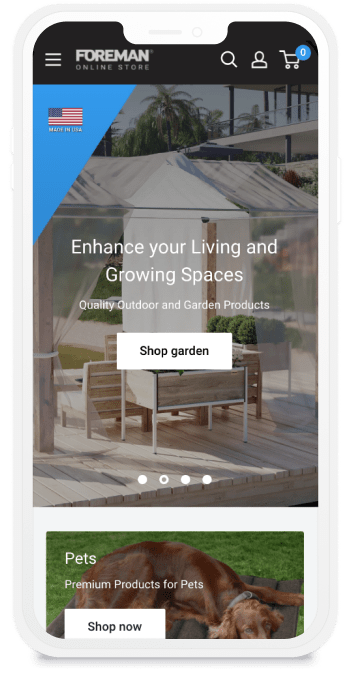 It was extremely important for our client that we act proactively at every stage of the process and recommend the best way to go in each case based on our extensive eCommerce experience. That's exactly how we work, so our cooperation was a perfect fit from the very beginning!
Choosing the theme
The perfect theme had to highlight the wide range of products our client produces, so we were looking for a theme with:
Convenient navigation and product filtering;
Possibility to display many product categories at once.
Based on our experience, we recommended the Warehouse theme, which meets all the requirements and was instantly approved by our client.
Choosing the theme is one of the most important steps while creating a store because this choice defines the costs of the store launch and its future maintenance.
Not any theme would be suitable for our client's needs because of the business specifics, so the correct theme choice helped our client to launch quickly and keep the costs as low as possible.

Creating an MVP store
Our client was pressed for time so instead of our usual process of designing, implementing, testing, and then launching a store, we first created an MVP store version based on the previously chosen theme.
In addition to the theme setup, we also created some visual content and texts, and after the client's approval, launched the new store. Creating the MVP took us just a few days, so our client got a new fully functional store quickly and without any loss for the business.
Creating and implementing the layouts
With the basic MVP store ready and functioning, we could return to the layouts and carefully think them through. The layouts were accepted by our client without changes and proved to be effective in the long run.
The client already had an Amazon store and wanted it to be used as a reference for the new Shopify store. So first, we conducted an audit of the Amazon store to highlight the UX/UI issues that may negatively affect conversion and took them into account while designing new layouts.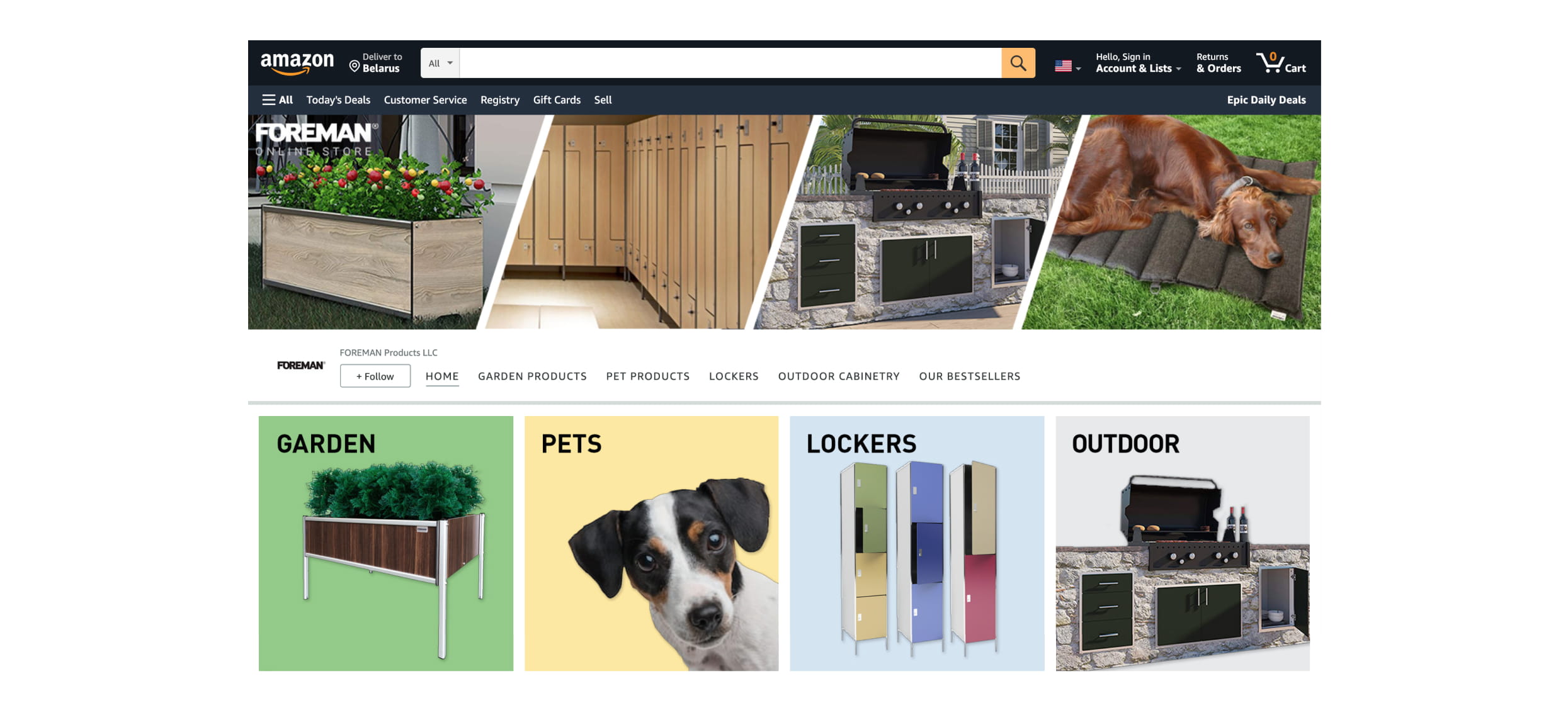 Creating collections
We created website navigation, products collections, and products collections images. This time products were created on our client's side, but we tagged them to ensure proper work of the product filtering.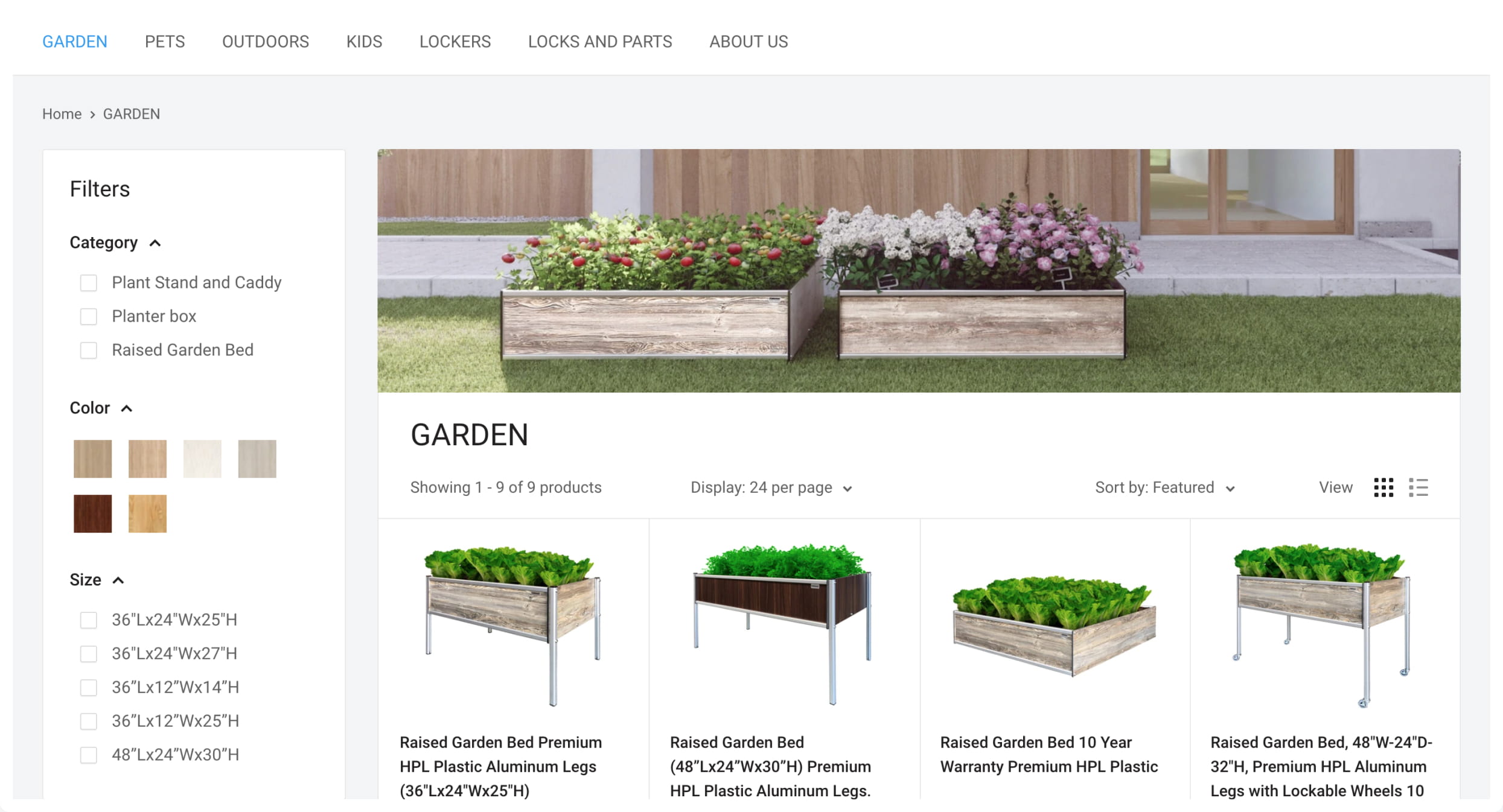 Improving the store's functionality
At this stage, we aimed to overcome those Shopify limitations that were not suitable for our client's business model.
Increased product options
There are three product options on Shopify's product card by default (such as color, size, material, etc.) For our client's business, it was crucial to mention more than just three to provide customers with a comprehensive product description and product filtering, so we increased the number of product options with the app's help.
Adding photos to every product variant
On Shopify, it's not possible to attach specific photos to every product variant — usually, all images are uploaded to a product card in bulk. Our task was to change this and show only the corresponding photos for each product variant.
Development wasn't needed here because the issue could be fixed with an app in this case. We chose the one that best fitted our clients' needs and tested it to work smoothly.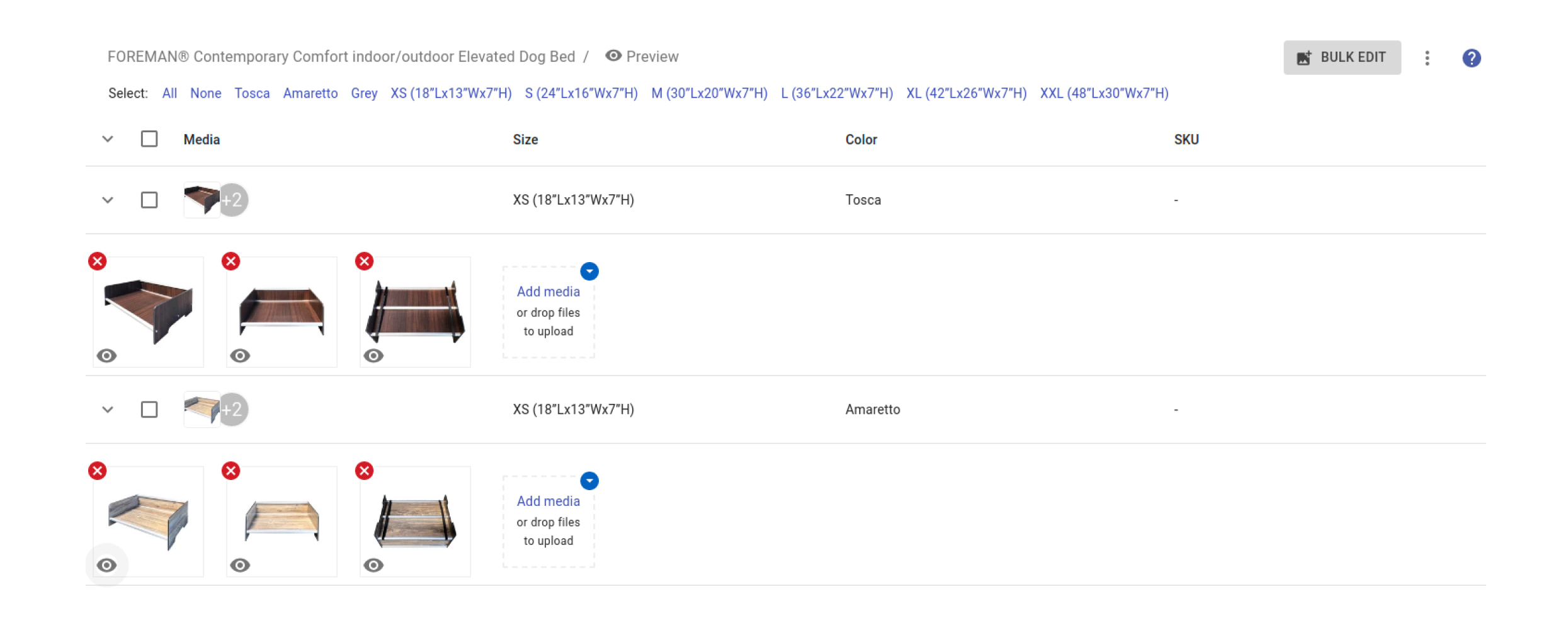 Client reviews
As the business was established in 2005 and previously run on Amazon, many highly ranked client reviews were available. We needed to import all these reviews to the new Shopify store and successfully completed the task.
Every business is unique, and any theme will need to have some improvements here and there to fit it perfectly for the particular business needs. Sometimes these improvements require development; sometimes, installing the right app solves the issue.
A wrong choice can lead to skyrocketing development costs and unnecessary time waste, so we helped our client avoid this and chose the most cost-effective solutions in their case.
Payment and shipping setup
Payment setup was easy in this case — as our client was from the US, using Shopify payments was the best choice. But shipping setup was the main challenge on this project because of two reasons.
Integration with Fulfillment by Amazon
Our client's products are stored in Amazon's warehouses, and Amazon is responsible for delivering these products to Foreman's customers.
By default, after a product is ordered on Shopify, our client would have to send information about the order to Amazon manually.
We integrated two client's stores on these platforms, so everything from receiving an order to delivering it to the customer is now done entirely automatically.

Calculation of the shipping rates
Shopify has two types of shipping rates calculation:
Flat, when you manually set the cost of delivery;
Calculated when the calculation of the delivery cost occurs right during the checkout by a third-party shipping service.
Our client has very different products in terms of size and weight, from heavy big metal lockers to light and small dog mattresses, so the calculated delivery seemed like the right option at first sight. But after testing, it turned out that shipping rates were either too high or too low for the specific products because Shopify doesn't consider different products' size and weight while calculating the cost of delivery.
This problem was finally solved with an app that allows setting up a custom calculation of shipping rates, but it took us a lot of research and testing to successfully solve the issue.
With these two integrations, we saved our client from a lot of manual work and made their business process seamless and automated.
Launch and support
After launching the new Shopify store, we continued to work with the client and now advertise Foreman's products online. The client also requested redesign services of their Amazon store.
Summary
We created a Shopify store for the US market that perfectly fits our client's business model. Here is what the Foreman's owner says about our cooperation:
We've got the experience
and skills to solve any issue