Susparsa
Store development
Fashion and apparel

Project details
Development team

2 Mid-Level Full Stack Developers, Team Lead,
Project Manager, Account Manager

Marketing team

Marketing Specialist, UX/UI Designer, Content
Manager

Store development
plan

Time
The task

Create a ready-to-use multilingual online store with a unique shipping solution.
About the business
Susparsa is a Swiss family startup that manufactures and sells organic clothing. The business needed its first-ever store optimized for selling throughout Europe.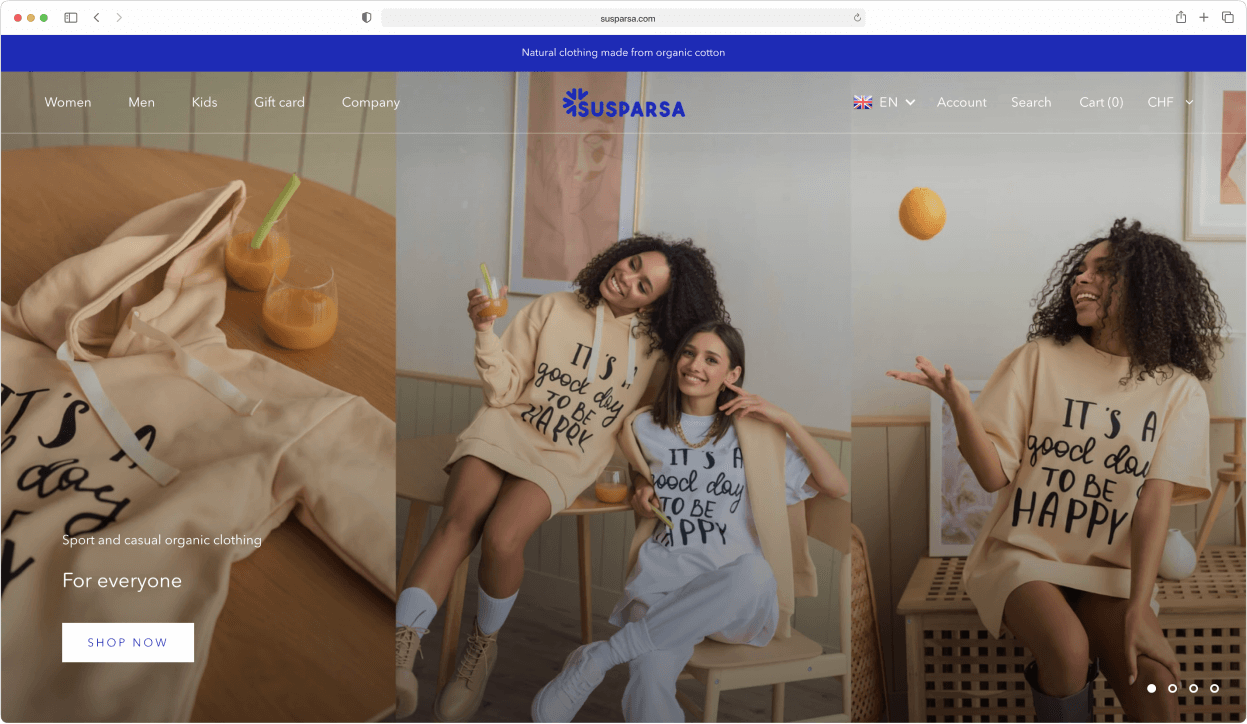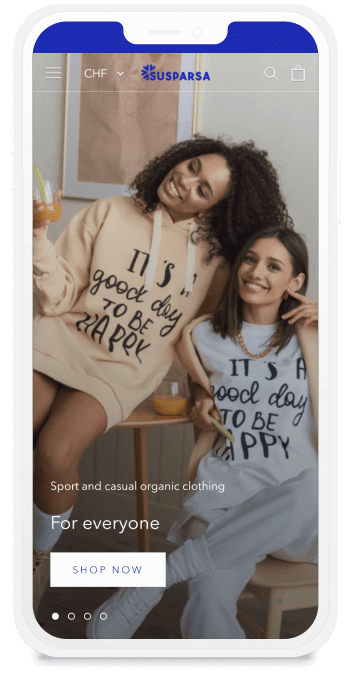 To build a store, clients can either buy a ready-made theme or build a custom one specifically for their business.
For Susparsa, choosing a custom theme would be a bad business move, because such themes:
May take time to develop
Are expensive
Must solve complex business challenges
We recommended our client opt for a ready-made theme, as they could get all required functionality with already available tools. As a result, Susparsa was able to launch quickly and without skyrocketing development costs.
Choosing the theme
To begin with, the client needed a theme for their future online store.
Our team conducted research and analyzed the organic clothing market, the business goals of our client and their main competitors, and suggested three best-fitting Shopify themes.
We especially recommended the Prestige theme, as it is well designed for small apparel stores, is mobile friendly, and allows changing all of the store's content without developers' help.
The client chose the Prestige theme, which made future maintenance costs significantly lower.

Creating and implementing the layouts
The theme is just a tool that allows building a store, but the client needed layouts to shape its looks.
We created layouts for two custom pages, homepage, product page, collection pages, and the account page. Later, we implemented them in the store with some minor theme amendments to make the theme look and work according to the created layouts.
In addition to design, we worked a lot with the text content of the store. The client provided it to us in their native language, so we first edited and then translated everything into English.
The client got the store that perfectly fit their vision and saved a lot of time on the text editorial work.

Creating products and collections
When the store looks and works as needed, the next step is to fill it with products.
We created menu, collections and filters, and solved all challenges connected with products creation.
Product images
Most of the products photos provided by the client were of high quality, but they could not be uploaded to Shopify because of their size.
We edited and compressed all the photos without losing their quality, making it possible to upload them to Shopify. Some of the product photos, on the other hand, were not professionally made, so they had to be additionally edited by designer.
We helped the client to make all of their products look attractive and optimized all visual content so it would not affect the speed load of the website.

Products' color options
Also, for the collection page, our client wanted to display each color of one product as a separate product, like their main competitors do. In practice, this means that instead of one product with five color options, there should just be five separate products.
This solution worked for the competitors but, after research, we concluded that this model is not suitable for our client, because:
With very few products in each collection, it would not make collections look bigger, which would negatively affect user experience.
While their competitors have up to 50 colors for one product, it would be impossible to fit everything in one color swatcher. As our client had at most 10 color options, this would not be a problem.
The client didn't make a mistake that would need to be fixed in the future, saved time and money, and got the best solution for displaying products in their case.

Improving the store's functionality
The client also needed certain specific functionalities that were not available in Shopify out of the box.
GDPR compliance
This functionality was important, because Susparsa was aiming to sell to different European countries. We installed an app that displays a GDPR cookie bar on the website and also created pages that help manage customers' personal information.

Size chart
The theme allows setting only one size chart for all products by default. We installed an app that allowed us to add a size chart for each product type. During the work, we also created some size tables for the client from scratch and stylized them to fit the overall store design.

Translation
The client wanted the site to be translated into German, French, and Russian. We tested various translation apps and installed the two that perfectly complemented each other and translated the whole website content.

After years of Shopify development, we can find a solution for any challenge, and we know how to implement that solution quickly and within budget.
Payment and shipping setup
In many cases, this can be easily set up out of the box but, this time, the client had specific business requirements.
Automated shipping process
The client uses three shipping services and wanted to decide via which one an order will be delivered in each case. Other requirements were the automatic upload of the order details and the ability to arrange shipping without leaving the Shopify store.
For this task, custom development wasn't needed, as there are plenty of already available solutions on the market. But it required a lot of work to choose an app or a service and understand whether it works for the client. We conducted research, tested the services, and integrated the best-fitting ones with Shopify.
Our client saved a lot of time on research and manual testing, and they got the solution that solved their business challenges without custom development and for a reasonable price.

Payment gateway
Shopify payments isn't active in Switzerland, so our client needed integration with another payment provider. In addition, one of the requirements was the possibility of connecting with TWINT, a Swiss payment app.
Shopify has a list of payment providers that are available on the platform out of the box depending on the country. But, as none of them were compatible with TWINT, we had to do our research and look for a solution outside of Shopify. In the end, we found a suitable payment provider, integrated it with the store, and tested it to make sure it worked properly.
In the end, our client got a solution that perfectly suits their business needs and integrates with TWINT as required.
Launch and support
At the end of the work, when the store was ready to use, we conducted a video session to help our clients get comfortable with the functionality of their new store.
During a two-hour video call, we demonstrated in real time:
How to operate the store and process orders
How to change the content or theme design without developers' help
How to change delivery and payment settings, and more
The call was recorded and sent to our clients so they can refer to it afterwards whenever they want.
Although the website is now live and fully functional, we continue to support it and help dealing with minor fixes. We are also currently setting up an advertising campaign to promote Susparsa's products online.
Summary
Setting up an online store always brings unexpected challenges. We successfully solved all of them, and our client got a ready-to-use online store where everything looked and worked the way our client wanted.
We've got the experience
and skills to solve any issue