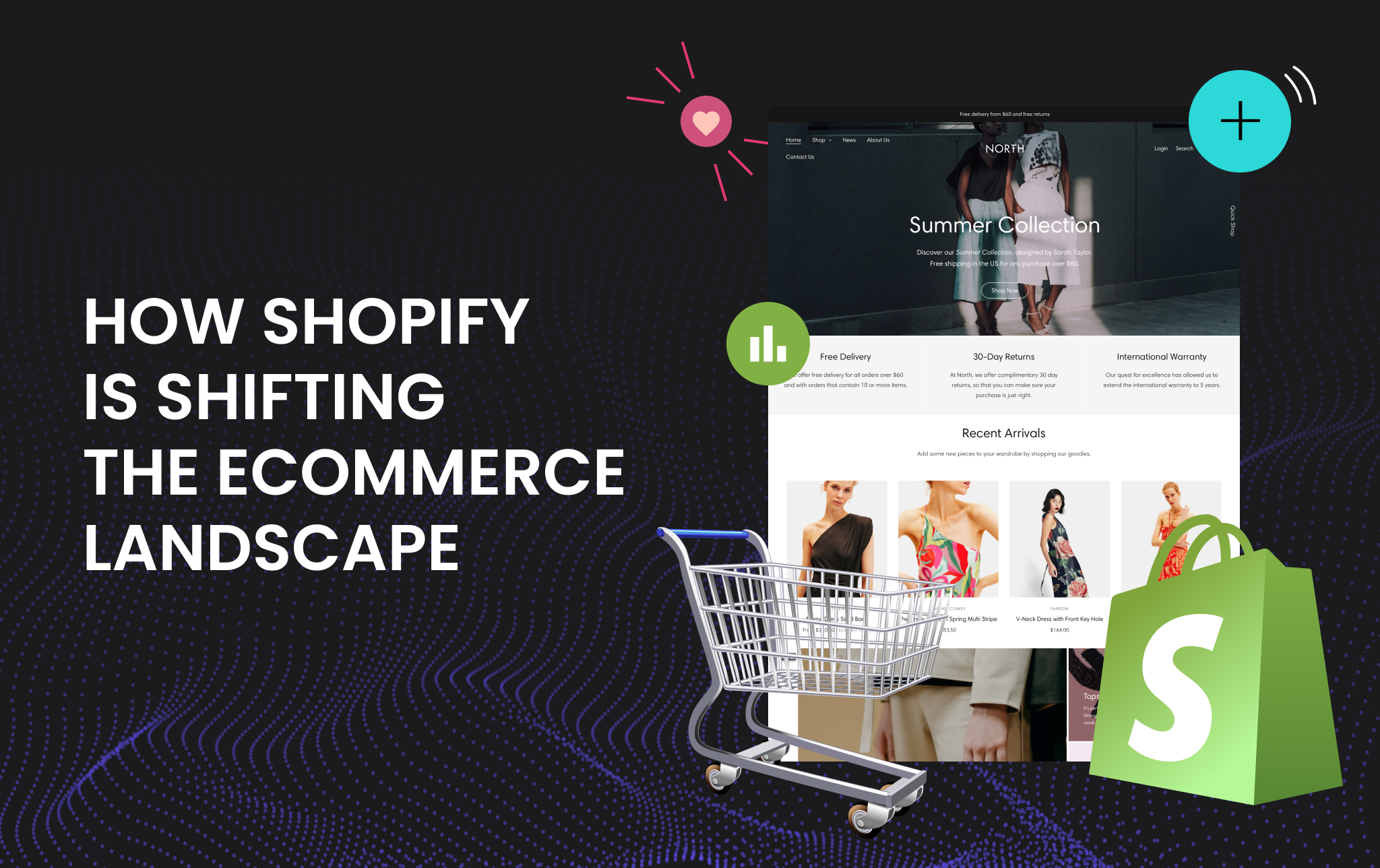 Can you imagine life without online shopping? No, I suppose. Whatever you need now, you can buy on the internet and get delivered to your door in the next few hours. The global pandemic and lockdowns around the world gave the eCommerce industry a tremendous boost.
Now, when most countries end lockdowns and return to normal life, people continue purchasing on the internet. They've gotten used to the convenience and the ease of online shopping. As a result, online sales are expected to continue rising.
Here're just some figures.
The US retail eCommerce sales increased from $598 billion in 2019 to $1 trillion in 2022, and are projected to make up 23.6% by 2025.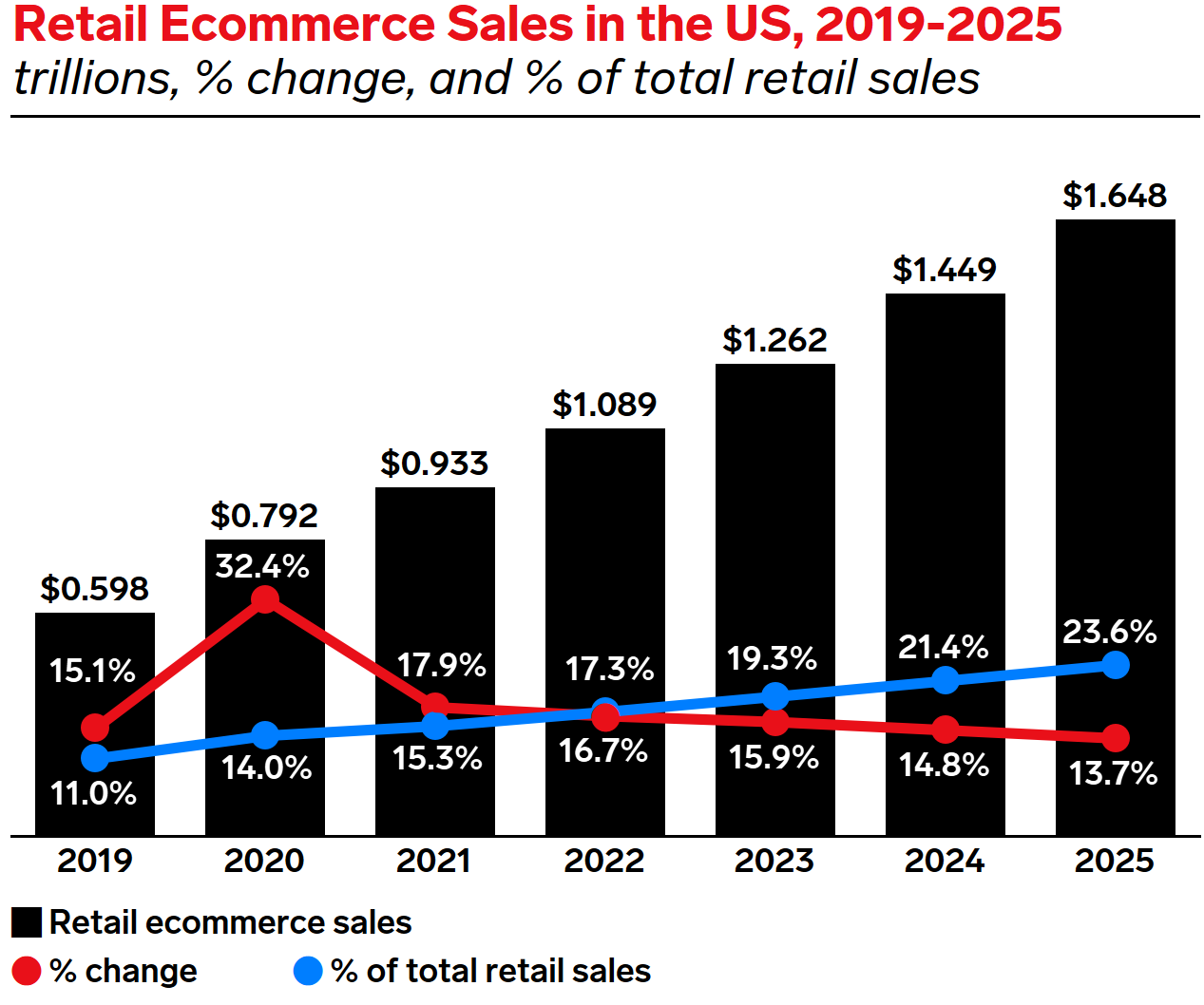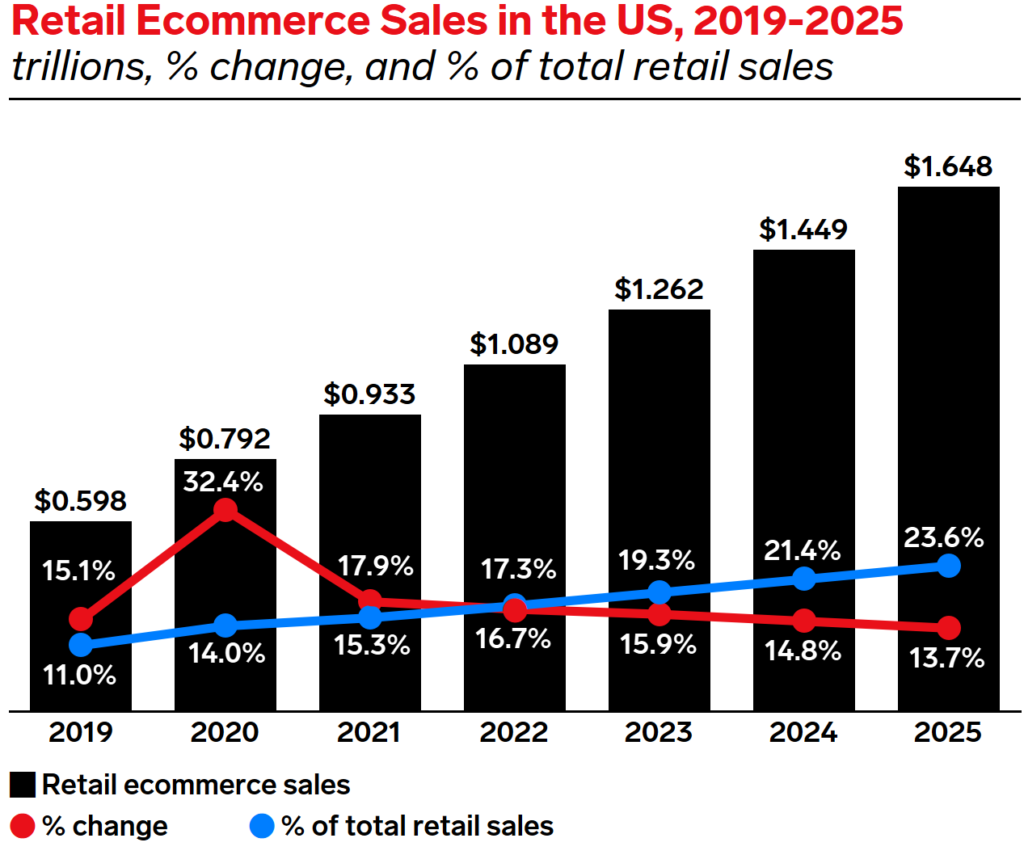 Globally, retail eCommerce sales will reach $7.3 trillion by 2025 and the overall eCommerce share of retail sales will hit 23.6%.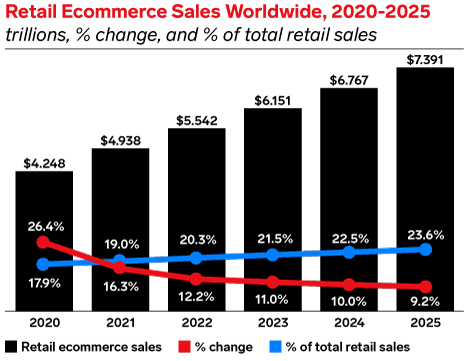 In China, retail eCommerce sales will surpass 50% of total retail sales in the country by 2022 and will climb to 56.8% by 2025.
But what are the key growth drivers in the world of online shopping? If the global pandemic is the primary reason for eCommerce growth, marketplaces are the primary means.
Marketplaces as driving forces
Online marketplaces like Amazon, eBay, and Alibaba aggregate sellers and facilitate shopping from different sources. This allows buyers to select from the widest and the most complete range of products at the best price offers. No wonder, marketplaces are becoming so popular.
B2C marketplaces
B2C online sales via marketplaces are forecast to increase by a 14% CAGR to USD $4.7 trillion by 2025, with marketplaces capturing a 61% share of total B2C sales.
Amazon is the leading online marketplace, with 5.2 billion monthly visits.
C2C marketplaces
C2C marketplaces, where a consumer sells directly to another consumer, are on the rise too. eBay — the indisputable leader in the field — expects its revenue to grow by 6% in 2023. The C2C business growth is driven by millions of people who spent time during COVID-19 lockdowns clearing out their wardrobes and selling unwanted clothes and other goods online.
Top markets by location
China and the United States are the world's top eCommerce markets. Together, they brought in $3.6 trillion in eCommerce sales in 2021, which was more than 73% of the total world retail eCommerce sales generated worldwide. It's therefore not surprising that top eCommerce companies — Amazon, Home Depot, Alibaba — come from these two countries.
Currently, there seems to be a change of leaders in China's market. Pinduoduo, a seven-year-old eCommerce platform that turned discount shopping into an online game, might be overtaken Alibaba as the most popular marketplace. The Wall Street analysts feel optimistic about Pinduoduo at 204%, while Alibaba at only 33%. However, only time will tell the winner of this race.
Ecommerce platforms as alternatives to marketplaces
However, there's an alternative to marketplaces — eCommerce platforms. They allow businesses of different sizes to operate online retail and build a direct connection with their customers without the intermediary of a marketplace. Both models have their pros and cons.
Marketplaces

Platforms

Pros:

Easy to set up, merchants don't have to worry about a lot of the technical stuff.

Have their search engines, which is an additional source of traffic.

Pros:

Complete control over the site functionality and design.

Easily collect customer data.

Allow building brand awareness.

Cons:

Have their own rules merchants have to comply with.

Require businesses to pay fees.

Tough competition makes it difficult to stand out from the rest.

Cons:

Need for continuous marketing efforts to get traffic.

Take more time and money to set up.
Platforms like Shopify, BigCommerce, and Magento are in great demand worldwide. Just to compare: Amazon, the biggest marketplace, has increased its gross merchandise volume (GMV) by 59% in the last two years, while Shopify, one of the leading platforms, has generated three times higher sales — 148%.
eCommerce platforms are not inferior to marketplaces in terms of functionality. They don't only allow merchants to set up and manage a store, rank in search engines, and buy ads, but also to arrange the shipping of products, sell financial products, and offer fulfillment services, as does Shopify.
Why Shopify is an eCommerce monster
Bill Gates said: "A platform is when the economic value of everybody that uses it, exceeds the value of the company that creates it. Then it's a platform."
That's true about Shopify. The platform's sales volume across all merchant stores is $43 billion in 2022, a 16% increase over last year.
World-renowned brands such as Tesla, Hasbro, Procter and Gamble, and Polaroid use Shopify to power their businesses. No wonder, it's the number one platform in the US with a market share of 31% among all websites that are using eCommerce technologies. At the time of writing, there are almost 4 million websites around the world built using Shopify.
This makes it a big player in the eCommerce market and one of the main contributors to its growth.
But what makes Shopify a monster of eCommerce is the global network of solution developers for Shopify App Store and Shopify Theme Store. The company has done much for them. As from August 2021, they charge zero commission on developer's first million in revenue to give them more earning potential.
Shopify believes this step will result in a drop in company revenue, but says it doesn't expect this impact "to be material" because it will encourage greater innovation and bring benefits to the company in the long run. With more than 7,000 apps on the Shopify App Store, Shopify develops a reliable ecosystem in which a myriad solution providers and merchants can grow together. The strategy should help Shopify get ahead in the eCommerce landscape.
Where growth lies
In the coming years, Shopify is expected to be one of the major growth drivers of the eCommerce revolution. As businesses fight it out in the competitive online market, Shopify would continue to power millions of stores across the world, despite the current slowdown.
There are several key directions that have the most promising growth potential.
Shop Pay

Shop Pay is an accelerated checkout that lets buyers save their email address, credit card, and shipping and billing information. This can save them time when they check out, especially if they've already opted in to Shop Pay on any Shopify store. However, the product goes beyond the Shopify ecosystem: it's also available now on Facebook, Instagram, and Google.

Shopify says that Shop Pay offers 70% faster checkout and a 1.72x higher conversion rate. This means fewer abandoned carts and increased conversion, which is very attractive for merchants. The growth opportunities are really great here.

Shopify Balance

Shopify Balance is yet another product worth mentioning. This is a money management account that enables merchants to easily manage their store's payments and transactions from one place. They can also earn cashback and receive partner offers using their Shopify Balance cards.

Starbucks works on this model already for a while and has achieved considerable profit from it. By offering their customers to pay via the Starbucks app and having access to the remaining funds in their accounts, the company earned $1,4 billion in 2019, which was 10% of its total revenue.

Let's count Shopify's earning opportunities. Imagine that 30% of Shopify merchants will use Shopify Balance and have at least $10,000 each. This makes $5,2 billion available funds and potentially allows the company to earn more than $500 billion annually at a yield of 10%. This opens up bright prospects for the platform's growth and development.

Partnerships

Shopify has partnered up with several tech giants in the coming years. The first big partnership was with Facebook and resulted in the launch of Facebook Shops. Next, they formed an alliance with Alphabet in the hope to win more online sellers to its platform.


In May 2021, Shopify announced a partnership with Google to allow more than 1.7 million merchants to reach consumers through Google Search and other services. This allows merchants to register in a few clicks and add products via Google maps, search, images, lens, and YouTube seamlessly.

In the coming years, Shopify's network of tech partners is expected to continue to increase bringing in more innovation and opportunities to the platform and its users.
What's next?
Despite the lifting of COVID-19 restrictions throughout the world, the eCommerce market is expected to expand rapidly. Shopify market forecasts don't look so great now as the company's stock has recently tumbled, but it's too early to be worrying about this. Many eCommerce giants, including eBay, Etsy, and Wayfair see a decline in their earnings now due to the end of lockdown and returning to brick-and-mortar stores. However, online shopping is here to stay, modified, innovative, and more user-oriented.
And you don't have to worry about that since we follow the latest trends and carefully consider our clients' specifics and business needs. For this reason, we've been named one of the top 10 eCommerce development agencies in Illinois by DesignRush.