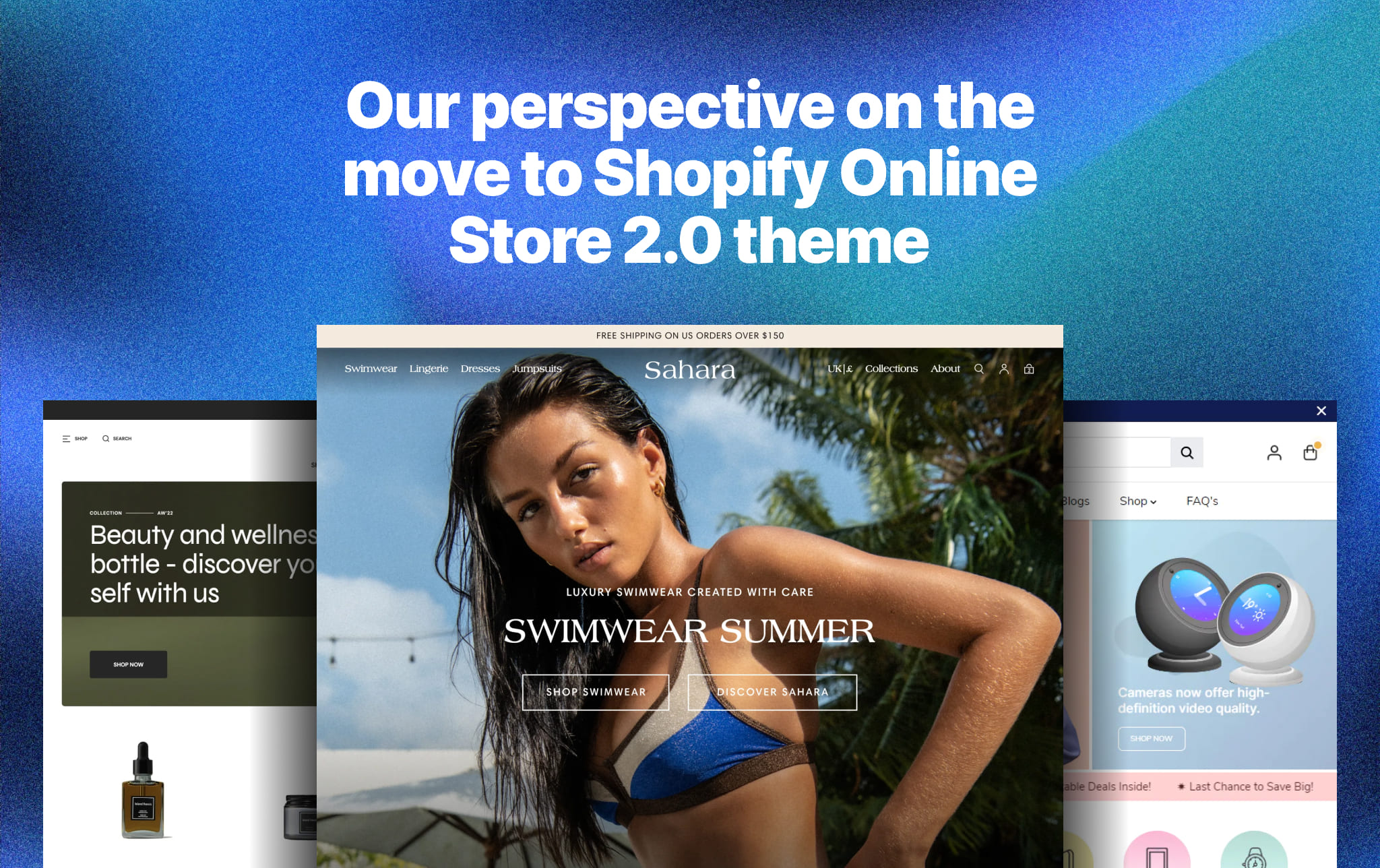 Two years ago, Shopify released its latest Online Store (OS) 2.0, and we often get asked by merchants whether they should upgrade to the new theme.
From our expert standpoint, we highly recommend making the move. We believe that everyone will need to migrate to the 2.0 OS eventually. The performance improvements, enhanced security features, and exciting new functionalities make it an opportunity you don't want to miss.
However, let's be clear: upgrading to OS 2.0 is not as simple as a software update on your phone. The level of customization your store has and the number of apps you have will play a significant role in determining the effort required for the switch. But, are the benefits worth considering?
Let's dive deeper to find out.
Advantages of Shopify Online Store 2.0 theme
Shopify OS 2.0 offers a number of performance improvements and enhanced security features that can benefit businesses of all sizes.
Let's take a look at some of them:
Sections on every page
In Shopify OS 1.0, sections were only available on the homepage. With OS 2.0, you can add sections to every page of your store, giving you more flexibility and control over the layout. This means you can create collection sections, add promotional banners, and change the placement of your add-to-cart button, price, or product titles for better UX.
Enhanced theme editor
The theme editor has been completely redesigned to make it easier to navigate and edit your store. The new editor features a tree view of all the content on a page, so you can easily hide or move blocks. This makes it much faster and easier to update your store's design.
Advanced app support
Online Store 2.0 includes a new feature called app blocks, which makes it easier to integrate apps with your store. App blocks enable app developers to create blocks for merchants to add app content to their theme without having to directly edit theme code. You can build app blocks using theme app extensions.
Collection filtering
Online Store 2.0 also includes a new collection filtering feature that makes it easier for customers to find the products they're looking for. With collection filtering, customers can filter products by availability, product type, color, or other options. This can help you to improve the customer experience and increase sales.
Richer content, dynamic sources
Online Store 2.0 makes it easier to integrate rich content and dynamic sources into your themes. This means you can add more engaging and informative content to your store, such as videos, images, and blog posts.
Streamlined metafields
Metafields are extra pieces of data that apps can attach to products, customers, orders, and other objects in the Shopify world. In the past, developers had to hardcode the displays of metafields into themes or rely on other APIs to make changes. And this was a bit of a pain, and time-consuming.
With Online Store 2.0, merchants can make changes to metafields easily. This means you can upload images and other media files without having to use APIs or custom code. There are also standard metafields that are good to go out of the box.
App collection for Online Store 2.0
Shopify has carefully curated an extensive app collection for OS 2.0. These apps have been optimized for performance and seamless integration with Online Store 2.0 themes, making it easy for merchants to find the right apps to enhance their stores.
The app collection includes a wide variety of apps, from marketing tools to customer support solutions. So you can use these apps to enhance their product pages, streamline their checkout process, broaden their social media presence, and much more.
Why upgrade to Shopify Online Store 2.0?
Obviously, you won't break your store by sticking with Online Store 1.0, but there are a number of significant disadvantages if the merchant decides to stay with the old theme:
Compatibility issues
As Shopify continues to release new features and updates, the outdated 1.0 version may become less compatible with them. This means you won't have access to the latest technologies, apps, and integrations.
Performance concerns
Running an outdated version can slow down your store's loading speed, which can have a negative impact on the user experience. This can lead to lost sales and frustrated customers. On the other hand, OS 2.0 will improve performance and create a responsive website that will retain customers.
Limited support
Shopify is less likely to provide support for older versions of the platform. It can cause the risk of losing vital features and integrations. This means that if you run into problems with your store, you may have to find a workaround yourself or hire a developer to fix the issue.
Missed growth opportunities
Shopify Online Store 2.0 includes a number of new features that can help you grow your business. For example, the new theme includes a marketing dashboard that can help you better track your marketing campaigns and measure their results.
Loss of styling flexibility
Shopify Themes 2.0 gives you more control over the look and feel of your store. This means that you can create a more visually appealing and engaging store that will help you convert more customers.
Conclusion
Shopify Online Store 2.0 is a powerful tool that can help businesses of all sizes grow and succeed. It offers a number of performance improvements, enhanced security features, and exciting new functionalities. Besides, the new theme is highly compatible with the latest technologies, apps, and integrations.
If you're not already using Shopify Online Store 2.0, contact us to learn more about how it can help you boost your business growth. We'll help you unlock the full potential of OS 2.0 and achieve your goals.