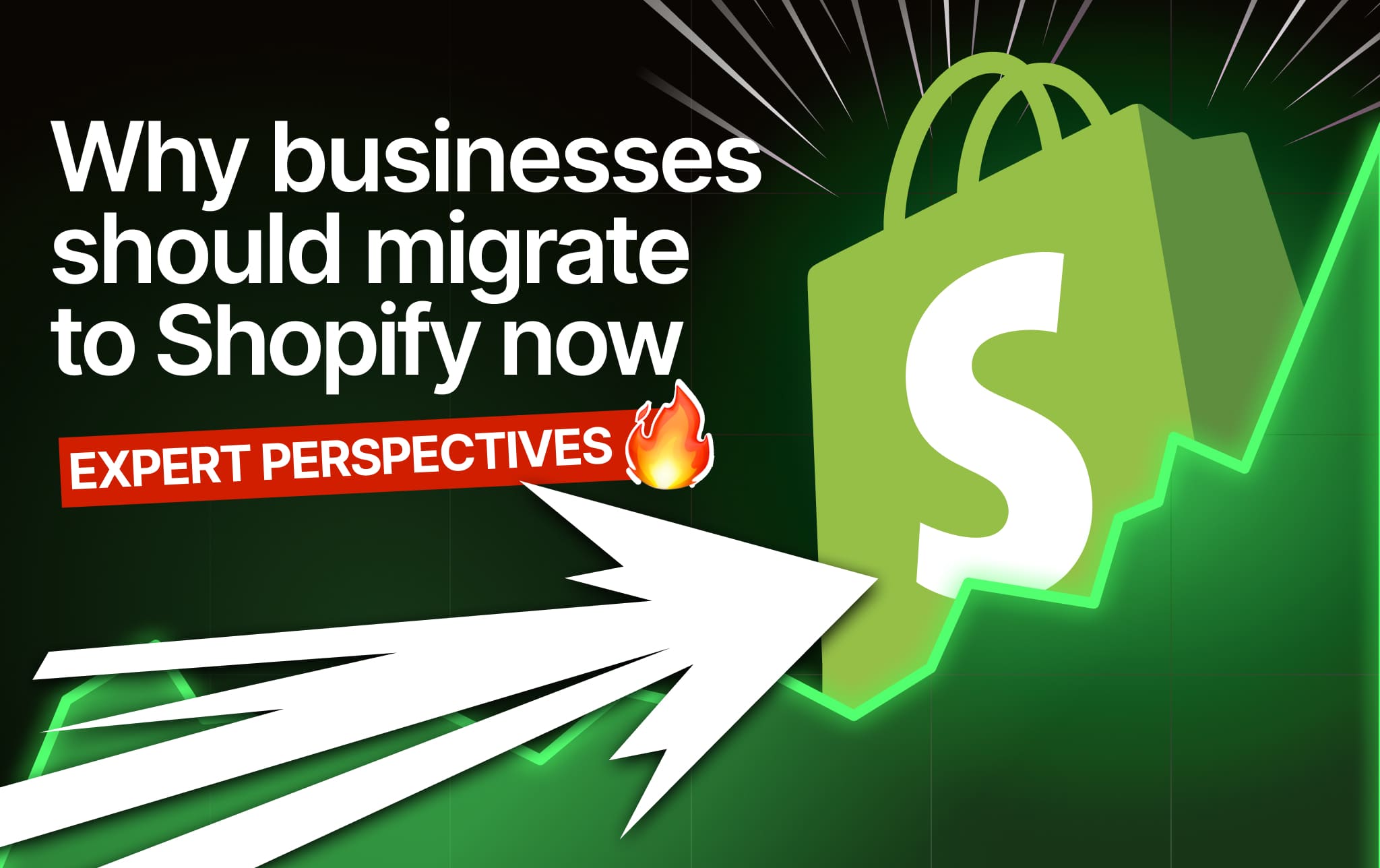 Shopify has emerged as a dominant force in the world of website builders and eCommerce platforms, garnering recognition from Forbes Advisor. With a staggering 1.7 million businesses utilizing Shopify websites and generating over $200 billion in sales, its popularity continues to soar. What's even more impressive is that it's not just startups gravitating towards Shopify; even established businesses relying on platforms like Magento, WooCommerce, or Shopware are making the switch. Renowned brands such as Bombas, Glossier, Inc., and Steve Madden have not only embraced Shopify but have also achieved remarkable milestones.
Now, you may be wondering, what sets Shopify apart? This article explores the reasons behind Shopify's popularity and how it can transform your business. Let's discover the power of this platform.
Understanding eCommerce migration
eCommerce migration involves moving your online store from one platform to another. This includes transferring all aspects of your current platform, like products, pages, customer information, and more.
There are three main types of eCommerce migration:
Platform to platform: Moving from one eCommerce solution to another that offers more features or integrations, like switching from Magento or BigCommerce to Shopify Plus.

Phased migration: Transitioning your store gradually instead of all at once, such as adopting a new content management system (CMS) while keeping some existing elements.

Monolithic to microservices: Taking a modular approach where different platforms and apps are layered to handle different aspects of the customer experience, often used in headless commerce.
But note, each type of migration has different variations, and every project requires a unique plan to meet specific requirements and business goals.
eCommerce store migration in a nutshell: key statistics and considerations
Now, let's take a look at some compelling statistics that demonstrate the need for modern platforms and improved customer experiences.
When and why should you consider migrating your eCommerce store?
When it comes to migrating an online store to a new eCommerce platform, several factors come into play, including business goals, technological advancements, store security, and planned redesigns or brand launches. Let's break it down:
Change in business goals and focus: Businesses often migrate their eCommerce store to align with new goals, such as enhancing mobile optimization, branding, and functionality.

Technological advancements: Updating a website to keep up with evolving technology trends is another common reason for store migration. It provides access to new features and improved functionality.

Improving security: Migrating a store can enhance security by protecting it from new threats and vulnerabilities associated with outdated technology.

Planned website redesign or brand launch: A website migration is often part of planned initiatives like redesigns or brand launches. It allows for a visually stunning and customized storefront that reflects the brand's vision.

Addressing emergent issues or opportunities: Store migration may be necessary to address emerging issues or seize new opportunities arising from technological advancements, cyber threats, or discontinued hosting platforms.
Keep your business goals, available resources, and customer experience in mind when considering a migration. And note, a successful migration requires careful planning, data transfer, and optimization.
Hear from experts
According to The OZ, a Shopify expert and our partner, migrating to Shopify resulted in a remarkable 30% increase in conversion rates for businesses. Boutiques like Serge Lutens and Des Petits Hauts can attest to this success as they received expert assistance during their seamless transition to the Canadian platform.
---
Alexandra Fennel, co-founder and CEO of Attn: Grace, explains that eCommerce companies opt to replatform when their current provider faces regular technical issues that negatively impact conversion rates or when they are unable to keep up with the competition's pace of development. This shift allows businesses to scale their operations and deliver a better user experience.
---
Monte Deere, CEO of Kizik, emphasizes the importance of an eCommerce platform being as stylish and intuitive as Apple's, as it impresses customers and builds trust in the company.
Factors to consider before replatforming: ensuring smooth transition
Before migrating to a new platform, it is crucial to carefully consider the process and learn from past mistakes. Here are key factors to keep in mind before embarking on a replatforming journey:
Conduct thorough research and planning. Invest time in understanding your current pain points and plan the migration process meticulously to avoid potential pitfalls.

Streamline services and plugins. Perform a comprehensive audit to identify and eliminate unused or unnecessary legacy tools, streamlining your new platform for improved efficiency and performance.

Align business requirements and technical integrations. Ensure that the replatforming process aligns with your major business needs and integrates seamlessly with other essential systems or third-party services.

Manage budgeting and costs. Consider all relevant costs, including platform pricing, licensing models, design, development, and integration expenses, to allocate resources effectively.

Select the right team or agency. Choose an eCommerce development company that shares your strategic vision and has a solid understanding of the desired architecture design to avoid miscommunications during the process.

Expect time requirements. Replatforming can be time-consuming, so have a realistic timeframe to manage expectations effectively.

Focus on functional testing. Dedicate time and resources to thorough functional testing to identify any issues or compatibility problems before going live on the new platform.

Ensure security measures. Check your security requirements and ensure that the new platform can meet them, protecting sensitive company data during the migration.
By considering these factors and implementing best practices, you can ensure a smooth transition to a new eCommerce platform, setting your business up for long-term growth and success while avoiding setbacks and challenges.
Why merchants prefer migrating to Shopify to grow their eCommerce business?
You've made the decision to replatform, and of course, you want to make sure it's worth it, right? It's not just about getting a solid return on investment; you also want to make up for the time wasted on your old, underperforming platform. In short, your new platform needs to be top-notch because you won't accept any more stagnation.
So, what does Shopify bring to the table to help you catch up? In this section, we'll highlight some key features that make it worth considering.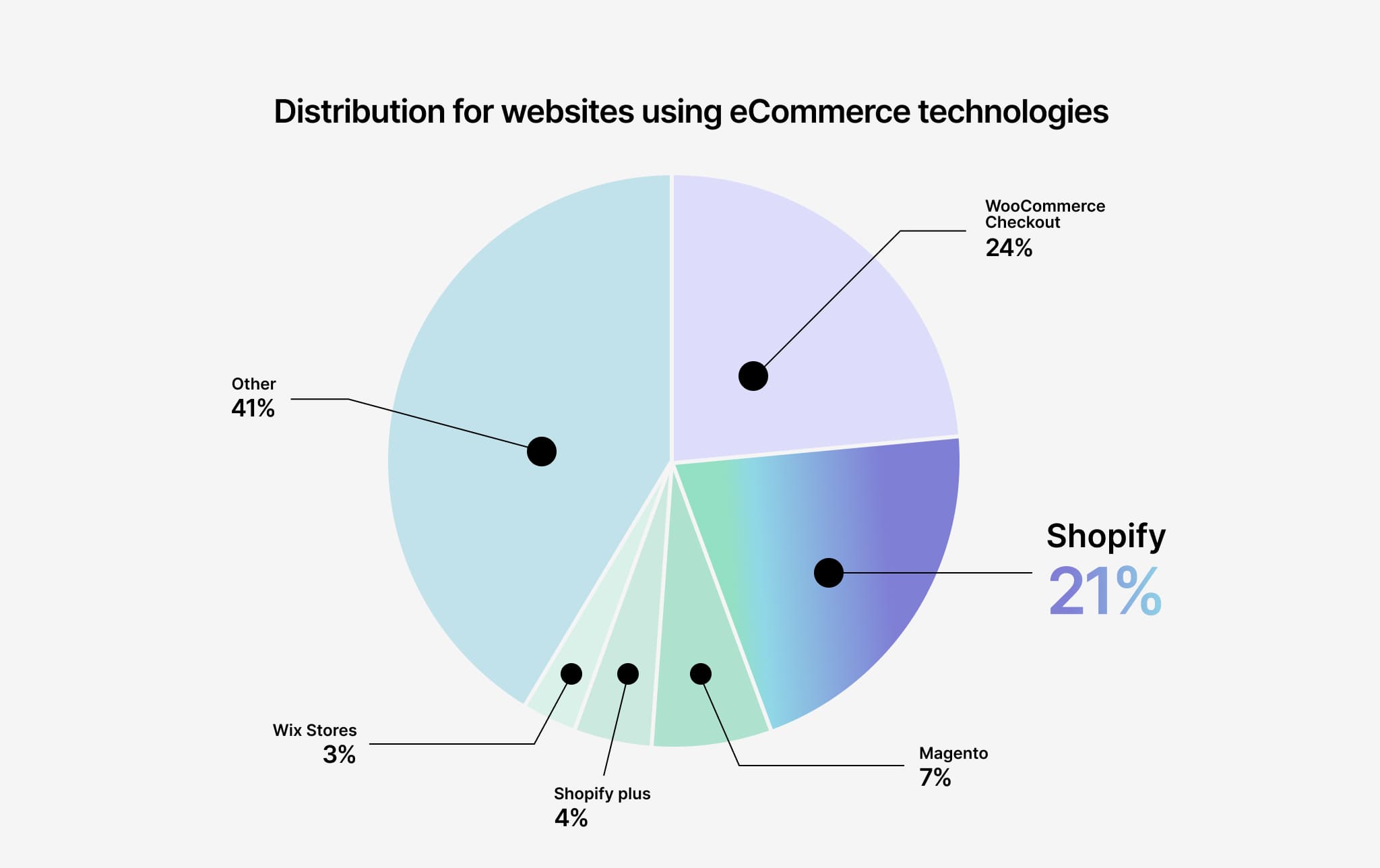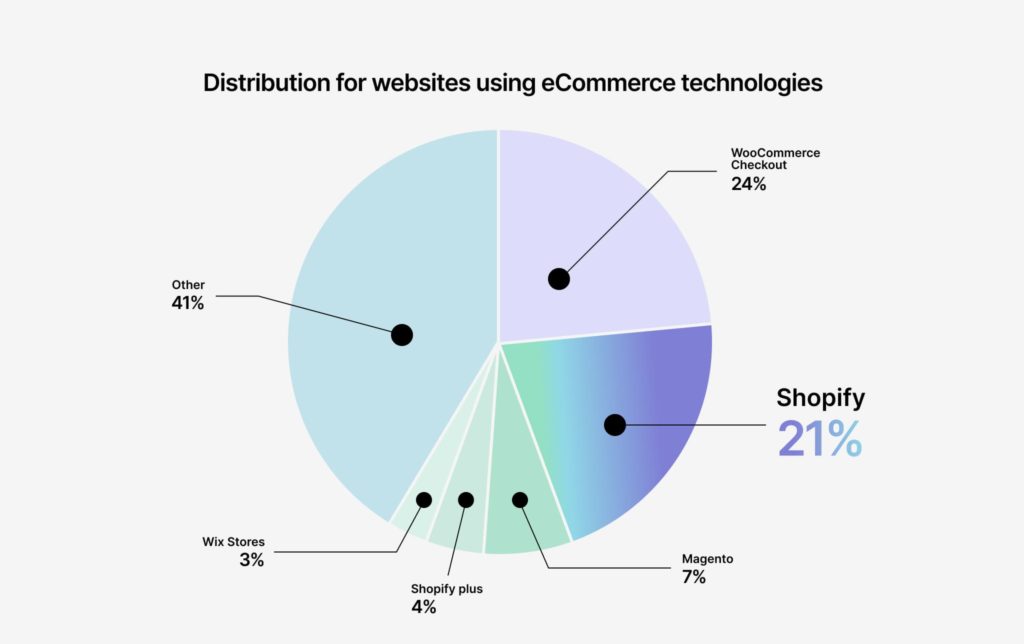 Leading U.S. market
Shopify is the top player in the U.S. eCommerce software market. As of June 2023, Statista reports that around 28 percent of eCommerce websites in the U.S. use Shopify. Its main competitors, Wix Stores, WooCommerce Checkout, and Squarespace Add to Cart are at least 11 percent behind.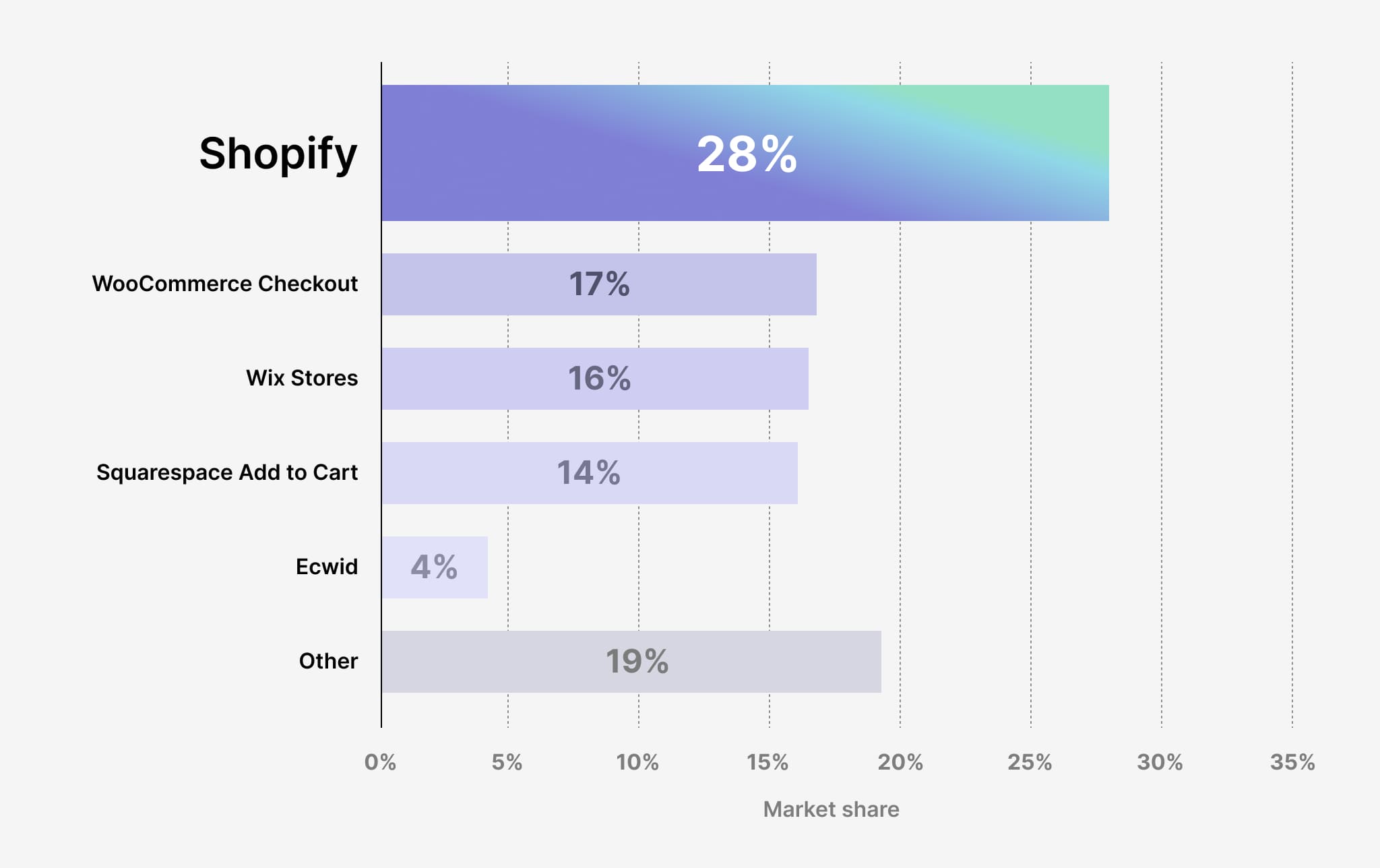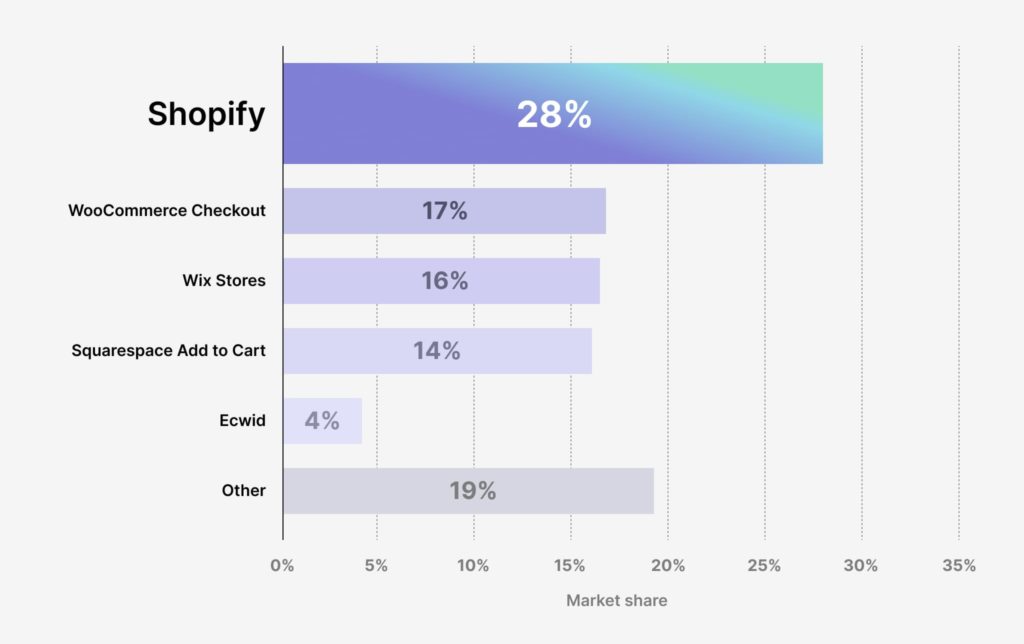 SaaS model
Shopify is a prime example of SaaS (Software as a Service). It offers hassle-free software leasing through the cloud. Shopify takes care of platform maintenance, security, and updates, ensuring you always have the latest version. With a 99.9% uptime and high scalability, Shopify handles thousands of transactions per minute. While Shopify retains control over platform features, its goal is to help your online business succeed.
Traffic and conversion
Shopify has the internet's highest converting checkout, surpassing competitors by up to 36% and averaging 15%. This impressive performance is attributed to Shopify's extensive identity network, unparalleled scale, consumer trust, and continuous innovation.
Such significant boosts in conversion rates can greatly impact your company's annual revenue. For instance, with 125,000 monthly visitors, an average order value of $100, and a conversion rate of 0.92%, a mere 0.5% increase in conversion rate would add $62,500 to your monthly revenue, totaling $690,000 per year. Scaling up revenue and conversion rates can have a substantial positive impact on your Gross Merchandise Value (GMV).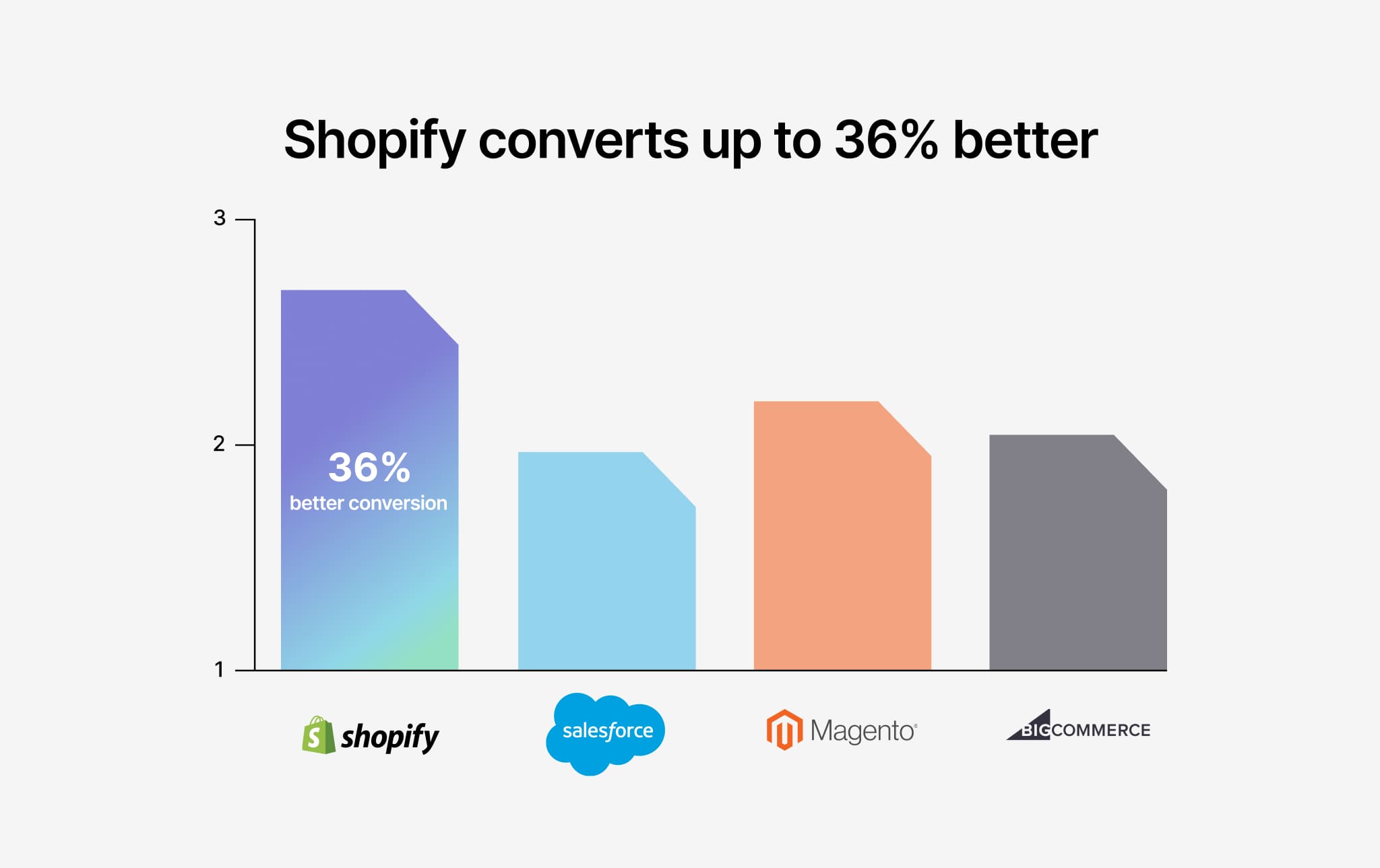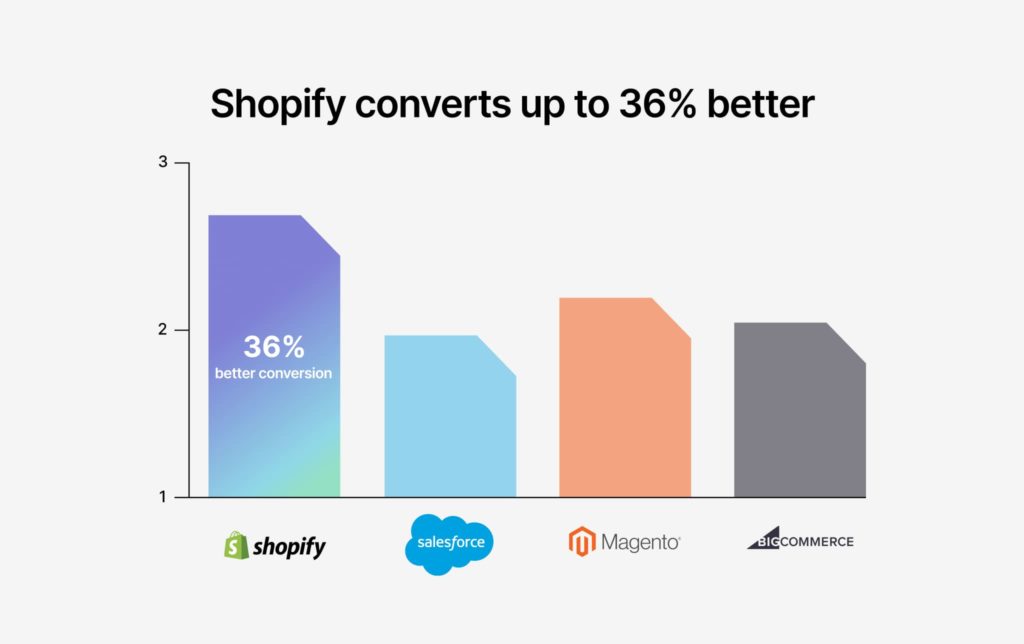 Revenue generation
Shopify and merchants have a common goal: generating revenue. Through revenue sharing, Shopify benefits when its users succeed financially. This mutual interest serves as a strong incentive for Shopify to enhance its platform and make it an effective sales tool. By helping merchants make more money, Shopify shares in their profits and ensures its own success.
Hosting and security
With Shopify, you can host your store hassle-free on their platform, simplifying your hosting and domain management. Rest assured, Shopify places utmost importance on protecting your customers' payment and personal information, ensuring top-notch online security for your business.
Simplified tech part
By handling the technical aspects, Shopify relieves merchants of worries about their online stores, freeing up time for revenue-generating activities. With reliable technology in place, merchants can plan confidently. Shopify automates tasks, offers seamless integration, and provides a wide range of specialized functionalities through the App Store. Strong partnerships with proven Shopify development agencies like SpurIT and numerous third-party integrations further enhance Shopify's capabilities.
Cost savings
Shopify can help your business save money and maximize profitability. Unlike other platforms that may seem free upfront, Shopify provides a transparent and cost-effective solution. Many platforms have hidden expenses tied to additional tools and modules, but with Shopify's extensive selection of over 8,000 apps, you have the power to efficiently monitor expenses and optimize your Total Cost of Ownership (TCO).
Seamless integration for online and physical stores
If you're a merchant looking to connect your online and physical stores, Shopify offers a valuable feature: its first-party point-of-sale (POS) system. This system seamlessly integrates with your online store, giving you comprehensive data and streamlining your entire operation. With Shopify, you can easily manage both your online and brick-and-mortar presence, creating a unified shopping experience for your customers.
Effortless sales and marketing
Effortless sales and marketing Shopify offers various options to enhance your sales and marketing efforts. You can manage multiple sales channels such as marketplaces, WhatsApp, TikTok, and Instagram from a single dashboard. Sell products from your posts, expanding your reach and increasing the visibility of your business. Also, you can customize your checkout process with upsell and cross-sell features, as well as personalized discounts, shipping, and payment methods.
Shopify's extensive theme options
When it comes to customizing your online store, Shopify is the go-to platform. With its vast collection of themes, Shopify empowers merchants to create a unique and personalized shopping experience for their customers. But it's not just about aesthetics; choosing the right theme can have a substantial impact on your website's performance and overall success.
Simplicity and user-friendliness
Shopify stands out for its ease of use and straightforward setup process, making it an ideal choice for merchants who value simplicity. Unlike other platforms that may demand technical expertise, Shopify doesn't require extensive knowledge, allowing you to manage your store without any obstacles.
Enhanced performance and efficiency
Shopify is designed to deliver exceptional performance and lightning-fast page load speeds, ensuring a seamless shopping experience for your customers. By optimizing performance, Shopify directly contributes to higher conversion rates, making it an invaluable choice for merchants looking to maximize the success of their online stores.
Shopify is the ultimate choice for businesses of all sizes, endorsed by countless users. It offers freedom, scalability, reliability, and cost-effectiveness, allowing you to experience the full potential of your online store.
Shopify migration success stories: unlocking the potential for merchants
Now, let's take a closer look at some notable case studies that highlight the benefits of migrating to Shopify:
Madam Glam: a seamless transition
When Madam Glam needed to switch from Magento 1, they were determined to keep their loyal customer base. Our Shopify team guided them through migration options and provided crucial data to make the process smooth. They ultimately chose Shopify Plus, which showcased outstanding results.
We migrated their entire business, transferring orders, products, discount codes, and reviews. By redesigning the website and refining the UX, we achieved an impressive 87% increase in usability. Additionally, seamlessly integrating necessary apps led to a remarkable 48% improvement in site speed.
We hired SpurIT to move our website from Magento to Shopify and create a unique VIP membership with recurring billing
says Youri Vaisse, General Manager of Madam Glam.
Since then, they've become our exclusive IT agency, assisting us with all our needs.
Irresistible Me: simplifying complexities
Irresistible Me, a well-known New York-based hair extension brand, successfully moved its online store from Magento 1 to a new platform. After carefully considering their options, they opted for Shopify Plus, which offered a cost-effective and user-friendly solution compared to Magento 2.
To ensure a seamless migration, we expertly handled the transfer of their entire database, including clients, orders, and product pages. Additionally, we developed two custom apps, one of which enabled short-selling functionality. As a result, the store's usability improved by an impressive 85%, and site speed increased by 52%.
Irresistible Me created its e-commerce website on Magento in 2012, along the first years of the company's existence many different pieces of code were added, often by different CTOs, making the website slow and very unstable
shares Simon Castagné, the CEO of Irresistible Me.
Moving successfully to Shopify Plus had a direct impact on website's speed and as a result a direct observable improvement in conversion rate. It also enabled our team to be much more agile in terms of UX changes and design tryouts.
Teddy Blake: integrating existing infrastructure
Another successful migration case involved Teddy Blake, a brand seeking to transition from Magento 1 while ensuring a seamless shift and continued their partnership with a specific warehouse.
Our team managed the migration, transferring their data to Shopify Plus, while also customizing the theme to perfectly align with the client's layouts. To further enhance efficiency, we developed a tailored warehouse integration solution, seamlessly connecting the new Shopify store to their preferred warehouse.
As a result, Teddy Blake experienced a significant 78% increase in usability and an impressive 54% improvement in site speed.
These Shopify's migration success stories exemplify how it addresses merchants' pain points. With streamlined experiences, customization options, and seamless integrations, Shopify empowers businesses to thrive in eCommerce's competitive landscape.
What to expect from a migration project with SpurIT
When embarking on a migration project, it's important to have a clear understanding of what to expect. Here's a breakdown of the SpurIT process:
Project preparation. Once you reach out to us, our representative will promptly connect with you to discuss project details and estimate the work involved. This initial stage helps us gather information about your requirements, goals, and timeline.

Comprehensive planning. Our team will work closely with you to identify potential challenges and create a detailed project plan and cost estimate. This ensures you can make informed decisions about your investment. We prioritize transparency, ensuring a smooth and successful store migration process.

Seamless collaboration. Throughout the project, we provide regular updates on our progress, fostering clear communication and addressing any concerns that may arise. You'll have a dedicated team of developers solely focused on your project's success.

Smooth data transfer. We require server access to initiate the migration process. Our experts will create custom scripts and settings tailored to your project's specific needs. This guarantees a smooth and accurate transfer of your data to Shopify.

Thorough quality assurance. After data transfer, we conduct a meticulous manual revision to ensure no data loss occurred during the migration process. This final step ensures the accuracy and integrity of your data, providing you with peace of mind.

Ongoing support. Even after the migration is complete, we continue to provide post-launch support.
We prioritize optimizing your store's design and functionality, ensuring a seamless transition to the new platform. Our team also offers custom development services, tailoring solutions to your specific requirements. With our expertise and support, your migration project will be a valuable and successful endeavor.
Conclusion
Migrating your online store to Shopify can revolutionize your eCommerce business. By leveraging its powerful features, seamless integrations, and user-friendly interface, you can streamline operations, boost sales, and enhance customer satisfaction. With SpurIT's expertise, you can navigate the migration process smoothly, ensuring a successful transition to Shopify's robust ecosystem. Join the thriving community of Shopify users and unlock the full potential of your business.