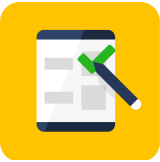 SpurIT Bulk Product Editor App
Powerful tool that saving your time
Edit of all product parameters and product variants on one page,
control visibility and quickly add new ones.





Advanced Plan
$13.95 / month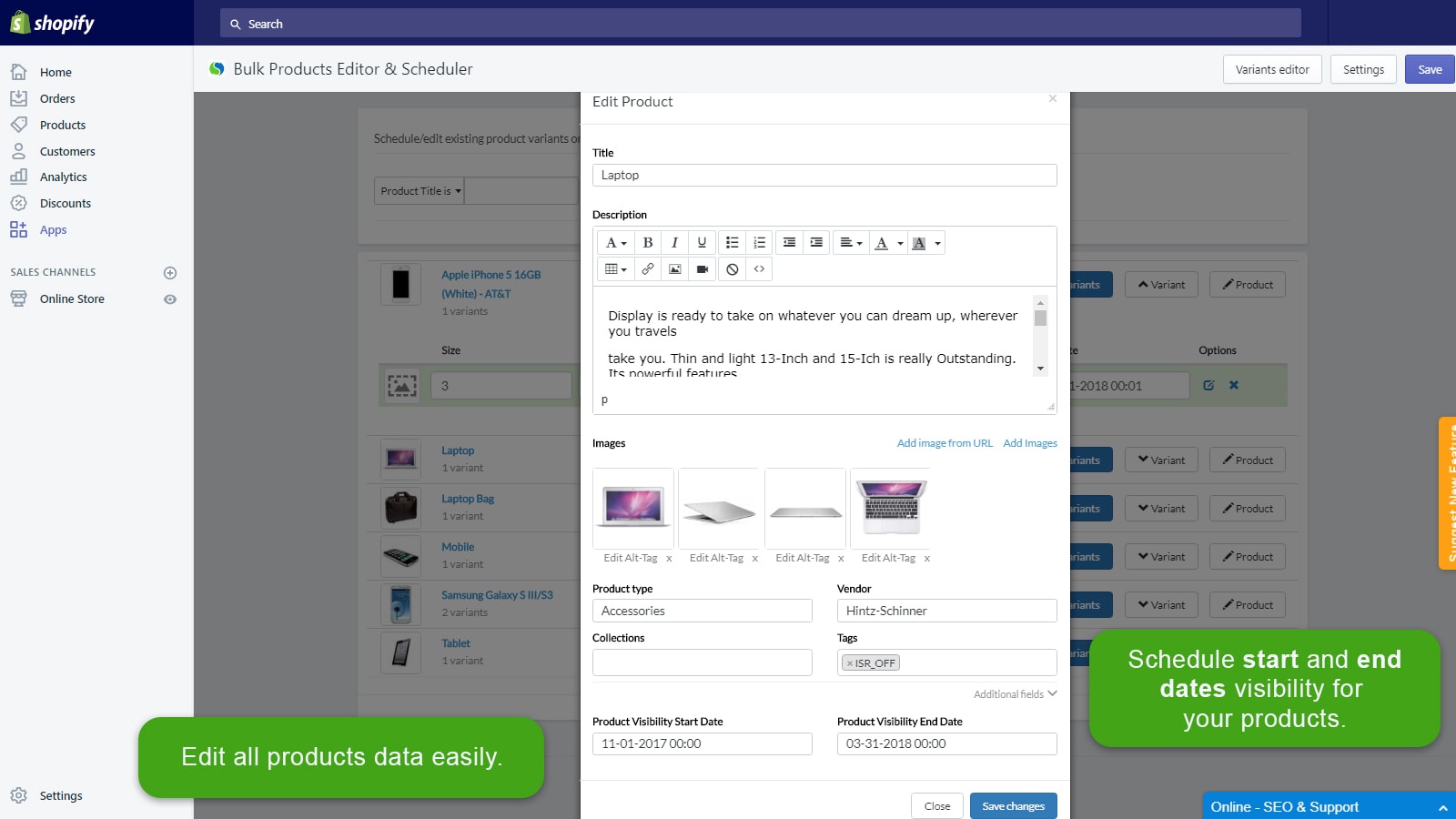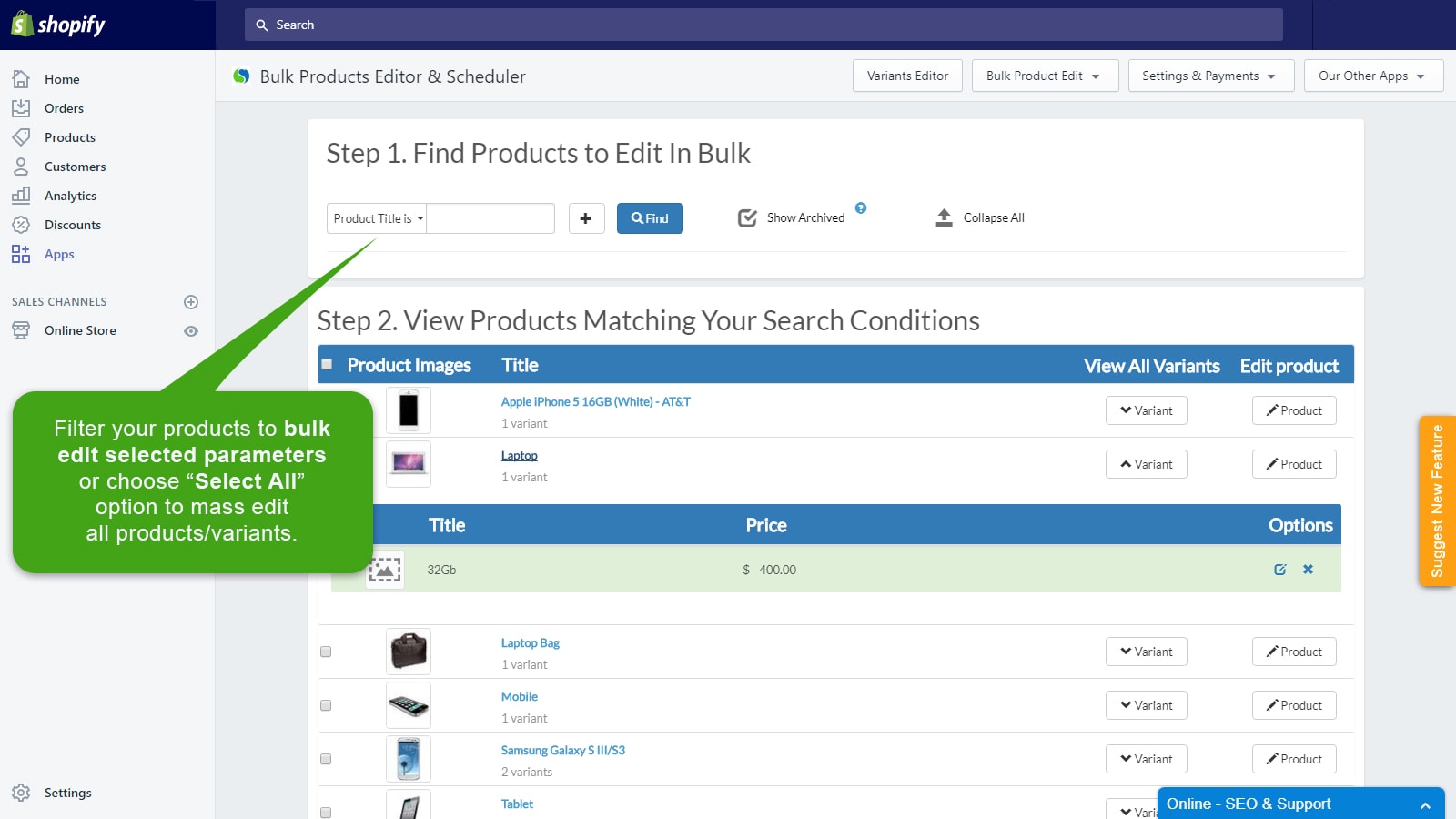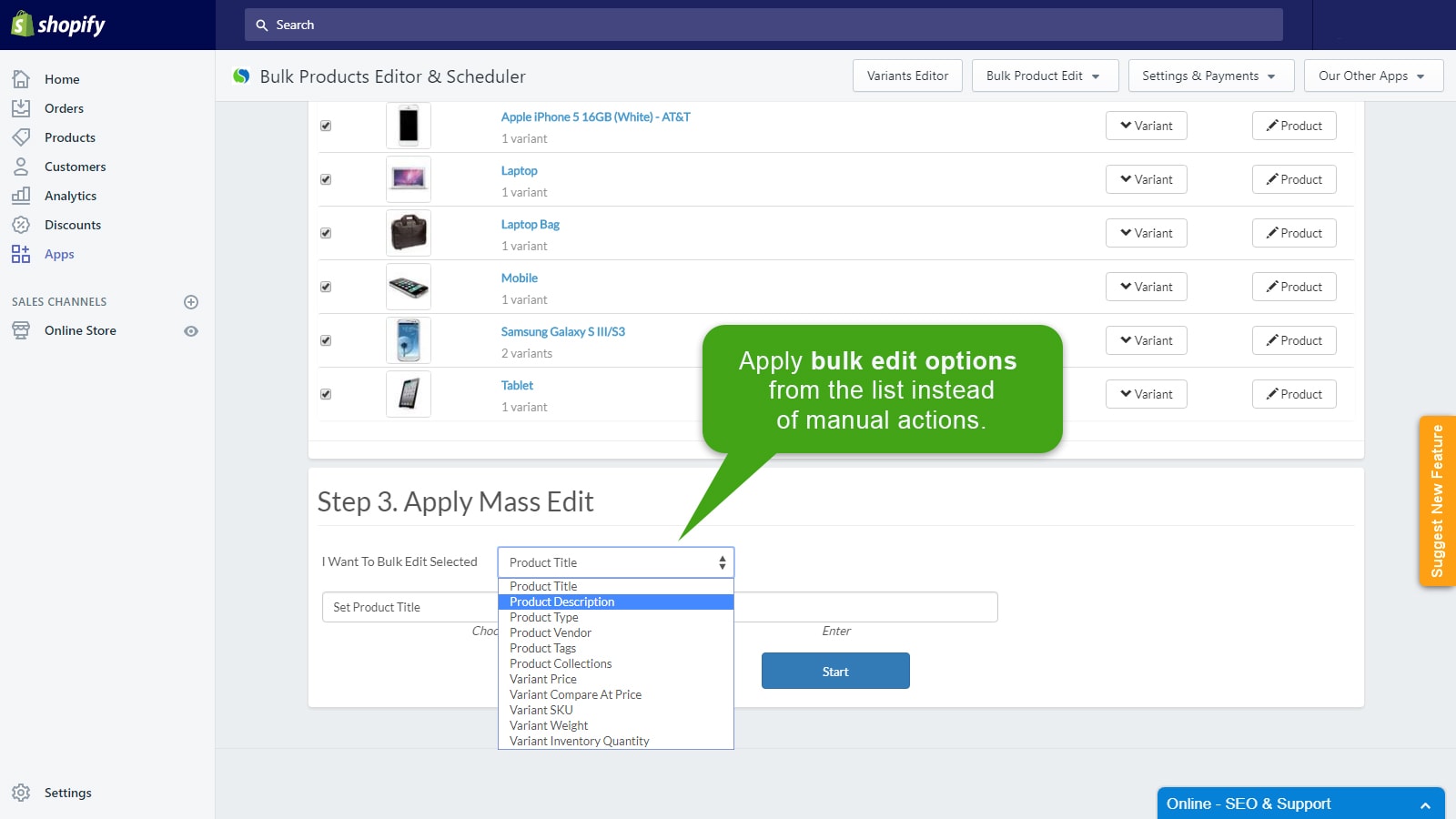 Main Features of SpurIT Bulk Product Editor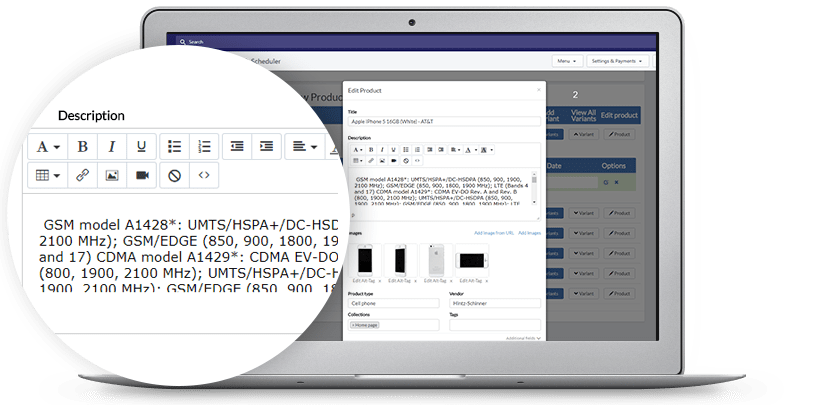 Edit products data easily

You can edit not only images, titles and product descriptions, but also tags and meta descriptions as well! Moreover, the app allows you to archive and schedule products on one page, and it all takes no more than just a few clicks.
Schedule products changes

Choose the day and time when products and variants will appear and disappear on your store.
Apply Mass editing

Make bulk changes on all needed product options: title or description, collection or inventory quantity, price or weight. Just one click and you will save a lot of time!
Product options app

Add bulk variants on one page. Set up different parameters such as size and color, price and weight, start and end dates, barcode and SKU etc.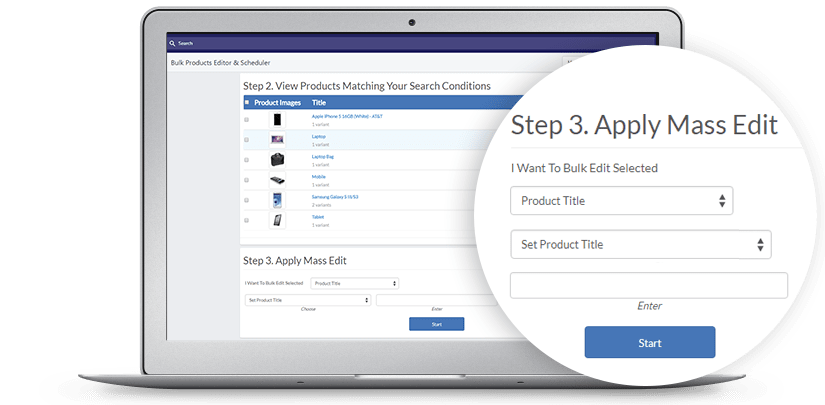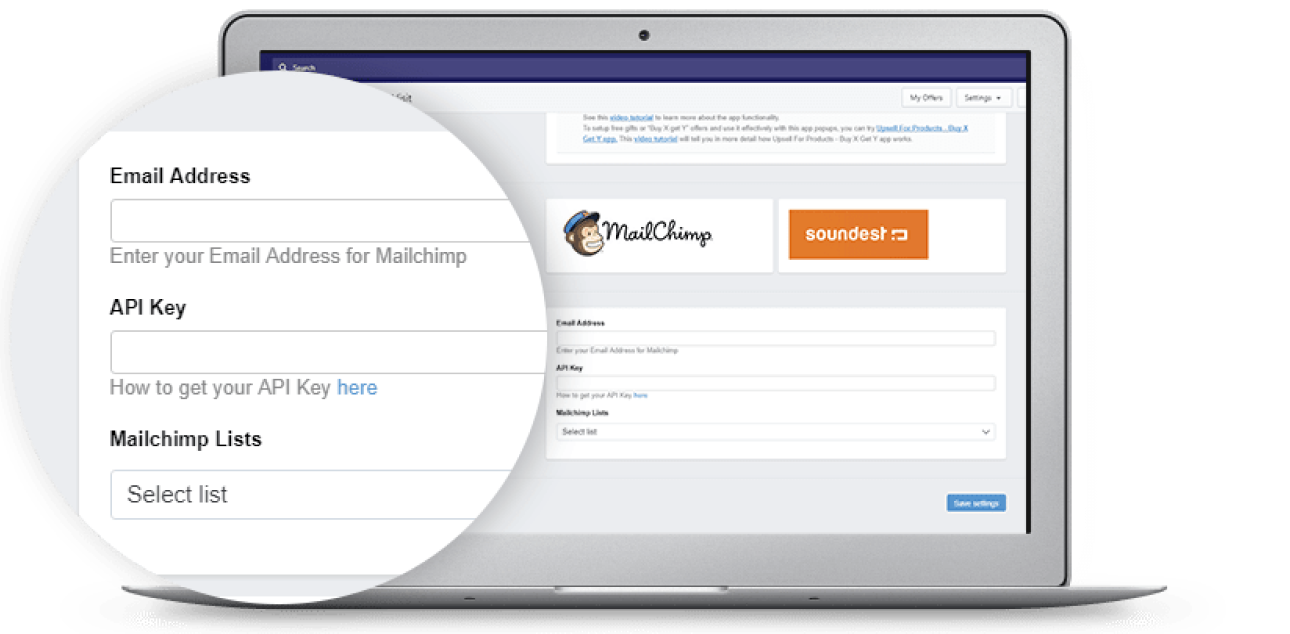 Track all changes on one page

Track all changes you made through the app in one place.
24/7 Technical support

Our free and fast support team will help you solve any issue regarding the application.
Get the App for Free
Why use SpurIT Bulk Product Editor App?
Tired of manual product editing? This problem bothered most Shopify e-merchants until this amazing upsell app became available. Would you like to edit all your products on one page, including their weight, prices, tags, titles and descriptions? If so, the bulk editor Shopify app is your choice.
Shopify bulk edit is an effective way to upsell products. It's far easier to make multiple changes in one click than to manually edit items one by one. The Shopify bulk price change app allows you to do this 80% quicker than in normal conditions. The Shopify product manager app also enables tags, vendor, and SEO changes. In addition, this smart tool allows you to schedule the time the changes should become visible. Add or edit your Shopify kits, packages, and bundle discounts easier than ever before and know the app will need no theme modification or coding to run. Utilizing this remarkable app you'll be able to:
Change all the parameters in a few clicks;
Schedule change visibility dates;
Manage your inventory effectively;
Forget about tiresome manual tasks.
SpurIT Bulk Product Editor User Reviews
"When you have a ton of products and need the ability to edit in bulk, this is a must have app for your store! "
I Like 2 Coo
"It is so helpful and a Huge time saver! A must have if you have lots of variants."
Annie De
"This app made that process so much faster and easier than going through the default Shopify product section."
The Digital Download Shop
"Wish I found it sooner so we don't have to spend days to manually edit our products."
Daisy Dress For Less
"This app is exactly what I needed. It's easy to use and is going to save me a Lot of time. "
Agds
"Works pretty good, i would strongly recommend to anyone needing to update their products quickly."
Sisu Goods
See all official reviews →
Read the User
Reviews and Testimonials
When you have a ton of products and need the ability to edit in bulk, this is a must have app for your store!

I Like 2 Coo
It is so helpful and a Huge time saver! A must have if you have lots of variants.

Annie De
I personally endorse this app. I have gained more traffic and sales due to this app.

Braceletsave Com
This app works great and I have gotten some good sells because of it.

Allies Retail
Best free app I have found to boost sales with notifications and get customers subscribed to email lists.

K And M Gifts