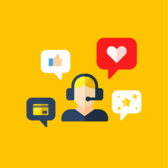 Shopify App Loyalty Program
An Exciting Way to Offer the
Best Loyalty Points for Shopify
Extend your client base with happy customers and skyrocket repeat
orders with the Shopify Loyalty Program app.





Pricing Plan
$18.95 / month
Main Features of the Shopify Loyalty App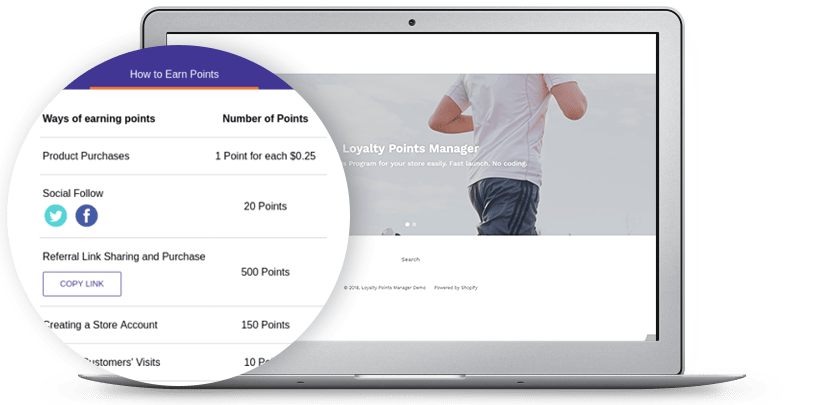 2-in-1: Loyalty & Referral Program

A turnkey solution allowing you to reward existing customers in a number of ways. Motivate your customers to purchase more, and grant loyalty points for referring others to your webstore.
Reward Customers in 5 Effective Ways

Improve retention rates by granting loyalty points to existing customers for performing certain actions. Reward store purchases, regular visits, referrals, social media activities, and store account creation.
Easy to Set Up and Launch

No expert knowledge of coding needed to set up Loyalty Points for Shopify. Choose the actions to be rewarded and the items that will take part in the loyalty program in a couple of clicks.
Full Control of the Design of the App

Change the design of the Shopify Loyalty Points app to make it fit with your main Shopify theme. Customize the Rewards Window, Rewards Badge Look and Rewards Top Bar in a couple of clicks. Make use of customizable email templates.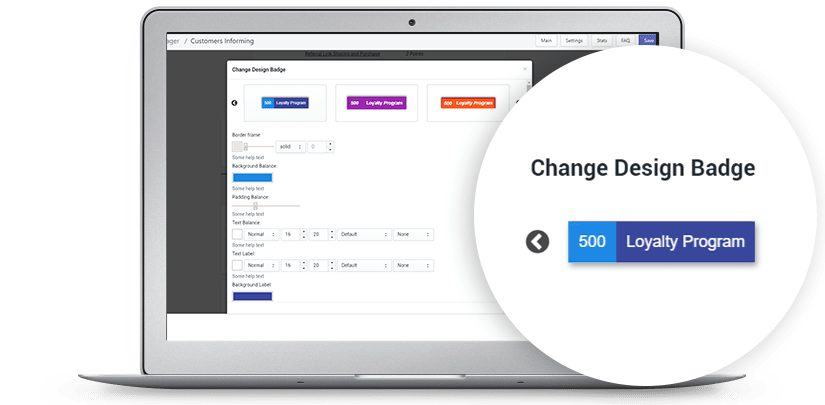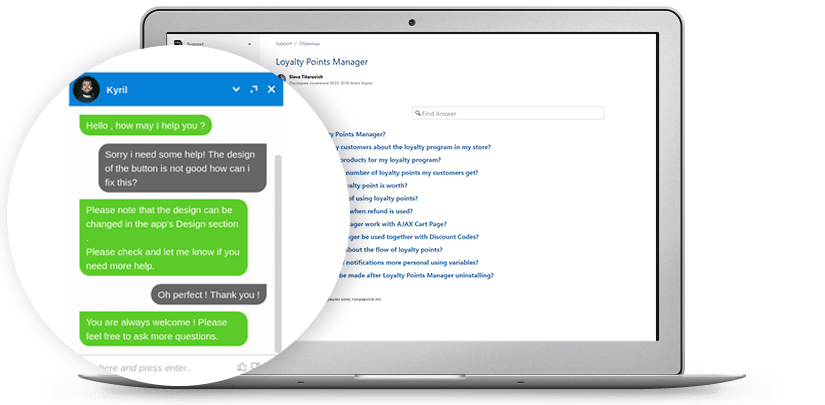 24/7 Dedicated Support

We'll help you set up the free Shopify Rewards App and resolve any issues 24/7.
100% Mobile-Ready App

In case there are some tShopify Loyalty Points plugin will enable you to reach clients on any device. We built a mobile-friendly app so you don't miss a single customer.
Get the App for Free
We used the best practices of retention marketing, creating the Shopify Loyalty Reward Points extension. Create a Loyalty and Referral program that will motivate existing customers to return to your store and make another purchase.
It takes much more investment to attract new customers than to keep those who have already purchased from your store. The Shopify loyalty app makes it easy to encourage clients to return to you and make repeat orders. How? Reward your customers with loyalty points that they can get with a purchase. You are free to set up Rewarding conditions, Loyalty Point value, and choose the list of items that will be used in your next Reward Campaign.
Unlike other Shopify Loyalty Program apps, our product allows you to launch a Referral Program. Grant loyalty points for referring new shoppers to your store or sharing information about your brand on social media. Increase customer loyalty and turn them into your brand advertisers free-of-charge.
Shopify Referral app User Reviews
"We are so glad to find this referral app for Shopify. Custom service has been top notch and the program works exactly like stated."
Glitterjunkiezllc
"We think this is the most convenient loyalty program available on Shopify.
The points redemption process is very straight-forward. "
Bestpysanky
"This referral program app was super simple to install, looks great and if it works (tests look great) then it's a must have!"
The Lost Book Shop
See all official reviews →
Read the User
Reviews and Testimonials
We are so glad to find this app. Custom service has been top notch and the program works exactly like stated.

Glitterjunkiezllc
We think this is the most convenient loyalty program available on Shopify.
The points redemption process is very straight-forward.

Bestpysanky
I personally endorse this app. I have gained more traffic and sales due to this app.

Braceletsave Com
This app works great and I have gotten some good sells because of it.

Allies Retail
Best free app I have found to boost sales with notifications and get customers subscribed to email lists.

K And M Gifts