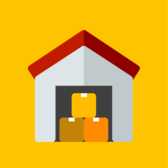 Shopify Wholesale Pricing App
Manage membership levels easily
Create different membership levels for retail or wholesale customers
and apply special prices for each of them.





Pricing Plan
$19.95 / month
Main Features of the Wholesale Shopify App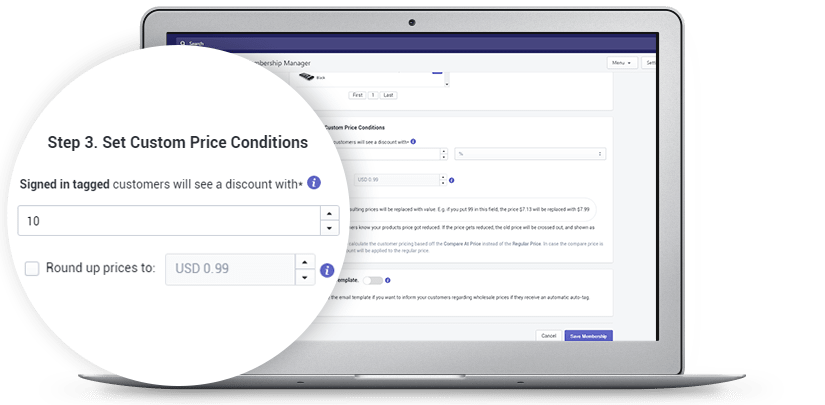 Create and configure membership levels

You can create unlimited number of membership statuses with different rebates and conditions.
Automated membership statuses

Set conditions once and statuses will automatically applying when customers will fit under this conditions.
Create custom price conditions

Set a discount rate by % or by money equivalent. Also you can round up product prices according to a specified sum.
Let customers know about their discounted price

Set this option and if a customer has discount for a product, the normal price will be crossed out and shown as "before".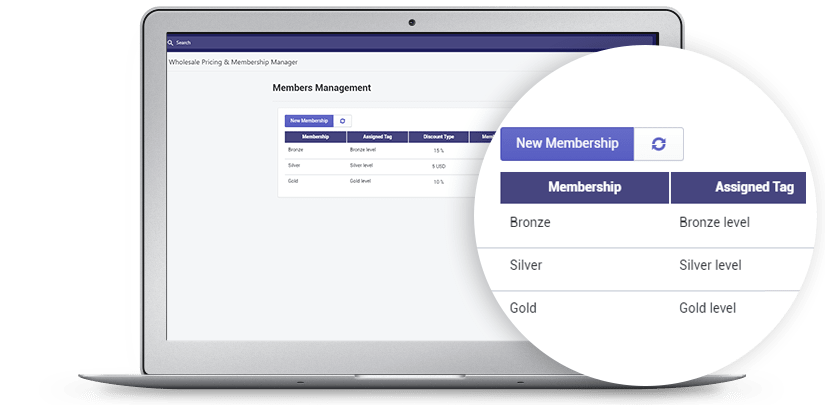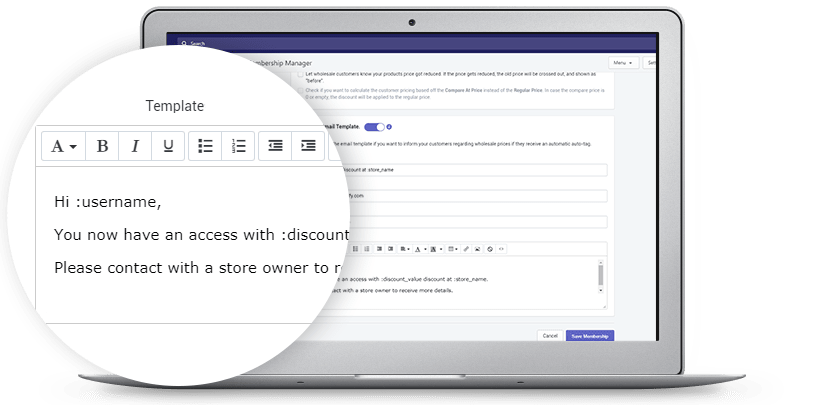 Email templates

Create or choose from current templates to inform your customers about regarding wholesale prices if they receive an automatic auto-tag.
Professional support 24/7

In case there are some technical issues with the app, our support team will solve everything within a couple of minutes.
Get the App for Free
Why Use
Customer Group Discounts?
You want to sell wholesale products, but don't want to create another entity to do so? Make it easier with a special Shopify Wholesale Tool allowing you to set different prices for different customer groups. Expand your online store opportunities with the Wholesale Pricing & Membership App!
Setting wholesale products is one more opportunity to promote the store and bring more revenue. The tool enables you to define customer groups and manage prices that would be shown. Each group can receive a special discount rate stated in either percentage or monetary equivalent. The groups can be attributed according to how much money a customer spends, how many products they purchase, how often they make purchases, or what the locality is they make purchases in. Even if none of our pre-created conditions suit your needs, we'll implement your ideas into the product asap and for free!
Wholesale Pricing User Reviews
"Good work. It really save my time and energy, so nice."
Fashion Cool Jewelry
"They're customer service is very good ! They are prompt and also very nice people who really care about their customers/clients."
Foxy Farm Designs
"Easy to use and easy to install. Great wholesale app for Shopify!"
On The Go Lash
See all official reviews →
Read the User
Reviews and Testimonials
Good work. It really save my time and energy, so nice.

Fashion Cool Jewelry
They're customer service is very good ! They are prompt and also very nice people who really care about their customers/clients.

Foxy Farm Designs
I personally endorse this app. I have gained more traffic and sales due to this app.

Braceletsave Com
This app works great and I have gotten some good sells because of it.

Allies Retail
Best free app I have found to boost sales with notifications and get customers subscribed to email lists.

K And M Gifts