Shopify Crowdfunding App
Track your product donation
Create powerful crowdfunding platform at your store.
What is Shopify Crowdfunding App about?
Shopify Crowdfunding App: Main Features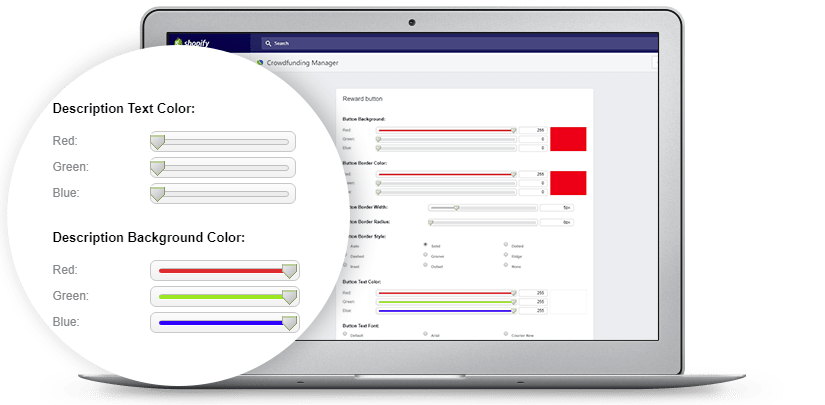 Fully customizable design
Create a unique widget design that suits your needs using an excellent comprehensive editor with an online preview feature.
Unlimited number of campaigns
Create as many campaigns as you want without any limits.You can choose from either an amount or quantity goal for your campaign.
Continue or finish the campaign if you reach the goal
Automatically finish the campaign if the date is reached or do it manually if it should be finished before the date is reached. The campaign can be automatically continued after the date or desired amount is reached.
Automatic email notifications
Inform your clients about  the campaign status by sending them automatic email notifications.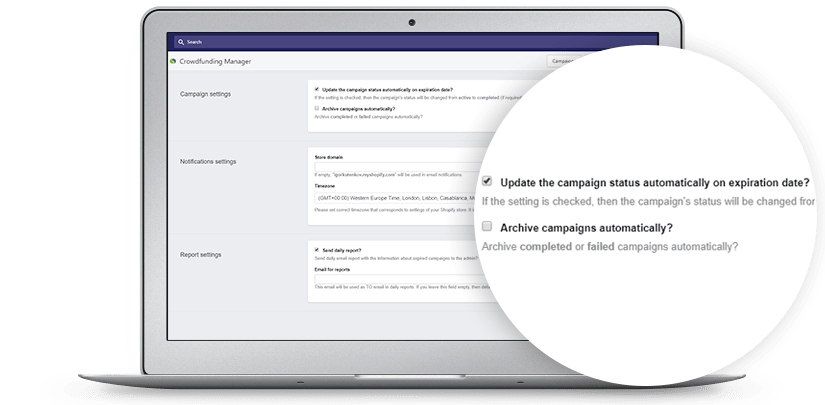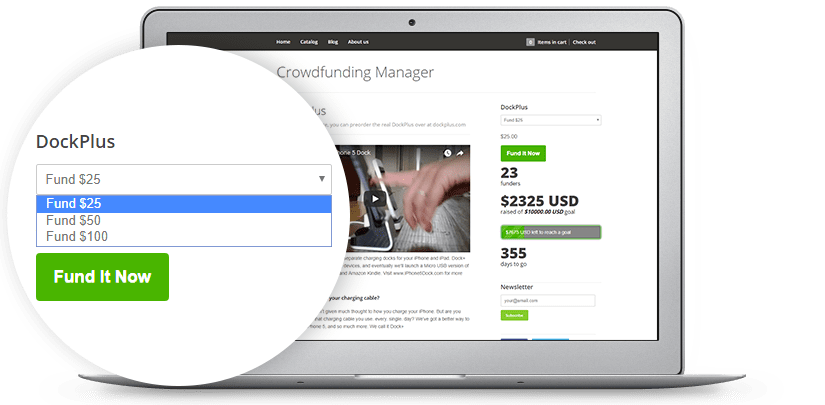 Set up several backing options with different amounts
Create as many backing options as you wish to give customers more opportunities to support your campaign.
Full statistics about each campaign
See full statistics about each campaign including orders and their details.
Professional support 24/7
Our free and fast support will answer all your questions 24/7.
You don't need to do any manual modification during the installation or app usage. The app has an intuitive interface.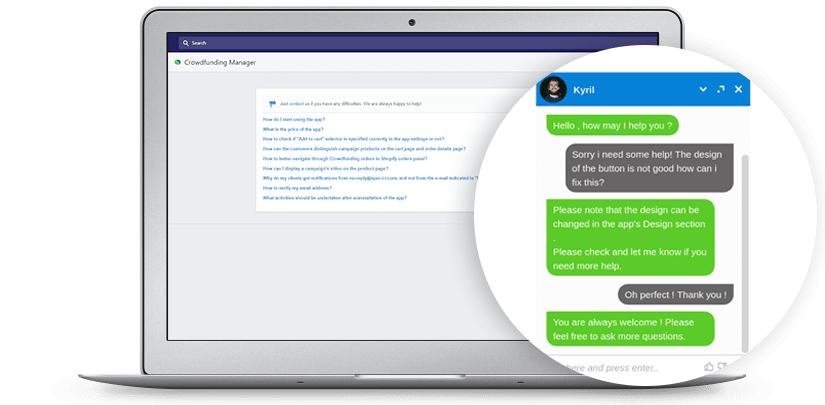 Made by professionals
with love

Made by professionals
with love

Ever wanted to start your own crowdfunding campaign? Now it's easy with the Shopify crowdfunding app. This tool allows you to select products from your store to participate in the campaign, and also provides visible statistics on donations, goals, and current sums.
Do you feel like it's a good idea to use the Shopify donation app? We have already developed such a solution for your store. The Shopify crowdfunding manager enables both donation and pre-order campaigns according to your wishes and needs. The selected product will be attributed with a "Fund It Now" button, though its name can be changed just like every piece of text on the widget. The design, the content, and several funding options with some money amounts to pledge are fully customizable. In addition, you'll be able to see stats for each funding amount on the product page. All you need to get started is to install the crowdfunding Shopify app and enjoy more benefits like:
Manage finish & continue conditions;

Keep your clients informed;

Get useful statistics;

Reach your targets and engage customers.
Read the User Reviews and Testimonials
This App is phenomenal. It has helped scale my business.
Excellent and fun way to raise revenue on new products! Very easy to integrate!
This app works well with my crowdfunding project. Thanks!
The app gives you what you need. It's highly customisable.
Very happy with this app and it's ability to select any product I would like to use in a crowd funding campaign.
I love this app. It totally runs our store…
Get Shopify Crowdfunding App now!
     14-day Free Trial
     24/7 Customer Support