Shopify One-Click Checkout App
Dramatically increase conversion rate
Speed up customers checkout process skipping the cart or offer them continue buying products on website.
One-Click Checkout App: Main Features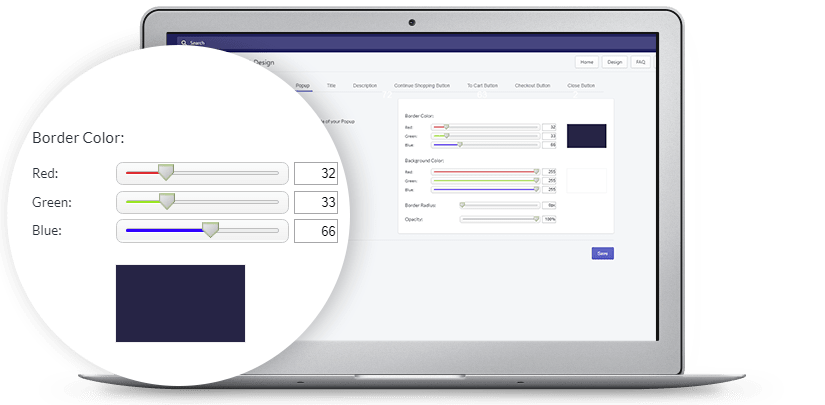 Fully customizable popup design
Change style of the popup and the buttons, including their colors and fonts, using this amazing editor.
Compatible with any theme
There is no need for any manual modifications during installation or app usage period.
Easily add any text, table, image, video, or code into the popup. And also be able to show the list of items placed in the cart.
Set amount or delete product inside the popup
Customers can change any product options directly in the popup in just one click.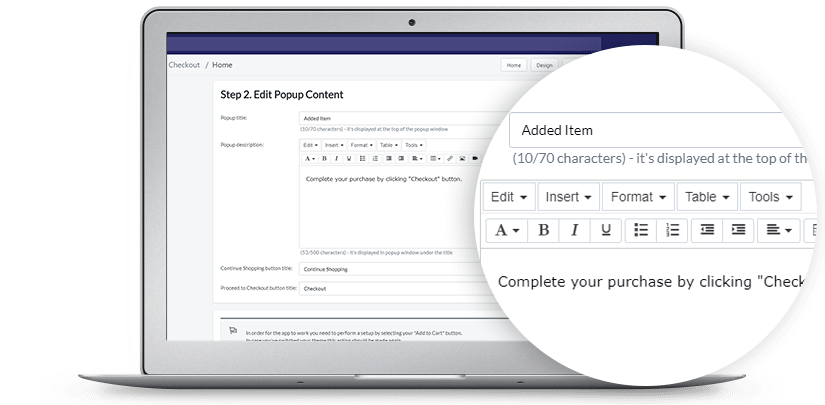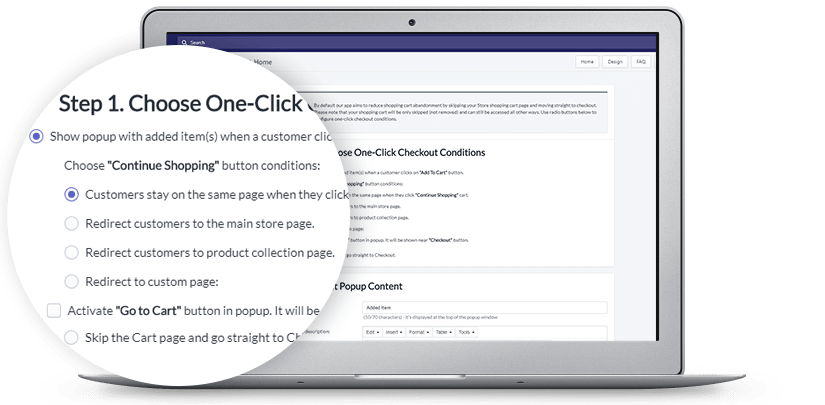 Send customers directly to checkout
Offer your customers a quick procedure and increase your store conversion as a result.
Offer customers options on what to do next
Show your customers different opportunities to continue shopping or go to checkout such as "Continue shopping", "Checkout", or "Go to Cart" (optional).
Our technical support will help you solve any problems 24/7.
Customers who shop using their mobile or tablet will see a totally optimized version of the application.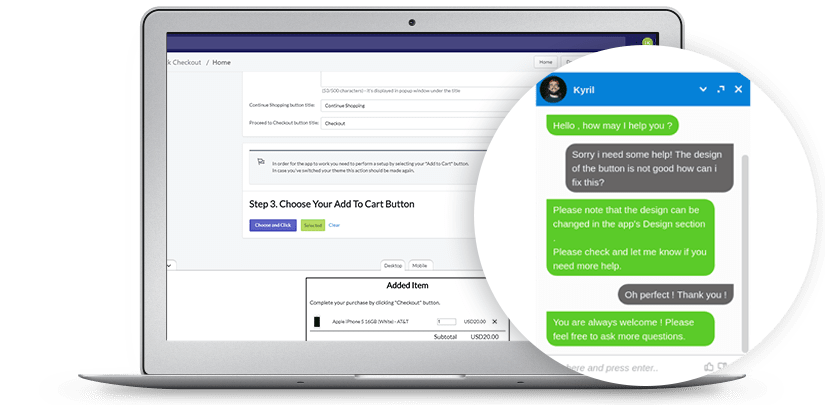 Made by professionals
with love

Made by professionals
with love

Do you feel like the cart is lowering your store's conversion rate? Let your customers save time and land directly on the checkout page, omitting the cart stage. This remarkable app will help you to redirect users and lead them straight to checkout after clicking the "Add to cart" button.
Did you know there are some special products, which do not require the cart stage, or even that this could negatively affect your income? One-Click Checkout app was designed to eliminate this problem, taking customers to the payment page immediately. A installing this app the shopping cart will still be available on your store. You'll be able to choose how exactly you want the app to work: whether the redirecting should be done automatically, or if it's better to display the popup where a user will be able to voluntarily choose one of the buttons: "Continue shopping", "Checkout" or "Go to Cart." Together with this main functionality, you'll get:
• Powerful revenue increase;
• Checkout speed boost;
• A popup that fully replaces the cart features;
• Fully customizable design and content.
Read the User Reviews and Testimonials
This is great for getting customers over to the cart and encouraging them to check out. 
Good app to have to ease the checkout process and it looks professional! 
Pretty Cool! its a customer convenience that I've been looking for!
Works well, as it encourages quicker checkouts for impulse buyers. It'll potentially lessen the rate of abandoned checkouts…
Amazing live support settled my problem in less than 10 minutes.
Best customer support for a must have APP in my store. If you offer Free Shipping, you can have 3-step checkout. Awesome!
Get More Sales With One-Click Checkout App
     7-day Free Trial
     24/7 Customer Support