Shopify Social Proof App
Urgency widget to boost your sales
Show actual or random number of clients looking at a product and stock inventory.
Shopify Social Proof App for Your Store
Shopify Social Proof App: Main Features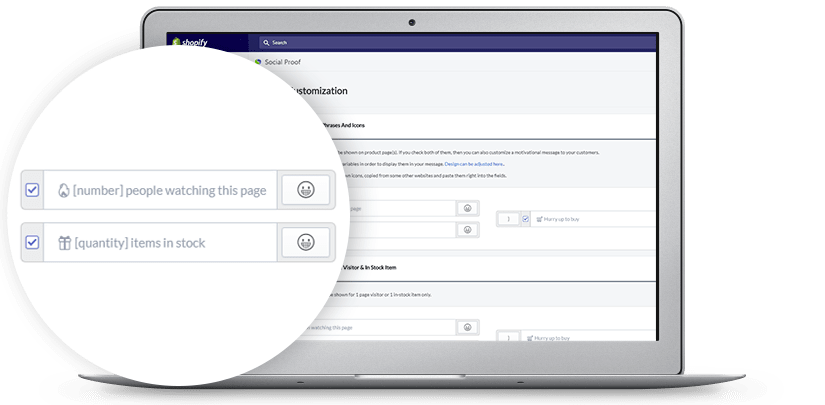 Add texts and unique emojis, create additional urgency in your messages to attract more customers.

Make bulk changes in minutes
You can easily choose all products in one page and apply changes to all of them in minutes.
Actual or random number of widgets
 Select between actual or random number of clients looking at your product and stock inventory. 
The app doesn't require any manual modifications of your theme during the installation or the app usage. One-click install!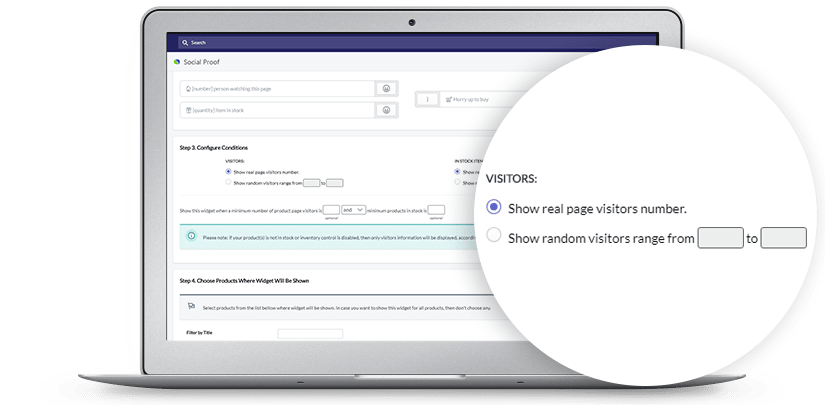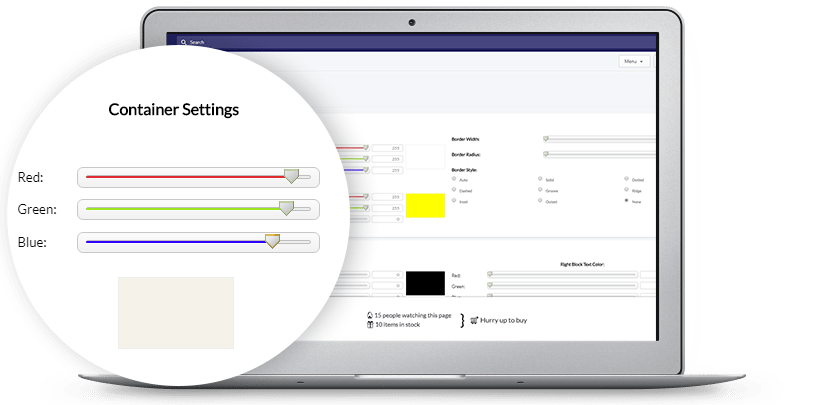 Fully customizable widget
You can create your own design and place the widget anywhere you want on the page.
Our fast and free support team will help you solve any problems in a few minutes.
Made by professionals
with love
Made by professionals
with love

Do you realize the unlimited possibilities your store can have when utilizing social proof instruments? At least, it's foolish to deny that the influence of social proof elements is great and impacts sales rates significantly. Stop losing opportunities and start attracting sales with the Shopify urgency app!
Shopify social proof is a widget for your store that will stimulate your customers to make quick decisions and spend more money. The idea is to show that other people are interested in buying the product. You can either use actual data or imaginary as both options are supported by this tool. Show customers how many other people are viewing the product's page right now, or indicate the number of items left in inventory to speed up their decision making! With no coding skills or long configuration, the app will be installed to your Shopify store to bring you revenue. Just choose the design and customize the widget text to get started. The benefits of its application are huge:
Increase your conversion rates;

Turn occasional customers into loyal ones;

Control the social proof thus defining the urgency rate;

Apply to specific products, collections or the whole store!
Read Shopify Timer App Users Feedback
This app really helps in impressing the customers. My Sales increases after installing this app.
Very good app, recommend to businesses who want to increase sales.
Super easy to install (you do nothing), easy to set up and use, it's customizable, and it works great.
We have seen a bump in sales from the hour we installed this.
Had a couple of set up issues with my theme but they literally got sorted in minutes via their support chat.
Easy to install and has made a great difference to my sales!
Try Shopify Social Proof App now!
     14-day Free Trial
     24/7 Customer Support