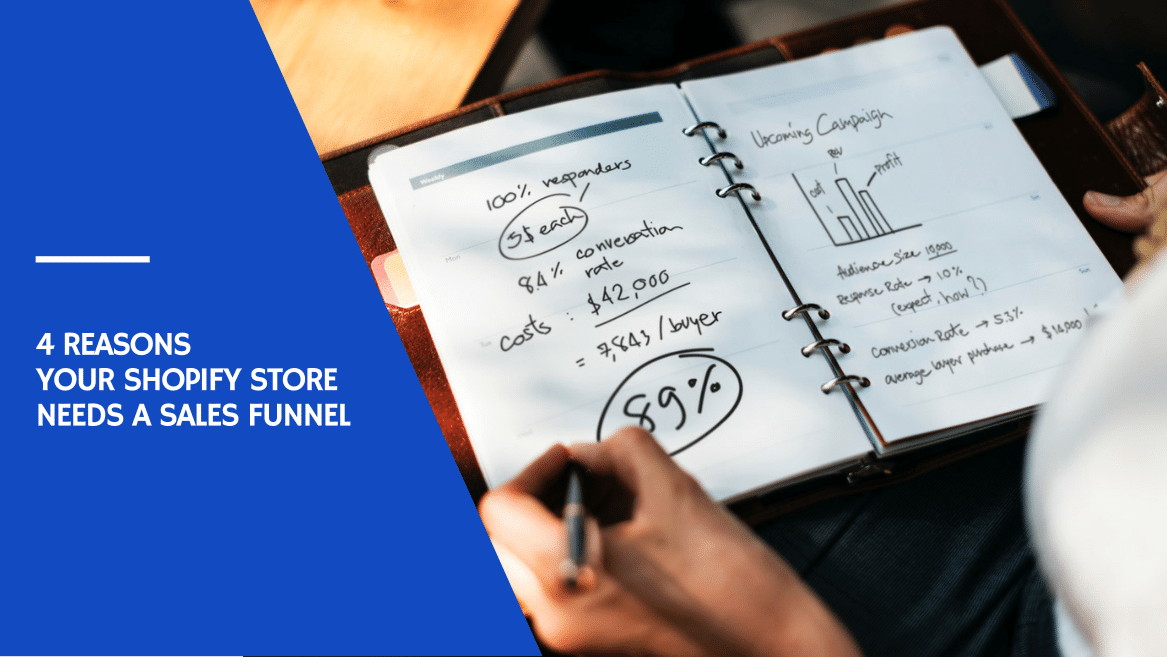 Want to grow a successful business on Shopify? Then you'll need a healthy sales funnel. Digital marketers have been using marketing and sales funnels for many years to boost profits and build customer loyalty. The same functionality should be used in eCommerce stores selling physical products because the survival of any eCommerce store relies on transforming visitors of their website from casual browsers into loyal customers. Wondering what a sales funnel is?
If you have little to no experience in online marketing and are unfamiliar with sales funnels, read this article, which will give you a quick overview of the reasons why every Shopify store needs a sales funnel. You will also find some advice on how to use a sales funnel in your eCommerce store to boost conversions and increase your revenue.
Content:
What Is a Sales Funnel?
A sales funnel is the buying process that businesses lead their customers through when they purchase certain products. It starts when your prospect hears about your brand and your products and ends at the moment they buy from you. Being a complete stranger at first, your prospect passes through different stages of your sales funnel.
We can also define a sales funnel as a number of steps designed to guide shoppers toward a buying decision. These steps include marketing assets that actually do selling, for example, emails and landing pages.
If you lack experience, the easiest way to create your sales funnel is to use a sales funnel template. It is a visual representation of the necessary steps that lead your customers to purchase. In other words, it's your sales cycle. Why does it have the funnel shape? This is because, as you get closer to a sale, the number of leads decreases. In fact, every sale starts with a large number of potential clients, but a smaller number of shoppers make purchases. The number of stages in the sales funnel may differ but, as we're speaking about a Shopify store, it can include 5 steps.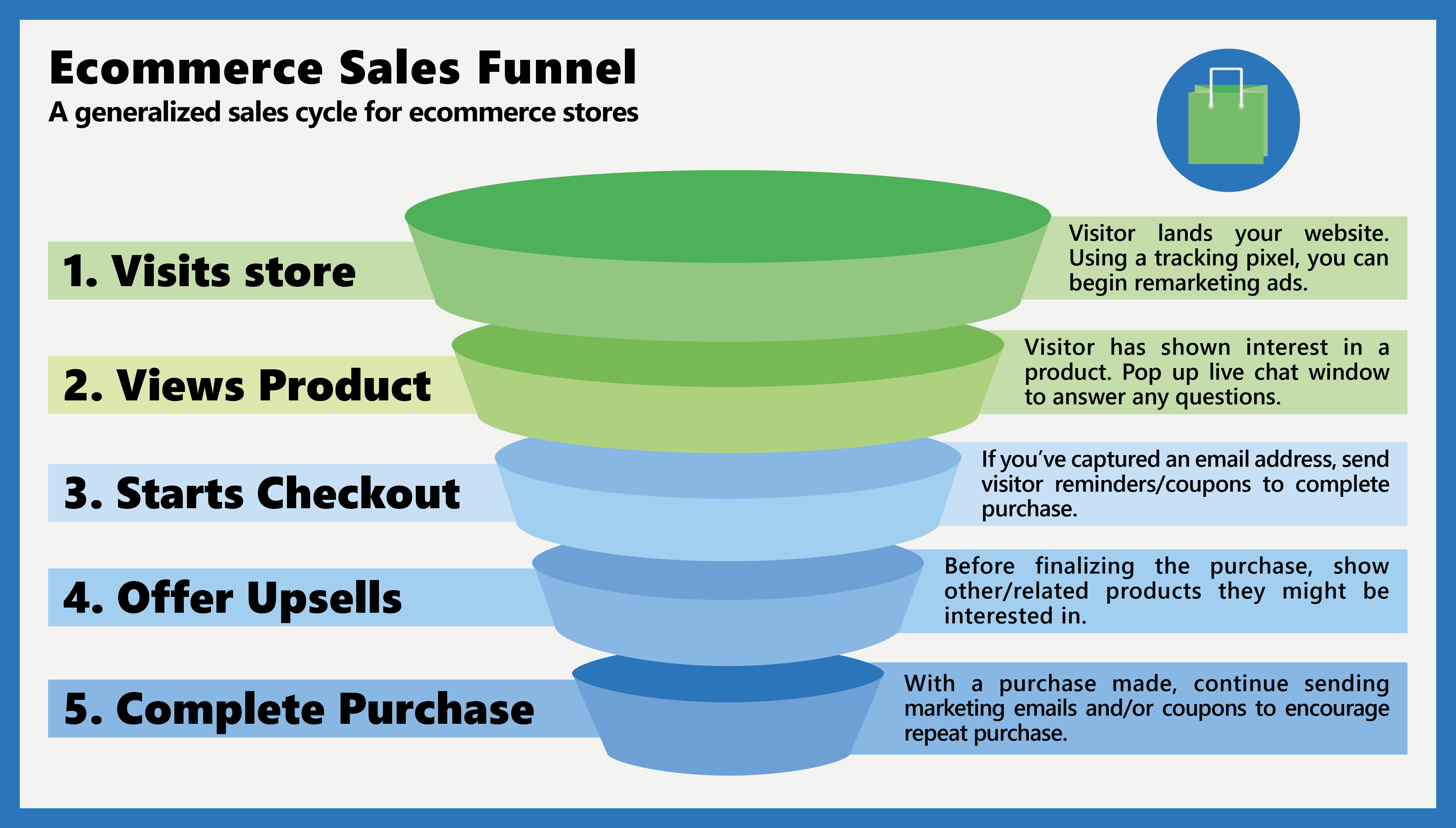 Why Do You Need a Sales Funnel for Your Shopify Store?
Every online store should use the power of sales funnels because they bring a number of benefits. Here are the key reasons to use a sales funnel in your eCommerce shop.
Increase Your Sales Leads
If you create a visual representation of your sales cycle, you will have a better idea of how to organize the whole process and identify "pain points" that lead shoppers to the purchase decision stage. When you succeed in attracting prospects to your Shopify custom site using ads, social media marketing, and email marketing techniques, you also have to do everything to ensure that there is a variety of ways for your prospects to convert into leads.
Having a sales funnel will allow you to improve targeting. During different steps of a sales funnel, you will have a good chance to learn more about your customers and define your buyer personas, while considering demographics, customer motivation, behavior patterns, and goals. This information will help you when targeting customers and creating messages.
Build Long-term Relationships with Your Customers
Only 2% of shoppers typically convert on their first visit to an eCommerce store. With retargeting, you can bring back the other 98%. But it usually takes some time before they close the deal. So you need a sales funnel in your store with different ways to contact them over time.
In addition, you need to re-engage your existing customers because, according to studies, the probability of selling an existing customer is 60 – 70%, compared with a 5 – 20% probability of selling your products to a new prospect. It's vital to ensure that your existing customers keep coming back for future purchases. You will need to develop effective strategies to make your customers feel special and show that you really appreciate their loyalty.
By creating a sales funnel, you will be able to design a long-term process of increasing engagement and building trust with your sales leads.
Have Better Control of Your Sales Process
Having a visual representation of your sales process, you will be able to identify steps you should take to close a sale. You will be able to use different standard methods to improve your sales process and determine which of them brings better results. You can also test several methods at a time and see which of them works best for your Shopify store.
A sales funnel can help you improve your store management, because you will be able to view the progress of all your deals on a daily basis and identify the number of deals in each sales funnel stage that may need your attention.
Leads in different stages of a sales funnel have a different probability of closing. For example, leads in the first stage of a sales cycle typically have a 10% chance of closing, and in the second stage, the probability of closing a deal is 20%, etc. By applying a probability to every stage of the sales cycle, you can forecast your earnings, if you multiply this probability by the value of every deal. There are Shopify sales funnel apps that can make these calculations automatically.
Stay Ahead of Your Competitors
Without a sales funnel, you will not be able to organize powerful marketing campaigns, achieve your business goals, and earn the income you deserve. You should take measures to keep every website visitor who becomes a lead and eventually make him/her a buyer by offering them a great value. You should always give them an opportunity to get more for their money with a genuine intent to help them solve their problems. You need to ensure that all your customers have a pleasant customer experience. The more value you provide to your Shopify store customers, the easier it is to stay ahead of your competitors and grow a successful business.
How to Create a Sales Funnel
To create a sales funnel for your Shopify store, you first have to think about the different stages involved in your sales cycle. Are you wondering which sales funnel stages apply to your business? You can use the following sales funnel model.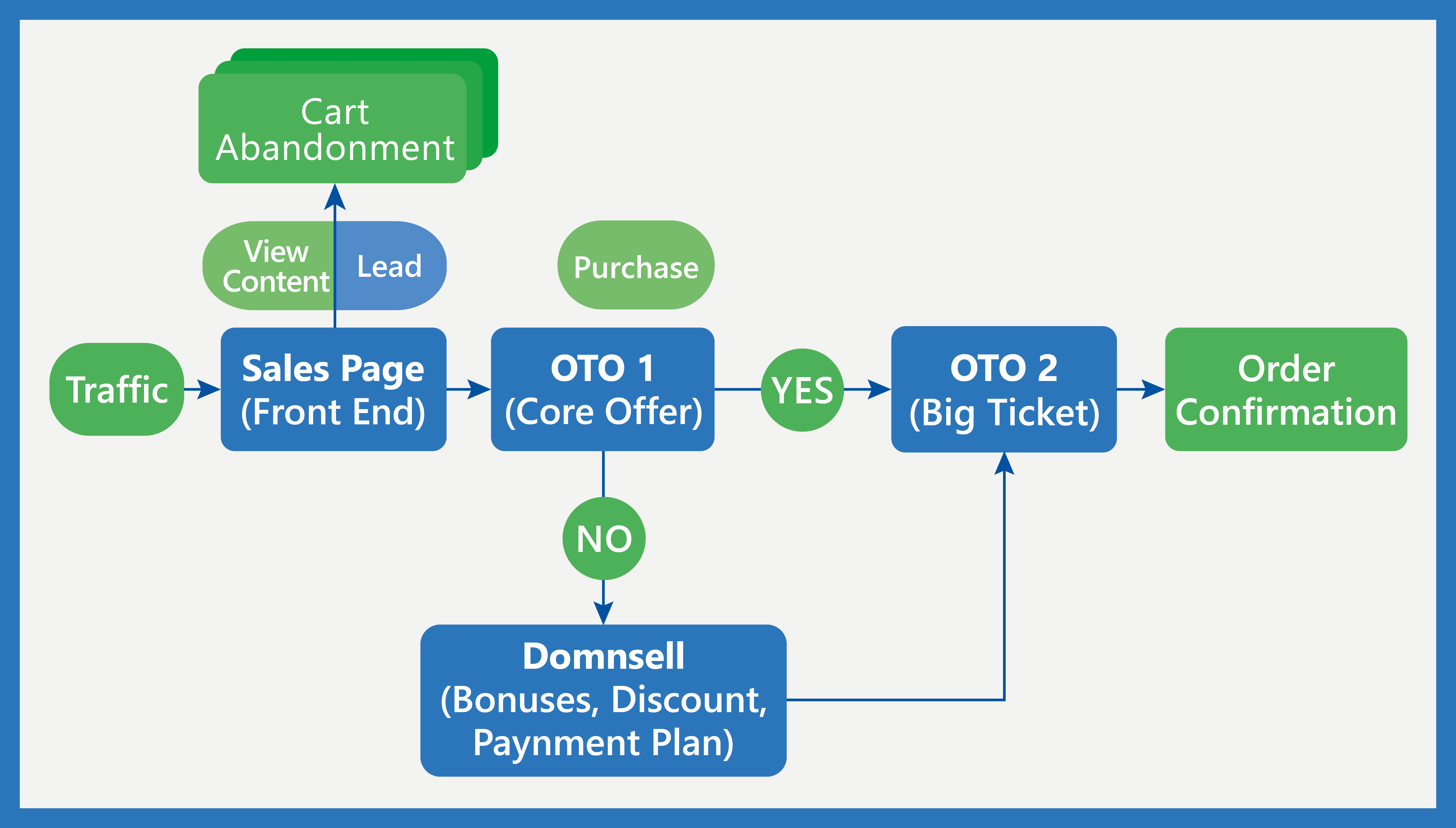 The general flow could be like this.
You use SEO, emails, ads etc. to send initial traffic to a specific sales page.
Let's hope your website visitors buy the product you offer. If they don't, you should retarget them with cart abandonment emails.
If your online store visitors purchase the item you offer, you can try to upsell with One-Time-Offers (OTO). If they don't accept your OTO 1, you can offer your customers a Downsell. No matter what they answer to your Downsell, you will send them to a page with OTO 2. If your customers accept your OTO 1, you will offer them OTO 2 as well.
Whether your shoppers accept or don't accept your OTO 2, they will come to the Order Confirmation page.
Your visitors will need only a few minutes to go through your sales funnel. Hopefully, they can pick an OTO or even two of them and increase their average order size.
Need suggestions for your One-Time-Offer pages? You can offer a variety of complementary products that you believe someone would buy after purchasing the initial product:
product bundles
single products
subscription programs
digital assets
big ticket items
And what about your Downsell page? Here are some typical downsell ideas.
If your first product is expensive, you can offer a less expensive version of the product that has the same function, a payment plan that your customers may like, or a discount to make your customers say "yes".
A good idea is to offer a bonus, for example, free shipping or an additional product.
You can also ask the question "Are you sure you don't want (OTO product)? If you emphasize the fact that it is a limited time offer, many people are likely to say "yes".
Boost Conversions with the Shopify Sales Funnel App
In today's age of the customer, the customer lifecycle (a process that all customers go through when they consider, purchase, use, and maintain loyalty to a specific service or product) is not linear. It is often described as an ellipse, emphasizing the fact that customer retention is really a cycle and the goal of effective customer relationship management is to get the customers to go through the sales cycle again and again.
Any successful online business should rely on both sales and marketing techniques to guide its customers through the sales funnel and to build customer loyalty. Managing a sales funnel is time consuming, but there are a lot of tools that can help you increase productivity by automating the processes of building and optimizing your sales funnels. There is a wide variety of apps for Shopify you can use at every stage of the sales cycle. They can provide you with customer data analytics and help you develop successful email and social media marketing campaigns to boost sales and increase your revenue.