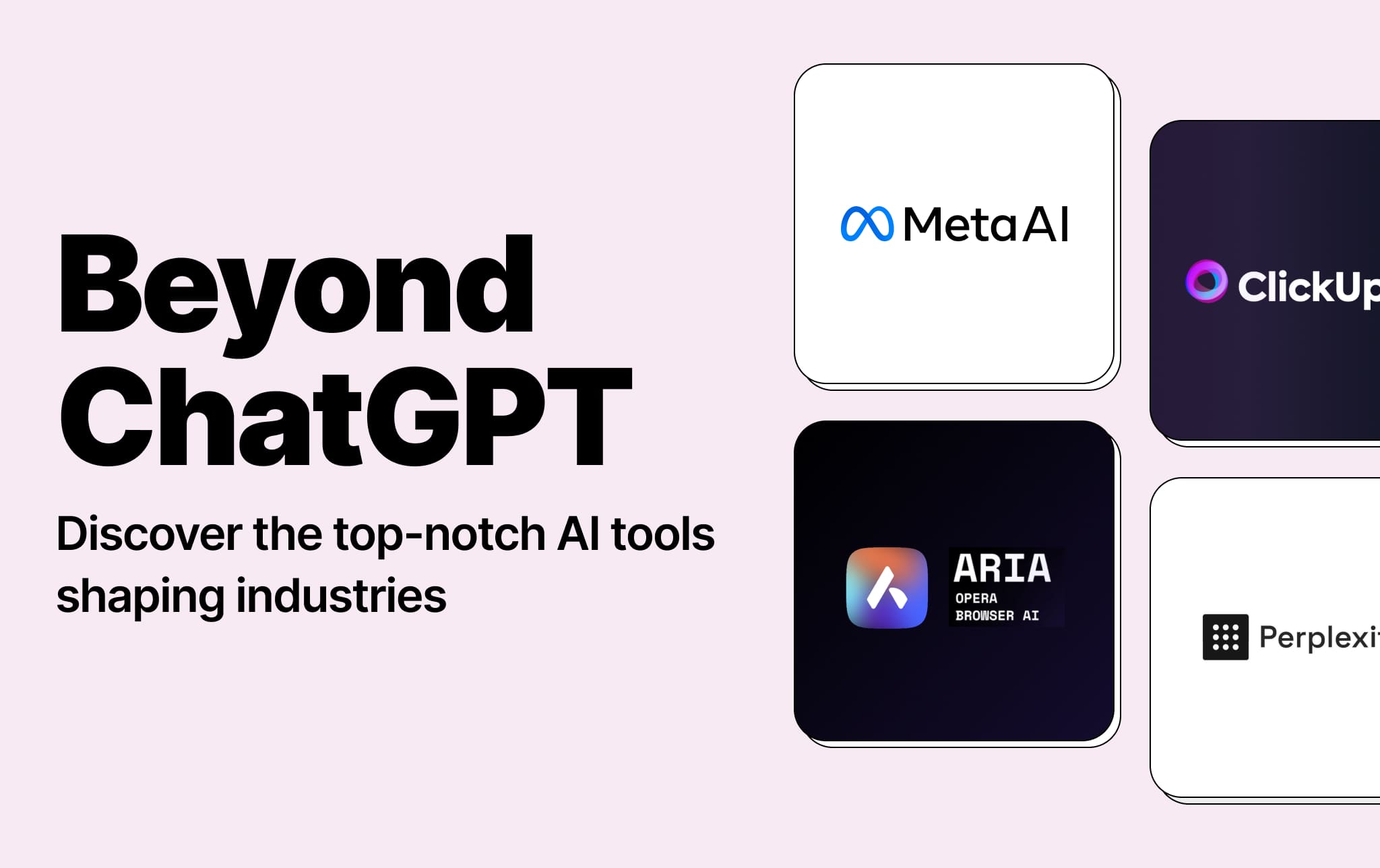 AI tools have revolutionized the way we work, offering efficiency and productivity like never before. From streamlining content creation to optimizing data analysis, they are tailored to enhance our workflow, making tasks faster and more effortless.
In this article, we will explore a hand-picked list of the most popular and effective AI tools that are sure to take your business to new heights while simplifying your daily life.
Let's dive in!
AI assistants and communication tools
Babs.ai
Babs is the assistant that will revolutionize the way you communicate and stay organized. Babs can combine your favorite apps like Gmail, Google Calendar, and Notion, simplifying your tasks within your preferred chat app.
Voice generation and text-to-speech solutions
PlayHT
PlayHT is an AI voice generator and text-to-speech (TTS) solution that allows you to convert text into realistic-sounding speech. The generated audio can be downloaded as MP3 and WAV files. The service provides a wide range of AI voices in various languages and accents. There are also features such as speech styles, multi-voice capability, voice inflections, custom pronunciations, and more. The platform allows you to securely store and manage audio files, collaborate with teams, and export files in different formats. Also, it can be integrated with other apps and offers commercial rights for the generated speech files.
Meta AI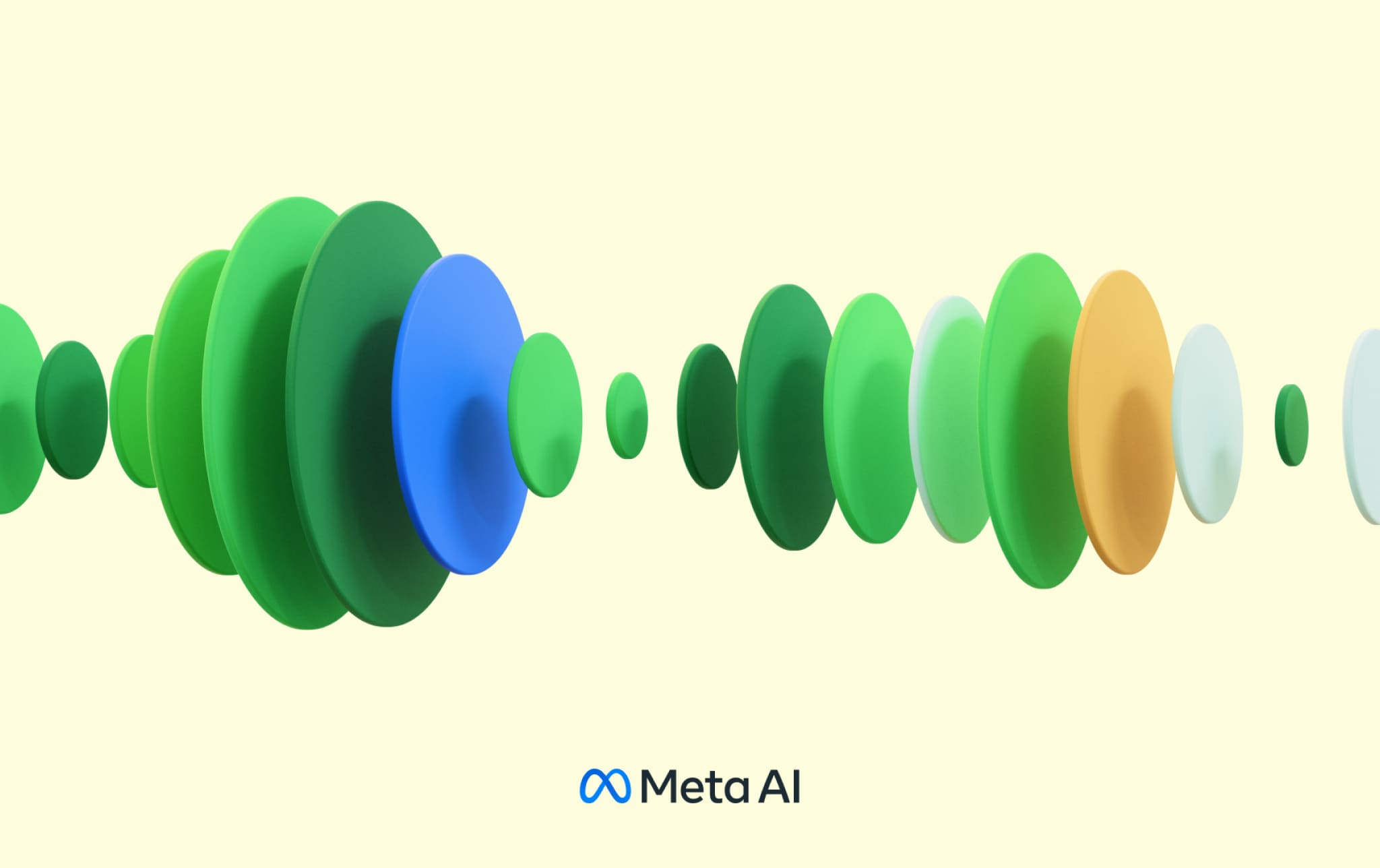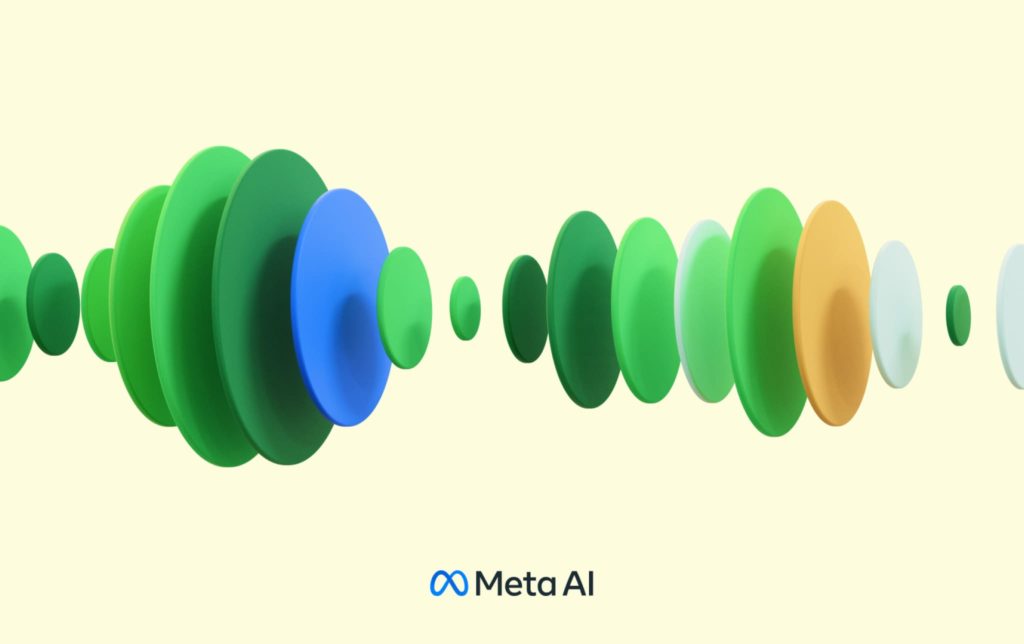 Meta's AI model, Voicebox, produces high-quality audio and edits pre-recorded audio by removing unwanted sounds like car horns or barking dogs. It's multilingual, generating speech in six languages. Voicebox matches the style of a sample for text-to-speech, fixes interruptions without re-recording, and transfers speech styles between languages for natural communication.
Content creation and video editing
Typeframes
Typeframes allows you to create impressive product videos easily and quickly. It emphasizes that you can save time and capture attention by using this tool instead of complicated video editing software. The process involves plugging in your content, such as text, colors, screen recordings, and soundtracks, and then choosing from a variety of effects and animations. Once you're satisfied with the result, you can export the video in any format or quality you desire.
Runway's free resources for creative projects
Runway company has recently released a collection of high-quality footage that is available for free. These footages can be used in various projects, including mobile editing. This means that you can easily insert them into your projects and even edit them directly on your phone, opening up a world of possibilities for indie filmmakers and content creators.
Content marketing with Jasper AI
Jasper AI is a tool that uses artificial intelligence to help you with content marketing. It claims to make it fast and easy to create content for blogs, social media, websites, and more. Jasper can help with SEO, generate articles, boost ad conversions, and overcome writer's block. It can also translate content into different languages and boost content production.
Document collaboration and data management
Coda AI
Coda is a document collaboration tool that brings together words, data, and teamwork into one powerful document. It is designed to be simple and familiar like a regular document but also adaptable to the specific needs of your team.
One of the key features of Coda is its ability to connect and sync data from different sources. Also, Coda can integrate with thousands of other apps, allowing you to embed, synchronize, and take action on the tools you use daily directly from your Coda document.
Document AI
Document AI, developed by Google, is a technology that extracts structured data from unstructured documents and enables analysis, search, and storage of this data. It reduces manual processing, lowers setup costs, and ensures accuracy through AI and human reviews. Document AI empowers businesses to gain insights from document data, improve operational efficiency, maintain compliance, and meet customer expectations.
AI-enhanced work management
ClickUp AI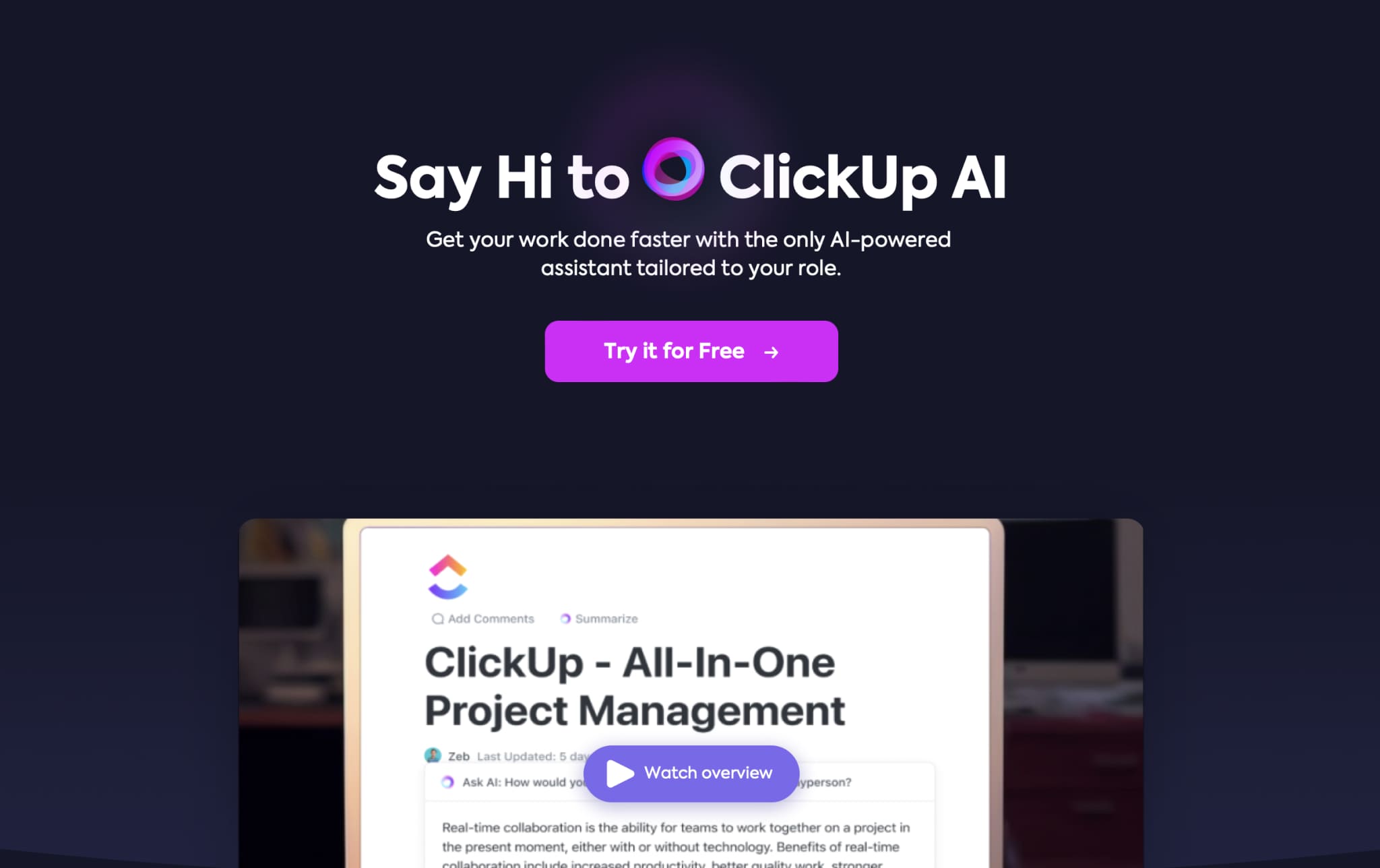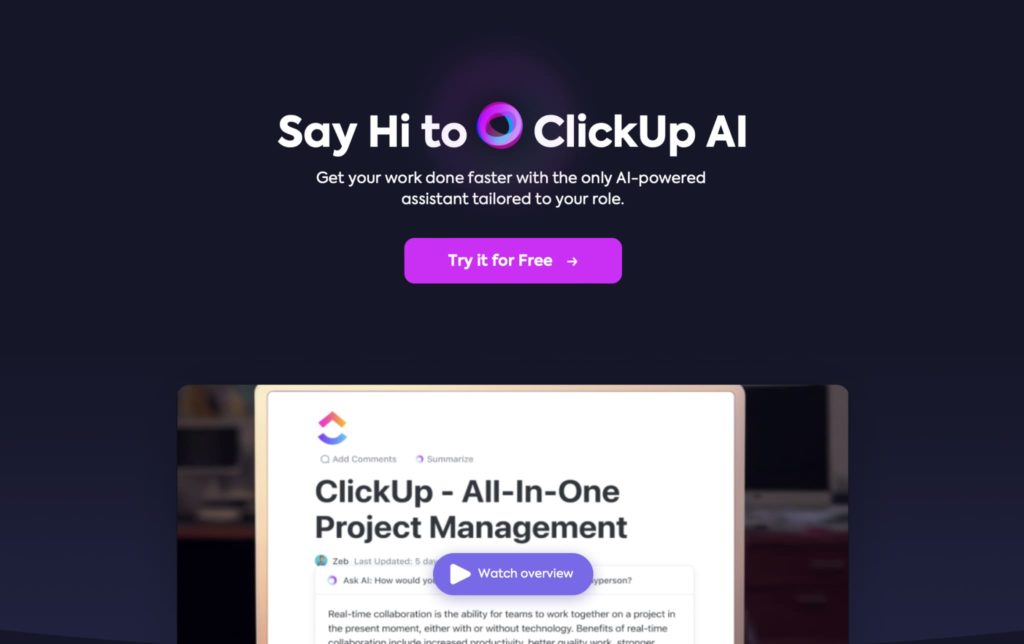 Now let's take a look at the updated tool, ClickUp. With its new AI-powered assistant, ClickUp AI, it's now easier than ever to work smarter and faster. This AI solution is custom-built for your needs, offering hundreds of expert-crafted prompts for every use case, right within ClickUp. It boosts productivity and creativity by generating summaries, extracting action items, and enhancing your writing.
WorkGPT
WorkGPT is a system similar to other AutoGPT and LangChain. It takes a directive and a set of APIs as inputs, uses them to interact with an AI system and carry out the given directive. WorkGPT can perform tasks like web research, website crawling, or even ordering an Uber. It is capable of supporting any API that can be represented using an OpenAPI file, which is a standard format for describing APIs.
AI chatbots for customer support
Userdesk's AI ChatBots
Userdesk service allows you to easily create your own AI ChatBots. These ChatBots are trained using your own data, such as information from your Notion pages, web pages, and PDF files. The process is simple and doesn't require a credit card.
Design and graphics with AI
Creating a vector logo using AI
In this case study, the author, Marcos takes us through the process of creating a vector logo using artificial intelligence (AI) in design. The process begins with enabling an option and utilizing the upscale button to enlarge a preferred logo. Next, Marcos explores making variations by modifying prompts or leaving them unchanged.
The pivotal step involves converting the logos into vector files, where Marcos recommends the use of the Vectorizer.ai website. Once the vector logos are ready, Marcos explains how to add text and adjust details using Adobe Illustrator or any compatible app that handles SVG, AI, or EPS files.
Lexica AI art image search engine
Lexica is a search engine specifically designed for Stable Diffusion-generated images. You can browse through millions of pre-generated images on the website for inspiration or use Lexica's API to integrate the images into your own projects. The advantage of using Lexica is that you don't have to generate the images themselves, saving time and computational resources.
Seeing the world through your eyes
Researchers at the University of Maryland have developed an AI-based method to reconstruct 3D scenes from reflections in the human eye. This overlooked source of information about the world can be valuable. The technique involves using NeRF to analyze the reflections and accurately determine gaze direction. By leveraging the uniform geometry of the cornea, the researchers estimate the eye's position and orientation. They also separate the reflection from the iris pattern. The method shows promise despite challenges like cornea localization and image resolution. Further research is expected to explore the potential of eye reflections in understanding the surrounding world.
AI for web browsing and search
Aria Opera's native browser AI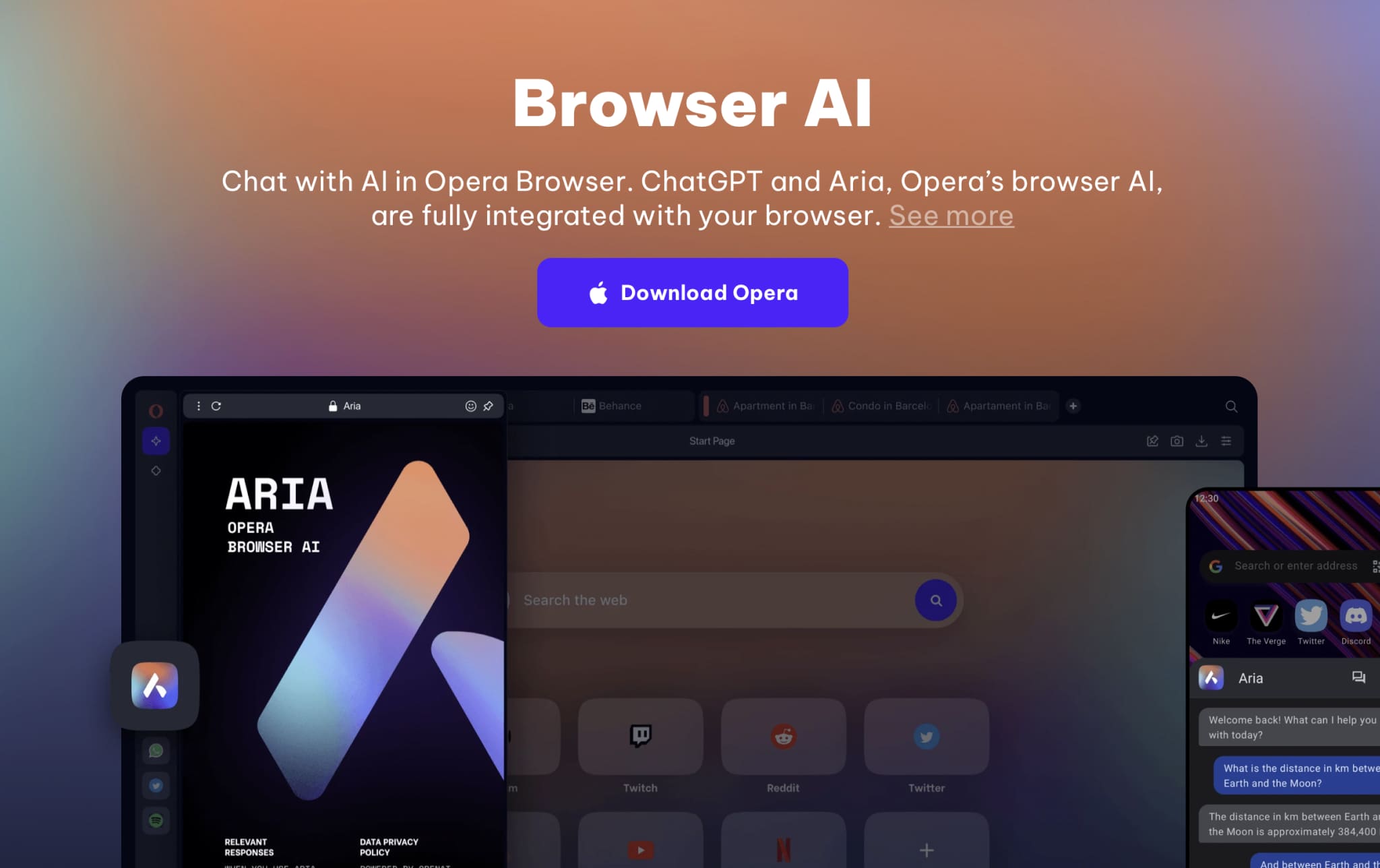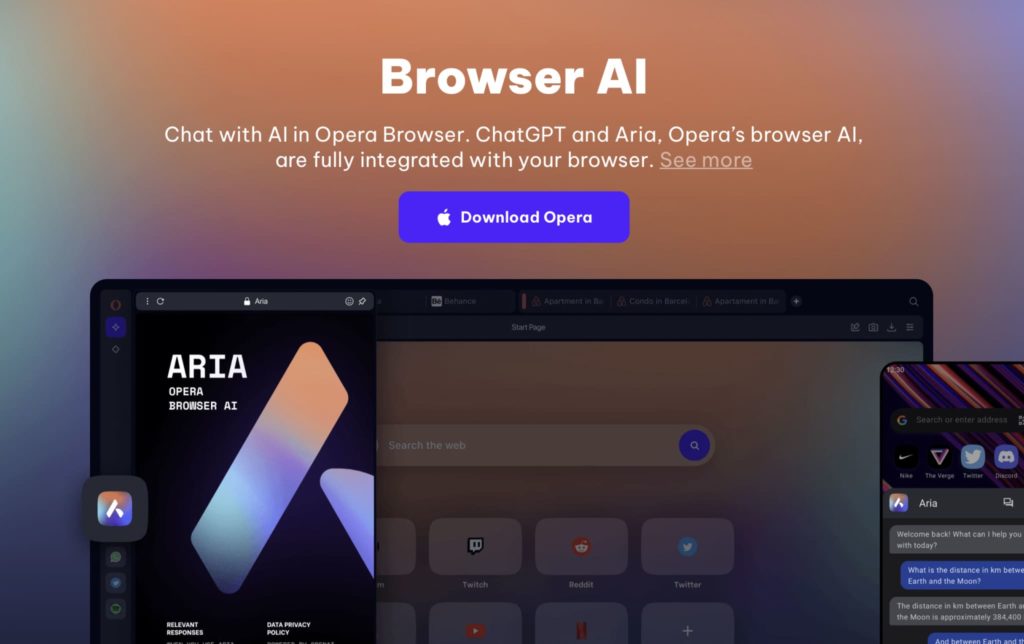 Now let's talk about the Opera browser. Despite its long-standing presence, it continues to thrive and actively develop. In fact, it has been a pioneer, introducing features that have been adopted by other browsers. It offers a unique Aria AI feature that, similar to the Bart in Google Chrome, allows you to search, access information and manage tasks. You can easily find the facts you need and perform various functions. Also, there are similar plugins to improve your web browsing experience.
Perplexity.ai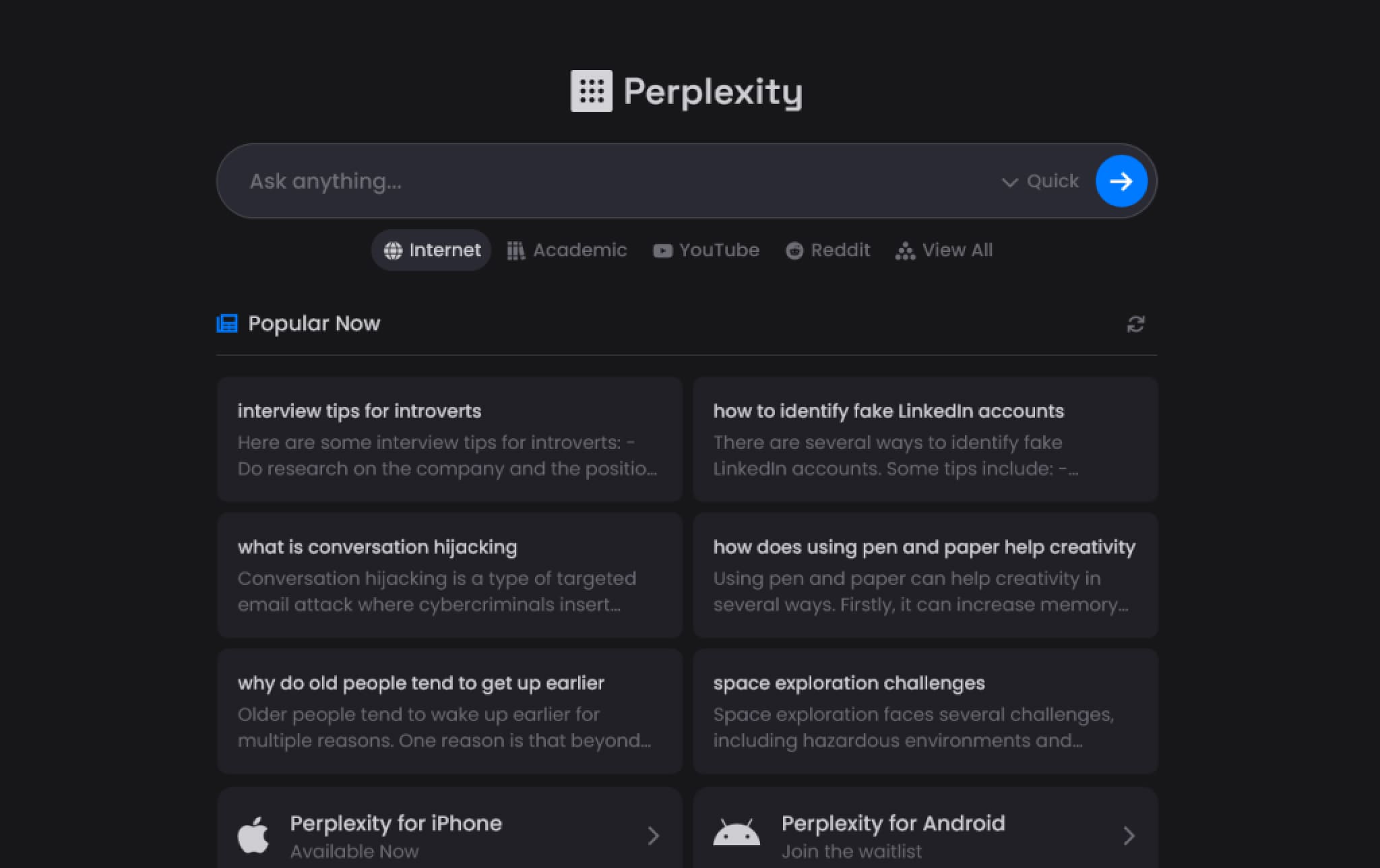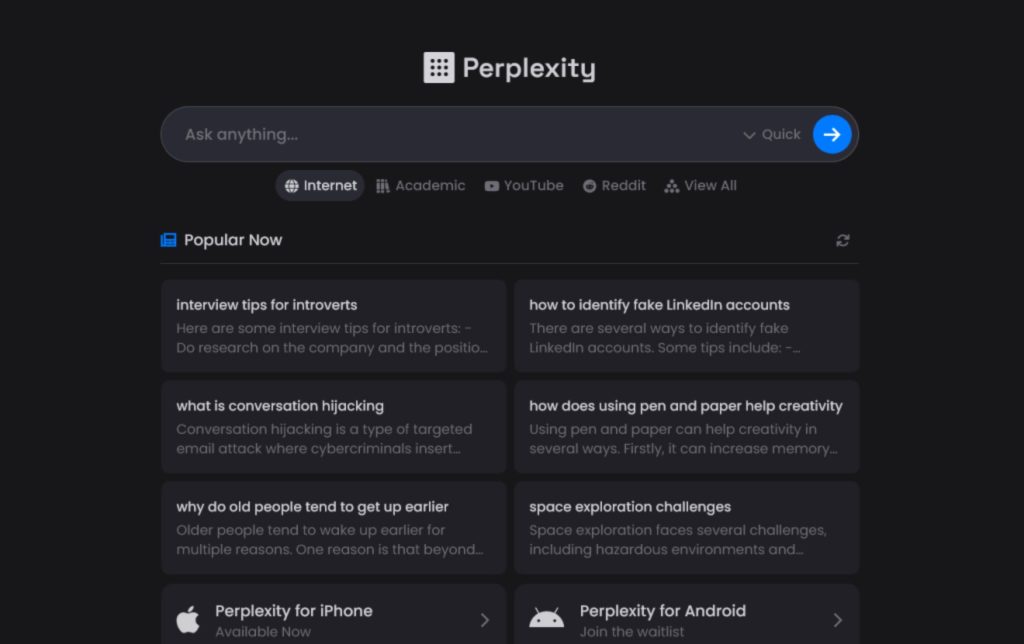 Perplexity.ai is focused on improving how people find and share information. They are a small team of experts from different fields working together to develop new technology and create helpful products. Their goal is to provide the users with the best experience when it comes to discovering knowledge.
AI development tools and frameworks
Vercel AI SDK
Vercel introduced the Vercel AI SDK, a development kit for creating AI apps with React and Svelte. It enables developers to build chat interfaces and streaming UIs using JavaScript and TypeScript. The SDK supports OpenAI, LangChain, and Hugging Face models and integrates with Vercel products like Serverless and Edge Functions for scalable deployment. It includes a playground to explore models and generate code. The SDK aims to simplify AI app development and offer cost-effective solutions for deploying AI applications.
Code Review Prompt
Code Review Prompt is an AI assistant that helps with reviewing code. The tool can generate a detailed review that covers different aspects of the code, such as how clear and organized it is, how efficient it is, how well it follows recommended coding practices, and how easy it is to maintain.
AgentHub_
AgentHub_ is a platform that simplifies the creation and deployment of artificial intelligence applications. It offers open-source operators for building custom pipelines and takes care of hosting and infrastructure. You can easily share your work, collaborate with others, and build powerful AI apps using a user-friendly drag-and-drop interface. The platform's flexibility allows for advanced and tailored pipelines to optimize business processes.
GPT Engineer
GPT Engineer is a tool that helps users build code by generating a complete codebase based on a given prompt. It allows users to specify what they want to build, and then it interacts with the user to seek clarification and understanding before generating the code. GPT Engineer can be installed and set up easily, and the generated code files are accessible in a designated workspace folder.
AI for recommendation
Gnod AI
Gnod is an AI system that learns about different types of music by asking people what they like and doesn't like. It's like a search engine for music that you haven't heard before. It will ask you about your music preferences and then use that information to suggest other music that you might enjoy. When Gnod was first created, it didn't know anything about music, but now it has a large database of bands and knowledge about people's music preferences. Gnod continues to learn and improve every day.
AI education and resources
Free course for AI enthusiasts and professionals
Here we want to share with you a free course called "LangChain & Vector Databases in Production." The course is designed to provide education and resources for AI enthusiasts. It focuses on the Gen AI 360 Foundational Model Certification, which is essential for individuals who want to master Large Language Models (LLMs) and learn how to effectively use them in production.
By taking this course, you will have the opportunity to master the fundamentals and theory of LLMs, as well as learn advanced techniques such as integrating APIs and prompt engineering. You'll also delve into vector databases, which are crucial for preventing LLM hallucination and enhancing information retrieval.
Conclusion
AI technology today has the potential to revolutionize the customer experience, increase conversions and optimize business operations.
If you are looking to provide an outstanding shopping experience in your eCommerce store, we at SpurIT can help create AI-powered eCommerce solutions. With the power of AI, we can help your business stay ahead of the competition and deliver exceptional results.