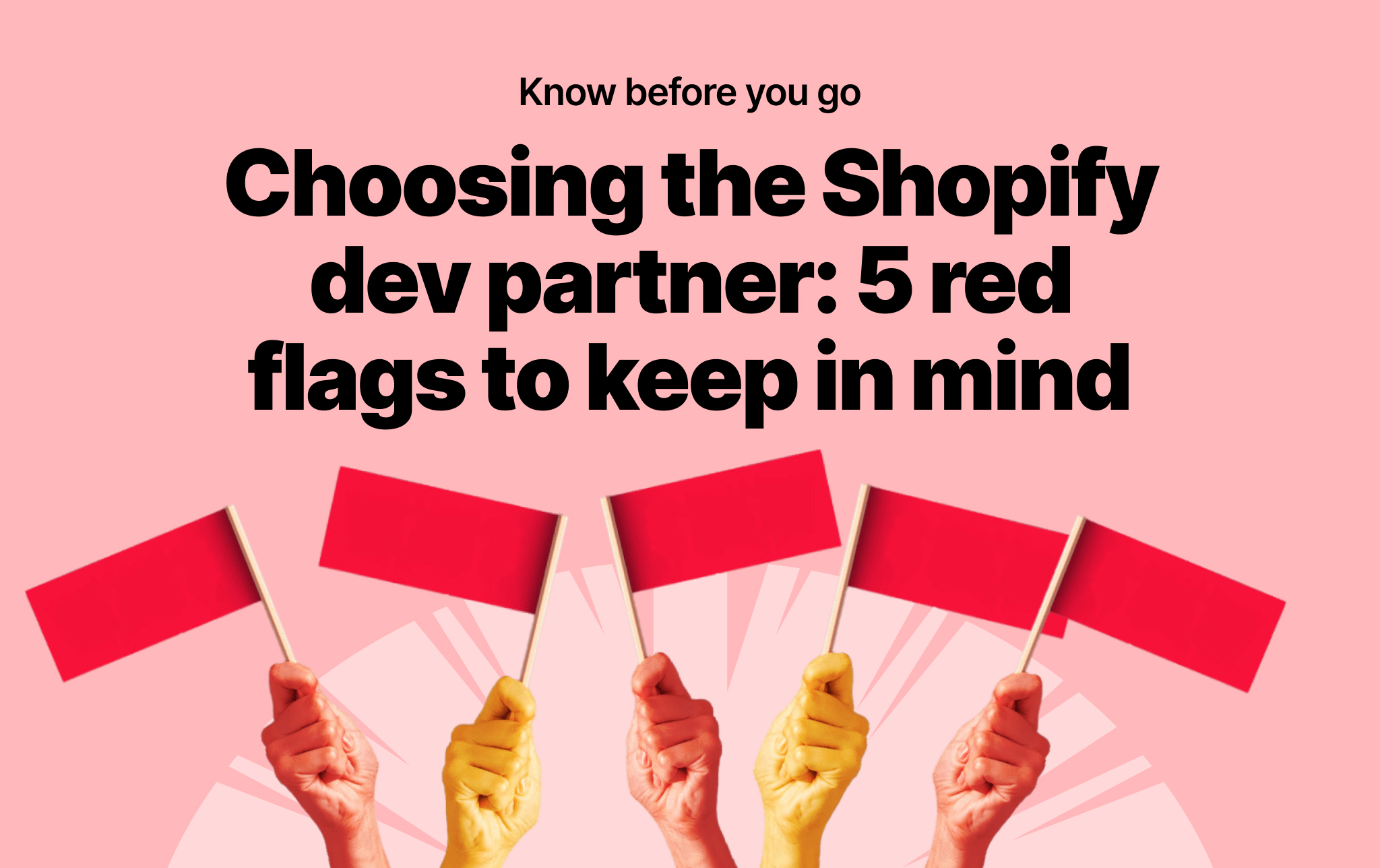 Choosing a suitable Shopify development partner is a critical decision for business owners who want to establish a strong online presence and drive their enterprise toward greater profitability and success. However, with so many options available, it's important to exercise caution when picking one.
In this article, we'll explore the top red flags to watch out for when choosing a Shopify development partner. By paying close attention to these warning signs, you can avoid costly mistakes and ensure that you're partnering with an agency that has the necessary expertise to help take your business to the next level.
Let's dive deeper!
Communication
Effective communication is crucial to the success of any partnership. To meet your business needs and goals, the Shopify development partner needs to have a clear understanding of them, and you need to be able to clearly communicate your expectations to them. A lack of responsiveness, unclear communication, or a language barrier can all be red flags in this area. This is especially important as technical jargon and terminology may need to be discussed, making clear and concise communication even more vital.
For example, at SpurIT, we emphasize the importance of effective communication in our process. We assign a dedicated project manager to each client to ensure clear and timely communication throughout the development process. The project manager serves as the main point of contact between the client and the development team, ensuring that all questions and concerns are addressed in a timely and professional manner.
So when choosing a Shopify development partner, be sure to prioritize their communication process and look for a team that prioritizes clarity and responsiveness.
Technical expertise
When it comes to selecting a development partner for your business, technical expertise is a crucial consideration. It's important to find a partner who not only has a deep understanding of the Shopify platform, but also has experience with the specific requirements of your business. For instance, if your eCommerce store requires complex customizations and integrations with third-party systems, you will need a partner with expertise in these areas.
For a subscription-based business looking for a custom solution, it's essential to review agencies' portfolios of successful projects that are relevant to your specific needs. In this case, it's important to find an agency with experience in developing custom Shopify apps that enable clients to offer different subscription plans and billing options to their customers.
Process transparency
A company's ability to be forthcoming about its development process, including timeline, methodology, and pricing, can make or break a partnership. Thus, it is essential to choose a development partner who values transparency and open communication. They should be ready to provide a detailed breakdown of their development process and pricing structure and be open to answering any questions that may arise.
For example, our development process begins with a thorough analysis of the client's business needs and goals. We then collaborate with the client to create a tailored solution that fulfills their specific requirements. Throughout the development process, our team maintains clear and consistent communication with the client, providing regular updates on progress and promptly addressing any issues. We actively involve the client in crucial decisions, such as selecting the technology stack and defining the project's scope. Additionally, we ensure that our pricing is transparent and fair by providing a detailed cost breakdown upfront. This allows clients to have a clear understanding of the services they will receive and the costs to expect.
By prioritizing transparency and open communication in the development process, a successful partnership can be achieved.
Team understanding
Shopify development projects require effective collaboration among various team members, including developers, designers, and project managers. Ensuring that each team member has a clear understanding of their role and responsibilities is crucial to promoting coordination and preventing potential issues. Therefore, it is worthwhile to inquire about an agency's team structure and approach to managing communication and collaboration among its team members. Doing so can help identify any potential red flags early on and ensure a smooth workflow.
Project decomposition
Project decomposition is the process of breaking down a project into smaller tasks to create a detailed project plan. This helps with managing the project, assigning tasks, and monitoring progress.
In Shopify project development, this process is crucial to avoid confusion, delays, and missed deadlines. For example, if a developer is tasked with building a Shopify store without a clear project plan, they may not realize that the project also requires integrating some third-party applications until later in the development process, causing delays and additional work.
However, it should be noted that over-decomposing a project can result in excessive micromanagement, confusion, and a lack of focus on the bigger picture, while under-decomposing can lead to overlooked or underestimated tasks. Hence, it is important to strike a balance between too much and too little detail.
If you're working with a Shopify development partner, ensure that they provide a straightforward project plan that covers all necessary aspects without overextending.
To wrap up
Choosing the right Shopify development partner is essential to your eCommerce business success. By keeping these red flags in mind and conducting your due diligence, you can ensure that you choose a professional and trustworthy partner who will assist you in achieving your business goals.