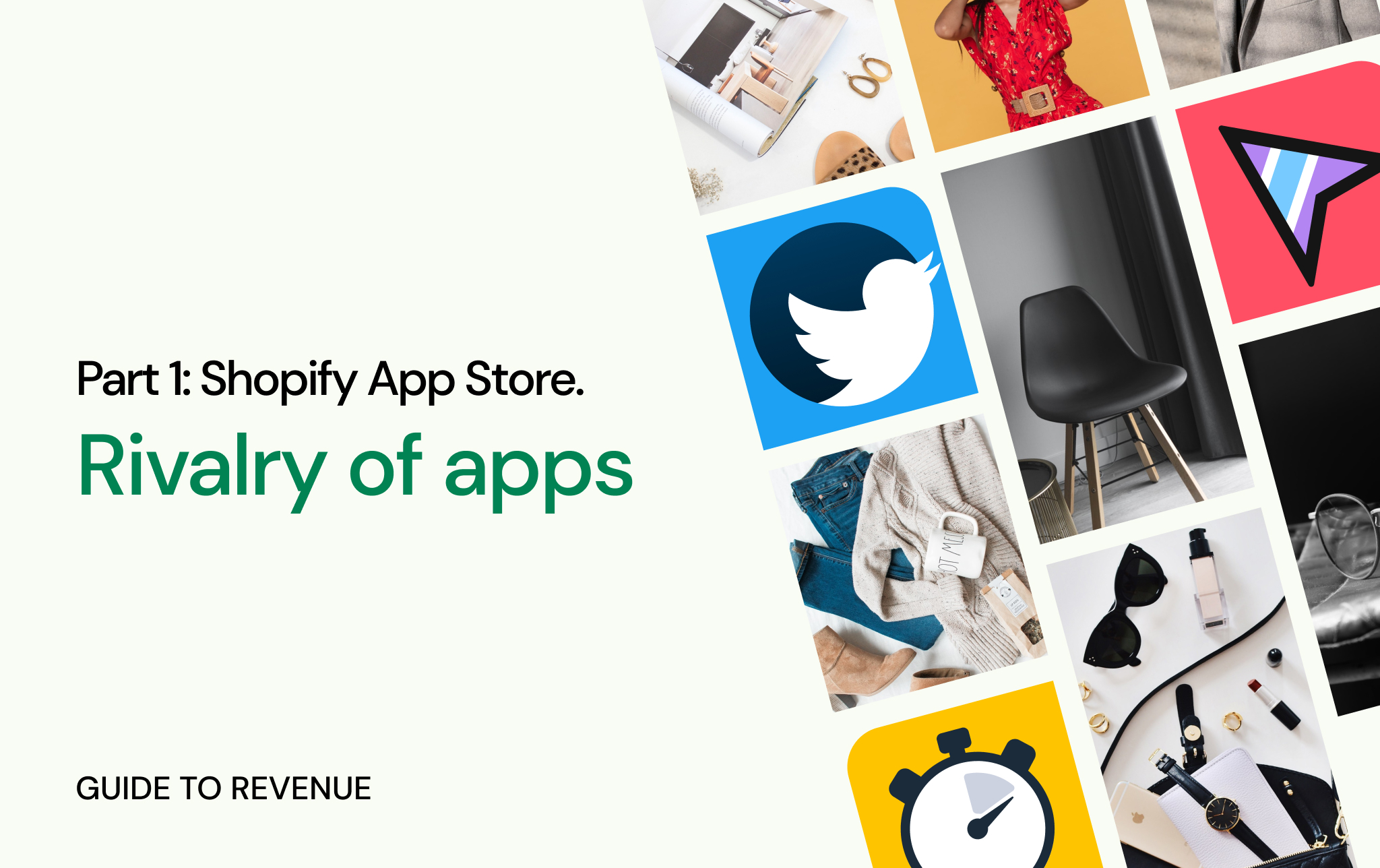 Intro: We are SpurIT, and we've been in the Shopify space since 2011. In this series of articles, we'll share our journey from being a single app provider to developing 38 apps. No frills, only practical advice on:
Product and Growth Metrics, what's the difference and what to track;

Why product update is a must and how to do this successfully;

Comparison of app versions;

Cases studies: how we promoted our apps.
Shopify App Development Niche is Challenging…
…Because you need to understand both: your target audience (merchants) and their target audience (customers). On the one hand, you need to develop a clean interface with only vital features, and on the other, the app should benefit the merchant as a tool to increase revenue.
🔺With over 6k apps available on the App Store, Shopify is overloaded with 3rd party solutions. For example, one of our flagship apps – Sales Countdown Timer – has over 50 competitors with the features much the same as ours.
App Store competition has drastically increased in the last three years. Now it's ambitious to compete with top players and gain paying customers, especially if you don't track necessary metrics (we don't speak about Shopify Partner Account) and don't have the right tools under the hood.
Back in 2016 – 2017
During this period, it was enough to find an idea -> build an app -> list it in the App Store -> and voila, it became successful. There was no need to fiddle with the app's UI and UX, and to promote it on the marketplace – things were simpler.
In 2018, during the BFCM, we faced the first challenges when a number of apps offering mass discounts appeared. Our most popular app at that time – Bulk Discount – drastically decreased in traffic. We had little experience and were unable to determine what was happening.
To better illustrate what I am talking about, below is a screenshot of unique app store sessions during the BFCM period 2018 and 2019.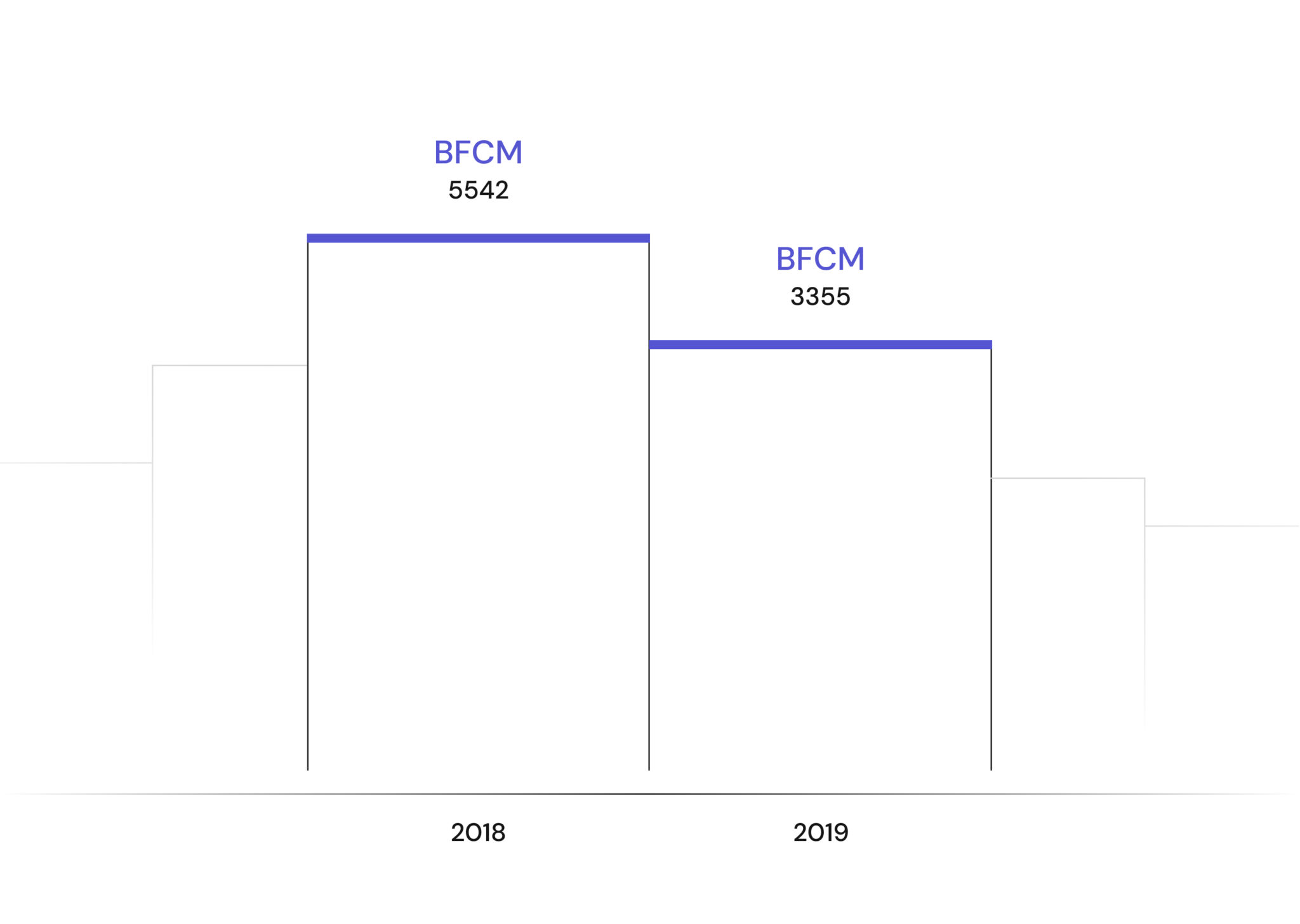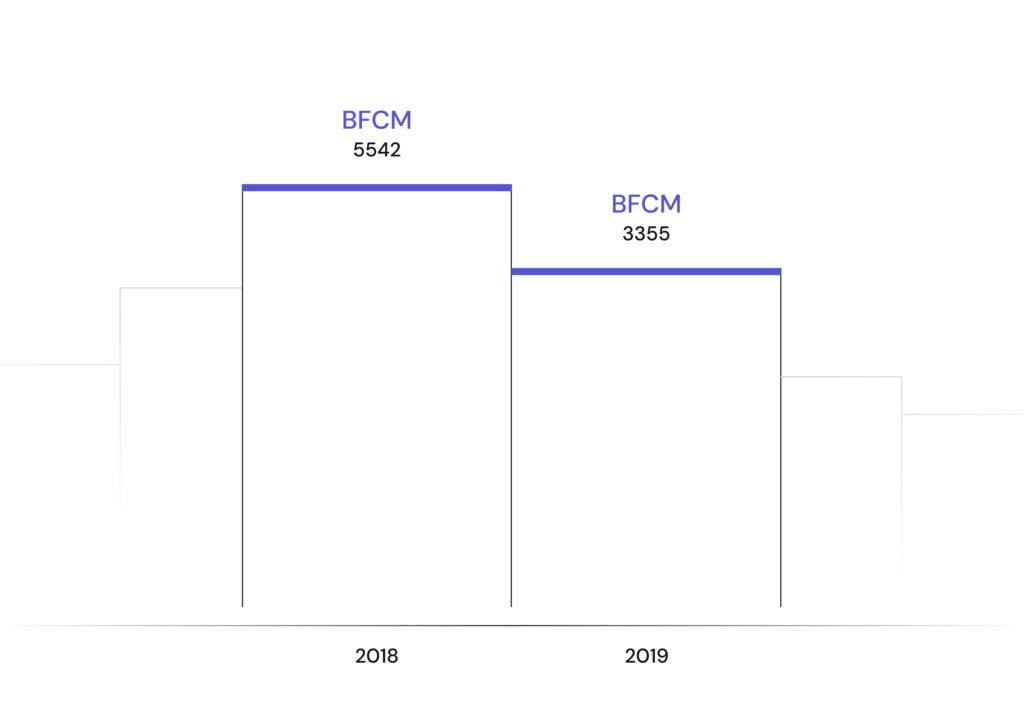 While the number of merchants using Shopify was growing, the application traffic stood still in 2017, and in 2018 it started to fall. The influx of new potential customers neutralized the growth of competition in the App Store.
In June 2021, we can see the growth of competition has begun to outpace the growth of new store owners. Let me compare the statistics from 2017 to 2019 and how the competition affected one of our apps:


Explanations:
Periods 2017-2018 and 2018-2019 do not include 3-week BFCM traffic and comprises 11 months and 1 week.

The second row includes 3-week BFCM traffic.

The difference in earnings from the number of unique sessions is that the conversion to a new paying user has almost doubled during the BFCM period than during the off-season period.
We had to conduct a competitive analysis, develop a new strategy and tactics in order to maintain traffic and positions.
🔺Despite the full update of the app with a more smooth UX, simplified setup and a new usage charge, Bulk Discount has lost its positions and traffic. We didn't earn another $30k/year because of the growing competition.
This is one of many examples we would like to demonstrate in our upcoming articles. The most interesting are those that significantly increased revenue despite growth in competition.

The challenges Shopify app developers could face:

New competitors offer freemium models, which dump the prices of other apps and take away traffic.

Unscrupulous developers can copy your apps and set the price 2–3 times lower. Although, as a rule, those who do this often build low-quality apps that are not comparable to the original ones. Nevertheless, it will get its part of the traffic.

The Shopify domain attracts more serious players with resources and experience. Quality apps will inevitably get a market share.

App Store ads cost more each BFCM. For example, during the BFCM'20, the cost of clicks increased and has never returned to original bids. For some apps, we turned off ads, and for others, the ROI grew in 3 months.
To wrap up:
Each developer must have a solid analytical system to analyze app usage. That's just a must have. If you don't track important metrics, forget about top positions on the App Store. FYI, data on installs and uninstalls in the Partner Account gives basic information and is not enough.

You must have online chat support. No matter how cool your FAQ and application setup guide is, people want to receive support instantly.

You must have a well-established system to analyze user needs and behavior (surveys, interviews and session records). If you do not study the behavior and needs of merchants, your point of growth will most likely never come.

It is necessary to keep an eye on the updates of API capabilities for developers. Some updates can solve serious problems of merchants, but they are in their raw form and it is up to the developer/manager to see the opportunities that open up. In such cases, you can become the first who will satisfy the need and firmly occupy a niche.
P.S. Further, I will disclose some details from the conclusions that I described above – namely, what metrics you need to track, and what the product flow should be in order to increase profits when facing fierce competition.