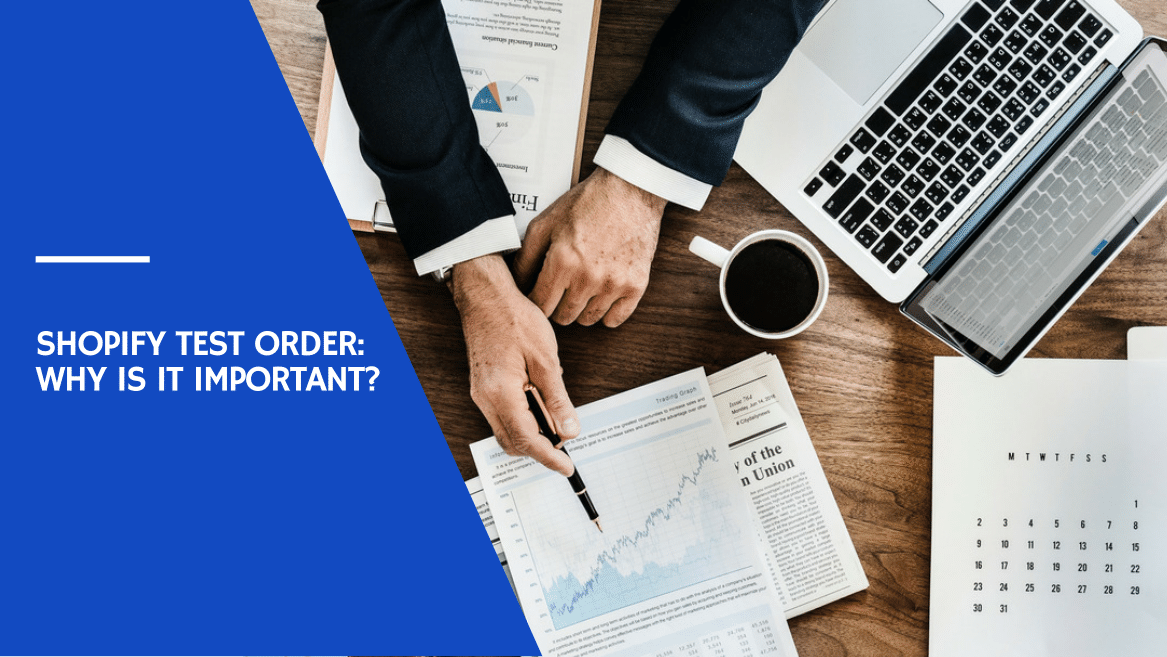 Shopify is one of the most popular eСommerce platforms, and is used by various people to sell and purchase various products. One of the most important aspects of creating a store is the creation of a test order.
Creating their online store, many sellers are faced with the fact that the order form and payment form do not work correctly or do not work at all. By placing a test order for Shopify, you can make sure that your order creation process and settings for processing orders, inventory, delivery, and taxes are correct.
First of all, it should be noted that no testing fee is charged. This means that you can conduct as many checks as you need to make sure that everything works as it should. Any order that has been canceled and returned is not paid or is not subject to payment of transaction fees. You must place at least one test order during the Shopify store setup, or when you make changes to your payment settings. This is necessary, primarily for you, as it is a guarantee that customers will be happy with your services and you can receive payments without problems.
Content:
Ways To Place A Test Order On Shopify
Thinking about how to do a test order for Shopify, you can choose among some options. Nowadays, Shopify offers two ways to place a test order for your store:
Bogus Gateway allows you to simulate a transaction, which lets you check how the order process and its fees work. This will identify inaccuracies in the functionality of your site and eliminate them.
The supplier of real payments gives the opportunity to go through all stages of the registration and payment of the order. You will need to place an order, and then immediately cancel and refund it.
Here is a test order moving through the most common set of changes: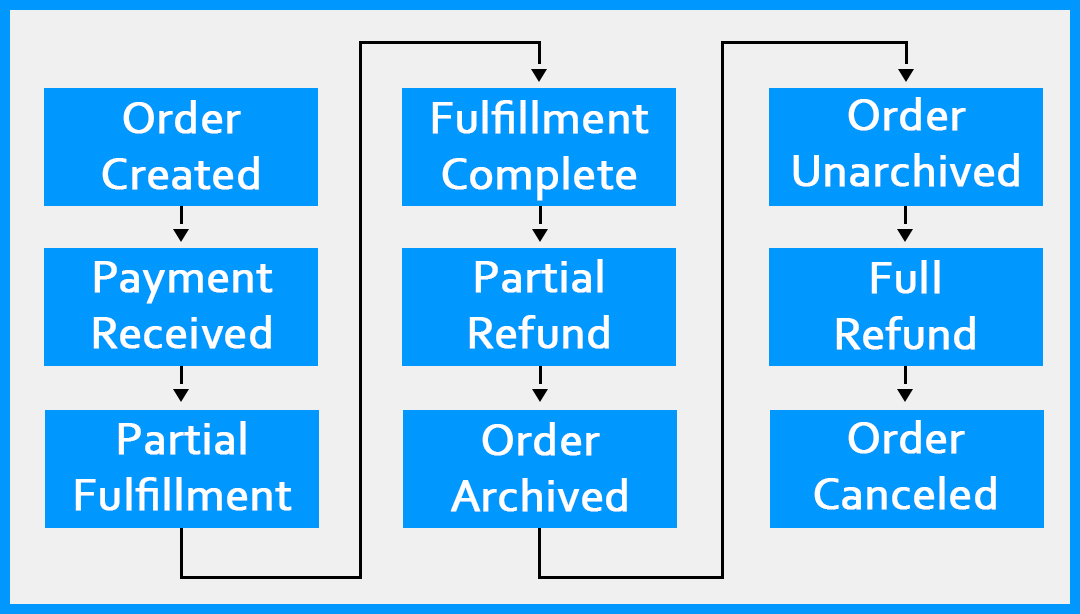 Creating A Test Order For Shopify: Instructions For Beginners
First, start with the processing of the test order for Shopify, simulating the transaction using one of the two previously proposed methods
Ordering with Bogus Gateway from Shopus
If you decide to use Bogus Gateway from Shopus, then choosing how to do a test order on Shopify you can use:
Select the administrator page in your online store. Then enter the settings menu and select "Payments". If you have already set up your account to send and receive payments using a credit card, then, first of all, you need to turn off your card. To do this, you need to click "Change" and select the "Deactivate" function. You will need to confirm the selected actions and only after that can you continue.
On the administrator page select – "Settings" > "Payments".
If you have a credit card provider enabled, turn it off before continuing. Click "Edit", then "Deactivate", and then confirm your deactivation: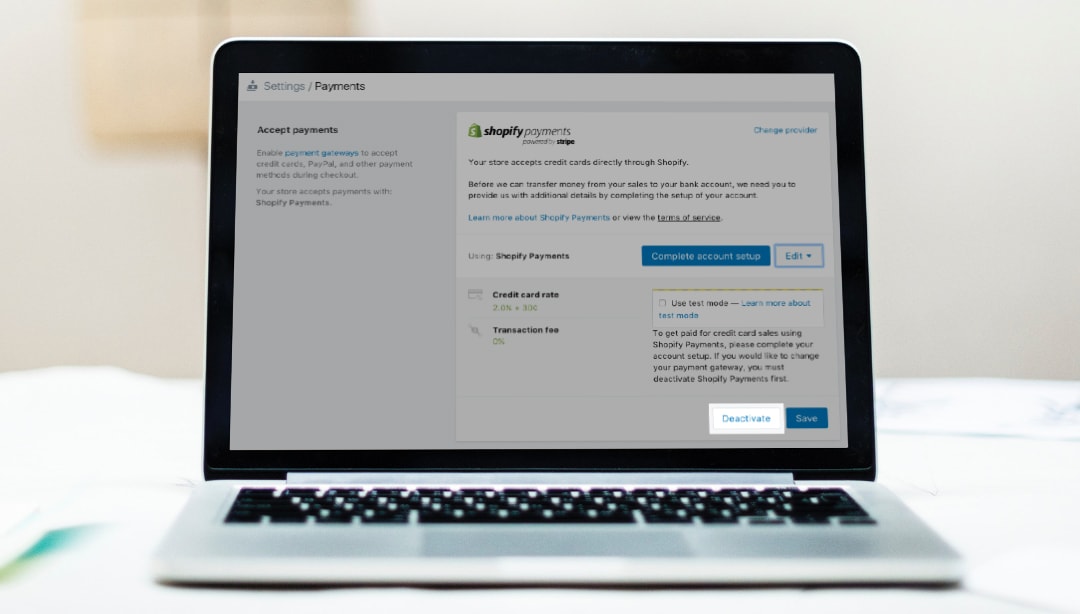 After your payment method has been deactivated, you need to go to the "Accept credit cards" section and select the "Add supplier" function. Your next direction will be selecting the "Accept credit cards" section where you will need to add a vendor. To do this, you need to select a third-party provider. In this window, you need to select "Other" where you need to mark the Bogus gateway (remember that this option is only applicable to the test order). Then click continue and confirm your actions (activate the selected payment system).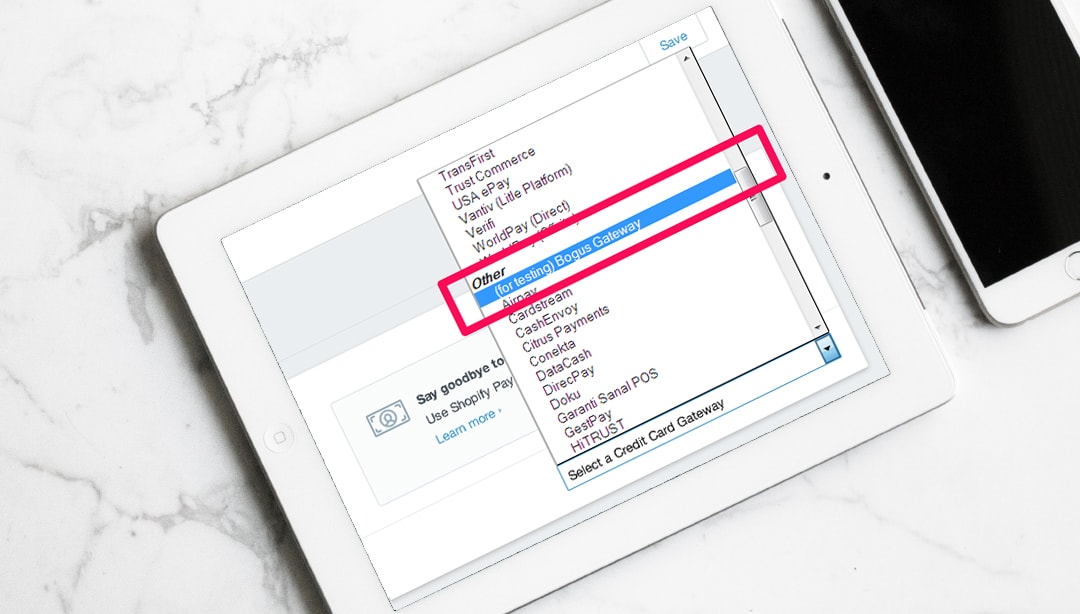 After you have finished with the settings, go to your store as a customer and place an order. In the order form, don't enter your data, instead use the following information:
Name on card
Enter Bogus Gateway
Credit card number
Enter each of these in turn to simulate different of transaction:

Enter 1 to simulate a successful transaction
Enter 2 to simulate a failed transaction
Enter 3 to simulate an Exception (this generates a message indicating that an error has occurred with the provider.)

CVV
Enter any 3-digit number (for example, 111.)
Expiry Date
Enter any date in the future.
Do not forget that at the end of testing you should return to the settings menu and change the vendor to reset the current settings and indicate your real data.
Ordering with an actual transaction
The processing of a test order with a real transaction occurs as follows:
Go to the setup menu and settings of the service provider you want to check
Go to your store as a customer and place an order, completing the payment process using your original payment card data
If you use the services of a third-party payment provider, log in to your account in the payment system and check that the transaction was processed.
After you are convinced that everything is working correctly, cancel the order as soon as possible, which will allow you to avoid paying various fees.
If the new billing cycle begins after you have made the test order, keep in mind that before you will be able to cancel it, you must pay the necessary transaction fees. You can still cancel the order after it is paid. In this case, you will receive some kind of a bonus (transaction credit) on your account, which you can apply to future commissions.