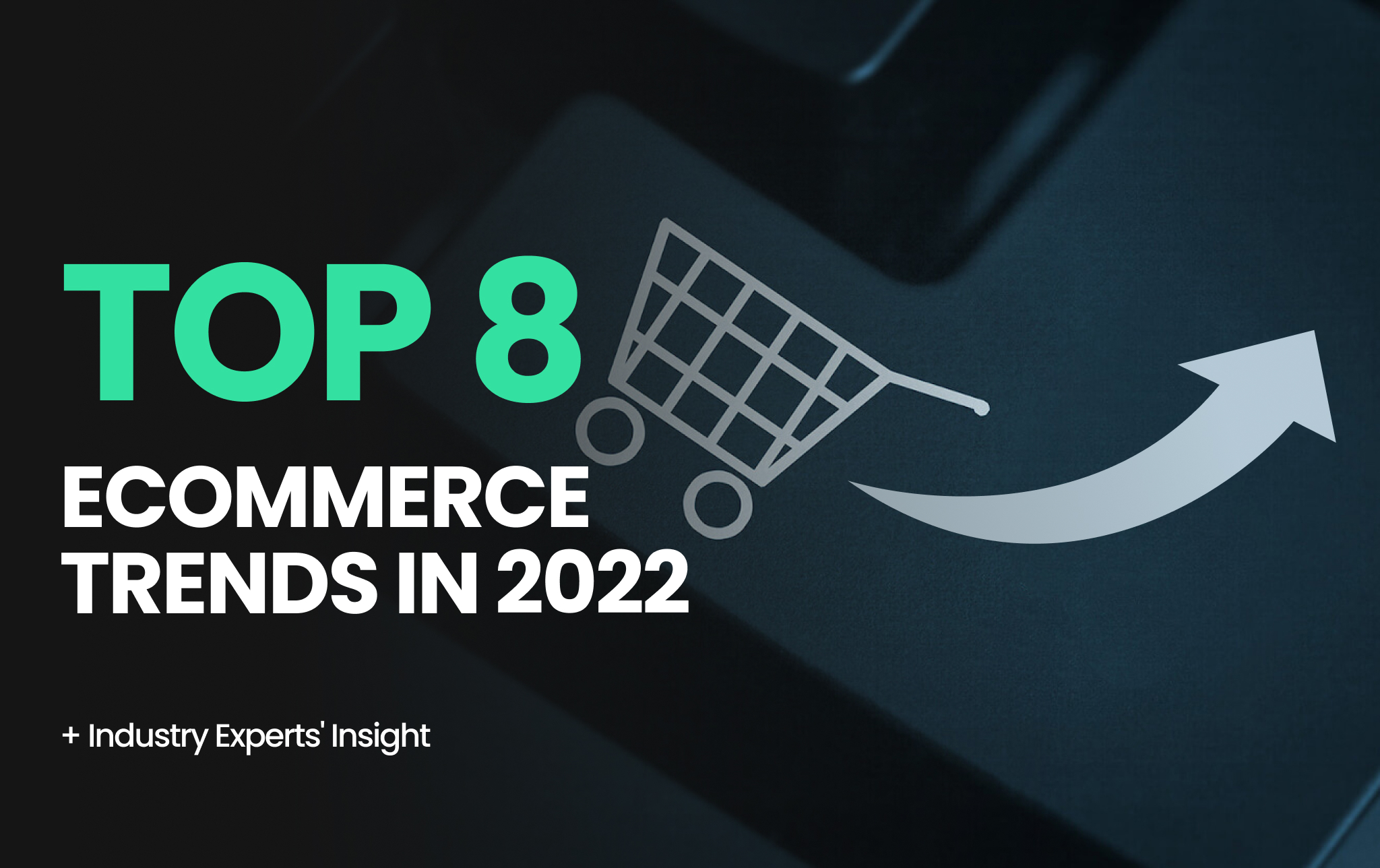 COVID-19 gave eCommerce an extra boost. The pandemic has changed how, when and where we shop. Consumers can see a growing preference for convenience, personalization and exceptional service when engaging with brands. We've rounded up a selection of trends to try to illustrate how the pandemic has impacted, and continues to impact the eCommerce industry.
1. Subscription Based eCommerce
According to McKinsey, 15% of online shoppers have already signed up for one or more eCommerce subscriptions to frequently receive products on a recurring basis. Many of those who use a subscription shopping service are incentivized to engage with the brand through surveys and quizzes that match them with personalized products.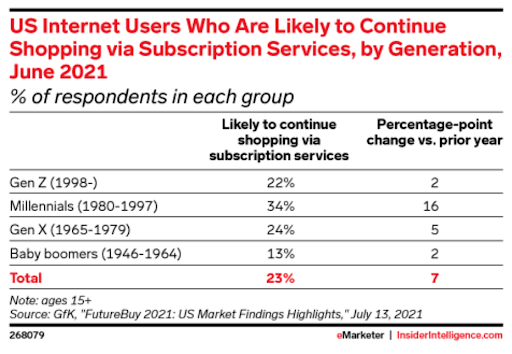 Facts and figures:
The global subscription e-commerce market is estimated to reach a market size of $478 billion by 2025, according to a

report

by WiseGuy Research Consultants.

According to McKinsey, women account for the majority of subscriptions, but men are more likely to have three or more subscriptions.

54% of online shoppers

subscribe to a subscription box service.
Assumptions:
"Hook" the customer to your product

so that they can regularly buy it.

Select one of the three subscription model types. You can curate existing products in a monthly box, replenish consumable products at regular intervals or offer consumers exclusive access to products and experience.

Invest in personalization. 28% of curation subscribers said a personalized experience was the most important reason to continue to subscribe.
2. Visual Commerce Will Get Bigger + AR
The main challenge with online sales is to entice a customer to purchase a product without physically interacting with it. This is the reason why businesses should resort to visual commerce (VC), which takes marketing to the next level.
Facts and figures:
The more a shopper can interact with a product

(e.g., by zooming or rotating), the more they'll trust the vendor.

Shoppers who can see a product in 3D are

eleven times more likely

to purchase than those who don't.

More than

120,000 stores will be using AR

technologies to offer customers a rich buying experience by 2022.

By 2022, online platforms will spend about

$7.3 billion

to implement elements of artificial intelligence in their platforms.

The same 3D, AR, and configuration technology can entice customers early in the funnel when you employ them in your ads.

The Imagination Gap: retail's £1bn problem
Assumptions:
Change your default products from JPG to JPEG2000 or WebP formats to improve quality and loading speed.

Create 360-degree images or videos of your top-selling products.

Invest in a visual search tool to allow customers to search for products using images.

Repurpose user-generated content on your product pages to generate interest.

Your videos can vary from unboxing videos to tutorials or explainer videos. Product images can even be converted into a slideshow and user-generated content can be reposted to capitalize on the video frenzy.
Startups that are closing the imagination gap:
Wizart

Wizart has developed an app that allows consumers

to see how a given room is going to look with specific wall coverings and floorings. The app helps to visualise how a particular wallpaper is going to look in one's home after a renovation. It will be launched on several DIY chains and will allow customers to re-select wallpaper and paint for their new apartment.

Voir.me

Investment $1M

Voir

offers an online cosmetics store that shows how makeup will look on a specific person.

Wanna

Investment $2M

Wannaby is using AR to help sneaker fans visualize their next purchase by letting them try on the shoes virtually.
3. Green Consumerism
60% of internet users say they'll pay more for products that are eco-friendly. As far as we can see, this is the most sustainable trend. The attitude to the planet is changing, as well as the consumption in society. We are moving towards the fact that in the 21st century it is not necessary to have a lot of things in order to live comfortably. An apartment can be rented, and a car can be found in 2 clicks near your home or office.
IKEA will start selling replacement parts for its furniture to extend its lifespan. Mass-market clothing brands are urgently reviewing their development strategy from buying as much as you want to careful consumption. Dozens of new startups allow you to buy and sell used clothing every day.
Facts and figures:
65% of consumers

say they want to buy products from purpose-driven brands that advocate sustainability.

Amazon

, pledged to bring their carbon emissions to net zero by 2040.

Three-quarters of U.S. consumers are more likely to buy a product packaged sustainably. Many will also pay a premium. The focus is on zero-waste packaging, where all materials are used, reused, or recycled. Minimalist packaging, reduced package sizes, and redesigned shipping cases are also high priorities.
Green startups:
Reflaunt

Investment $2.7M

This is not just another second-hand website – it has three types of contributors: product sellers, marketplaces, and brands.

When a person decides to sell a luxury item no longer needed, they go to the brand's website. Not to the marketplace, not to the startup's own website, but to the brand's website!

Secondhand apparel market is rapidly growing. Its volume already ranges from $ 30billion to $ 40billion, and it is predicted to continue to grow steadily.

A cynical fact: the more people buy, the more items they sell later. A paradoxical conclusion follows from this: the best place to look for your target audience is to find the place where they sell things.

When it comes to marketing, a startup does not put pressure on the opportunity to "sell something unnecessary" in order to earn money. They invite to join the movement of the "cyclical economy" in which things are not thrown into a landfill, but continue to serve, ridding nature of pollution, and people from unnecessary spending. How well this works is unclear. But the general approach is correct. People are much more willing to support what they want to believe, rather than succumb to the persuasion of those who just want to sell them something.
4. Personalization
Retention becomes a top priority as the cost of acquiring new customers rises, and it goes hand in hand with personalization. Therefore, tools aimed at retaining and returning users should be in high demand.
Facts and figures:
Over 74% of companies surveyed already have a website personalization program in place.

In 2020, retention (58%) has overtaken conversion (55%) and acquisition (45%) as the key goal for

website personalization

.

Only 54% currently use AI-driven predictive segments

. However, this was identified as an area of high potential growth, as 89% expected to be using it by the end of next year.

The three biggest obstacles that stand in the way of scaling a personalization strategy are: A lack of expertise (37%), limited functionality (36%), and a lack of time (35%).

80% of shoppers are more likely to buy

from a company that offers personalized experiences.

44% of consumers say that they will likely become repeat buyers

after a personalized shopping experience with a particular company.

77% of consumers have chosen a recommended

brand or paid more for a brand that provides a personalized service or experience.
Assumptions:
The goal is to increase the lifetime value of a customer. Start by

identifying your most valuable customers

, and the conversion paths they took. This will allow you to focus on journeys that lead to a higher quality customer base.

Map your customers' lifecycle journey. Find out how long it takes them to make a second, third, or fourth purchase, and the typical order in which items are bought. This offers you an opportunity to

accelerate those purchases with tailored upsell and cross-sell

calls to action.

Adopt a recurring revenue business model. Consider whether your products would suit being sold as a subscription

.
Creating subscription tiers at different price points to provide choice.

Personalizing marketing to each segment through individualized cross-sell and upsell offers.
Startups that offer personalization
35up

Investment $3.3M

35up significantly expands the possibilities of cross-selling for owners of ordinary small online stores. The scheme looked like the following for any store owner: they had to think of product combinations, look for suppliers, negotiate prices, buy and try to sell it all in the end.

With 35up, everything is easier. It shows the products offered by the service directly in the shopping cart. The AI algorithms just know what goods are usually bought with what; this opens up the possibility of a successful cross-sell. Selected and paid cross-sell items are delivered by partner suppliers of the platform. That's it.

The average purchase check in a store is the most critical indicator for any seller. Even more critical than the number of sales. According to all the canons of unit economics, the cost of attracting a buyer should fit into how much the seller earns on one sale. The increase in the number of sales increases the overall profit. If the cost of attracting a customer does not fit into the margin of the average check, then on each sale we have a loss. And the increase in the number of sales only increases the losses. Therefore, sellers with small average checks can spend little money on advertising – in terms of the cost of attracting one customer. And those with a larger average check – more.

In other words, such a service is not an opportunity to earn a little more, but an opportunity to earn a lot more. If the earned money is invested in advertising, displacing competitors with lower average checks from the sales channels. They are either crowded out or go broke, losing money on every sale.

Truefit

Investment $112M

The startup solves several important tasks for a client of an online clothing store. It helps to select the size of the clothes for the user, and at the same time hides search items that have no size suitable for a particular user.

The buyer stops wasting time studying clothing models that do not have the right size. In addition, the team is trying to form search results that are more suitable for a specific style. Considering that apparel and footwear marketplaces contain hundreds of thousands of positions, such a scenario is not a desire but a must.

Customly

Allows users to customize their purchase. Thanks to the platform, the client can choose a color, and an inscription on a T-shirt or a mug, thereby making a unique purchase.

Today, top branded online stores offer a similar service for their products, such as Ralph Lauren:

Revlifter

Investment $6,5M

Revlift has taken a logical step forward, based on the principle "a kind word and a gun convince much better than just a kind word." In this case, this principle sounds like "offering a relevant product with a discount is much more likely to lead to a purchase than just offering a relevant product."

Malomo

Investment $3.4M

Buying is not the end of the sales funnel, but its beginning! The harsh reality of eCommerce is that the high cost of acquiring a customer usually results in a customer's first purchase going through zero or even a loss. Therefore, the most important thing is to make sure that once a customer buys – they buy again and again.

Malomo started with observation: on average, a user opens a page with a delivery tracking 4.6 times per order. The trick is to surround the post purchase status information with other relevant information to make the customer buy something else.

Cartloop

Investment $350k

A lot of products in online stores remain in abandoned carts. People chose but for some reason did not complete the purchase. 90% of abandoned carts on Shopify have customer phone numbers.

These 90% are where Cartloop lives. The seller enters into an agreement with Cartloop and then Cart Recovery Experts® enter into communication with customers who have abandoned their carts.
5. Shoppable Video + Influencers
Zoomers spend hours scrolling TikTok and Instagram feeds. Merchants are in seventh heaven; video is the perfect channel for reaching the curious young target audience. Gen-Z can make buying decisions literally from their social media feed, and videos let them shop straight away.
The importance of videos can't be understated. Videos can help you explain and showcase your products better than images ever can. You should consider adding videos of your products in your eCommerce store.
Assumptions:
Video provides another dimension when it comes to marketing your products. If you're a

D2C brand

, then record videos of your top-performing products and place them on the social media platforms where your audience can be found the most.

Your videos can vary

from unboxing videos to tutorials or explainer videos. Product images can even be converted into a slideshow and user-generated content can be reposted to capitalize on the video frenzy.
6. Self-Service Platforms, No-, Low-Code Tools, Process Automation
Getting started online was once a long and painstaking process. But 2020 has changed the narrative and shown us how quickly small businesses and solopreneurs can digitally pivot their businesses. The trend for 2021 will favor platforms that deploy and sell quickly online, without the need for a small army of developers and consultants.
An increasing number of online stores are being opened by people without e-commerce experience. You can start teaching them, but people for the most part do not like or want to learn. They prefer to receive ready-made recipes for success.
7. Voice Commerce
Facts and figures:
75% of U.S. households

will have smart speakers by 2025.

Voice commerce sales are anticipated to

reach $40 billion by 2022

.
Assumptions:
Optimize your content to increase your chances of appearing in voice searches;

Add a new skill on Alexa and Google voice assistant devices;

Offer voice-based navigation on your website and mobile app;

Ensure your products can be purchased with a simple flow using voice command.
Voice search is often highly overrated. A voiced shopping experience negates eye contact and visual stimulation to buy, which is inappropriate for most products, but it can help with inexpensive and routine goods.
8. Omnichannel Shopping
Synchronizing product information, pricing, and availability is becoming one of the most important tasks in an omnichannel environment. Any discrepancy in a super competitive environment will result in the loss of a customer.
This trend expands horizons to several main channels, when the user independently chooses a platform for interaction with the brand that is convenient for him.
Facts and figures:
Assumptions:
Optimize your website for mobile devices. If you have the budget, then create a mobile app or a progressive web app (PWA).

Personalize the customer experience at every step possible.

Use tools like SAP Commerce Cloud to ensure a personalized and comprehensive eCommerce experience with end-to-end online retail processes.

Offer various purchase options, such as

Buy online, pick up in store

Buy in store, choose home delivery

Buy online, get doorstep delivery

Implement accelerated mobile pages (AMPs) for shoppers who visit your site using smartphones.

Implement mobile payments: Apple Pay, Google Pay, QR-codes.

Synchronize product information and inventory To ensure your brand's product data and inventory levels are accurate and updated in real time across channels, your platform should automatically sync product information like price, description, and images with SKU counts.
To wrap up
As you can see, the world of eCommerce is rapidly evolving to meet new consumer preferences. At the same time, eCommerce businesses look to emerging technologies to automate marketing, production, fulfillment and other parts of their businesses.
To ensure our clients are always on top of their game, we keep up with the latest trends and carefully consider the specifics and needs of the business. For this reason, we've been ranked among the TOP Shopify Developers In Illinois by DesignRush.