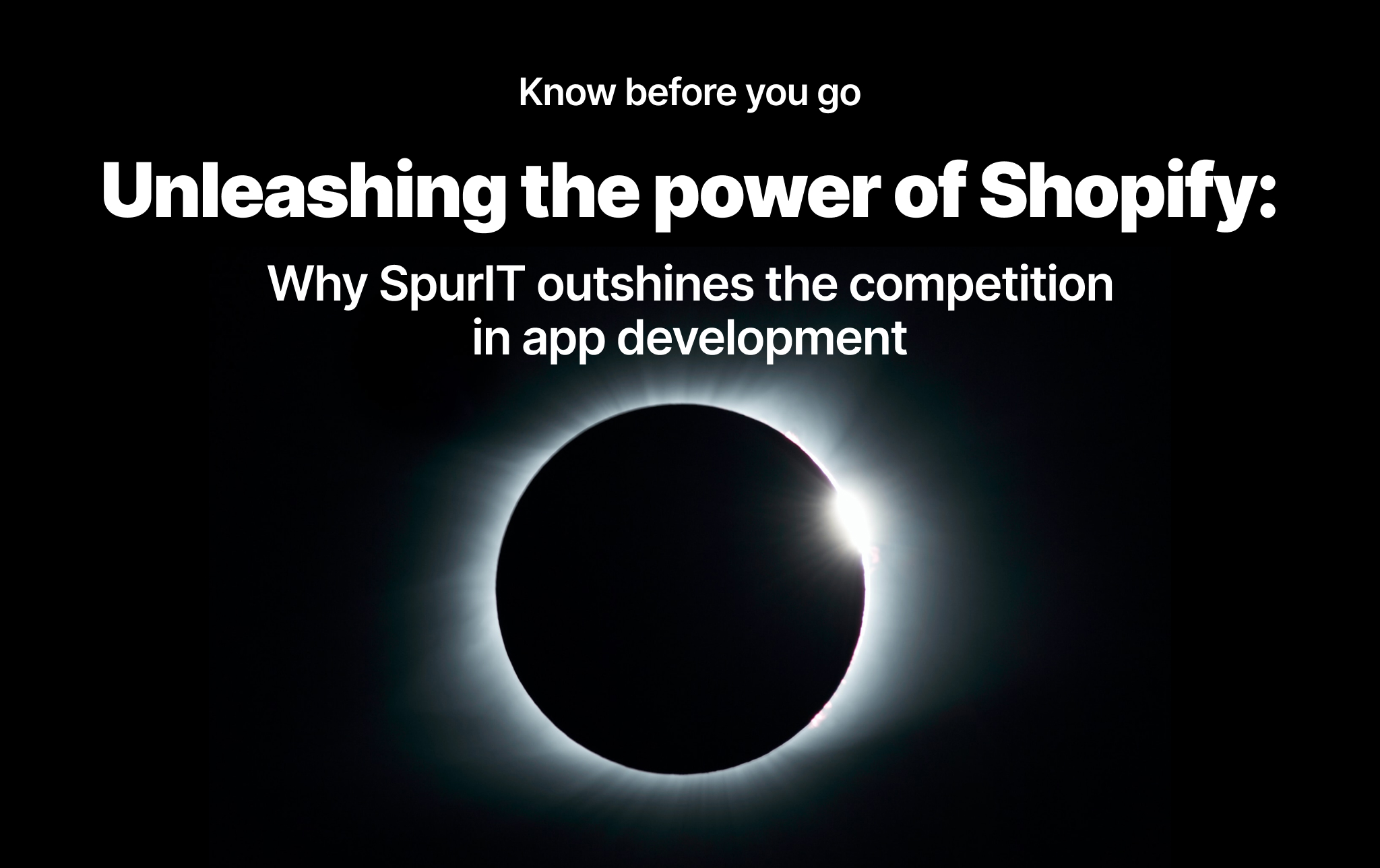 When it comes to creating a successful online business, the right tools can make all the difference. Among the eCommerce platforms available, Shopify stands tall with its impressive array of features. From essential SEO tools and automated abandoned cart emails to robust analytics and fraud analytics, Shopify offers a comprehensive suite of functionalities right out of the gate.
But what if you're craving more than what the basic features provide? That's where the Shopify app store steps in, offering a tempting assortment of nearly 8000 apps spanning various categories. With such abundance, one might assume that every business need can be met effortlessly.
However, the reality of off-the-shelf Shopify apps is that they often come with limitations. Imagine longing for an app that boasts unique features or seamless integrations tailored to your specific requirements. Perhaps your online store deals in custom products, demanding a specialized Shopify app. This is precisely where the prowess of Shopify custom app development takes center stage.
In this article, we will explore the different types of Shopify apps, the key factors to consider when selecting a development partner, and the benefits of custom app development for your business.
Types of Shopify apps: A comprehensive overview
When it comes to Shopify apps, there are two main types available for integration into your store: public apps and custom apps. Previously, private apps were also an option, but as of January 2022, they are no longer supported.
Public Apps
Public apps are available to all merchants within the Shopify Marketplace. They can be accessed by multiple stores and cater to a wide range of scenarios. Within the realm of public apps, there are two states:
Public listed apps: These apps are listed in the Shopify App Store and have dedicated listing pages featuring descriptions and images, similar to other publicly available apps.

Public unlisted apps: These apps, although not listed in the App Store, still undergo the same verification process by Shopify to ensure compliance.
Custom Apps
Custom apps are designed specifically for limited development stores. They serve the purpose of facilitating testing and providing specialized functionality tailored to specific requirements.
Classification of Apps by functional Type
Apps can also be classified based on the type of functionality they offer. Here are the primary categories:
Frontend enhancer apps: These apps focus on improving the appearance and user experience of the frontend of your Shopify store. They can enhance design elements, optimize performance, and provide additional features to enhance customer engagement.

Shopify admin functionality extender apps: These apps extend the functionality of your Shopify admin panel, providing additional tools and features to streamline store management, order processing, inventory tracking, and more.

Connector apps for custom integrations: These apps act as connectors between your Shopify store and external systems or platforms, enabling seamless integration and data synchronization. They facilitate the integration of custom solutions, such as third-party payment gateways, fulfillment services, or marketing tools.
Meeting Shopify's requirements
It's important to note that Shopify enforces strict criteria for app approval, covering aspects such as performance, code quality, and functionality. Adhering to these guidelines is crucial to ensure successful app verification. Failure to comply with the requirements may result in the rejection or removal of your app from the Shopify App Store.
Shopify app development – How can it benefit your business?
When it comes to the world of Shopify, the installation of universal public apps with just a few clicks can provide immediate solutions to common challenges faced by store owners.
Yet, upon deeper exploration, a realization may dawn: perhaps none of these off-the-shelf apps truly encapsulate the unique needs of your enterprise. It might become apparent that a combination of apps is required to effectively run your online store.
In such instances, it is prudent to consider the services of a custom Shopify app development company. These companies consist of teams of experts who can craft a tailored application exclusively for your business. By collaborating with such professionals, you can ensure that your app meets all your specific requirements, integrating seamlessly with your existing systems and workflows. The result is a custom solution that addresses your unique pain points and enhances the overall efficiency and profitability of your online store.
Why choose a Shopify app development agency for your app?
Building a Shopify app on your own may seem like a viable option if you have some programming knowledge and technical skills. However, it's important to consider the bigger picture. While it may appear cost-effective initially, the process of designing, building, maintaining, and updating the app can be time-consuming and energy-draining. Moreover, if any issues arise, you'll be solely responsible for resolving them.
That's why engaging a professional Shopify app development agency, despite the upfront expense, can prove to be a wise investment in the long run.
A specialized Shopify app development agency invests significant time and effort in understanding your business. They delve into the specifics of your requirements, target audience, business goals, and any challenges the app needs to address.
With these valuable insights, the agency designs and builds an application that aligns closely with your expectations. Throughout the development process, they conduct meticulous testing, ensuring that every aspect of the app, including its usability with real users, meets your needs and adds substantial value to your business.
However, what truly sets a reputable agency apart is its forward-thinking approach. They not only focus on your current requirements but also anticipate your future needs. This means that if you have plans for additional features, a redesign, or new integrations down the line, you can rely on the agency's developers for assistance. They provide regular maintenance and hosting services, saving you a considerable amount of time and potential frustration.
---
It's crucial to thoroughly research and choose the right development company for your Shopify app project. To assist you in making an informed decision, we recommend reading the article "Choosing the Shopify dev partner: 5 red flags to keep in mind."
---
Why SpurIT outshines the competition in app development?
When it comes to Shopify app development, partnering with the right team can make all the difference. At SpurIT agency, we bring a wealth of expertise and a deep understanding of the app development process to the table. Discover the benefits that await you when you choose to collaborate with our Shopify app developers:
Cost and time efficiency
By leveraging our in-depth expertise and resources, we can develop additional features for your existing apps or enhance ours, eliminating the need to invest in an entirely new app. This not only saves you money but also accelerates the development process.
Proven skeleton utilization
We utilize a well-established app development skeleton refined over years of building successful Shopify apps. This constantly updated skeleton adheres to the latest best practices, providing a robust foundation for your app. By leveraging it, your development process skips time-consuming foundation building, enabling our developers to focus on delivering tailored solutions efficiently.
Access to top-rated Shopify experts
With SpurIT, you gain access to a team of Shopify experts who have been building successful apps since 2011. Our expertise covers every aspect of the app development process. So whether you need specific features or seek to overcome unique challenges, our team delivers a tailor-made app to meet your requirements.
Ownership and сustomizability
Cooperating with our team means you become the sole owner of the app and all its essential components, including data, source code, and images. As a result, you have complete control over the app and can customize it to meet your specific business needs.
High scalability
Unlike ready-made Shopify apps, custom SpurIT apps offer exceptional scalability. As your business grows and evolves, off-the-shelf solutions may no longer suffice. With custom apps, integrating new features or adjusting is seamless. our developers, familiar with your app's architecture, can quickly implement necessary changes or additions, keeping your app aligned with your expanding business needs.
Enhanced performance
Before deployment, our developers rigorously test your app to ensure optimal compatibility and performance with your store and tech stack. This comprehensive testing eliminates concerns about integration conflicts or store slowdowns. Rest assured, your app will function seamlessly and even enhance your store's performance.
Summing up
In conclusion, the world of Shopify app development offers endless possibilities for businesses seeking tailored solutions and enhanced functionality. By partnering with a reputable agency like SpurIT, you can unlock the full potential of your online store, save time and resources, and stay ahead in the competitive eCommerce landscape. Embrace the advantages of custom Shopify app development and propel your business toward long-term success.