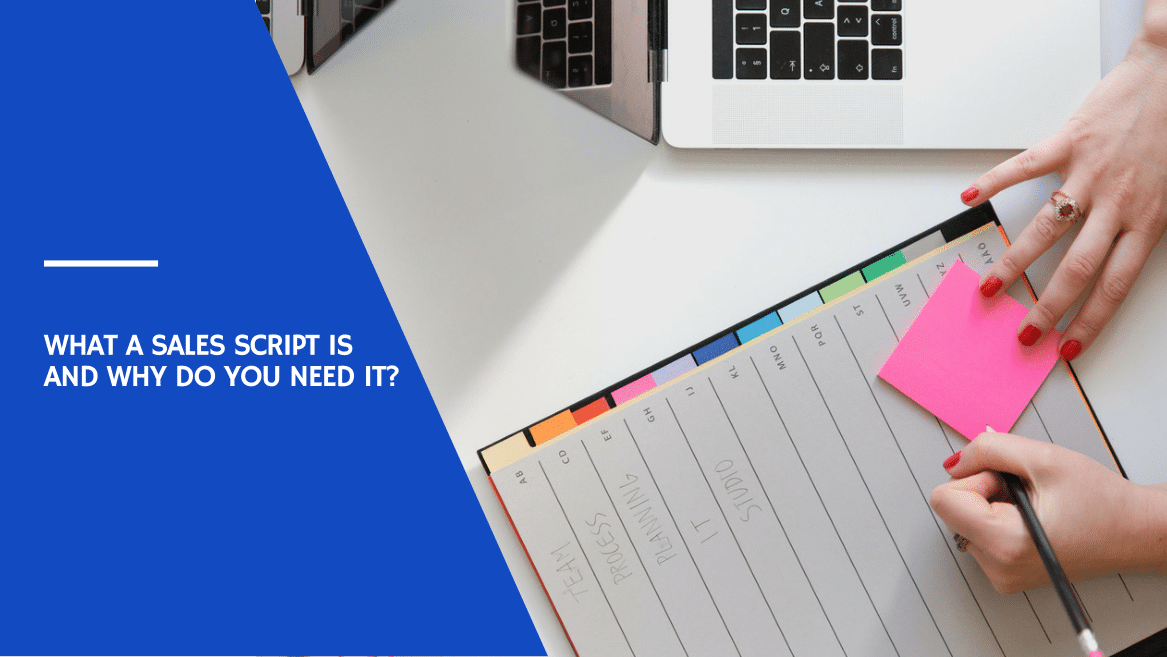 Sales scripts have firmly established themselves in the lives of nearly every salesperson. The attitude towards them is usually twofold: some say scripts are the best method to raise profit the quickest way possible, while others believe that using sales scripts can ruin your business.
What is a sales script and why should it be used with caution? Let's figure out the definition of this term and look at its main features. A sales script is a number of lines that contain a product's advantages, description, and price, which are demonstrated to a potential customer in order to engage them. This technique was developed to lower the human-factor impact and make sales more automated.
In this way, a seller can spend less money on staff training, hire less qualified and lower-paid employees and, as a result, lower the expenses. The sale process is faster and it is divided into several stages that can easily be controlled in order to define mistakes in the script.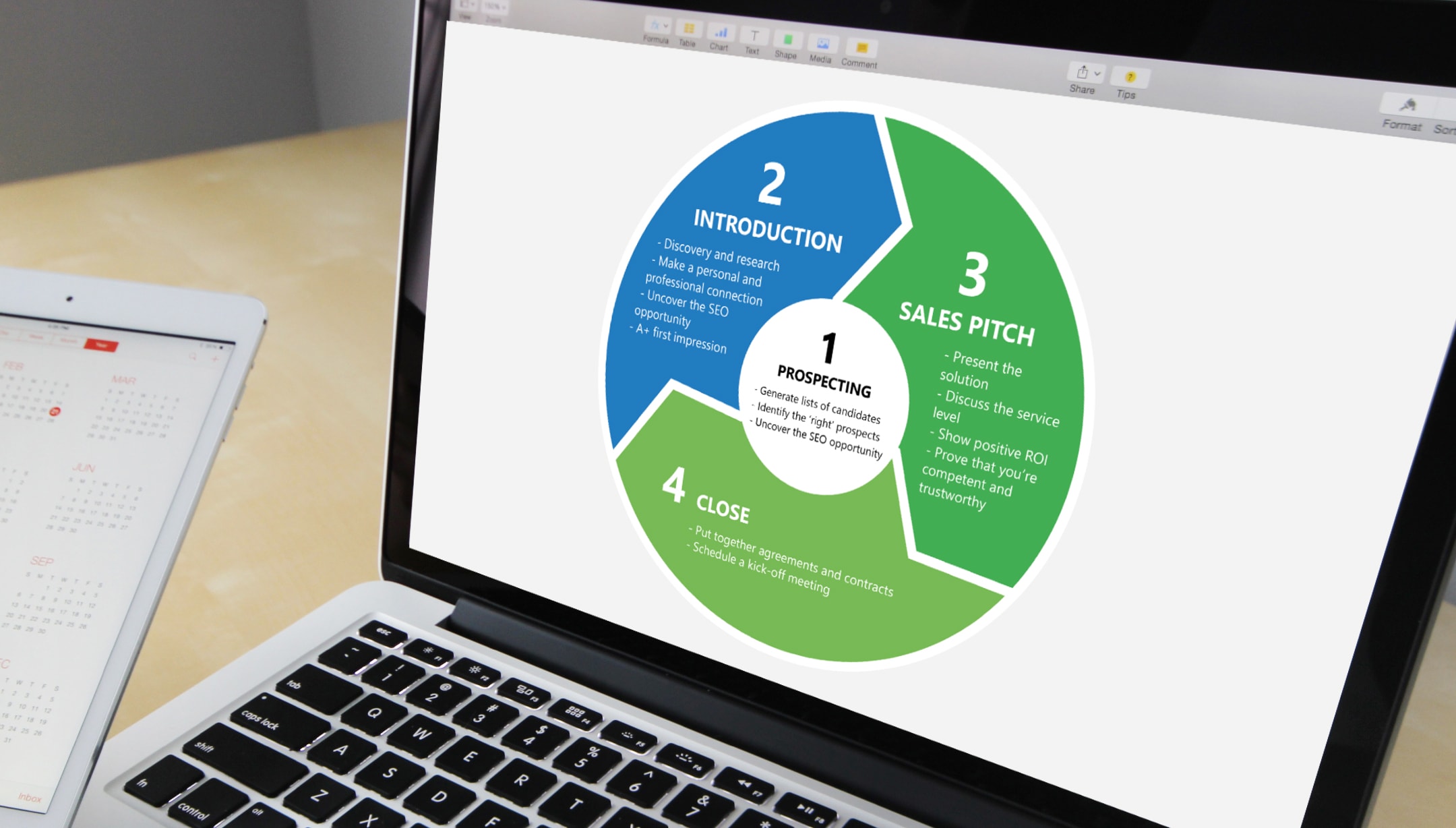 Critics say sales scripts are pure evil as they sound too similar and only irritate customers. This is not an absolutely false statement – many people face repetitive intrusive calls that cause the only reaction possible: the conversation is quickly ended by the prospect. This means that the sales script template used by the company that "attacked" you is absolutely ineffective because it's badly designed. Writing a sales script is an art and hard work, and there is no place for improvising.
Sales scripts: main features and aims
The main purpose of a sales script is its end result – a sale made, a meeting arranged, etc. If a positive result isn't achieved at once, the whole process gets divided into several subcategories. Thus, sales script must have a distinct structure depending on customer behavior. The more refusals, obstacles, or postponements you get, the longer your script will be and the more parts it will contain.
What are the perks or scripts for a seller?
sales and profit increase
budgetary savings: it is much more cost-effective to train employees based on a sales script than teach them the art of selling
if you standardize your selling strategy your clients are more likely to stick to your company as a whole rather than to a particular manager. If your strong team member leaves you won't lose customers
time economy
more control over your staff and definite criteria for their effectiveness
Apart from phone-based sales, scripts can be used in other types of communication – e-mails sent to potential customers, for instance. Another sphere to use a script in is eCommerce. Using specific tools you can track your visitors' activities on your website, analyze them, and use the chat form to offer your service.
Best sale script ever written - what is it?
If you think that the best sale script ever written already exists as a golden standard for all retailers you will be disappointed. There is no single pattern for all businesspeople who have decided to go on the selling warpath. There are thousands of sales scripts examples that can be found in the public domain, but you will need work on any of them to make your script ideal for your business in particular.
Let's review which sections a good sales script example must include in order not to become a waste of time and get on clients' nerves.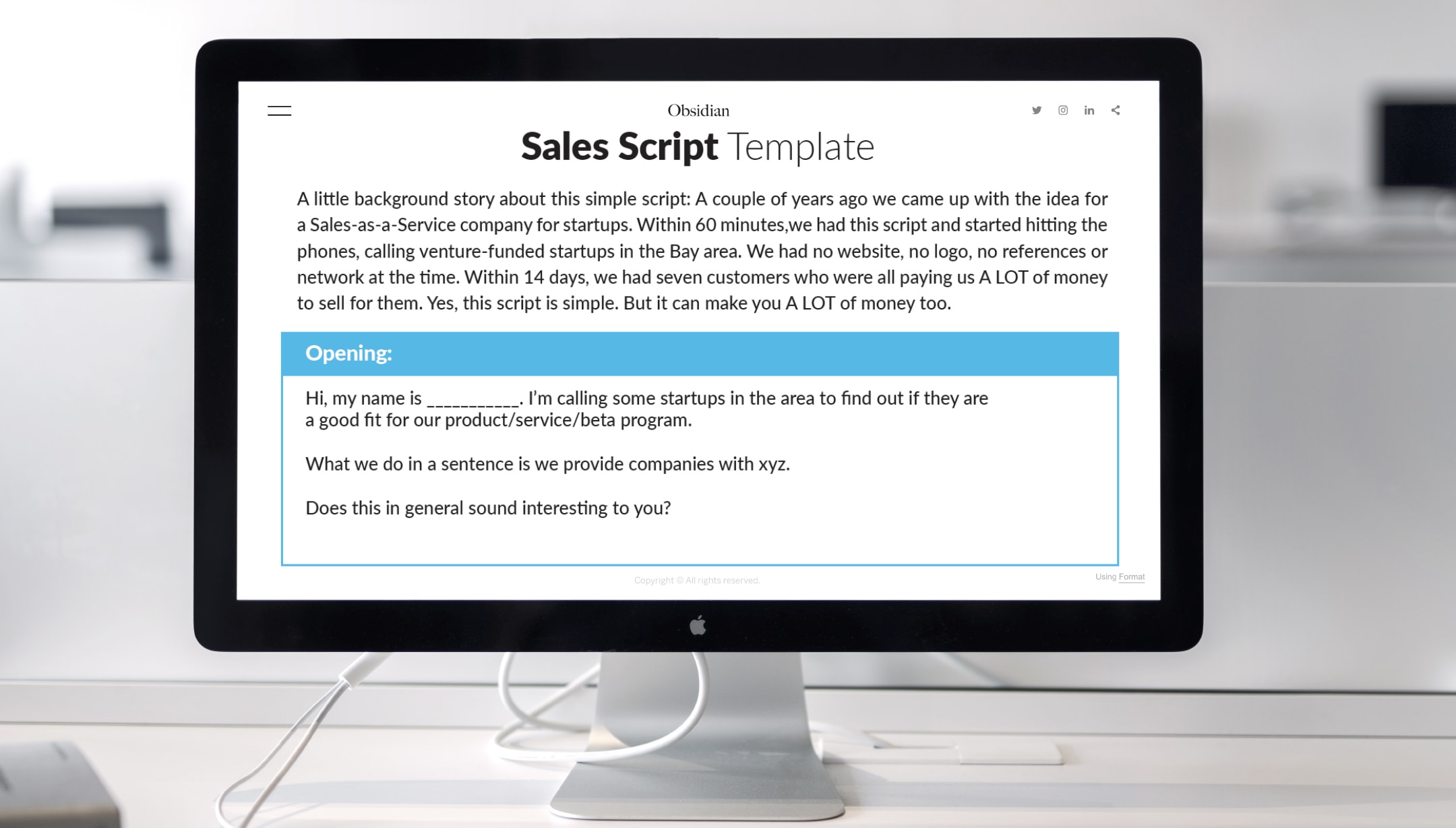 1. Get around the secretary
One of the biggest mistakes a seller can make is to start submitting their proposals to a wrong person. You are very likely to first connect to a secretary or an employee that are not decision-makers. What is more, they are trained to send you to a corporate email where your offer might be ignored. Cynical though it might be, sometimes it is advised to cheat a little bit to get to the boss. But this method should be used only if you have something great to offer, otherwise, it is simply impolite.
2. An effective greeting
Based on the previous statement, you should make sure you're talking to a prospect when you call. Ask their name, post, introduce yourself and go on.
3. Affirm the demand
To make your conversation or correspondence really effective, find out whether your product or service is really sought after by the prospect. After getting a positive response proceed to the proposal.
4. Special offer
It's not obligatory, but if you mention some bonuses if the prospect accepts your offer this might positively affect the result.
5. Say it again
If previously the prospect mentioned that their company is interested in products of your type, remind him about it once again ("So, you told me your company is seeking eCommerce software?"). Questions of this type are hard to decline. There can be lots of variations and tips for creating the best sales scripts. Note that a sales script shouldn't always be a strict pattern that one must follow. It's a skeleton, a guiding light for you and your team to know how to react in different situations and which aspects to mention.
Creating a sales script: main steps and typical mistakes
Before launching a script note that your sample sales script should be a large one containing various solutions depending on how the conversation goes. Let's go through the main parts of a sales script sample.
Preparations
Define which message in general terms you need to pass to the listener. Set a proper time for calling (an afternoon in the middle of the week is generally good). Take a few minutes to research your prospect: find out their background, working position etc. If you intend to make 100+ calls this might be unnecessary.
Think about the answers to questions you are likely to be asked:
Who are you?
What's the reason you are calling?
What are the benefits?
What do you want?
As soon as you have got the necessary answers and schedules it's time to create a sales script.
The cold sales script
Sales script templates must vary according to the type of communication. If it's a cold sale attempt, define the following script parts:
Introduction
It must be brief but very informative to provide a prospect an indication of who you are.
The reason you are calling
This part should contain the so-called "connecting statement" – a lively and catchy explanation that you and the prospect have some common goals.
Your advantages
Tell them about your qualification and experience, the ways you can meet their objectives etc. Provide the prospect with numbers that indicate how much profit your cooperation will bring.
The proposal
Make an offer and ask whether it's considered interesting. In case of a positive response, arrange a meeting for further discussions. If the answer is negative, do the following: express understanding, give some other details to persuade the prospect to change his mind, ask again.
Scripts for warm sales
These sales scripts are similar to the previous type, but here you must add another block at the beginning where you emphasize the previous context of your and the prospect's communication. State when and why you've agreed to talk once again and make your irresistible offer.
Typical errors and things you should note while creating a sales script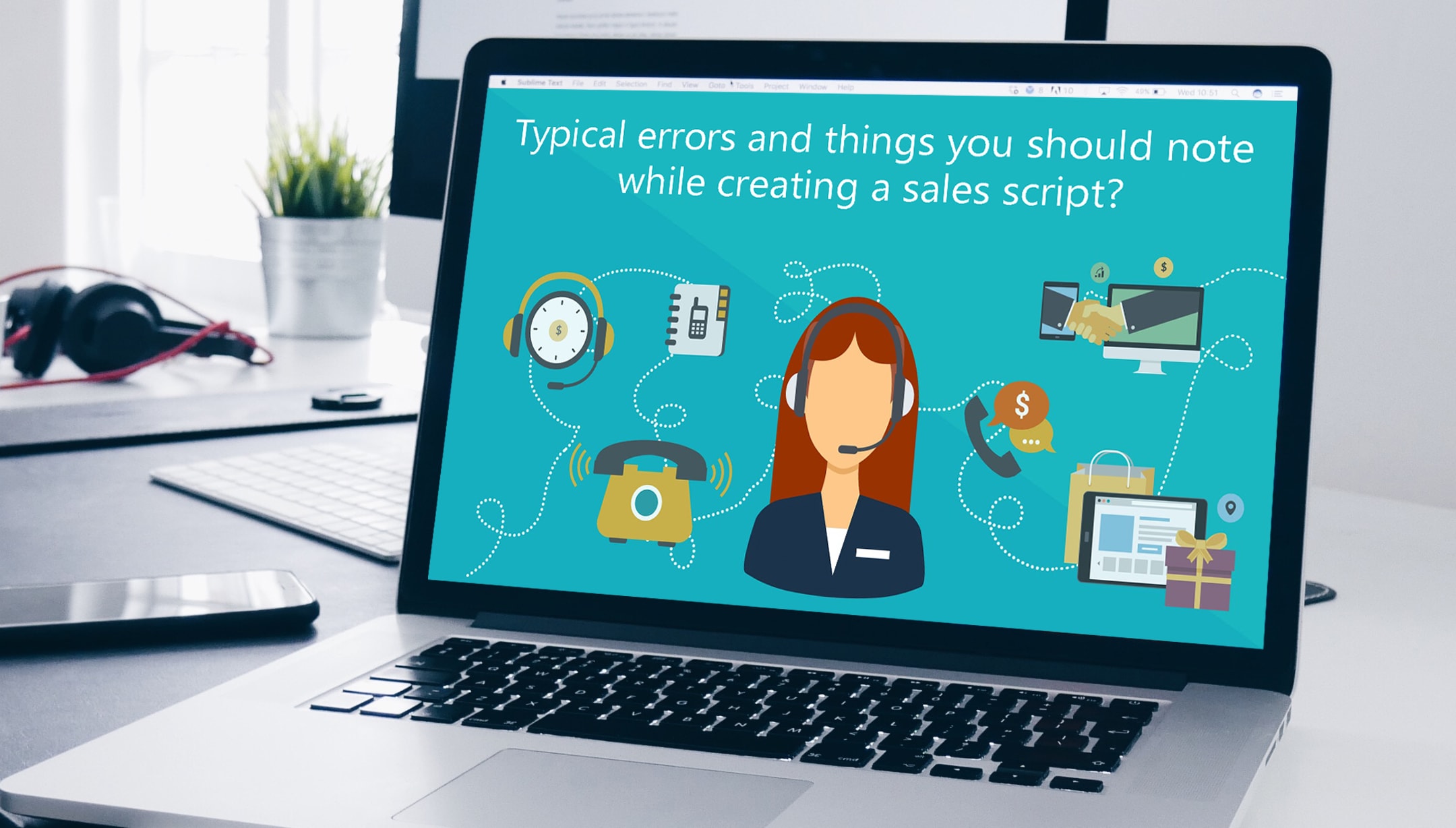 Some mistakes made while making a script can be listed in a few words. Here is the list of things you shouldn't do:
Not say who you are and why you are calling
Turn your speech into a monologue without requesting a prospect's reaction
Give up in case of a refusal
Stick to the phone only (you should annotate your call with an email with a commercial proposal or your company's details)
After you've completed your sales script take care of the staff who will use it. Remember that the words themselves are not enough without proper intonation, mood and the ability to react quickly. If you are unsure about how to build a successful sales script you can appeal to professionals or consult some relevant literature. Be consistent, logical in your remarks and persistent, and your sales script will blow it up!