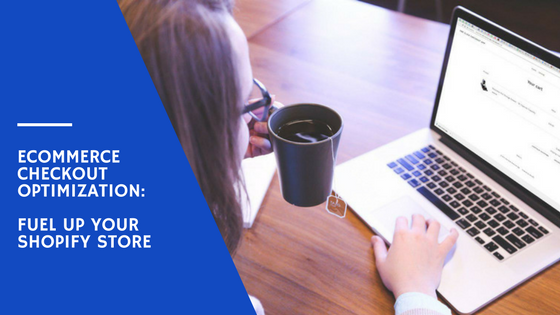 Replace the traditional Shopify checkout using a smart Shopify app. Description: Simple checkout on your Shopify store is possible with the Shopify app from team SpurIT. Boost the profits of your eCommerce business on Shopify.
Content:
eCommerce Checkout Optimization: Fuel Your Shopify Store
The key to all online shopping lies in the first impressions your customers get. Creating a unique, beautiful design for your website, and waiting for a spike in sales is a traditional approach. Such an approach is natural for Shopify eCommerce–the platform is rich with thousands of design templates, each able to enrich the shopping experience.
Customers will love the design of your store because you did a lot to convince them to stay: you offered a smooth browsing experience. However, online shopping is not about mere browsing – it is about transactions that come after the actual purchase. That is the most sensitive area of online business, where cart abandonment literally deprives you of money.
Shopify, as well as other top-rated eCommerce platforms, face cart abandonment rates every day, every hour, and every minute. The funnel from cart to checkout is difficult, hurting your conversion rates. Online visitors may have failed to trust your brand, or found a better price: it is not about their reasons; it is about you as a marketer, who failed to deliver a smooth transition from cart to checkout.
Shopify checkout: make the shopping fast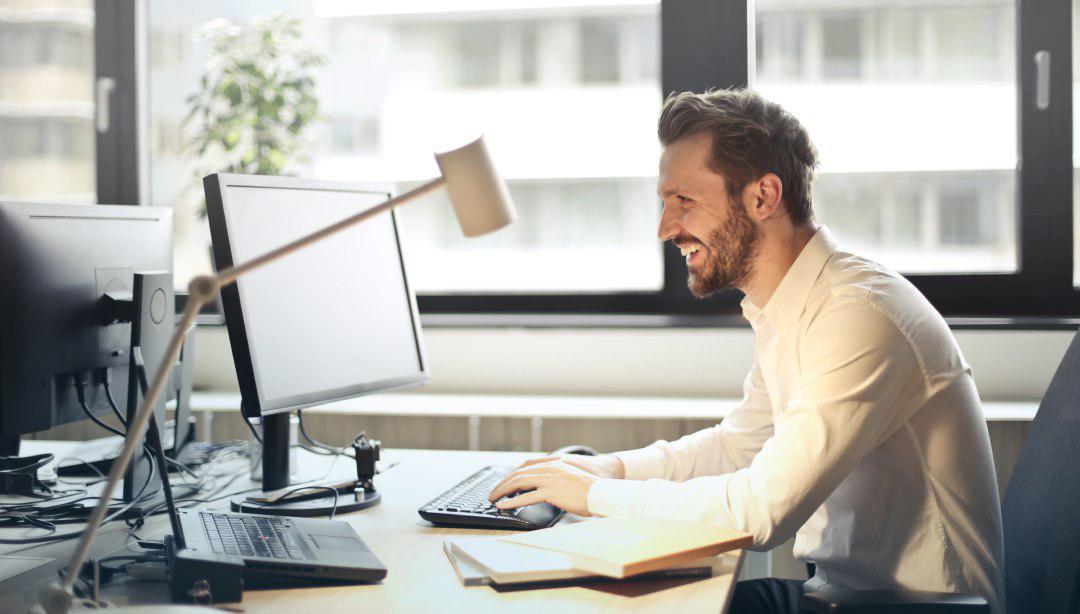 Yes, you try hard to combat cart abandonment rates. You optimize buttons, employ beautiful popups and probably paste unicorns everywhere. Still, this is not helpful when a shopping cart does not turn into an actual order in the majority of cases. Is there a way to combat the disconnect when your customers move from cart to checkout? There is one hint: one-click purchasing.
Amazon did a great job revolutionizing the traditional approach to online shopping: it minimized the steps to checkout. It turned into a place where impulse purchases became a major source of income. Back in the year 1991, when Amazon patented "One-Click checkout", it was on the forefront of modern eCommerce. Nevertheless, its patent has already expired, giving multiple opportunities for online merchants to implement a one-click approach.
However, what is good for Amazon may not work for your e-shop. Still, the message from this eCommerce mogul is clear: let your customers get on with the checkout in just one click! Don't let every new click become a new chance to abandon the checkout. Let's explore the perfect way to implement the ideas on your Shopify storefront with the help of an app.
Immediate checkout with one Shopify app
The checkout process should be built with simplicity in mind, letting online visitors swiftly buy the product they added to Cart. We at SpurIT are aware of the necessity to increase conversions – that is the main reason we created the One-Click Checkout Shopify mobile app. It turns a traditional checkout into a seamless journey on the way to a purchase. The app redirects online visitors who clicked the "Add to Cart" button to a special popup that offers immediate checkout.
Direct checkout in one popup
With the app, your customers will not have to struggle through shopping, but instead enjoy it totally. Built with simplicity and excellence, the app modifies the traditional cart and turns it to a multifunctional element of your website. Your customers will not have to click several "Continue" buttons that lead to the checkout: they can make an instant purchase instead.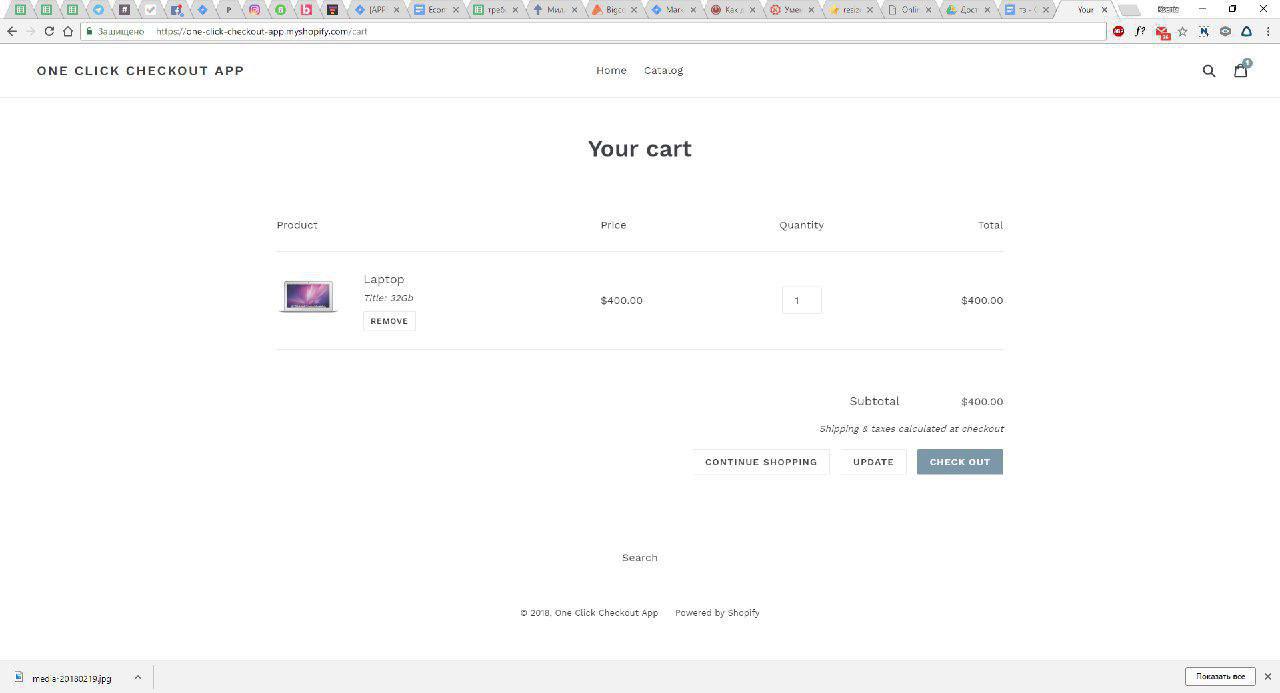 Still, the function of the popup remains the same: it has the functionality of a traditional Cart. Users will have full control over the content of the cart, deleting or adding products if necessary.
Design made with simplicity in mind
With the One-Click Checkout app, you can create an emotional shopping experience that will encourage visitors to make extra purchases on Shopify. Thanks to a powerful editor, it is easy to customize the design of the popup. You can make it match the general looks of your eCommerce website, appealing to the visual senses of your clients.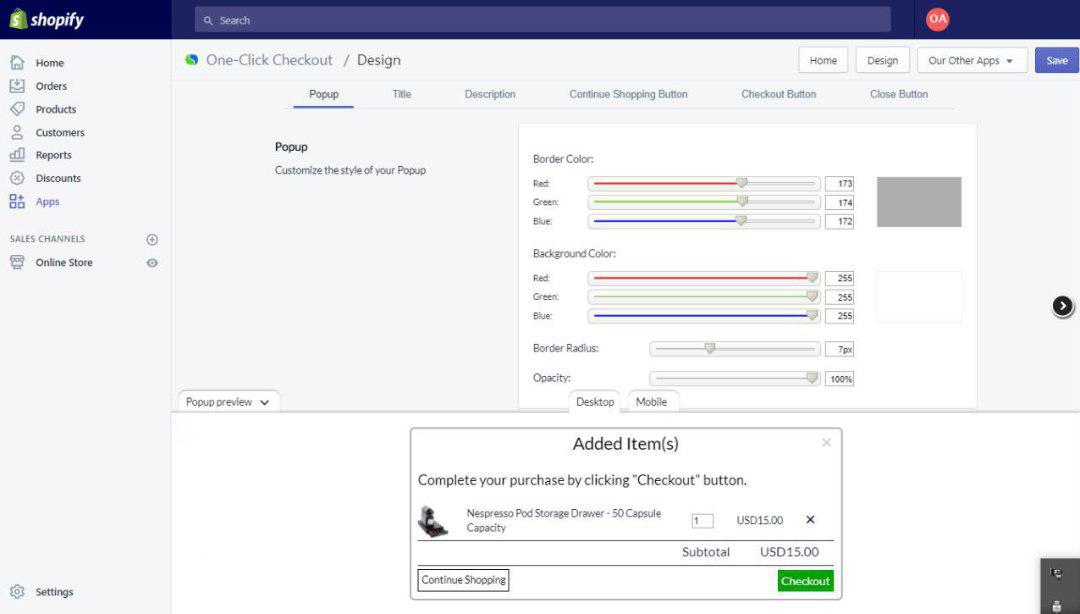 There is a lot to consider when finding the perfect choice of colors and styles for the design. However, any Shopify guide to design will stress the importance of simplicity in the style of your buttons, popups and even texts. This rule works perfectly well with our app: you can also preview the design of your popup before the launch.
Powerful Options
The One-Click Checkout app allows you to choose from multiple options:
Continue shopping
Checkout
Go to Cart (optional)
All of the options are available on one page! Your customers will have to choose the appropriate variant and confirm the content of their order – the app will do the rest. Simple and intuitive, the navigation of the checkout page is user-friendly and may be a significant contribution to the overall success.
The future of mobile shopping lies in our Shopify app
Keeping in mind the popularity of mobile shopping, we designed an app that is responsive on any device. The One-Click Checkout app makes mobile shopping very simple, close to ideal. Your customers will continue the checkout without any trouble on smartphones or tablets.
Conclusion
There is no optimal checkout process but there are smart ways to simplify shopping in your store. Trendy and popular among merchants of all sizes, the One-click approach to checkout is the new future of eCommerce business. Timesaving and efficient, online shopping will turn into a swift journey. Forget the clumsy steps to checkout with the One-Click Checkout app! Fuel your store with a powerful asset that removes the hassle from online shopping.