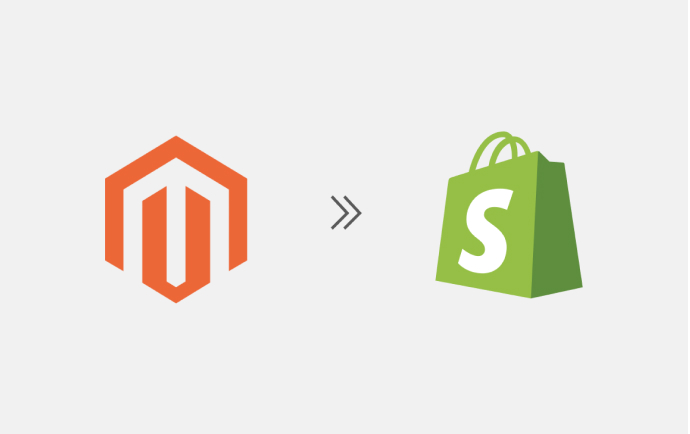 Planning to move from Magento to Shopify, but don't know where it might land you? You are probably aware that such a cross-platform shift can significantly revive your store, helping you serve a wider range of customers. However, you might face some hidden risks that can take your time and make the development costs pile up.
Time to panic? No, with SpurIT, your fears and doubts will dispel. Knowledge is power, and with us, you will be aware of each hurdle on the future Magento to Shopify migration. No frustration trying to fix a broken site, no risk of losing your time and money.
Time to switch to a more secure and faster eCommerce platform. Let's begin!
Content:
But first, why would you choose Shopify over other platforms, like Magento?
How about all-in-one importers?
How do we get started with the project?
How we will develop a Shopify store for you
Ready to launch a store on Shopify?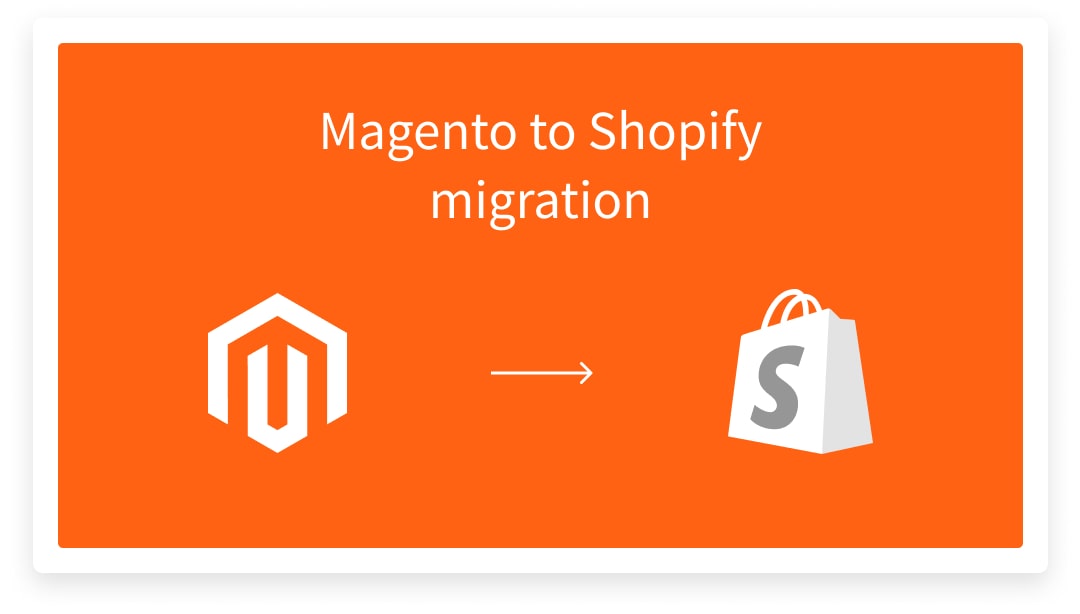 But first, why would you choose Shopify over other platforms, like Magento?
It has been a long time since Magento was considered the most popular eCommerce solution that served a major share of online merchants. Lack of technical support, security issues, and outdated functionality have forced numerous merchants to consider migrating to more user-friendly and reliable e-shop builders.
Shopify is your reliable partner that makes your business prosper with extremely effective features. What are they? How are they different from Magento?
Let's cross-compare the two platforms and see why Shopify is worth migrating to.
It happens quite often that store owners decide to transfer their stores from one CMS to another. The reason for such a transition can be different, as platforms have various pros and cons. If you use Magento 1 as your platform, one of the biggest reasons for switching to another one is that its support will be stopped in summer 2020.
You can read information about the upcoming Magento 1 support termination on the official site of this platform by clicking on this link: https://magento.com/blog/magento-news/supporting-magento-1-through-june-2020
The date is approaching fast so it's already time to start thinking about switching to another effective and modern platform, such as Shopify.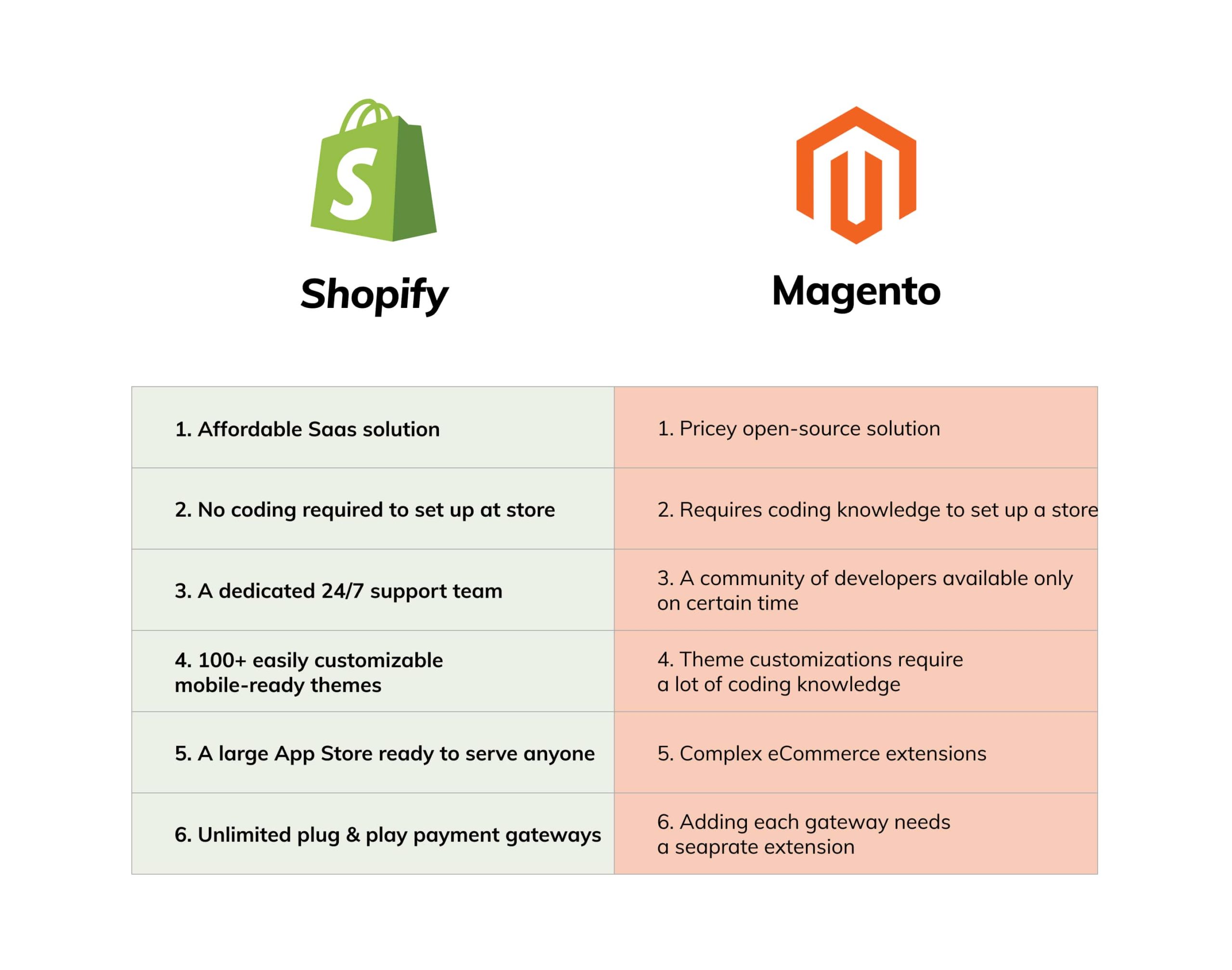 If you are looking for a less technical solution that will help you concentrate on business development, the Shopify platform is your choice. With the help of SpurIT, you can rebuild your Magento shop, turning it to a secure Shopify shop with a potential to increase sales and develop your business. You will never destroy your sales when moving to Shopify, while a new store will help you push even more orders than on Magento!
No one will deny that the transition from Magento to Shopify is a complex procedure that requires solid preparation. SpurIT can ensure a reliable Magento to Shopify switch for your business! What if we told you that you can become the proud owner of a fully customized Shopify store in a couple of months?
Deciding on the right CMS can seem quite challenging. If you are still unsure which CMS to choose and you are interested in how Shopify compares to Magento, we have an article that focuses on these two platforms. You can read it by clicking on the link below: https://spur-i-t.com/blog/magento-vs-shopify-what-is-the-best-ecommerce-platform/
It's important to note that an absolutely perfect CMS doesn't exist. Each one of them has its strong and weak points but some definitely stand out with their advantages. Shopify has many advantages that make it one of the best eCommerce platforms. Its pros include the following:
User-friendly and simple store management
The admin panel of Shopify is extremely intuitive. You don't need to have coding knowledge or a deep understanding of eCommerce platforms to start using it. It is easy to add new products and create collections. You can manage everything you have in your store without any issues or confusion.
High level of security and a free SSL certificate
Another advantage of Shopify is its security level. You don't need to deal with any settings, as all Shopify sites receive a free SSL certificate. After you transition to this platform, your site will automatically use the HTTPS protocol. This allows you to be confident in the security of your site.
An excellent mobile version of the site
More and more people these days use their smartphones to shop. At the moment, at least 50% of all people use their mobile devices to go online. Shopify is perfectly adapted to work on mobile phones, which is an essential advantage.
An out-of-the-box solution to unloading products on marketplaces
If you also sell products on marketplaces, such as Amazon, eBay, Facebook, or Instagram, then Shopify offers you a great service. The platform provides you an opportunity to perform automatic unloads of your products without having to install any additional modules. This feature makes your life a lot easier if you develop your business using other sites.
More than 50 options for out-of-the-box payment gates
Having plenty of payment options for your clients is always a priority. Luckily, Shopify has its own payment gate. You can manage how you want to receive online payments on your site and this includes PayPal, Apple Pay, and Gpay. If you are not satisfied with the standard solutions, there are also other options. Shopify has more than 50 other solutions, such as Skrill, Epay, and more.
Huge selection of apps in Shopify AppStore
In some cases, the available in-built functions are not enough to achieve your goals. In just a few clicks, you can install apps from various third-party developers. This can be done using the official Shopify AppStore available at https://apps.shopify.com/. Such selected apps offer a high level of reliability and are automatically updated by their developers.
How about all-in-one importers?
The availability of automated Magento-to-Shopify tools on the market may impress you at first sight. Choosing the right developer who will assist the migration of products, discounts, and customer accounts is no easy task. However, not every solution may suit the scope of your business on the Magento platform.
Why?
The apps that support the transfer from Magento to Shopify move the data in bulk in a single CSV file. This may be great if you manage a small business. However, if you own a large store with thousands of products, importing the store from Magento to Shopify will turn into serious trouble, as you will have to fix serious issues manually. Sudden issues are likely to occur because of the fundamental differences between Magento and Shopify.
If you decide to use a special app for the Magento to Shopify switch, first ask yourself: will it handle my Magento store, my personal needs, and the needs of my clientele? It may be the easiest way to import all the crucial information within hours, but it may not save you time in the future! All-in-one solutions still require your involvement, no matter how hard you try to escape it.
We at SpurIT definitely know that only a personalized approach to store migration can save a lot of effort for a merchant. We approach each Magento-to-Shopify project individually to ensure a secure, accurate, and reliable migration of the data.
There are some reliable services and apps out there that ensure the automatic migration of your online store from Magento to Shopify. The services that can be mentioned include:
LitExtension (Besides the site, there is also an app that can be found in the Shopify Store).
If you are an owner of a small and standard online store, the mentioned solutions can be just what you need. They are effective, reliable, and you don't need to prepare terms of reference for programmers. The entire process is quick and doesn't take much effort on your part.
However, such services are not suitable for all stores for a number of reasons. The algorithm of their operation is developed for the migration of standard sites. If you have made certain changes to your Magento site, it is more than likely that your data will be transferred incorrectly.
We will discuss all the reasons why this happens below.
How to start the migration process?
First, we start by studying all the data that can be possibly migrated to Shopify. This is especially crucial for large stores where configurable products count in the thousands. Our aim is to study each aspect of the Magento store to enable an error-free migration to Shopify.
Due to the differences between the two platforms, and the requirements set by our clients, we tackle the challenges that may occur in each individual case. However, we ensure the reliable migration of the essential business data. What does it include?
What data we will move: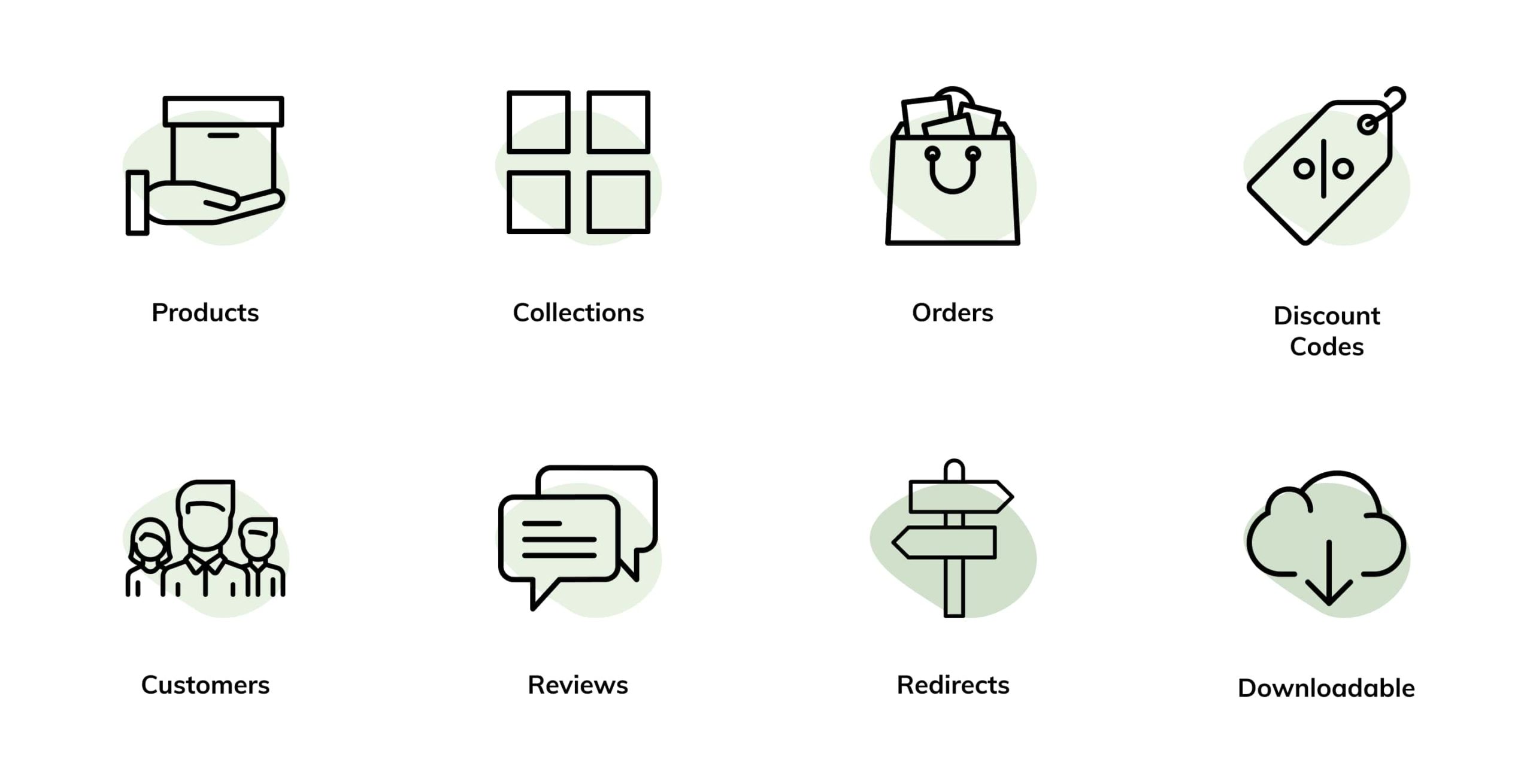 There are many reasons why automatic migration may not work for you and fail to transfer your data correctly. Here are some of the most obvious reasons these solutions can cause issues:
Products
Our goal is to save the structure of your site as much as possible and the same applies to the structure of each product page. It's important to transfer URLs, meta tags, descriptions, variations, photos, SKU, and reviews. All of these need to be transferred so that your site doesn't lose its rank in search results.
Collections
Proper transferring of your collections also affects your ranking in search results. We take care of correctly moving URLs, meta tags, and category descriptions (texts) to the new platform.
Orders
If you keep order statistics in your admin panel and you need this information for future reference, we can transfer all the completed orders during your migration.
Discount codes
The same applies to the discount codes. If you keep information about discount codes provided to your customers, such data will be available on the new site after migration.
Customers
Another important piece of data to transfer is related to customers. If you have a customer database that includes users with personal accounts on your site and shopping history, we will make sure to transfer this information to Shopify.
Reviews, blog posts, etc.
If you had a blog on your site, it will be fully transferred to Shopify. Any comments that you may have under your blog posts will also be moved to your new site.
Redirects
Any redirects that you may have on your old site will also be taken into consideration during migration.
Downloadable files, videos, etc.
How much does it cost?
Please contact us to get additional details and an estimation of the price for transfer Magento to Shopify.
Book a call
Why the mentioned services may fail you?
There are many reasons why automatic migration may not work for you and fail to transfer your data correctly. Here are some of the most obvious reasons these solutions can cause issues:
The first reason is that Shopify and Magento have different database structures. Because of this, automatic import of data may fail and this is especially relevant if you somehow changed the standard functions of your Magento site. For instance, you had custom fields for different products. In this case, it's more than likely that the automatic service won't transfer such changes to Shopify.
Another reason is that Shopify doesn't have default subcategories. This means that all its categories have one nesting level. If your Magento site has subcategories, this can become a problem when migrating to Shopify using the automatic service.
Also, it's important to assess the functionality of the Magento site and how it can be realized on Shopify. The features that need to be assessed include filters, payment gate, different product variations, email lists, a system of bonuses and coupons, and so much more.
It's important to keep in mind that the process of migration will inevitably affect the ranking of your site. For this reason, it is essential that all details are taken into consideration before migrating. This will ensure that you can keep your rank in the search results.
Some of the possible challenges we may face at this stage:
First challenge – password of every customer. We inform our clients that their existing customers will have to change their passwords when we migrate the store to Shopify. Shopify hashing policy doesn't allow the migration of customer accounts, forcing Shopify newcomers to create new ones.
Second challenge – custom order statuses. One of the differences between the two platforms lies in the workflow of order processing. Magento deals with custom order statuses to process orders. For Shopify, custom order statuses are not applicable. We have to implement a different structure to replace custom order statuses on Shopify. One of the possible solutions to this problem is to replace Magento custom order statuses with order tags on Shopify.
This happens because the two platforms have different structures that form the backend. Magento is a fully customized platform, as opposed to Shopify, where ready-made solutions are used as building blocks. We have to deal with different structures on Shopify and Magento when moving the data.
Data migration made easy
After careful examination of the requirements of the customer, we launch the data migration to Shopify. Before we can start the process, we assess the online store from several different angles.
Firstly, we carefully analyze the structure of your site:
nesting levels of categories
how the URL of each product page is formed
formation of the service pages URLs, such as Payment and Shipping, Privacy policy, FAQ, and others
blog pages
All of these are important and we make sure to save the structure as much as possible. If this is not possible for technical reasons, we set 301 redirects. This approach allows us to save the ranking of your site in Google search results.
Secondly, we work on saving the functionality of your site. The features present on your existing site may include the following:
filter
quick view and order of a product on the category page
quick ordering on the product page
various pop-ups with ads and special offers
accrual of bonuses for a purchase
promo codes for loyal customers, and so on.
Our ultimate goal is to make the migration process as comfortable and stress-free for a customer as possible. We want to make sure that your online store brings maximum profit and continues to work without a hitch. To achieve this goal, we will choose the most suitable apps in the Shopify store based on the functionality of your site. Or, our programmers will develop specific apps according to your requirements.
After careful examination of the requirements of the customer, we launch the data migration to Shopify.
We use a special tool customized for your needs
To ensure a swift Magento to Shopify switch, we developed a special app that helps us automate the process of data migration. This tool is easy to customize and set up once we've taken into account the necessities of each client and the details of each case. Our developers customize the app to make data migration as quick and easy as possible.
About the app. We are proud to have developed the tool that can solve the issues of data migration. The app is not for sale, although it does require individual settings for each customer. We never aimed to develop a universal all-in-one tool that will help Magento users migrate to Shopify. We believe that it is impossible to ensure a reliable switch between the two platforms using just one automated tool!
Once the data migration from Magento is complete, we are ready to tidy up the design and functionality of a new Shopify store.
How we will develop a Shopify store for you
As a Shopify newcomer, it is possible that you will not know what to expect from the new platform for your business. We will take care of the possible issues caused by the different architectures of Magento and Shopify to ensure a fast switch. The new features of the Shopify store are quick to roll out with the right setup and a personalized approach.
What we will do for your store
1. We configure the theme
Shopify includes free and paid themes that you are likely to have chosen yourself. We will take into account your preferences, and customize the Shopify theme you have chosen for the needs of your business.
If you plan to transfer your site from Magento to Shopify, you may want to change or improve the design of your online store. Just like many other CMS, various themes exist for you to choose from. You can select either paid or free options depending on your needs.
You can take a look at the available themes at Shopify Theme Store.
Also, several third-party sites exist that offer an opportunity to get a Shopify theme. Some of the popular options include:
Your choice is not limited to just these themes. We can develop a unique theme specifically for your online store. Our SpurIT team includes highly qualified UX/UI specialists and professional designers. Once the design is approved, our experts will create a layout with the most professional and clean code.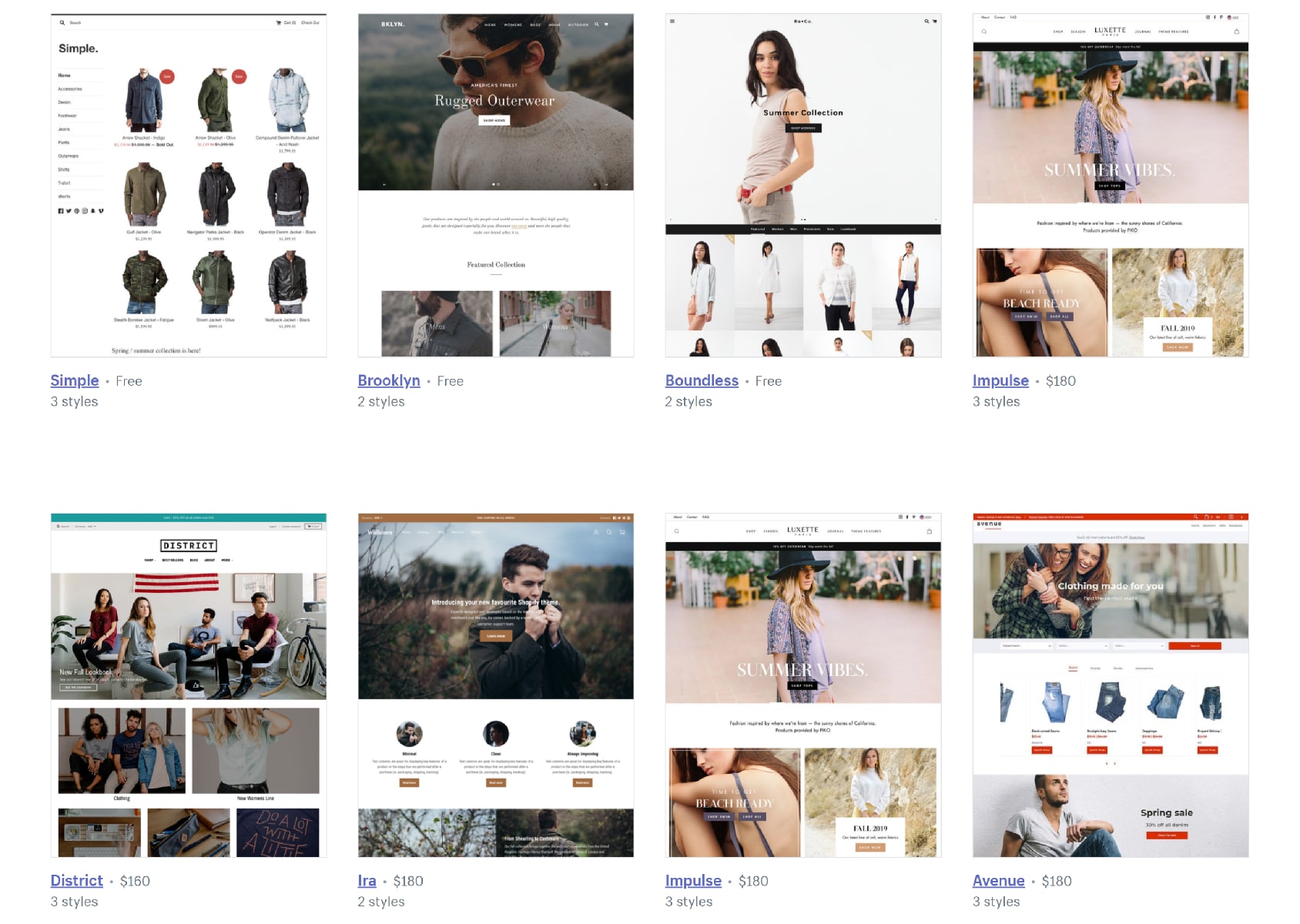 2. We set up third-party integrations
If you previously used third-party integration services on Magento, it is possible to preserve and implement them on Shopify too. Third-party services are extremely helpful to support:
marketing and analytics
order management
business management (accounting, etc)
fulfillment management,
etc.
Integration tools for Shopify may cover the needs of your store and ensure a fast error-free switch from Magento. However, some third-party services do not have a ready-made solution for a seamless integration with Shopify – and we will develop a solution from scratch in each particular case.
We are ready to preserve the functionality of your Magento store!
One of the previous projects dealt with a complex payment procedure on Magento. When migrating to Shopify, the client wanted to save the groups of customers that he had utilized at a Magento store: VIP and ordinary users. VIP users paid an X subscription fee to gain access to special prices (or discounted prices).
Taking into account the requirements of the customer, we started to develop a solution that would integrate seamlessly with the Shopify platform. We took time developing a payment option that would create a smooth checkout experience for customers.
We integrated a system called "Braintree" that implemented a subscription-based payment option. This system was used to grant a user a VIP status. The new Shopify store had two checkout services: a standard one – Shopify payments (to serve standard payments except for recurring subscriptions), and "Braintree" payments to charge a subscription from VIP customers.
The two checkouts were visually identical for both groups of customers. No differences in them were noticeable–only from the technical perspective. We recreated the two payment options that existed on the Magento store and integrated them seamlessly on Shopify.
We set up Shopify apps
The specialists at SpurIT install and set up the previously chosen apps for the correct operation of each separate feature and your online store as a whole. In addition to that, our experts work on developing specific apps for Shopify. In such a way, we can both assess the effectiveness of various third-party apps and recommend our own products.
The client chooses the list of apps that he is going to use on his new store. We set up and personalize each app for each client, customizing them individually. We take care of everything: from store design to payment options, from discount campaigns to reviews, etc.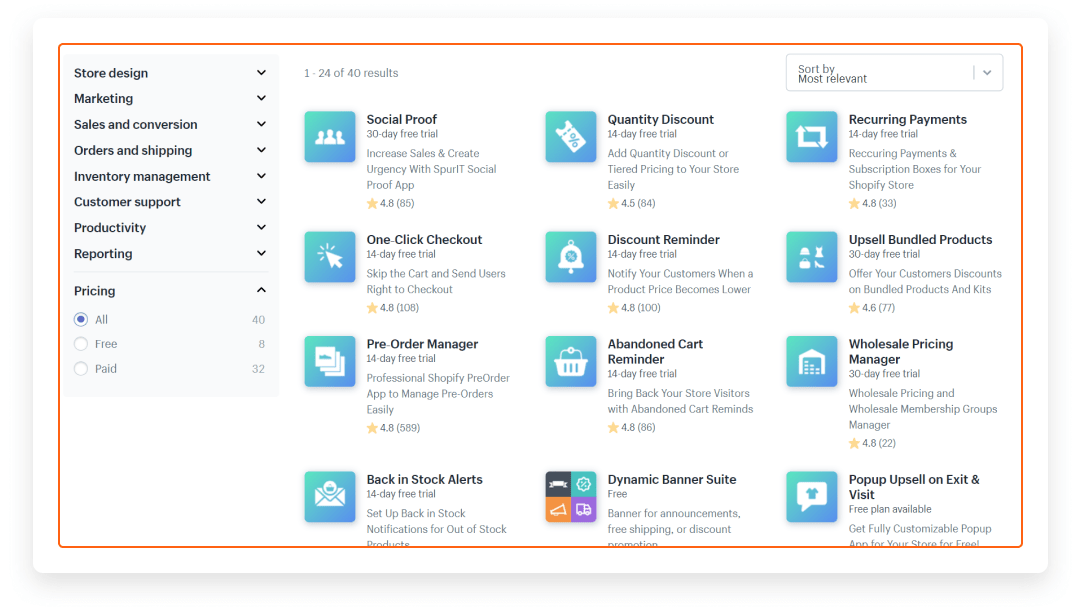 We prepare the shop to go live
After the transition from Magento and setting up the functionality of a new Shopify store, we are ready to launch a new store with our client. With our service, you will not have to worry that the website will go down. Your new Shopify store will always be available while we carefully match old URLs from Magento to the new URLs in Shopify.
We provide operational support
Since our customers can launch their stores at any time, from different time zones, we have support 24/7. We are always ready to help each customer. We are ready to solve every problem that may occur when the shop goes live. Operational problem solving is what stands behind our company's values!
Fast transition from Magento to Shopify
We strongly believe that a smooth and pain-free shift from Magento to Shopify is possible despite any challenges that might occur! As you see, migration from Magento to Shopify takes time especially if you own a large store with thousands of clients and orders. Depending on your requirements, the procedure may take anywhere between two weeks to several months.
We assess the possible timeframes of each project and are ready to justify every hour of the development work individually. Team SpurIT has vast expertise in many different aspects of eCommerce development. We always reflect on our previous mistakes and consider them thoroughly to speed up the process of migration to Shopify.
Migrate your Magento to Shopify with SpurIT!
We strongly believe that a stress-free transition from Magento to Shopify is possible despite any challenges! We assess the possible timeframes of each project, as it may take between two weeks to several months to complete it depending on your requirements.
We do everything in our power to speed up the process of migration to Shopify and this includes:
Business data migration
Setup of apps
Third-party integration setup
Design implementation
Development of custom functionality
Depending on the complexity of your migration, you may decide to use an automatic service. Or, you may realize that you need a complex approach and professional assistance.
We hope that you choose to use the migration service offered by our company. You can do so by clicking the link https://spur-i-t.com/migration-to-shopify/migration-magento-to-shopify/
Our managers will contact you at a time convenient for you and answer any questions that you may have.
With SpurIT, site migration turns into a hurdle-free journey, as we will take care of everything. All you need to do is make a decision and contact our representative. Become a successful Shopify retailer right now!
P.S.
We would highly appreciate it if you could leave a comment or share a link to this article on social media.
If you still have any questions after reading this article, please leave your question in the comment section below this post and we will gladly answer it.