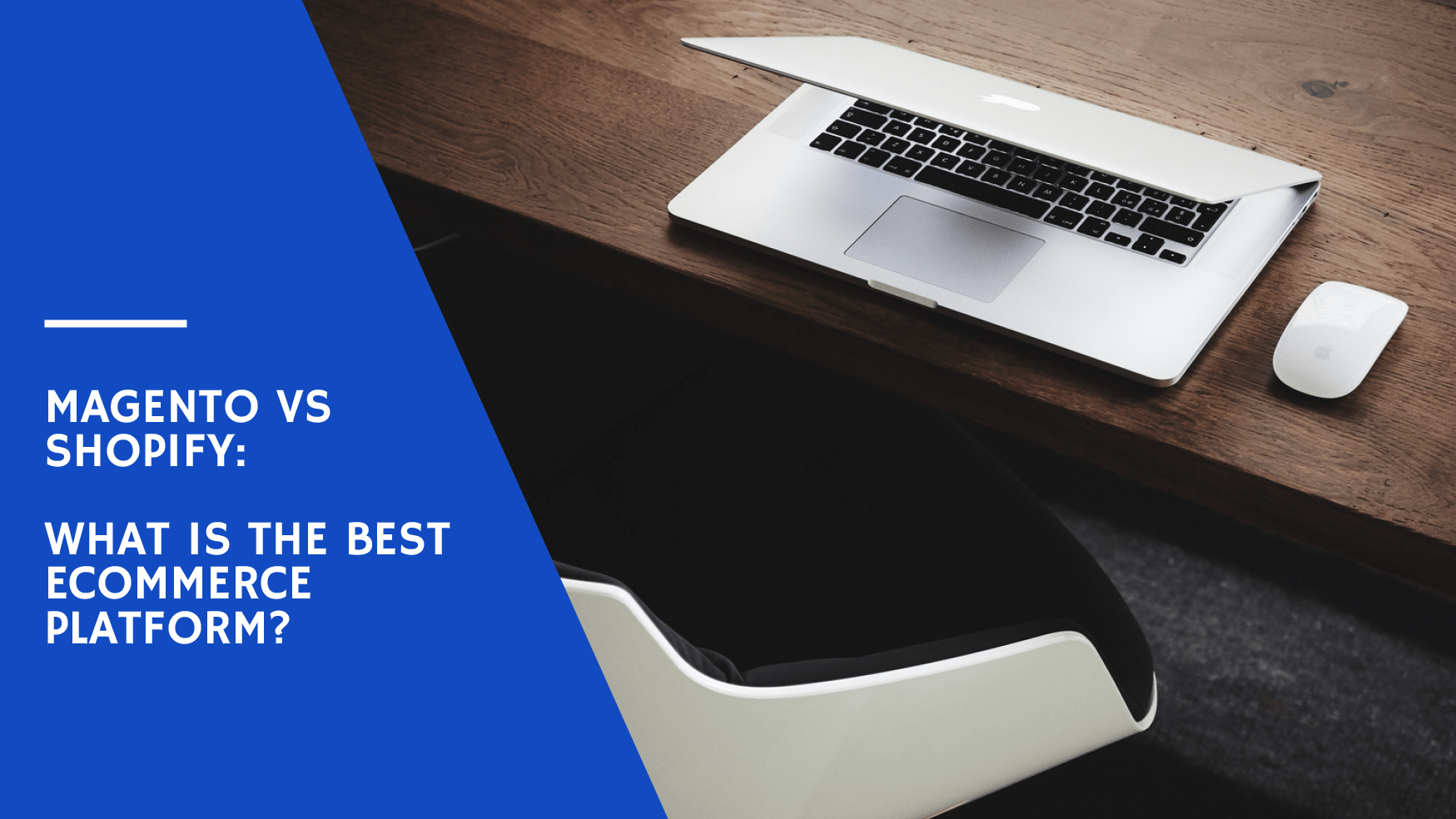 There are lots of ecommerce platforms to choose from. If you are struggling deciding which one could be the best option for your business, read our review on Magento vs Shopify. For those starting their online business, scaling up an operational web store, or willing to do migration from one platform to another, choosing the most suitable ecommerce platform may become a challenge.
Magento Community Edition, or simply Magento, and Shopify are the most widely used platforms for online commerce stores. In this article we will provide basic comparison on Magento vs Shopify.
Content: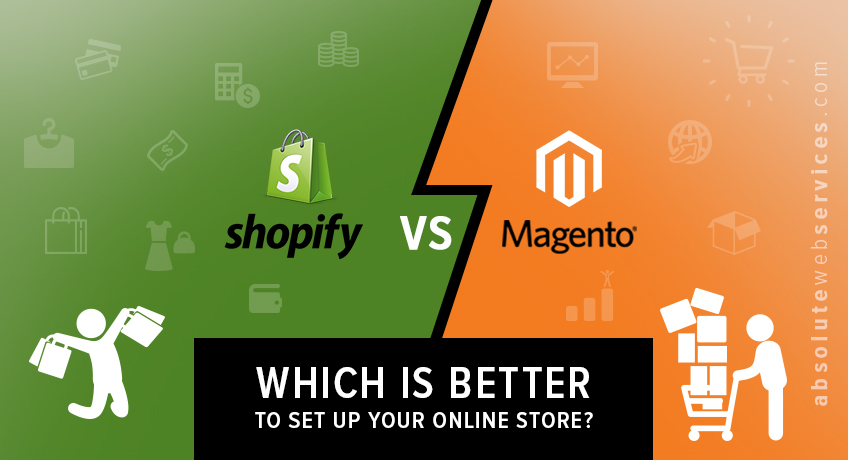 Shopify vs Magento: is Shopify the best solution for your web store?
While Shopify is considered to be the top ecommerce platform by lots of its users, Magento is still the most popular platform used by up to 20% of all ecommerce businesses according to some reviews. When you start doing your comparison on pros and cons of Shopify vs Magento, you should keep two main differences between them in mind.
Shopify is a paid platform, though providing different payment plans tailored to your business. Magento is an open source platform, as much as such popular platforms as Prestashop, OpenCart and WooCommerce, which might be compared to WordPress, providing free tools for building an ecommerce store.
Another difference coming up when doing Shopify comparison versus Magento is that you won't care about hosting with Shopify, as they will host your store, while you should manage your own hosting and probably use your or someone else's web development skills before starting your store on Magento.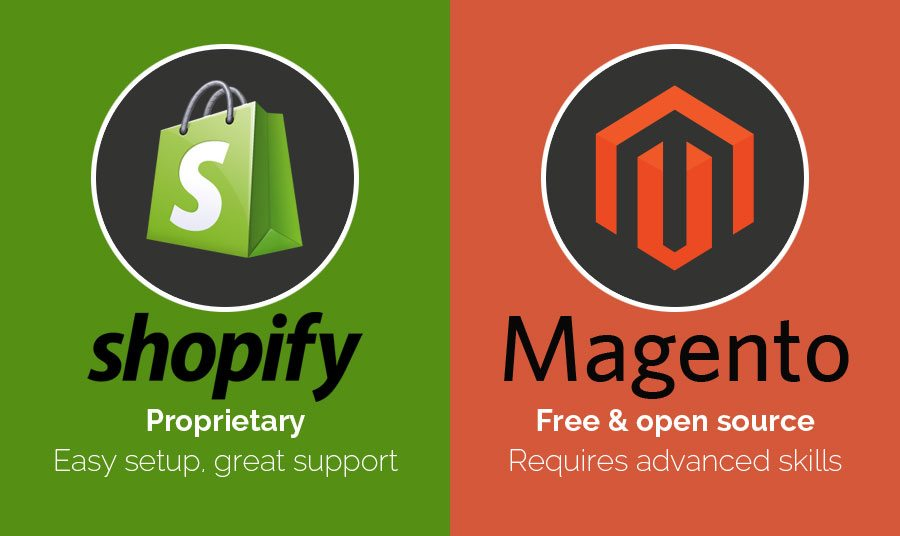 Shopify comparison: main features and usability of Shopify and Magento platforms
While Shopify may be considered as the best solution with its easy-to-use platform and big scope of features for any online store, there are other alternatives to look into.
BigCommerce, Squarespace, Salesforce (formerly Demandware), Volusion, Weebly and some others are the examples of the top website builders for ecommerce. In this article we are not aiming at comparing Shopify vs all other ecommerce platforms, rather than Magento.
Let's have a look at the most important features of Shopify vs Magento
Usability. Both Shopify and Magento have a highly engineered and well-developed user interface, so that any user will find its way to run an online shop on these platforms. Nevertheless, Magento lacks the feature of an intuitive wizard mode in comparison to Shopify, making it harder to use for non-tech people.
Though most of non-developers consider Shopify as a better and easier solution to run an online store, Magento also provides ready-to-use extensions which is a plus for users, as they don't require coding skills.
Scalability. In this regard Shopify tends to be a better option for small stores, while Magento is a solution for bigger stores with variety of different products. Nevertheless, if a small store is ambitious about its growth, Magento might be a good option in such case.
Inventory. For Shopify inventory management depends on the plan. In the Starter plan the number of items in your store will be limited to 25 items, while more advanced plans don't put these limits. Magento doesn't have any limitations on the number of items, though you should keep in mind that managing your products will depend on your host server performance and speed.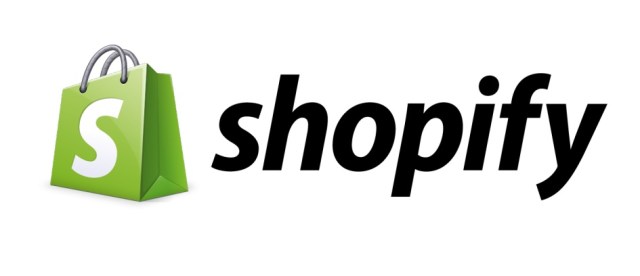 Payment options. Shopify supports more than 70 payment gateways and has a visible advantage over Magento in this respect. Shopify POS provides an opportunity to accept credit cards without third-party accounts and makes it easy to connect to your store no matter where you are. Shopify Pay option makes it convenient for customers to do a faster checkout.
Themes and templates. Creating responsive design of websites is one of the most important requirements for successful web store. Both Shopify and Magento provide a number of templates to achieve this goal. Some of the themes are provided free of charge, while others are paid. Comparing to Magento, Shopify has less variety of free themes, though most of them look more modern.
Apps and extensions. There are lots of options for apps and add-ons both in Magento Extension Store, and Shopify app store. Magento is a winner here with a number of its extensions counting more than 5000. Shopify has over 100 apps, but you will just need to click a button without leaving your dashboard, while it might be tricky with uploading an app to your store on Magento.
Shopify provides apps in different categories, e.g. marketing, sales, social media, and others, whether free or paid. Shopify apps make it an outstanding shopping cart platform with their features, such as Upsell for Products allowing increase in sales by 30%, Shopify Discount for scheduling a sale in just a few clicks, Popup Upsell with email marketing integration for easier management of marketing campaigns, to name a few.
Marketing and SEO. Both Shopify and Magento are in the top in the view of their SEO features comparing to other competitors in the studies of SEO scores.
Shopify is better adapted to social media with access to sales on Pinterest and Facebook. Magento can't boast of such features, though lots of apps may be uploaded additionally for this purpose.
Customer support and community. Shopify is an obvious leader with its 24/7 support reachable via email, phone or live chat. You can also choose a guide helping your business from the list of resources on their website.
Magento doesn't provide a customer support service, but it has a large community of developers who could resolve almost any issue. You can find an answer to your question on developer forums, though you also might hire a developer if you choose Magento as your platform. Nevertheless, those who pay for Magento Enterprise Edition, have access to technical support.
Shopify also has a wide network of experts located from Australia to India, who could help you build a store, including setup experts, designers, developers, marketers, and photographers.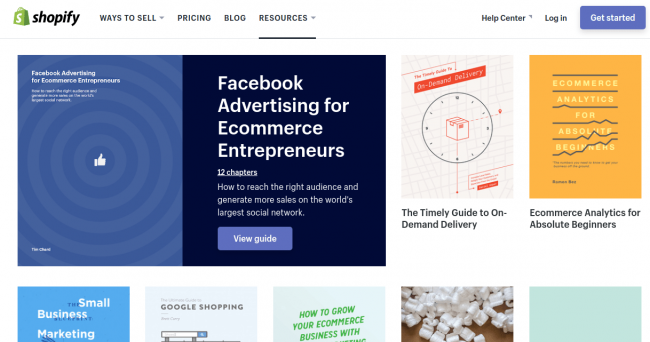 Multi vendor marketplace. For ecommerce businesses willing to run a multi vendor marketplace, there are available add-ons both on Shopify and Magento platforms. Though Magento seems to offer more features for multi-vendors' growth.
Fees. Since Magento is an open source platform, it doesn't require any setup fees. There are no setup fees for Shopify as well, and you can start with their 14-day free trial and watch a demo to evaluate features they offer. After the free trial you may choose one of the four pricing plans to be able to further use Shopify software, ranging from Lite Plan for $9/month to Advanced Plan for $299/month.
If you use Magento for your web store, you should look into hosting prices which may differ considerably depending on a hosting provider.
Additional fees will come from performing transactions. There are no additional transaction fees on Shopify, if you use their own payment gateway. Though usage of external payment gateways puts over transaction fees for payments, which is also applicable to Magento.
When calculating the total cost, you should also consider premium theme and template and add-ons prices.
Taking into account the above mentioned features of Shopify and its comparison vs Magento, we believe it will be easier for you to make a choice for starting your successful ecommerce business.

Can I have a consultation on which apps would be a better solution for my web store? Just contact us and get absolutely free and fast support via toll-free call, chat or email.