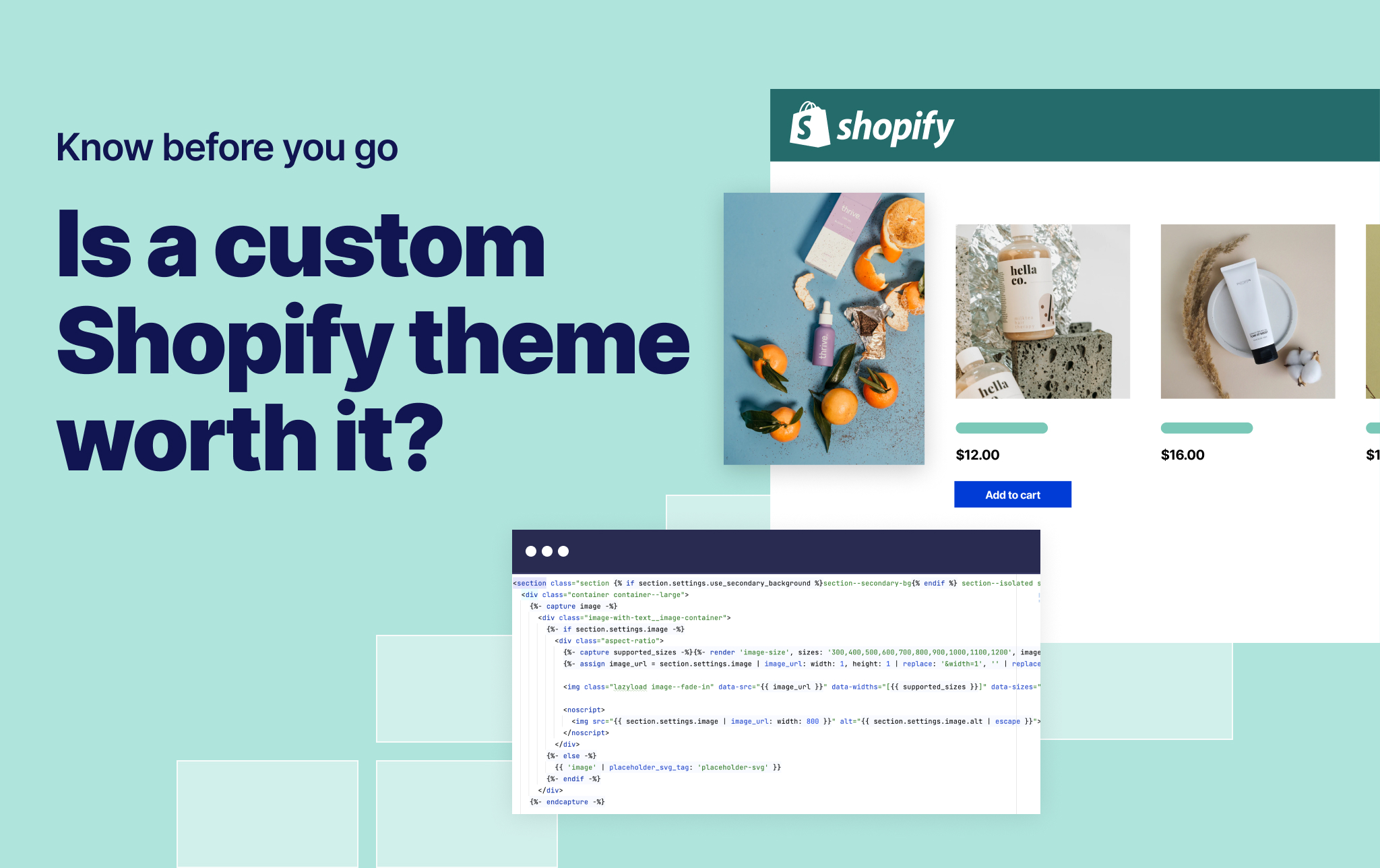 About 48% of internet users view web design as a crucial factor in determining the credibility of a business. That's why having a well-designed, user-friendly website has a significant impact on how visitors perceive your business. Not to mention, the importance of a high page load speed.
Luckily, Shopify offers a variety of top-notch themes that can be personalized to fit your brand's style and requirements. However, these themes may have some similarities with other websites that use the same theme.
Wouldn't it be awesome to have a website that's completely distinct and truly represents your brand? That's where the option of creating custom themes comes in.
Let's delve deeper into this possibility for your business.
Table of contents
Explained: Shopify custom theme vs customizing a theme
From our experience, many people don't fully realize what a custom theme is and whether they need one. So, we'd like to take a moment to explain the difference between customizing a Shopify theme and creating a custom theme before delving deeper into the latter.
Customizing a Shopify theme refers to making modifications to an existing Shopify theme to fit a client's specific needs. This involves altering the design, layout, and functionality of a pre-made theme to create a unique look and feel. These modifications can range from small changes, such as altering colors or fonts, to more significant changes, such as adding custom features or integrating third-party apps.
Alternatively, creating a custom theme involves building a completely new theme from scratch that is tailored specifically to the client's requirements. This is a more complex process that requires a higher level of expertise and experience with web development and more involvement with the Shopify platform.
Custom theme vs. theme customization: examples from our practice
To illustrate the difference between custom themes and theme customization, let's consider two examples from our practice.
One of our clients, Deck of Scarlet, required a Shopify store with strict requirements for speed, accessibility, code quality, and uniqueness. And They already had a polished design for both desktop and mobile, but there was no ready-made theme that fit their needs. Therefore, we created a custom theme from scratch, rethinking the logic behind each element.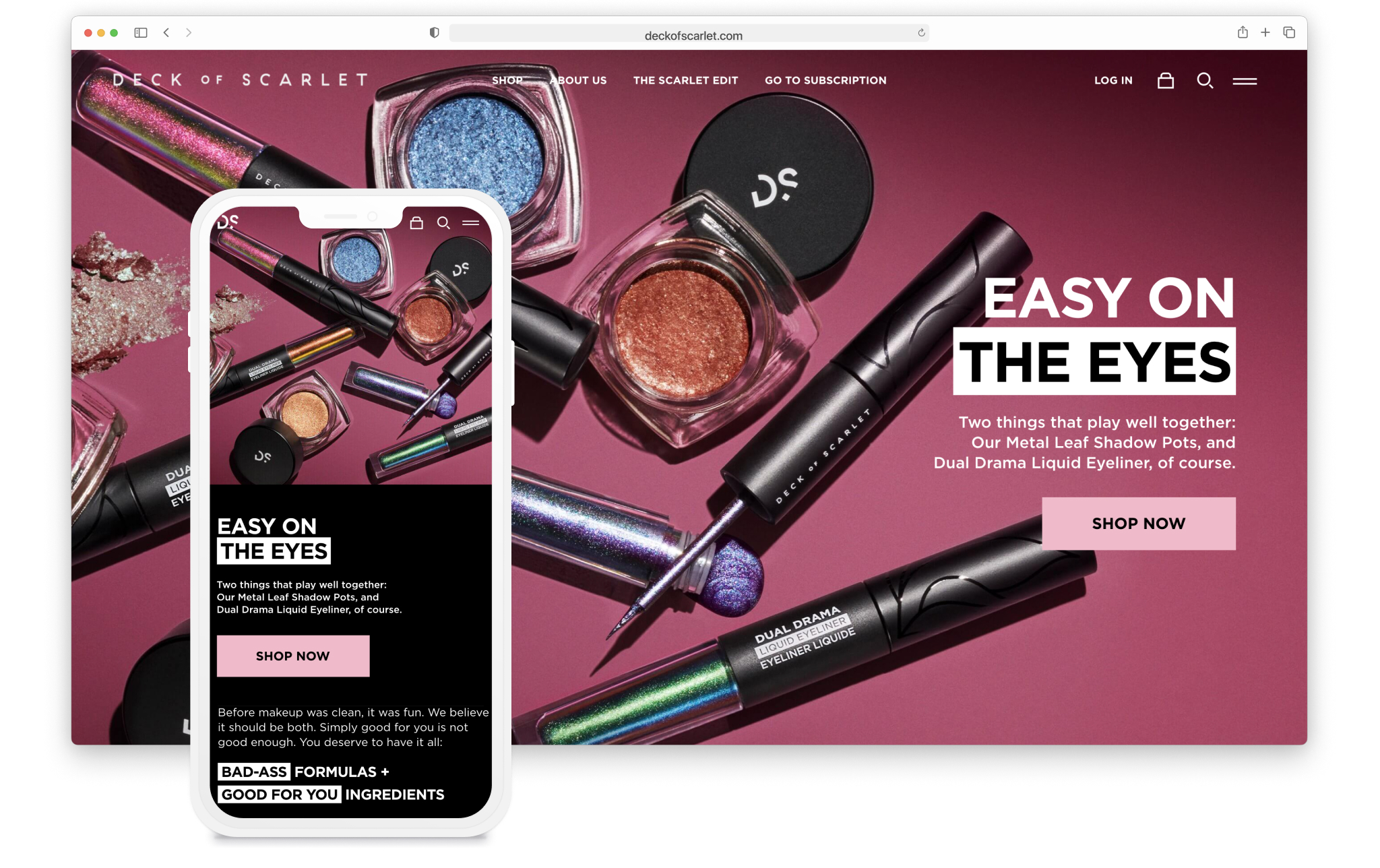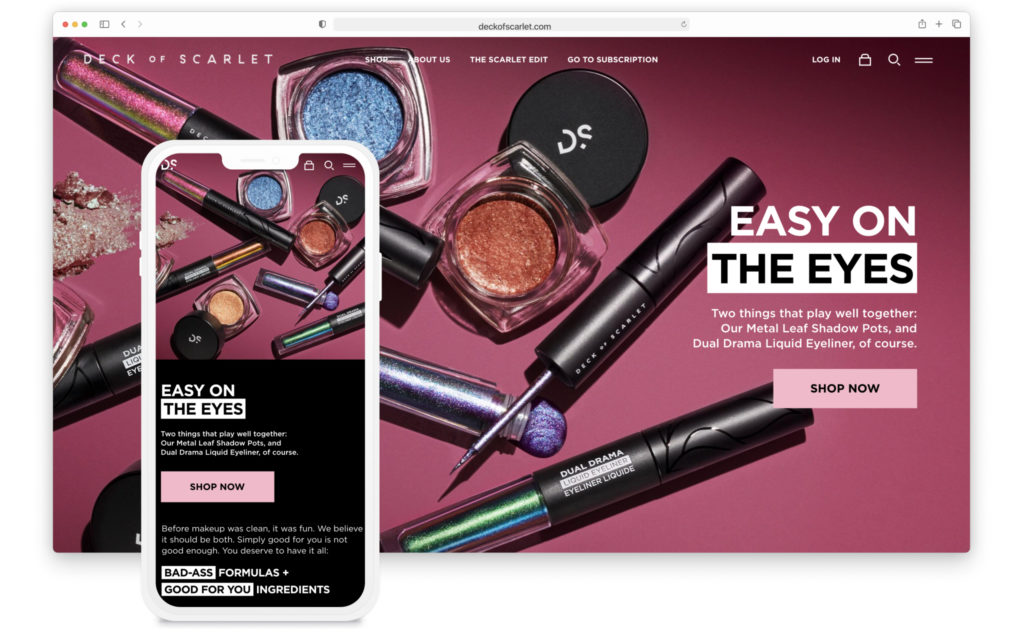 For our other client, Harmless Harvest, we found that theme customization was the best approach. We chose a premade Shopify theme and then customized it to fit their unique style guide, paying close attention to every detail to ensure a seamless fit. We also added important features such as contact form integration and an offline store locator. Accessibility was a top priority, and we made sure the Harmless Harvest store was easy to use for all people.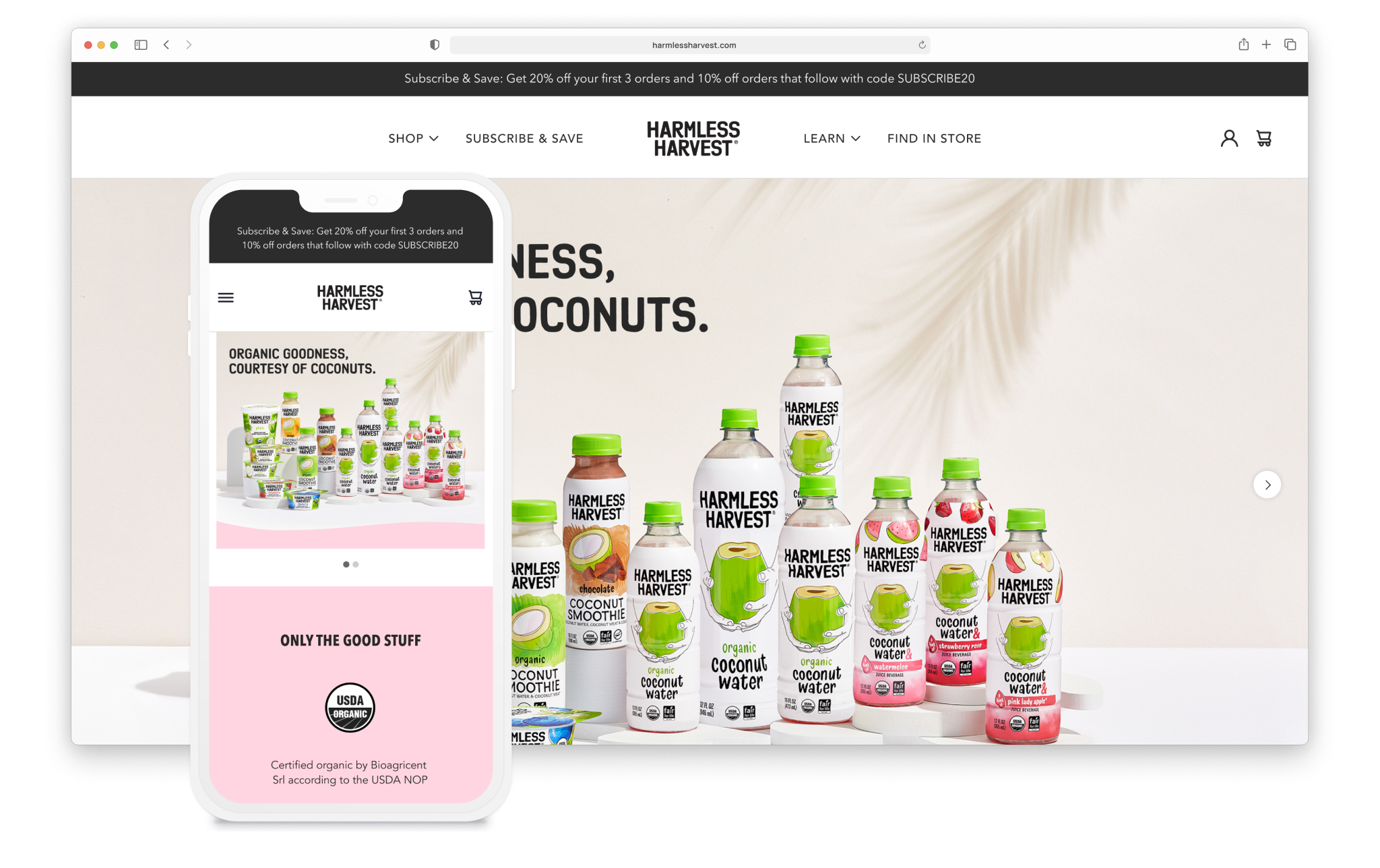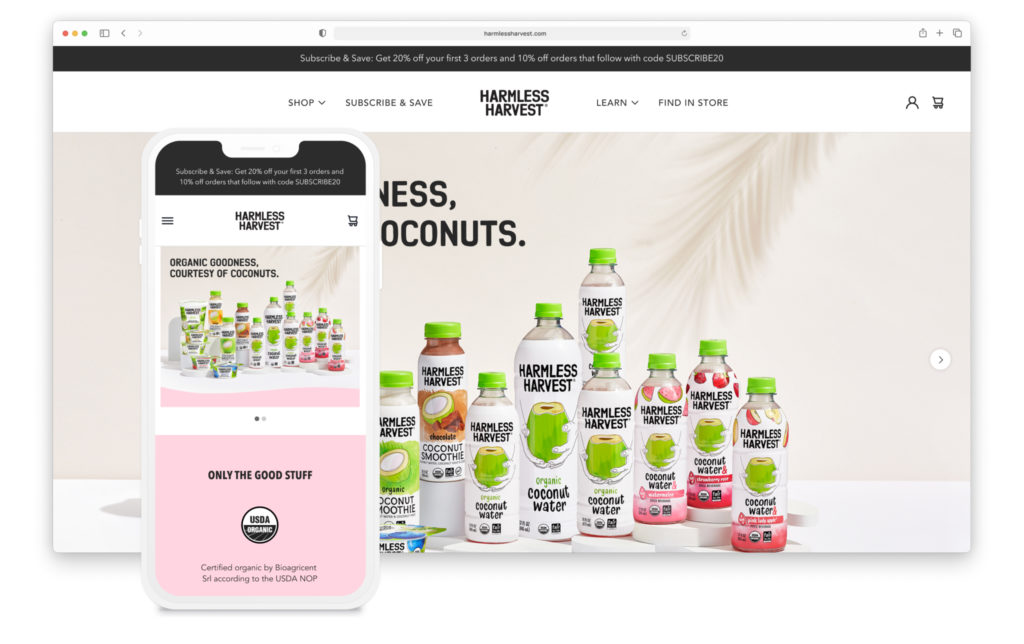 Why is a custom Shopify theme worth the investment?
Unique design, look and feel
A custom Shopify theme is tailored to your brand and unique needs, ensuring that your store stands out from the competition. Customized templates, no matter how expensive, can't provide this level of uniqueness of your eCommerce store that reflects your brand identity.
For instance, our process begins by discussing your requirements and developing a design layout, including UX and UI. If you have your own vision, we can work with your layout. Or, we can create one from scratch.
To create your theme, we rely on Shopify's Theme Kit development and use Slade, a specialized tool for developers. By doing so, we can ensure that your theme matches your concept and requirements 100%.
Small changes make a big difference
Custom theme development is not just about creating a visually stunning online store. It's about getting a deep understanding of how your business operates and identifying specific requirements that can help optimize your processes.
Usually, our team goes beyond just designing the look of your store. We also create functionality that lets you customize its appearance. This means you can easily change any pictures, fonts, and or pop-ups, and even hide or show certain blocks on the page with ease. In addition, we incorporate all the necessary apps and features right from the start. This saves you time and effort in the long run, since you won't have to constantly add or adjust apps as your business grows.
Future-proof solution
A custom Shopify theme is a wise investment for any forward-thinking business. Unlike a customized theme, it will be specifically designed with future developers in mind. Besides, your theme won't be cluttered with extraneous code, which can often complicate theme modification and expansion unnecessarily. This ensures that future improvements will be much easier and quicker, which is essential for fast-growing businesses.
Moreover, a custom theme provides the flexibility to seamlessly integrate new features or tweak the design as your business evolves, keeping you up-to-date with the latest trends and ensuring your customers' needs are better met.
Faster store load time
Did you know that every additional second of load time on your website can result in a drop of 4.42% in conversion rates? Fortunately, with a custom Shopify theme, you can avoid the hassle of downloading extra apps or tools that might slow down your store's load time. Furthermore, custom themes are thoroughly tested and optimized, so you can be confident that your online store will load quickly and efficiently. Investing in a custom Shopify theme ensures the long-term success of your online store.
For example, by creating a custom theme, we helped Tropicfeel increase its loading speed by 40%. This was important because their website features high-quality images and videos for their products, which can slow down loading times. With the custom theme, the homepage now loads in only 665 milliseconds, compared to the old theme which took 2.98 seconds to load. Plus, we managed to reduce the overall weight of the website from 9.2 MB to 2.5 MB, with the new home page containing more content and running much faster.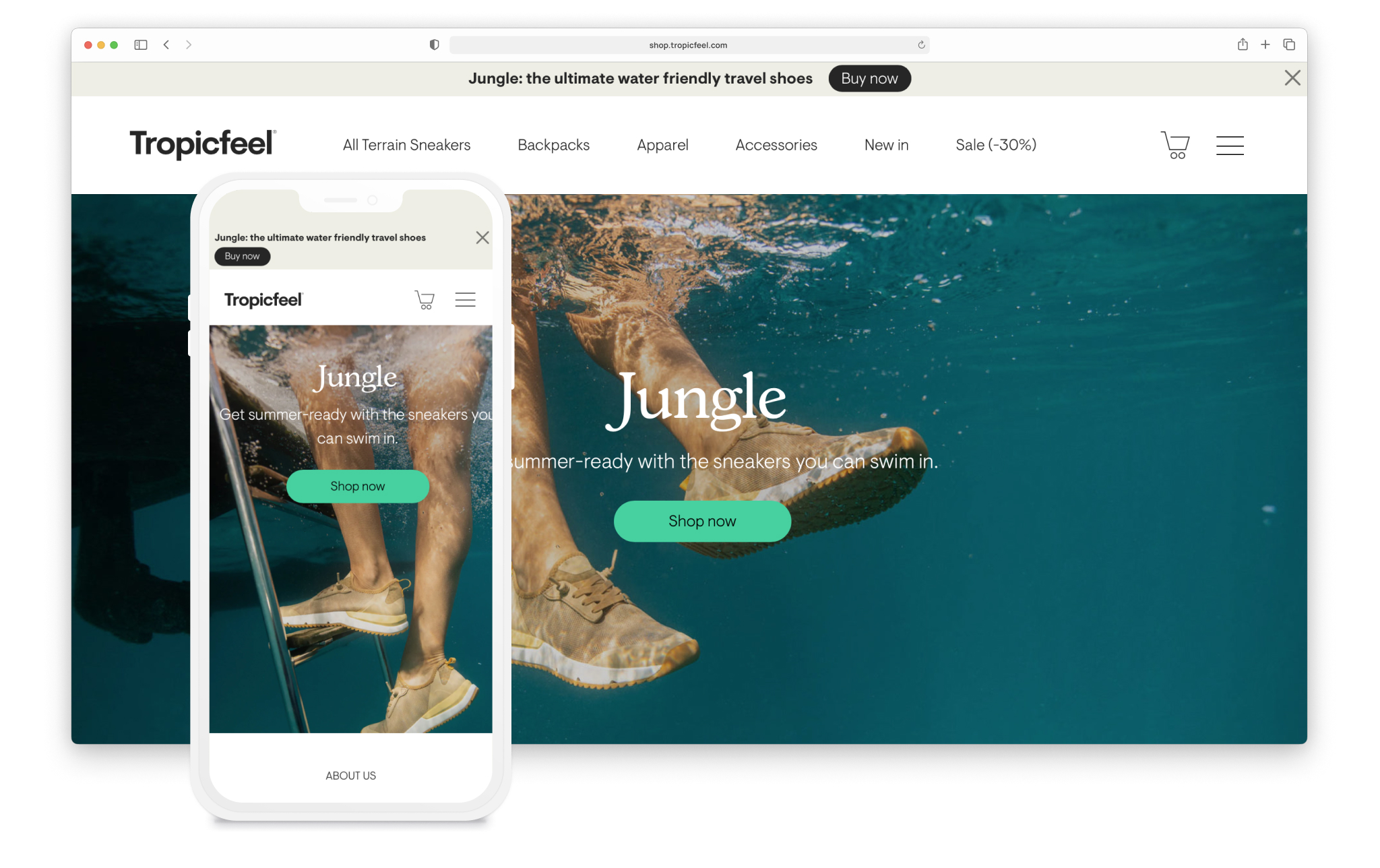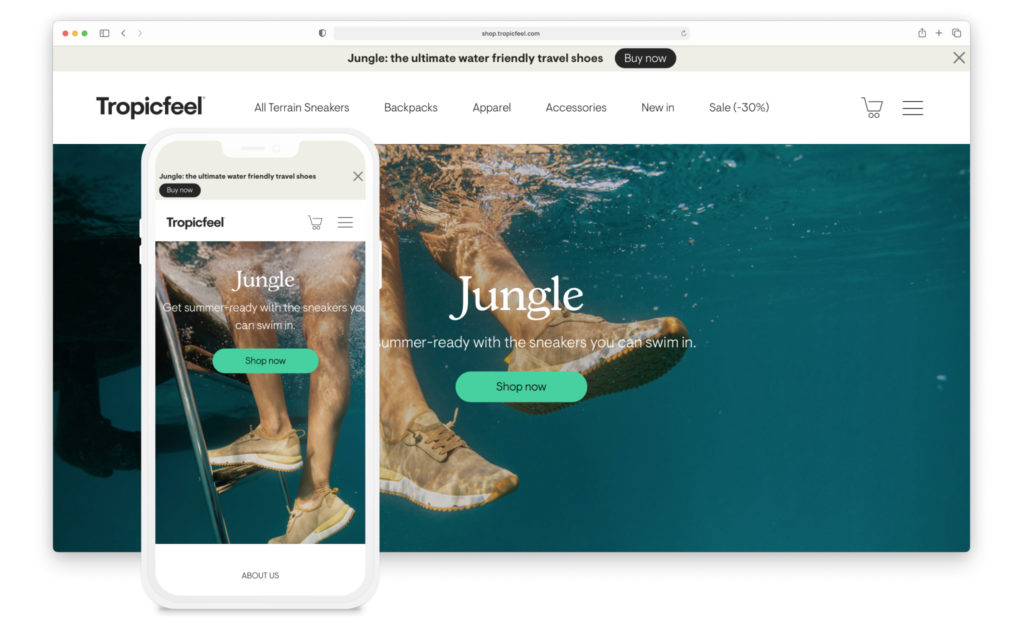 Built-in accessibility
Making sure that everyone can access your online store is not only crucial, but is also a legal requirement.
If you create a theme from scratch, you can integrate accessibility features right into the design and code. This is much simpler than trying to retrofit accessibility into a pre-made theme that may not have been created with accessibility in mind.
By opting for an accessibility-focused theme, you can ensure that your store meets all legal requirements and provides all your customers with a seamless shopping experience. Besides, it shows that you care about accessibility and can help to build a positive brand image and reputation of your company.
Consider your costs
If you're thinking about getting a custom theme for your online store, keep in mind that it can take a significant amount of time and money. You'll have total control over the way your store looks and works, but it can take up to 1000 hours of development work.
However, you might not need a fully custom store. Sometimes a few changes to an existing theme can be enough to meet your business needs. This can save you a lot of resources while still providing you with a personalized online presence. So, before you decide on custom theme development, take some time to think about what your business really needs and what you hope to achieve.
To wrap up
Custom themes can help your online store create a unique and memorable user experience that reflects your brand values.
Additionally, they offer greater flexibility and scalability as your business grows and evolves. And you're not limited by any templates.
Though they may require a higher initial investment, the long-term benefits, and ROI can be significant.
If you'd like to learn more about it, feel free to get in touch for a chat.