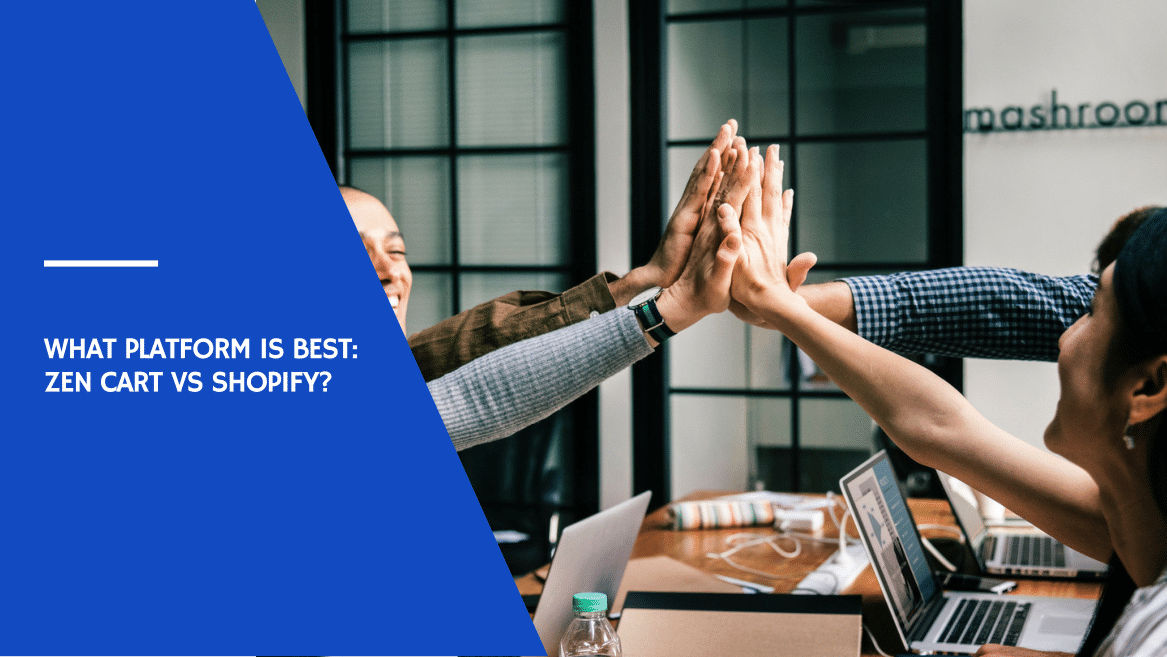 The web rise gave the opportunity for countless corporates to enter a wider market. It also gave the rise to new online business forms, fueled by the rise of a mobile connection. Surely, the web provides great possibilities to companies, but it is important for them to maximize those opportunities.
Content: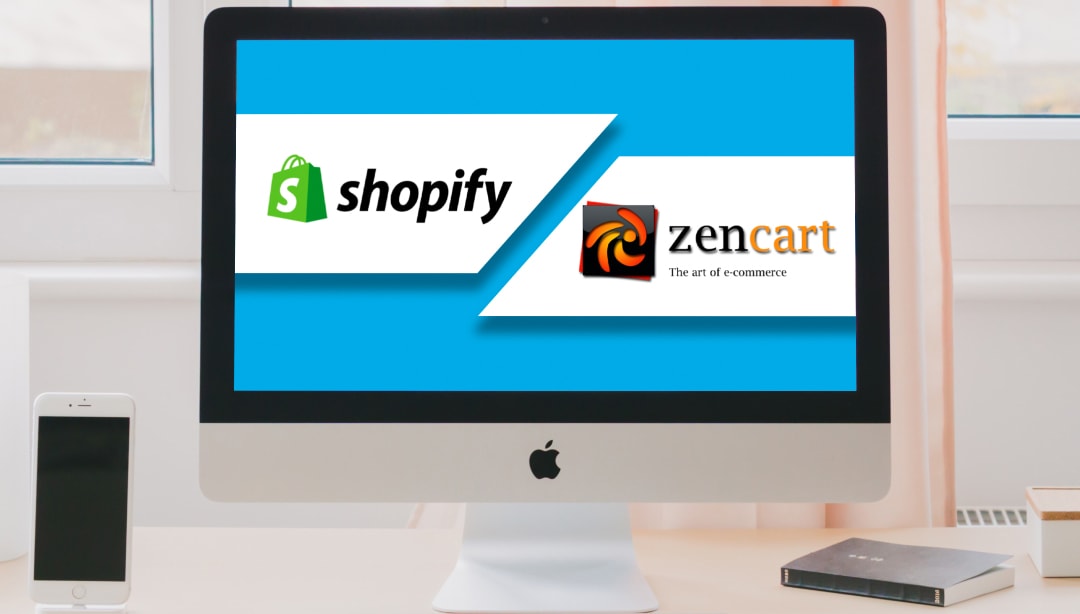 To sell your products online, your site must be properly equipped. There is a huge number of platform packages from which to choose. Leading optimizers and programmers allot Shopify and Zen Cart. Comparing their high quality and performance, the specialists give 9.7 points to Shopify and 8.6 points to Zen Cart. Our article will help you to figure out how do Shopify and Zen Cart work. You will find out which of these products is better to provide purchases and why.
Choosing a platform for the online store
The most important functions of the eCommerce software are:
A simple one-page verification process
Custom URLs, tags, page titles, Alt image attributes, etc. for SEO
Organization of optimized navigation structure
Customizable design with very good basic templates
Great backend store
Overall reporting
Integration with third-party software, such as Google Analytics, Website Optimizer, Live Chat
Price formation
Support
The choice of a platform determines the future fate of the site. Later on, it is impossible or very difficult to switch to another system. Therefore, the choice of a right platform for the store has to be made very responsibly.
Common features of Shopify
Shopify is a popular eCommerce software that provides everything for building and running a successful online store. It is oriented not only an expert but also a beginner level. The system offers pre-made templates, which are ready to use. The platform also simplifies the creation of a store and a shopping cart. Once Shopify store is ready, the user gets many options for customization and personalization. It provides effective management and simplifies customer relationship.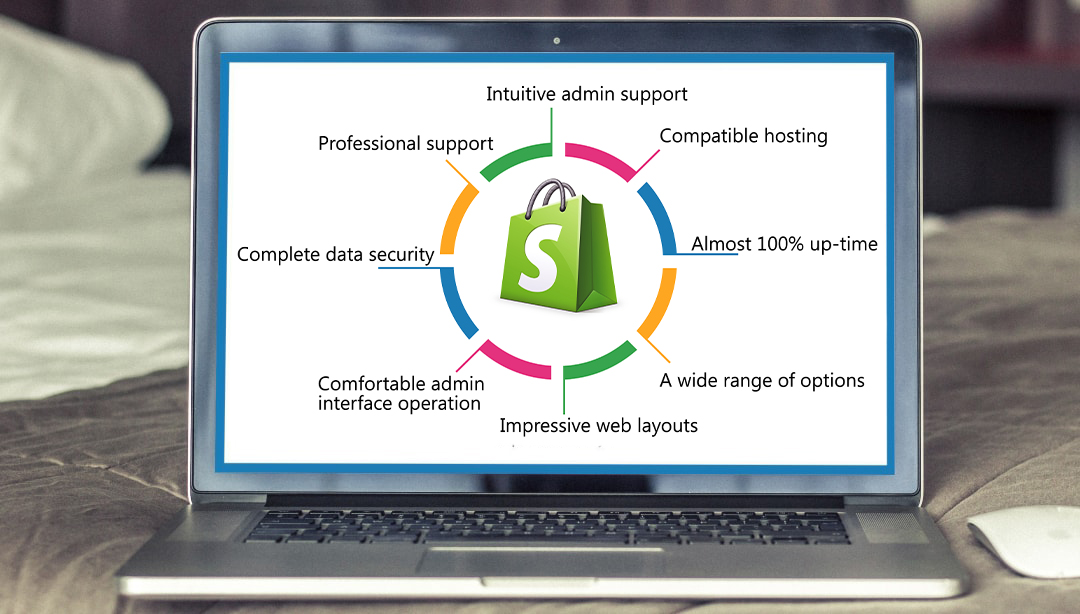 Compatible hosting
Almost 100% up-time
A wide range of options
Impressive web layouts
Comfortable admin interface operation
Complete data security
Professional support
Intuitive admin support
Shopify has an excellent collection of valuable apps. The leading web-developers consider that Shopify is the best tool for the successive and reliable website work.
Common features of Zen Cart
Zen Cart is a perfect decision for novel entrepreneurs who decided to enter online market. The system is user-friendly, provides perfect eCommerce themes. It offers easy open source software, free on the net.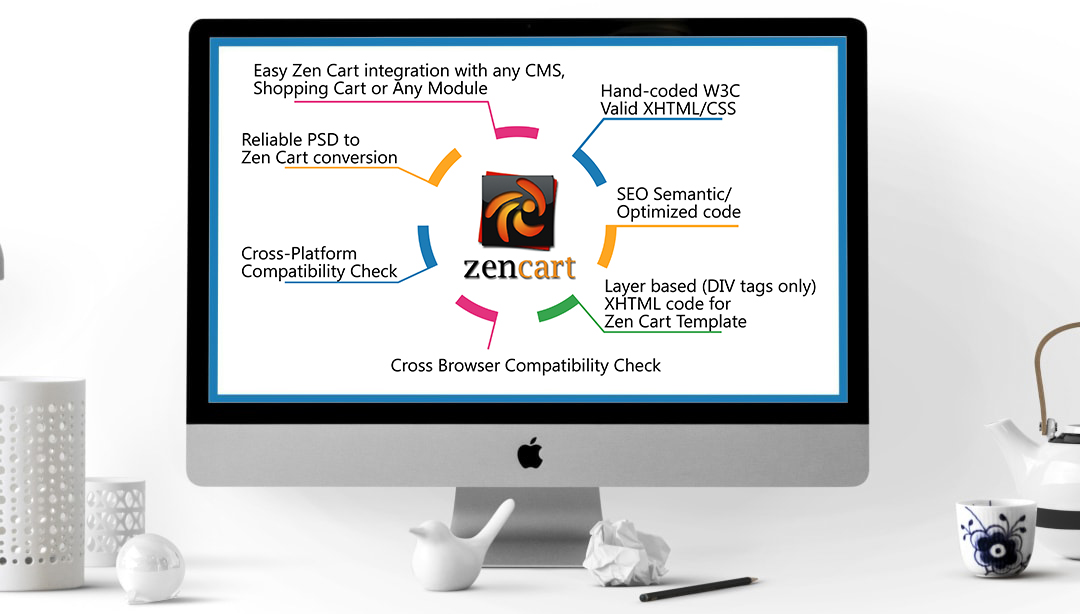 Hand-coded W3C Valid XHTML/CSS
Layer based (DIV tags only) XHTML code for Zen Cart Template
SEO Semantic/Optimized code
Cross Browser Compatibility Check
Cross-Platform Compatibility Check
Reliable PSD to Zen Cart conversion
Easy Zen Cart integration with any platform, Shopping Cart or Any Module
Detailed List of features
In addition to listed functions, here will be highlighted and compared more features of Shopify and Zen Cart.
Shopify Features
Zen Cart Features

 

All key features and advanced shopping cart
 Open source eCommerce tools supported by the developers
Web-based website builder
 Integration with many gateways
More than 100 professional templates
 A great library of Zen Cart templates
Advanced blogging platform
 Customizable shopping cart
Configured mobile eCommerce
 Display an inventory of available products of any type
Branding and customizing of user's store
 Administer customer or user access rules
Original domain name
 Display advertisements and banners for relative products
SSL certificate is free of charge
 Discount, group prices, coupons and voucher codes management
Flexible shipping rates
 Synchronizing with an existing eCommerce website
| | |
| --- | --- |
| 70 internet payment gateways and automatic taxes | |
| Customer profiles, accounts & groups | |
| Email templates and Shopify Mobile | |
| Dropshipping | |
| Day-and-night support | |
As is known, Zen-Cart is a free open source platform. It can be downloaded at no cost from the official website. Shopify offers several pricing packages:
Shopify Lite – $9/month (selling on social media)
Basic Shopify Plan – $29/month (2 staff accounts, unlimited number of products, unlimited file storage, free SSL certificate)
Shopify Plan – $79/month (5 staff accounts, gift cards, professional reports, abandoned cart recovery)
Advanced Shopify Plan – $299/month (15 staff accounts, advanced report builder, real-time carrier shipping)
A little bit market statistics by the Top Websites
Shopify is in great demand in Top 10K, Top 100K, Top 1M Sites and the whole network. Zen Cart is still behind Shopify in all online market sectors.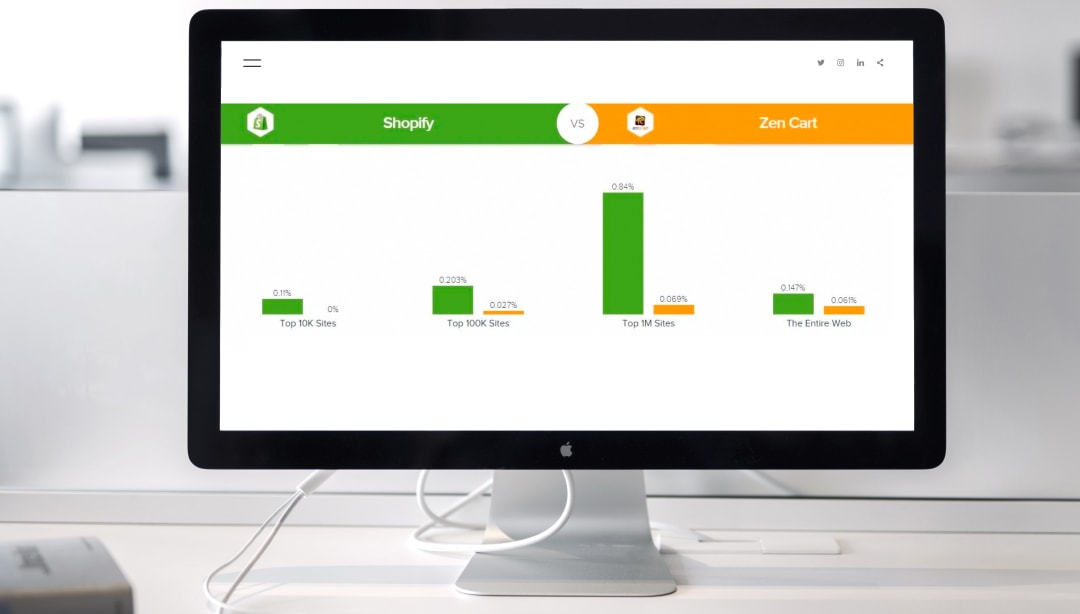 Shopify has the best usage coverage in more website segments. Shopify leading categories are Shopping, Business and Industry, Clothing, Internet and 130 other categories. Zen Cart leads in such sectors as People and Society, Arts, Religion and another 90 categories.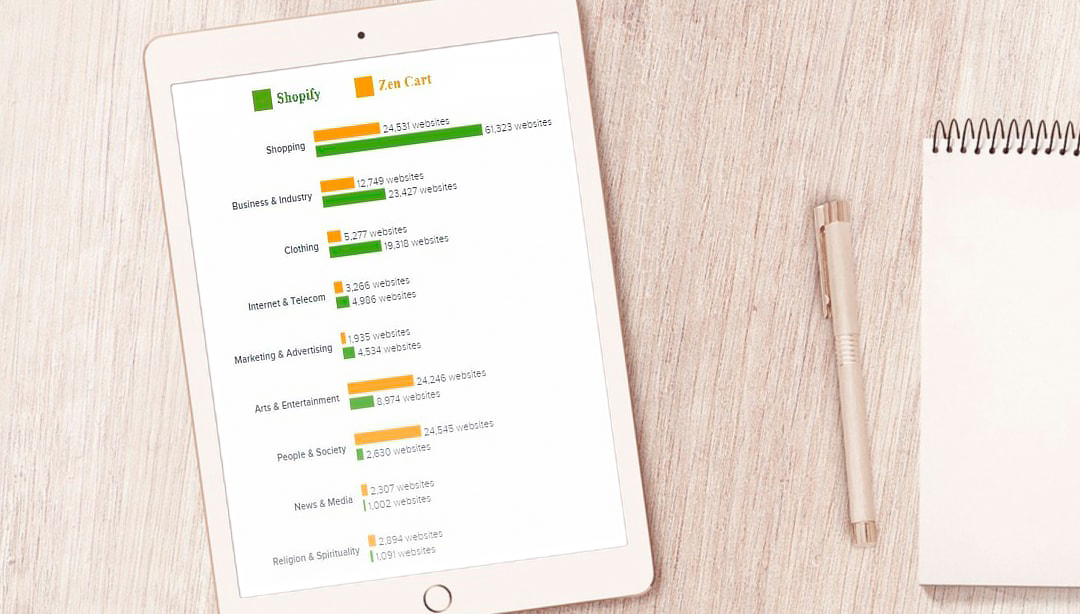 Shopify occupies the largest territorial segment including USA, UK, Australia, Canada and more than 150 other countries. Zen Cart is the leader in greatest European countries and 50 other countries.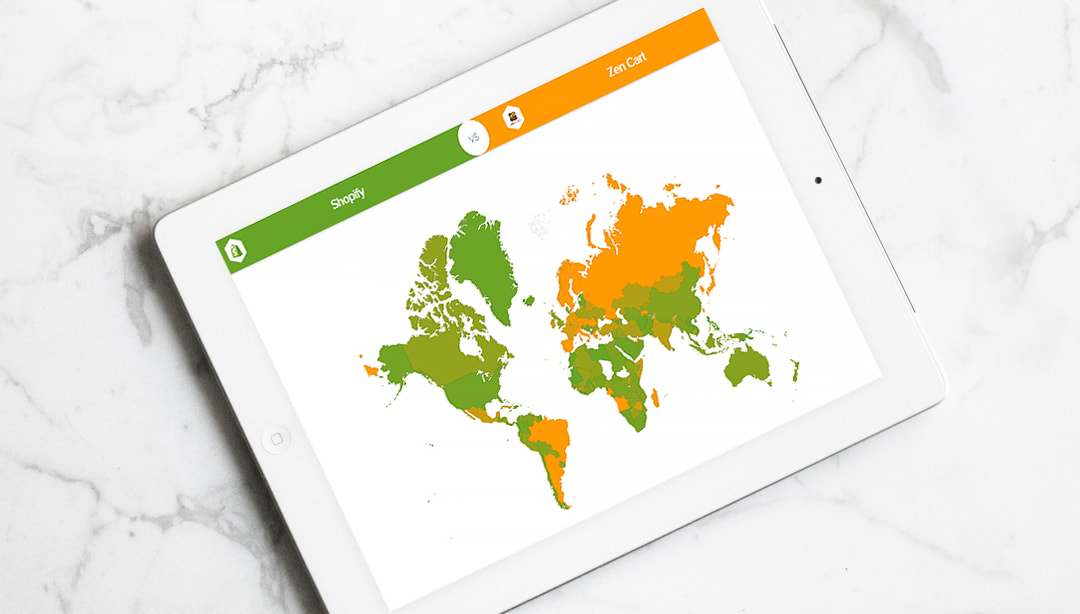 Best eСommerce platform: opinions and reviews of the leading developers
Experienced web developers regularly work with popular eCommerce platforms. They are first hand aware of software's strong and weak points. Before you start creating an online business, you should pay attention to the best web developers reviews about Zen Cart and Shopify.
The Mobile Search growth
The majority of Zen Cart stores are not mobile friendly. This was not a problem when the platform popularity was at its top. Mobile devices in 2010 were around 10% of usage. Now it is more than 40-50% typically. 1 in 10 visitors is a figure almost everyone can live with. But if statistics prove that four or even five times that amount cannot use online store effectively, it becomes a real problem. The situation is compounded by Google's recent decision to penalize the ranking of websites that were not mobile-friendly. Evidently, Shopify solves the problem of eCommerce "falling behind".
Shopify is more versatile
Zen Cart and Shopify are open source software. It means that everyone can create new templates and applications (or your custom application) to work alongside and within them. Shopify is almost completely customizable. It allows doing whatever you have decided. This platform provides simple updating pages and products.
Both customers using the store and Shopify developers working behind the scene admit the ease of its usage. There is no need for extensive HTML and CSS knowledge to get a project to look perfect. It does not mean that Shopify is unprofessional and superficial – but it is very easy to actualize what you want to. The checkout process is speedier than Zen Cart. It comes as a guarantee that a lower percentage of shoppers will dawdle or leave at the payment stage.
Sales Conversion
Technologies have moved along with fashion. Zen Cart themes differ from modern Shopify ones. Shoppers no longer expect homepages to look like a list of products. They want an online store to be like Amazon and eBay. Their homepages are dynamic and changing. They reflect the needs of their shoppers.
Zen Cart entry pages are traditional and trying to display a customer everything about the business. Such stores are "busy" with content. Shopify templates provide selling. The system gives the business full control over promoting products and discounts. It has built-in functionality. The business owner can easily update and manage his project. Shopify simplifies understanding and navigation for shoppers. It is alone means more sales.
The Winner?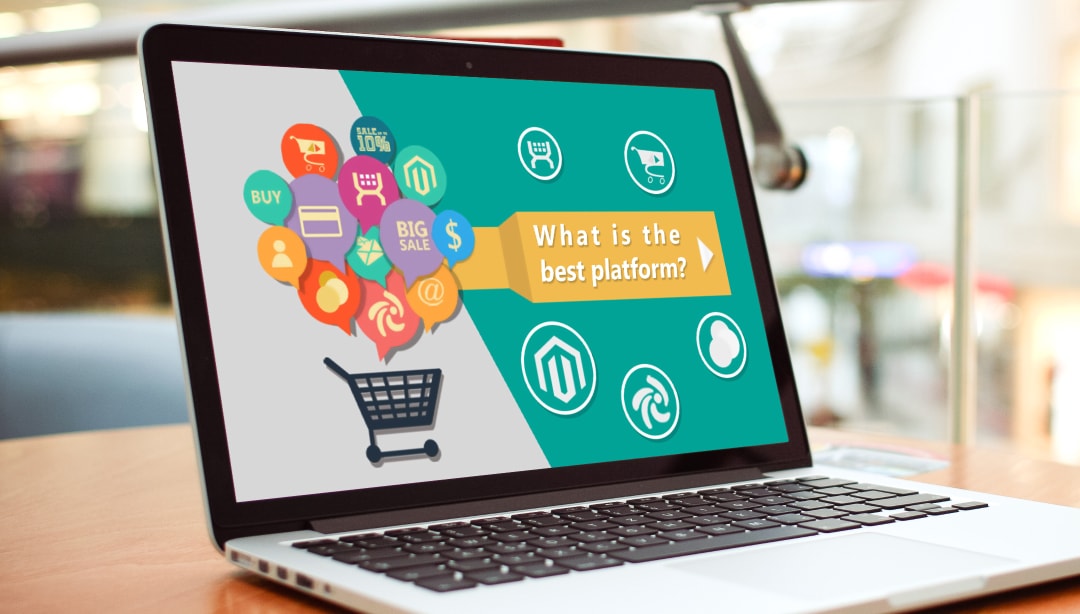 A straight comparison of Shopify with Zen Сart obviously makes the first the winner. Every year hundreds of Zen Cart stores migrate to Shopify. The reason is to have a simple website usage, both for web developers and customer. The best stores are focused on simplicity, managing and building an enjoyable user experience. Their items sell themselves. Shopify apps have easy installation processes. They definitely ease the workflow and improve website's overall performance.
There are two main reasons that Zen Cart can never compete with Shopify for. Entrepreneurs succeed by reacting rapidly to shopper needs. The sales will grow if it is easy and quick to buy. It means that online store must be simple to use and the owner must be independent of his web developers. Shopify appears as an eCommerce standard. Finally, the decision on Zen Cart and Shopify must go to the users themselves.