The Book: store development
Store development
Toys and games

Project details
Team

Account Manager, Designer, Marketing
specialist

Time
The task

Our task was to create a store for selling a book based on the Shopify theme.
About the business
The client has launched a Kickstarter project that may interest unusual book collectors and fans of the book The Ultimate Guide to Rebuilding Civilization. The 400-page edition describes the most significant and impressive mechanisms, processes, and materials ever invented, divided into sections devoted to medicine, mechanisms, materials, military arts, society, and entertainment.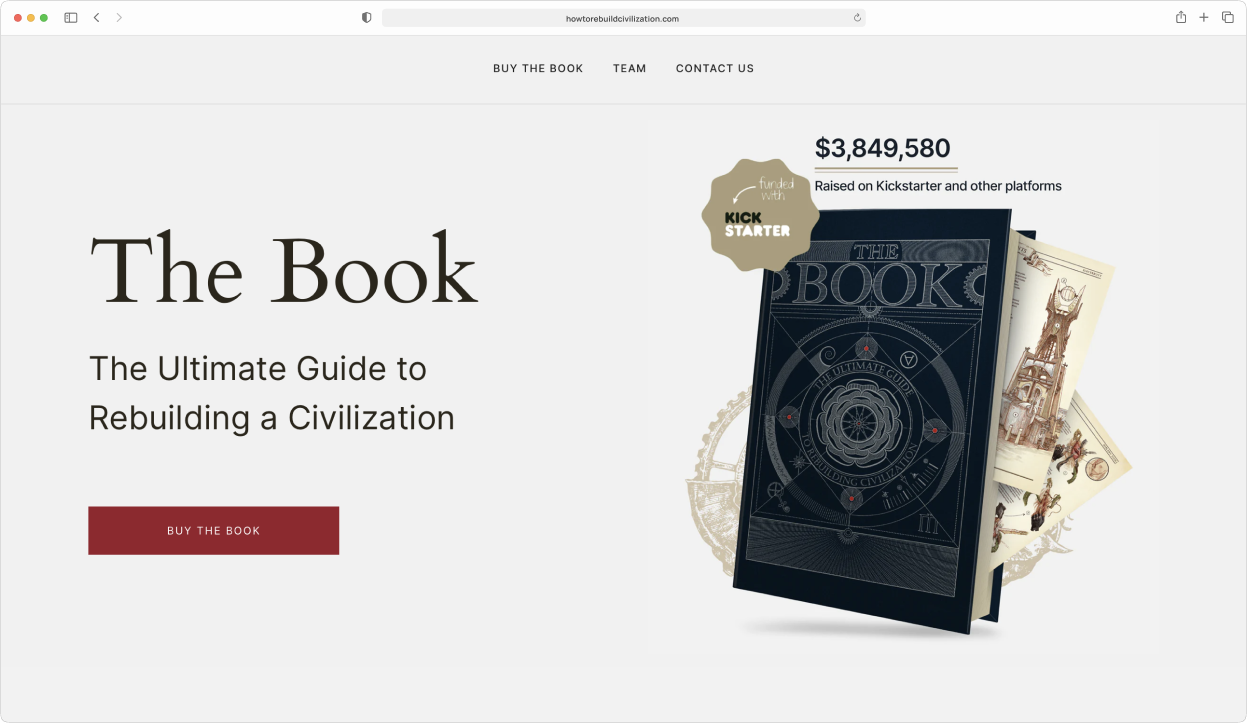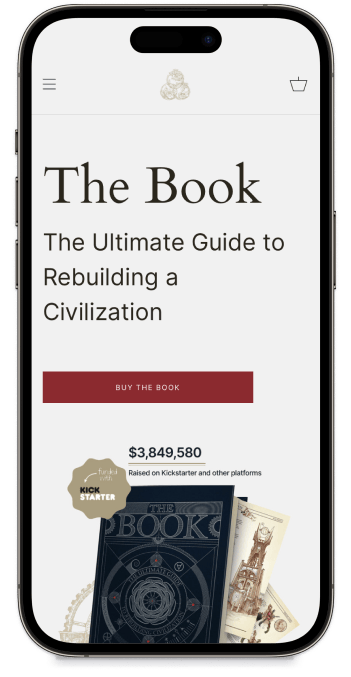 Challenges and solutions
Clients can choose between purchasing a pre-made theme or building a custom one for their store. However, a custom theme may take time to develop, be expensive, and require specific expertise to overcome technical challenges. Therefore, we strongly recommend that client opt for a pre-made theme, which offers all necessary functionality with existing tools. By doing so, they can launch their store quickly and without incurring exorbitant development costs, saving both time and money in the process.
Choosing the theme
When choosing a theme for a website, it's crucial to prioritize functionality and code quality. The first step is to understand what functionality is required and then look for a theme that already includes it. This reduces the amount of development work required, which ultimately lowers costs.
To assist Irresistible Me, we picked several themes that were a great fit for their business and had the necessary functionality. Our developers then assessed the code quality of each theme and chose the best. A theme with clean code makes development more manageable and faster, allowing for quick implementation of changes.
We presented the client with the most suitable themes to choose from, and they ultimately decided on the one that appealed to them visually. By following this process, Irresistible Me was able to significantly reduce the cost of development and future technical maintenance and customizations before the actual development work began.
Theme choosing
We carefully analyzed the requirements of our client before commencing the development process. After agreeing on the project scope, we selected the Broadcast theme as it offers a range of sections that allow for a more flexible approach to store creation.
All graphics and text content were provided by the client, which we used to design and develop their online store. We coordinated the design with the client and proceeded to implement the project according to the agreed timeline.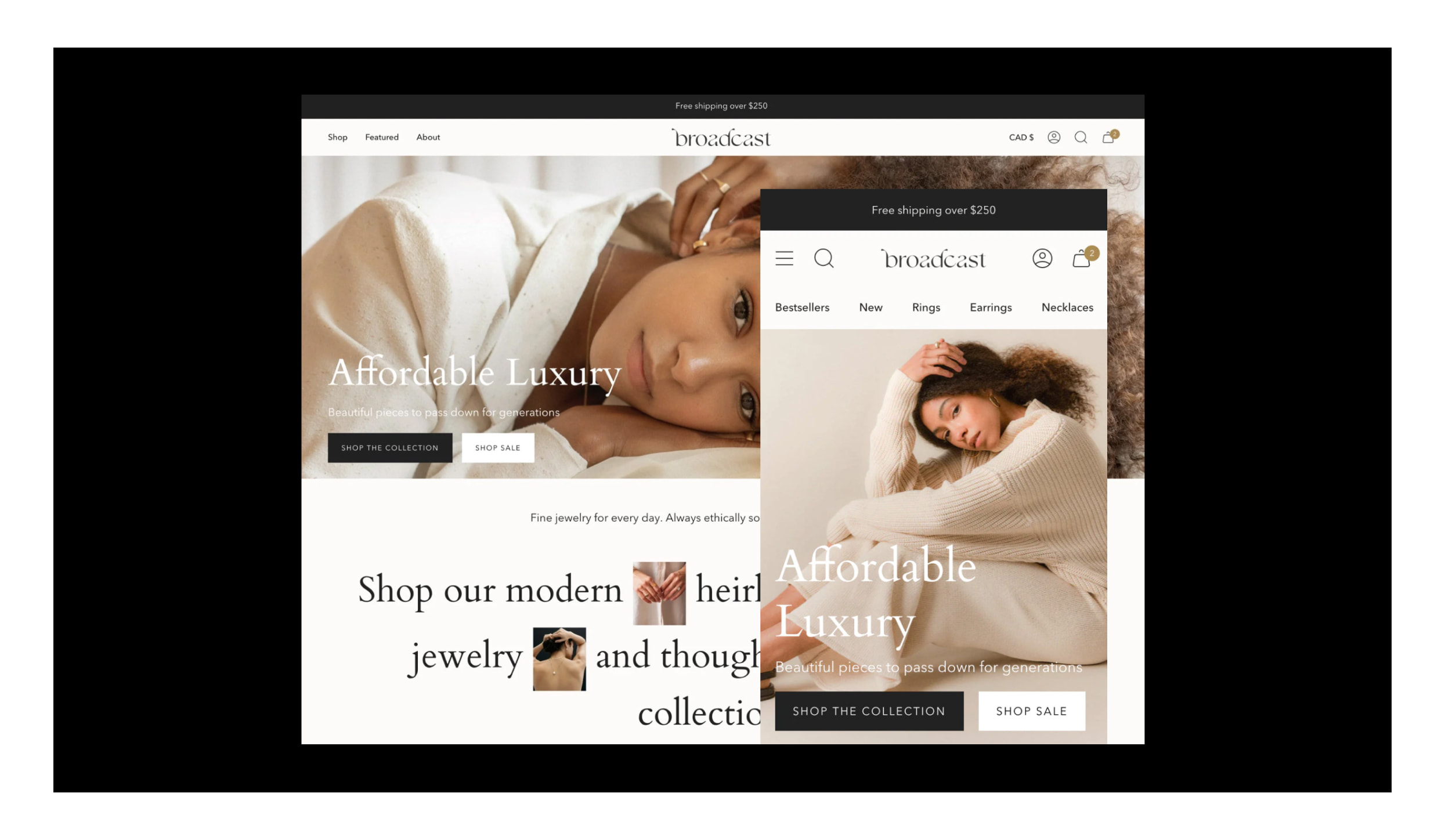 How we built the store
After receiving the necessary approvals, we began building the store section by section, carefully selecting and organizing content to create a visually appealing and user-friendly experience for our client. We also integrated analytics to track user behavior and improve the store's performance. Following final approval, we made some minor edits to optimize the store further.
Payments setup
The client was in search of a reliable and efficient payment system for their business. Stripe is a widely-used online payment platform, but it may not be available in certain countries or regions. Unfortunately, in this case, we discovered that Stripe could not be installed in the U.S. As a result, our team had to explore other options.
Although the client may have been disappointed about not being able to use Stripe, we were able to identify a suitable alternative in Shopify. This eCommerce platform offers various payment options, including credit card payments, PayPal, and Apple Pay. By using Shopify's standard payment method, the client was able to provide their buyers with a secure and convenient way to make purchases. With Shopify's integrated fraud protection, the client could rest assured that their transactions were safe from fraudulent activity.
Summary
At SpurIT, we provided our client with a well-structured and effective online store that offers a clear client journey. By carefully selecting a pre-made theme, coordinating the design and content with the client, and integrating analytics and secure payment options, we ensured that the online store met their specific business needs and offered a great user experience. To see what our clients say about working with us, check out reviews in our Clutch.
We've got the experience
and skills to solve any issue