Flove.ae: store development
Store development
Services

Project details
Team

Account Manager, Full-stack developer,
Marketing specialist

Time
The task

Our task was to create a store for a flower delivery business based on the Shopify theme.
About the business
Flove.ae is an exceptional flower delivery service that brings exquisite flowers straight to your doorstep in Dubai. The company prides itself on offering more than just luxury flowers; they are true works of art. Flove.ae collaborates with some of the world's most exceptional florists to create its current collection.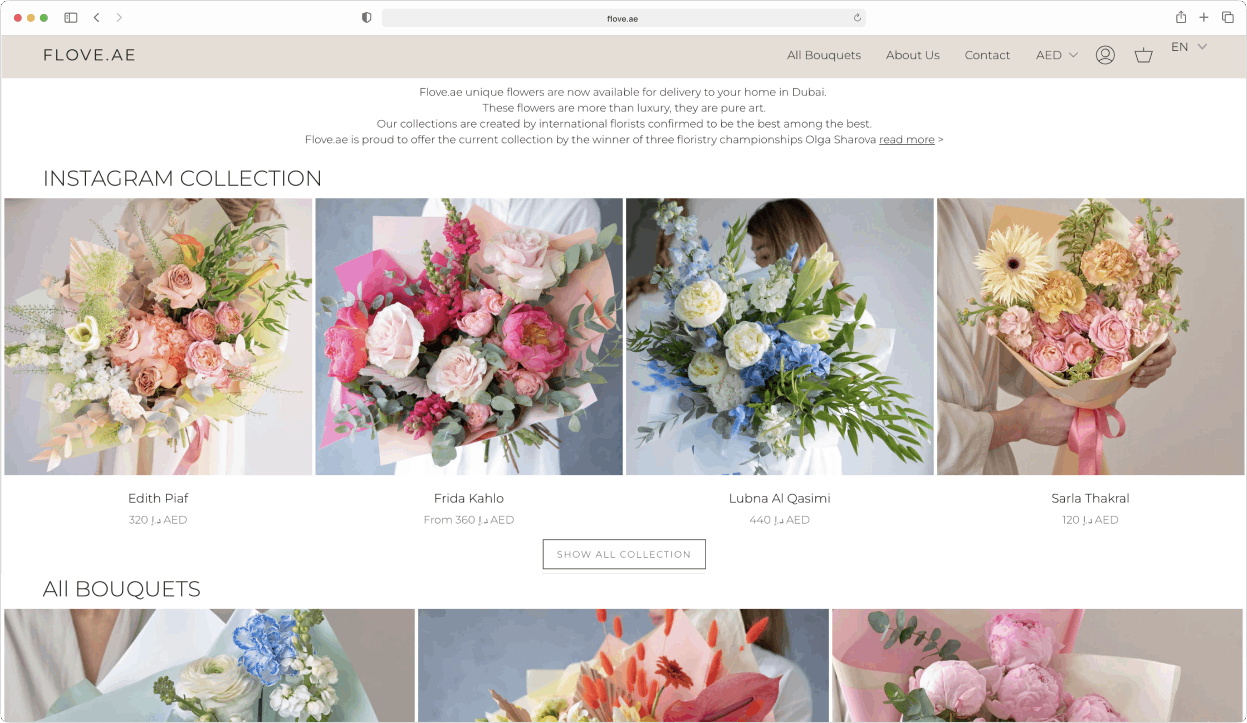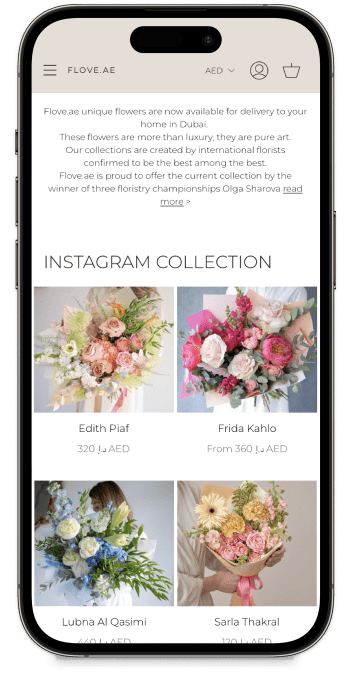 Challenges and solutions
After analyzing the client's requirements and layouts, we concluded that custom development was necessary to ensure the store's long-term success. Some of the requirements were impossible to implement and could result in issues as the store grows. However, the client expressed a need to test the business quickly and at a minimal cost in a specific region. To achieve this, they are willing to make some changes to the original concept or replace certain elements with similar functionality. So we decided to use a ready-made theme and customize it based on the client's requirements.
Theme choosing
After agreeing on the project's scope, we presented the client with several possible themes. Ultimately, the client chose the Broadcast theme due to its numerous sections that allow for a more flexible approach to store development.
The client provided all graphic, textual content and layouts. We made necessary changes to improve the original design. Our team then proceeded with the project and ensured to meet the agreed-upon deadlines.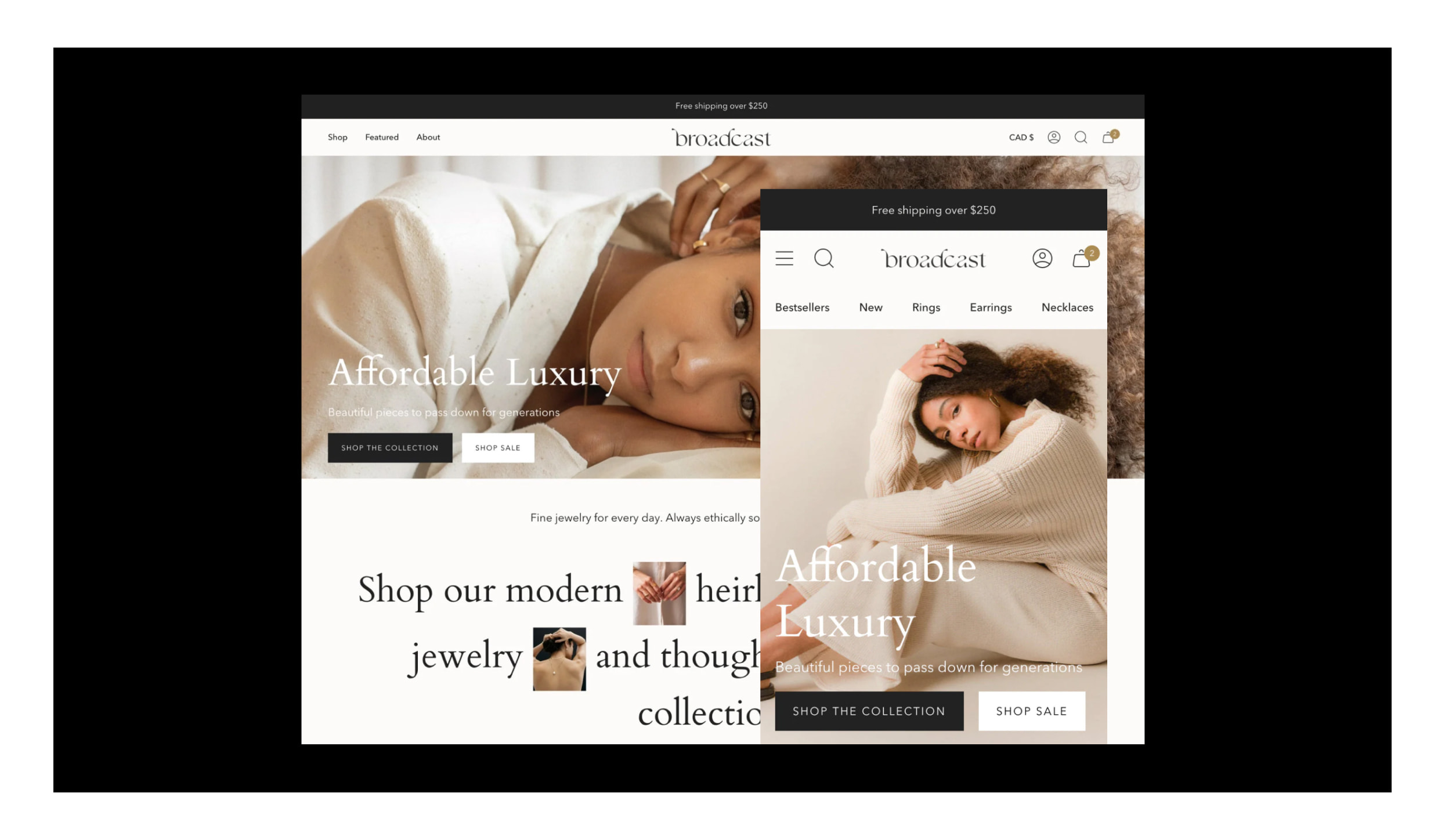 SEO setting
The client had specific SEO requests that needed to be addressed. For instance, some pages required exclusion from indexing, while others needed modifications to the URL structure. For instance, it was crucial to append the category "products" before the name of a specific product to optimize search engine rankings.
Recipient information
Flowers are a popular gift choice for many occasions, and it's important for flower businesses to have a system in place for timely and accurate delivery. In addition to delivery information, it's important to capture details about the recipient and any gift cards that may be included.
To ensure we could collect both the recipient's and sender's details, we needed to clearly separate the fields for entering this information during the ordering process. This way, we could avoid any confusion or miscommunication.
Initially, we encountered a challenge because Shopify only allowed us to capture the details of one person. However, we were able to overcome this limitation by installing and configuring the appropriate app.
This allowed buyers to provide the recipient's details and a personalized message on the product page. When the buyer reached the checkout page, they could enter their own information and specify the delivery address.
Choosing a delivery time and date
Choosing a delivery time and date can be a critical aspect of the customer experience. For this project, we faced the challenge of implementing this feature in a way that was intuitive and effective.
To achieve this, we decided to utilize a ready-made app that would handle delivery scheduling complications. However, we soon discovered that the initial plan of placing the date and time selection feature in the shopping cart was not as user-friendly as we had hoped.
After conducting a focus group, we found that users were confused by this arrangement, which led us to rethink our approach. We ultimately decided to move the functionality to the product page, where customers could easily select the date and time that suited them best.
By taking the time to test and refine our delivery scheduling feature, we were able to ensure that our customers had a seamless and hassle-free experience, which is essential for any successful eCommerce business.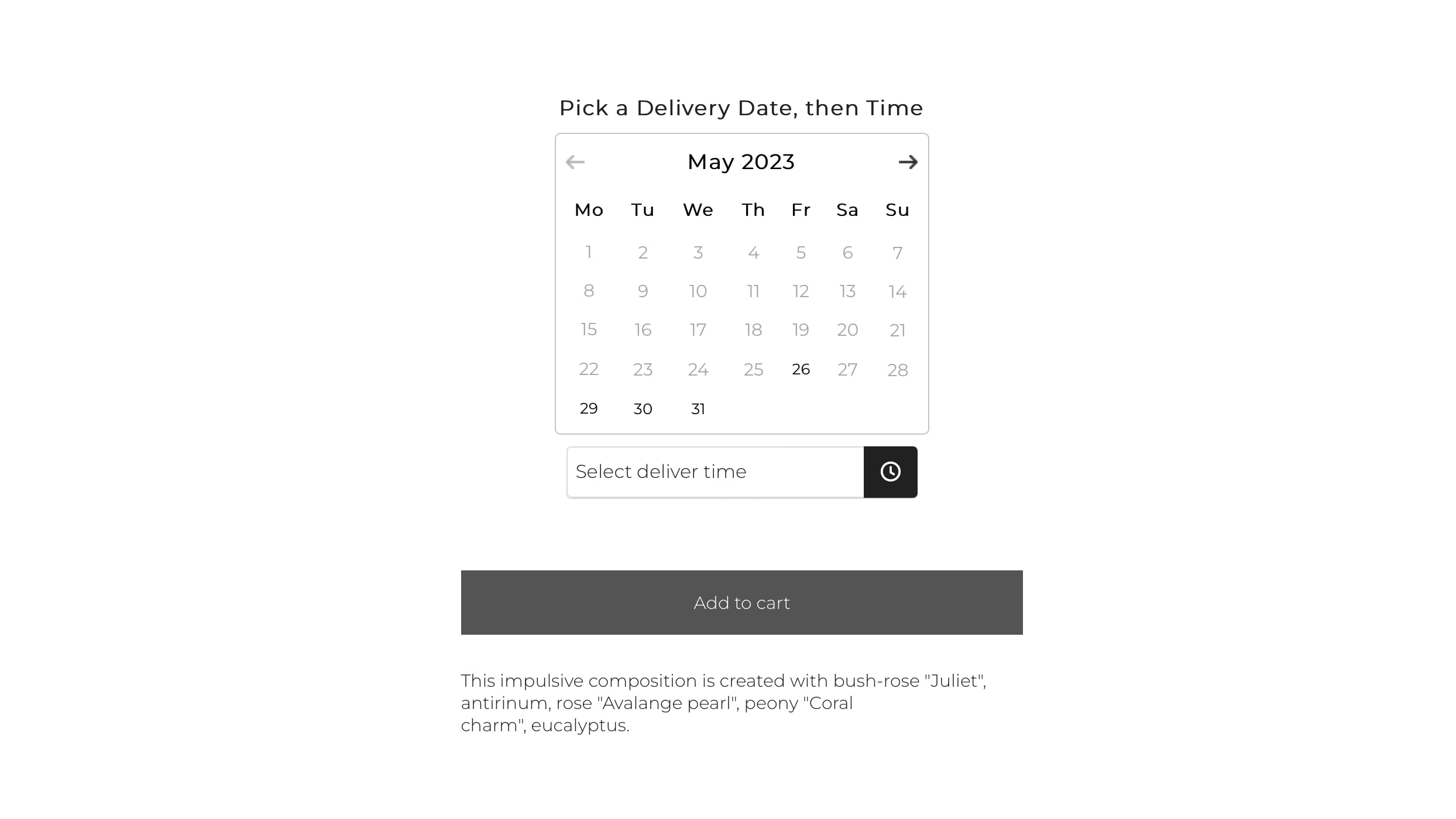 Cross-selling functionality
To further improve sales strategy, the client decided to install and configure cross-selling functionality. As an online retailer specializing in selling bouquets, they aim to provide customers with the best possible shopping experience. When a customer selects a qualifying bouquet, a popup will appear offering additional products such as teddy bears or other goodies.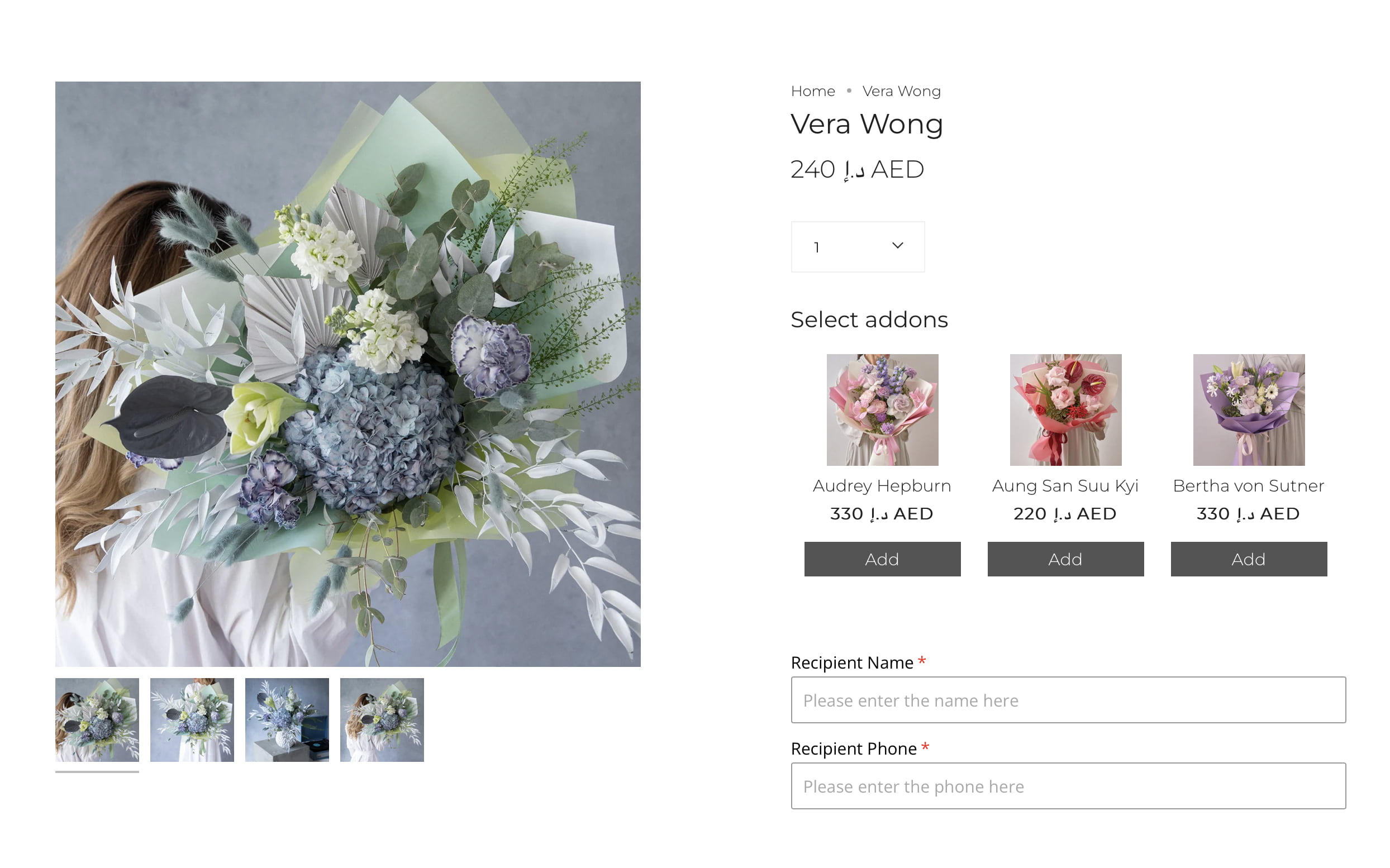 Improved customer experience
Bouquets are available in two sizes: medium (M) and large (L). To enhance the customer experience, our team has customized the store's functionality to ensure that when a buyer selects a particular size, they will see the bouquet displayed in that size. This feature helps customers to have a more accurate understanding of what they can expect to receive, thus reducing the likelihood of any potential disappointment.

Summary
Despite the project's complexity and numerous nuances and details that surfaced from the outset, we effectively managed to deliver a user-friendly and visually appealing store to our client. We are committed to ongoing collaboration to further enhance the store's performance and functionality. To see what our clients say about working with us, check out reviews in our Clutch.
We've got the experience
and skills to solve any issue